For affiliate links and as an Amazon Associate I earn from qualifying purchases.
Cherie Cormier is guest posting for us today, sharing her Gluten-Free Cheeseburger Birthday Cake recipe. Cherie does not have a blog, but you can find her (and you should!) on her helpful and super upbeat Facebook page, Our Gluten-Free Life.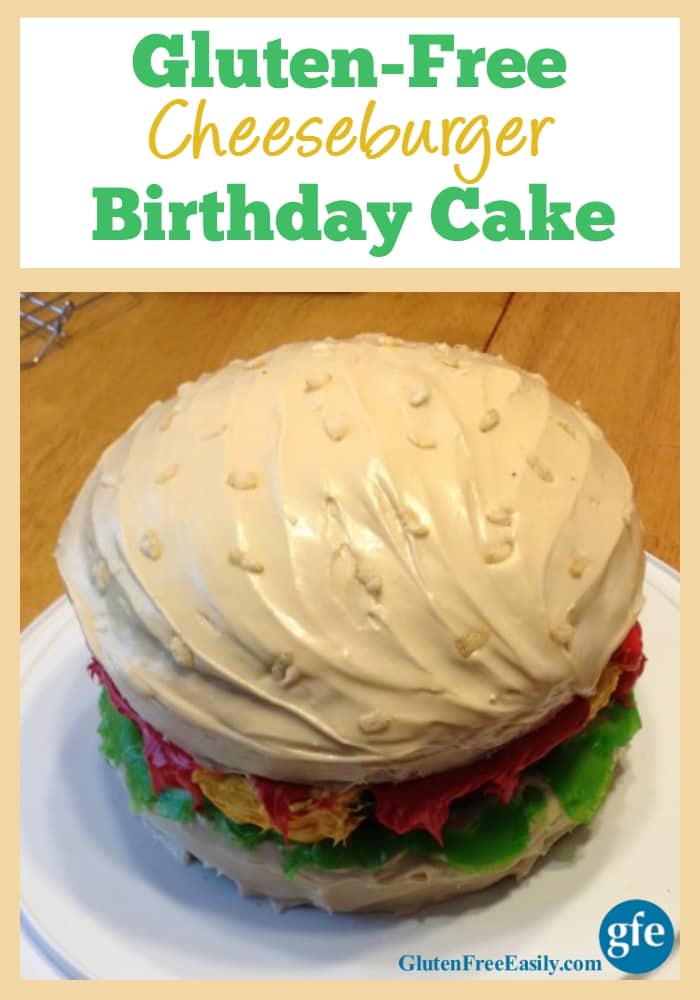 I first "met" Cherie after she shared her daughter Abigail's celiac diagnosis story over at my friend Alison's blog, Sure Foods Living. From GERD to Great: Abigail's Story is a story of a mom trusting her instincts and not giving up. It is the story of a child who didn't want to eat and failed to thrive from the moment she entered the world and a mom being labeled a "Crazy Mommy" for persistently trying to find the reasons for her daughter's health issues.
It is a story of a few years of telltale symptoms, numerous doctor and ER visits, and two endoscopies before the word "celiac" was even uttered. It is the story of a little girl who within days of going gluten free was sleeping through the night, was eating again, and was "HAPPY." Most of all, it is a "must read" and "please share"!
From following Cherie online, I knew that her whole family had subsequently gone gluten free after Abigail's celiac diagnosis, so I asked her to share more on that as well as her own more recent diagnosis of Wegener's Granulomatosis. (Read more via the link, but in simple terms, Wegener's Granulomatosis is a rare disease of inflammation. The inflammation leads to damage of vital organs.) Here's what Cherie shared with me:
"I was tested, then my son, my Mum and my brother. All celiac. Definitely in our blood line! Josh (my husband) has a gluten sensitivity, and chooses not to eat gluten as it makes him very ill. So we are completely GF.

Connor is severely lactose intolerant, so I try to do as much DF as possible. I do not want him to have to take lactose pills all the time. We try to use them only when out.

I do not mind sharing that I have Wegener's Granulomatosis. But since it is so rare it will probably leave quite a few scratching their heads. 😉 It is definitely a tough battle. But so many are worse than I, so I should not complain."
Cherie is an incredibly inspiring person to me. She has a zest for life that is simply unstoppable. I am always amazed and delighted with all that she has going on despite her many ongoing and very difficult health challenges.
Gluten-Free Cheeseburger Birthday Cake Works for Birthdays and More
Today's recipe is a good example of her fun approach to life and refusal to accept the "status quo," so to speak. She created this gluten-free Cheeseburger Birthday Cake for a dear friend's birthday.
As you would expect, he loved it, and so did everyone else! I asked her if she would be willing to share the recipe with you all and, true to her very giving and sharing nature, she agreed.
Many thanks to Cherie for sharing her family's personal story and this great gluten-free Cheeseburger Birthday Cake recipe.
I think the cake would also be welcome for any festive occasion. I'm thinking graduations and bachelor parties off the top of my head. I could also see it appreciated and enjoyed at a Super Bowl party, too.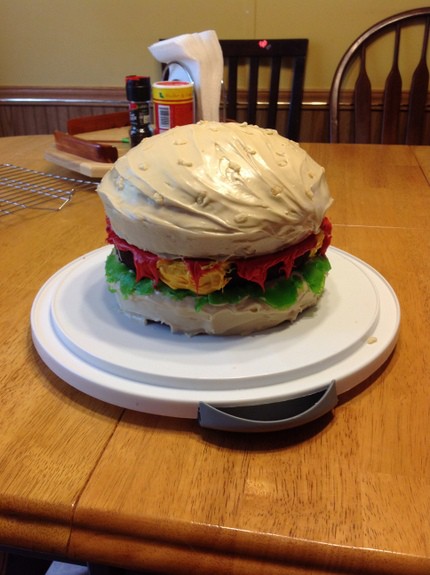 Gluten-Free Cheeseburger Birthday Cake Recipe
Yield:
Gluten-Free Cheeseburger Birthday Cake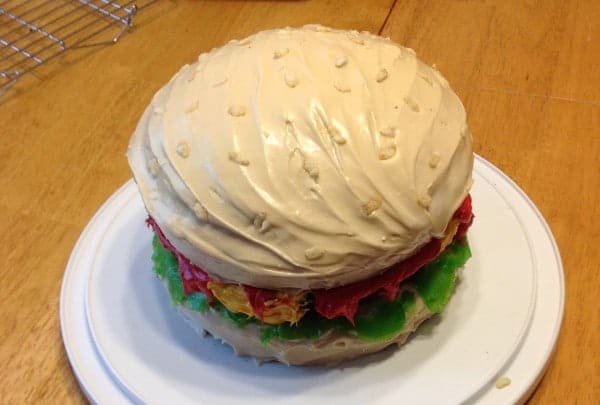 Ingredients
For the Caramel Bun Frosting
1 stick of butter
2/3 of a jar of caramel sauce (which happens to be about 2/3 cup)
1 tsp vanilla extract
4 cups of icing sugar (also known as powdered sugar or confectioner's sugar)
For the Ketchup, Cheese, and Lettuce
1 container gluten-free white frosting
red and yellow food coloring
Green gluten-free fruit snacks
For the Bun and Burger
Instructions
For the Caramel Bun Frosting
Mix the caramel and butter together well. Then add vanilla extract and mix.
Then add icing sugar one cup at a time, beating in between.
After my frosting is mixed I usually speed the mixer up and whip my frosting. I like the light texture it gets from being whipped.
For the Ketchup, Cheese and Lettuce
I scooped out some of the white frosting into two bowls and added red food coloring to one bowl to make ketchup and yellow (and a very, very small drip of red) to the other bowl to make the cheese color. Then I set it aside.
For the green "lettuce" I used GF fruit snacks. We call them gooey gooeys. I just picked out green ones and then flattened each with a rolling pin. Then I stretched them a bit to make them look ragged. You could also do this with green frosting just as easily.
For the Bun and Burger
For the bun, I just followed the directions for making a cake. I put it into two round pans and cooked as directed.
While the "buns" were cooking, I made the "hamburger" layer. I used one box of Glutino Decadent Chocolate Cake Mix. This particular box only made enough for one round pan, so it worked out for me. Again, I followed directions on the box.
Let everything cool completely.
Note that my two "buns" came out perfect, but my top bun did not have a round top, like a real bun. Thankfully my "hamburger"—which I made from the chocolate cake—rounded perfectly. So I carefully sliced off the top of the chocolate cake and reserved that for the top of my bun. (Another option would be to simply add more frosting to create a rounded bun.)
Putting It All Together
First I put the bottom bun down on my cake server and frosted it with the caramel frosting. Then I put the "lettuce" around the top edges, to make it look like the lettuce was hanging over. Then came the "hamburger" layer. The chocolate cake was the perfect color so no frosting is necessary here. Then I just used my imagination on trying to make the "cheese" melt over the sides. I spread the cheese frosting to the edges to get that look. Then I added the "ketchup" around the top edges of the chocolate layer. You do not have to be neat or perfect!! Then add a little frosting over the top of the "burger" for some "glue" to help your top bun stick.
OK … the top bun was a bit tricky. I put a nice glob of my store-bought frosting in the middle of the top to hold the sliced-off piece of my round chocolate layer that I was adding. Again, the frosting kind of acts like glue. I did not do this….but you should…..frost the edges of the top bun BEFORE you put it on the chocolate layer, the "burger." Trust me, it would be much easier. Carefully place your top bun onto the chocolate "burger" layer and continue to frost the top bun with the caramel frosting. Once you have it centered and placed, it will actually squish down a bit over the "cheese" and "ketchup" like a real burger.
For the "seeds" on the top bun I used GF Rice Krispies. I just placed them wherever I felt they looked good. After you place them on, gently press them down to stick to the frosting.
And that is it. A giant burger for your favorite GF kid! Or in my case, one of our closest friends, who is not at all GF, but loves my cooking. And happens to be a big kid!
Notes
From Shirley: Cherie told me "I hope it shows other parents that with a bit of work, they can make fun cakes too. GF does not have to be boring. 🙂 " So true!If you need a "more free" version of this Cheeseburger Cake, use the same approach, but use versions of the individual components that will work for you. For example, for a vegan chocolate cake "burger," you could bake this gfe vegan chocolate cake in a round cake pan. For a dairy-free, refined sugar-free caramel sauce, you might try Megan's (Allergy Free Alaska)"Liquid Gold" Caramel Sauce. Dairy-free, vegan frosting recipes abound if one wants a homemade frosting that is "more free." Erewhon Crispy Brown Rice Cereal is a sugar-cane free, natural choice for your "sesame seeds." And so on and so forth …you get the idea!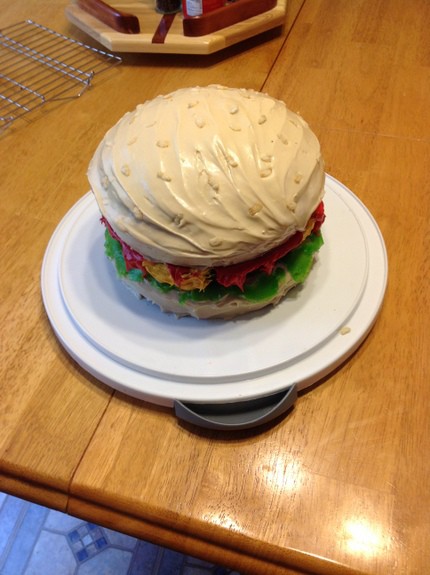 Originally published September 29, 2013; updated May 13, 2019.