For affiliate links and as an Amazon Associate I earn from qualifying purchases.
It will take you longer to say this recipe's name, gluten-free Double Chocolate Banana Truffle Cookie Bites than it will to eat one of these two-bite (maybe three-bite) tasty treats. Okay, truthfully, these cookie bites are small, only 1 ½ to 2 inches in diameter depending upon the ingredient options you choose, and you can most definitely eat them in a few quick bites, but I like to nibble them a little at a time.
The combination of bittersweet chocolate from the cacao powder (or cocoa powder) and the semi-sweet chocolate chips yields a rich, meant-to-be-savored, cookie bite, not one that is best gobbled down. (Can you tell I'm in fall mode by the use of that word?)
UPDATE: On April 4, 2023, Gluten-Free Watchdog issued a new statement, Gluten-Free Watchdog Cannot Recommend Any Brand of Gluten-Free Oats. Read the full statement here. This statement was followed by details on recent testing results of gluten-free products that contain oats., which showed 30% of the labeled gluten-free oat products tested contained quantifiable gluten.

This statement was followed by details on recent testing results of gluten-free products that contain oats, which showed 30% of the labeled gluten-free oat products tested contained quantifiable gluten. I'm not eating any oats and I urge all of my readers who eat gluten free for medical reasons to also abstain.
This recipe comes from my recent obsession with using all my bananas to create recipes versus throwing them all in the freezer. Otherwise, I have a fear that I'll become the star of a reality show like Confessions of a Banana Hoarder. No kidding. Plus, I've also been preoccupied with creating recipes that have less sugar of late.
Well, with the exception of the Texas Sheet Cake (which my family has always called Secret Cake) that I made for my mother's birthday. Holy moly, now there was some sugar in that cake! It really needs to be renamed Candy Cake. Thank goodness the last time I made that recipe was 9 years ago.
But, of course, I am digressing a bit. Most of the time, I really am looking for a treat recipe that satisfies and does not ignite cravings to the point that I rationalize "I'll just get one more" … and then proceed to wear a path to the kitchen in doing so. So recently I created Chocolate Chip Coconut Cookies and then Banana Ice Cream and now these Double Chocolate Banana Truffle Cookie Bites.
It was a sort of non-recipe for banana oat chocolate chip balls on a friend's Facebook page that I used as the inspiration and launching point for these soft healthy cookie bites that fit my personal preferences and can fit almost anyone's needs and preferences. In the spirit of responsible testing, I made these treats several different ways and each version is a winner. I love it when that happens!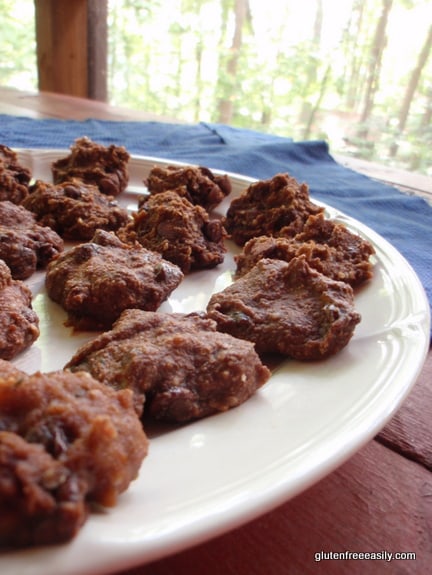 I included more chocolate than the inspiration cookie had (yeah, baby), made two oat-free versions for those who can't do gluten-free oats, omitted the nut butter/seed butter for one batch, and left out the coconut flour for those who don't eat coconut, etc. These Banana Double Chocolate Truffle Cookie Bites, which are delicious in every way shown—and are egg free and vegan, with grain-free, paleo options–are the end result.
In closing, I'll tell you that the version I made using almond flour is by far the most trufflelicious but, again, I don't think you can go wrong with any of them. Oh, and the double chocolate factor in these cookie bites does make them a little harder to resist than I'd originally intended.
Four days later several gluten-free Double Chocolate Banana Truffle Cookie Bites remain, but admittedly there are not many. We all know the siren call of chocolate, right?
More Gluten-Free Chocolate and Banana Recipes
~ 40+ of the Best Banana Bread Recipes
~ Banana Chocolate Chip Cookies
~ Banana Flour Chocolate Chip Cookies
~ Banana Milk Recipes (4 Flavors)
~ Chocolate Peanut Butter Banana Smoothie
~ Paleo Banana Chocolate Chunk Pound Cake
Gluten-Free Double Chocolate Banana Truffle Cookie Bites Recipe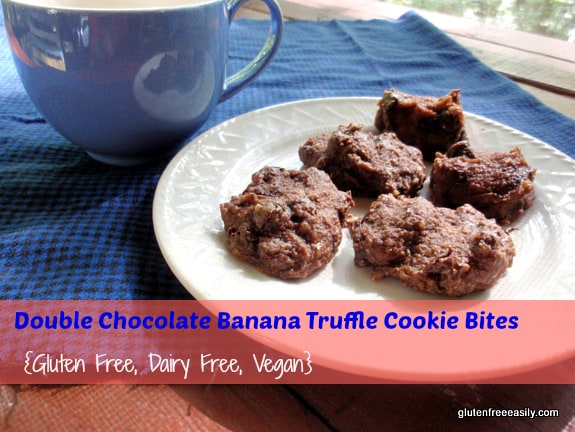 Yield:
Double Chocolate Banana Truffle Cookie Bites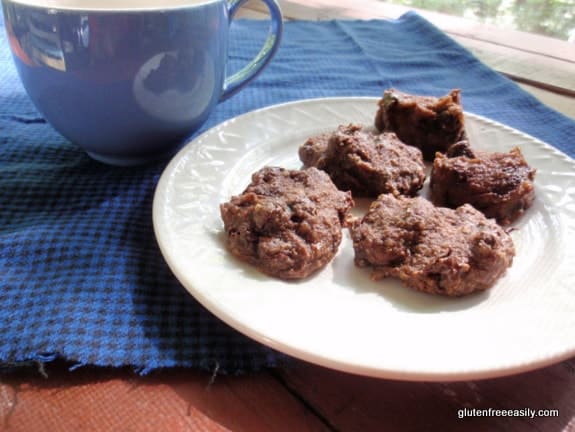 Instructions
Preheat oven to 350 degrees Fahrenheit. Line two baking sheets with parchment paper.
In a large bowl, mix all ingredients well. If going with the coconut flour option, allow the batter to sit a few minutes to thicken on its own.
Use a spoon to drop cookie batter in small amounts on parchment-lined baking sheets. Batter will not spread much (if at all) so be sure to drop the batter in the shape you want. Because the batter doesn't spread, you don't have to leave much room between the cookie bites.
Bake for about 8 to 10 minutes until cookie bites look set.
Remove baking sheet from oven and let cookie bites sit on the baking sheet an additional 10 minutes (or so) before removing to cool.
Makes about 18 to 20 cookie bites about 1 1/2 to 2 inches in size.
Notes
Because these are very moist, they should not be stored in a closed container. I left mine in an uncovered cookie tin on the counter. Quinoa flakes have a somewhat strong flavor. I like them and think the flavor complements the chocolate in this recipe, but if you have not enjoyed quinoa flakes previously, you're unlikely to like them in this recipe. Almond butter, peanut butter, or Sunbutter really makes a big difference to this recipe, giving it the true truffle factor. Coconut flour adds both sweetness and binding, but it can be omitted if you don't eat coconut. (Dry milk powder could *probably* be used instead if you'd like.) I enjoy the nut-free nuttiness and added nutrition of hemp seeds in this recipe (especially when combined with quinoa flakes or oats), but they are not a required ingredient.
Originally published September 23, 2013; updated April 17, 2023.