For affiliate links and as an Amazon Associate I earn from qualifying purchases.
Gluten-Free Cream Cheese Pound Cake with Streusel Filling. What a delicious mouthful, that is!
Pound cake originated in the early 1700s and got its name because the original recipe contained a pound of butter, a pound of flour, a pound of sugar, and a pound of eggs. Pound cakes and their ratios of ingredients have certainly changed over time, particularly depending upon which part of the world in which they're created.
However, the Gluten-Free Cream Cheese Pound Cake with Streusel Filling that I'm sharing today might come pretty close to those original ratios.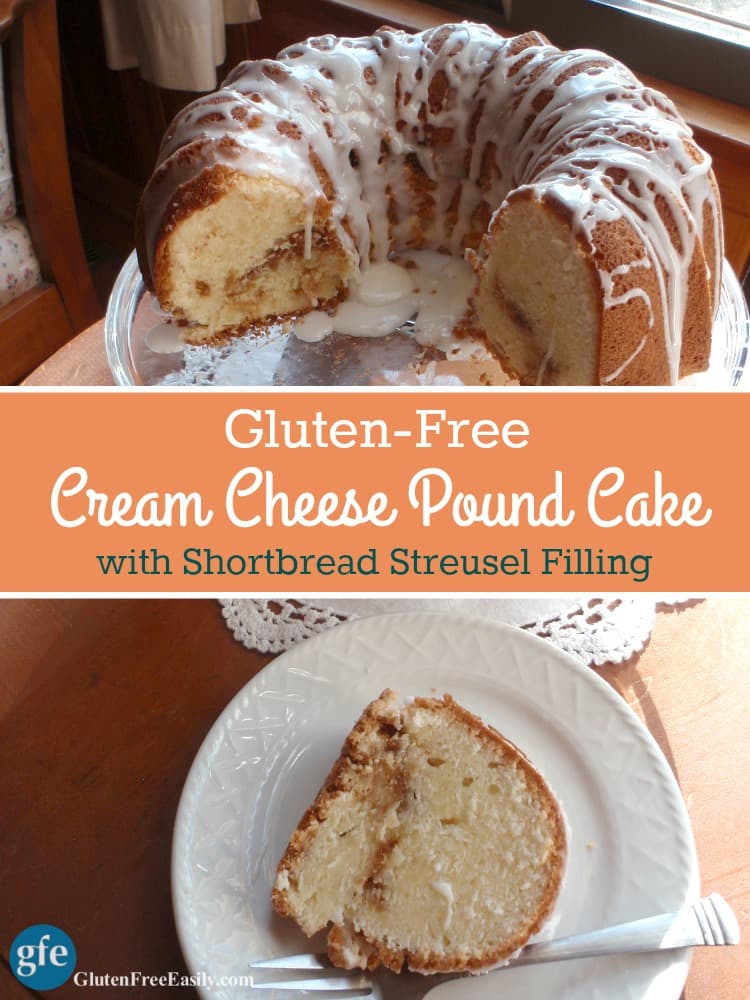 To create a streusel factor, I've used gluten-free cookies, but you can also make a simple streusel without cookies (or even leave out the streusel if you wish). If I'm being completely accurate here, this cake is Gluten-Free Cream Cheese Pound Cake with Streusel Filling and Glaze.
Yes, that is even more of a mouthful but again, a very delicious mouthful. A scrumptious mouthful, in fact.
While this Cream Cheese Pound Cake can easily stand on its own, the streusel filling is a fantastic addition. It stays soft and luscious and is melt-in-your-mouth good.
The sugary glaze adds a festive touch and old-fashioned appeal. Plus it's tasty as well, of course.
Obviously, this cake is gloriously rich and indulgent. It's most definitely suitable for the holidays or a special event.
I haven't eaten cream cheese pound cake since before going gluten free, over 12 years ago. As the saying goes, it was worth the wait! But … Warning: One slice might lead to another.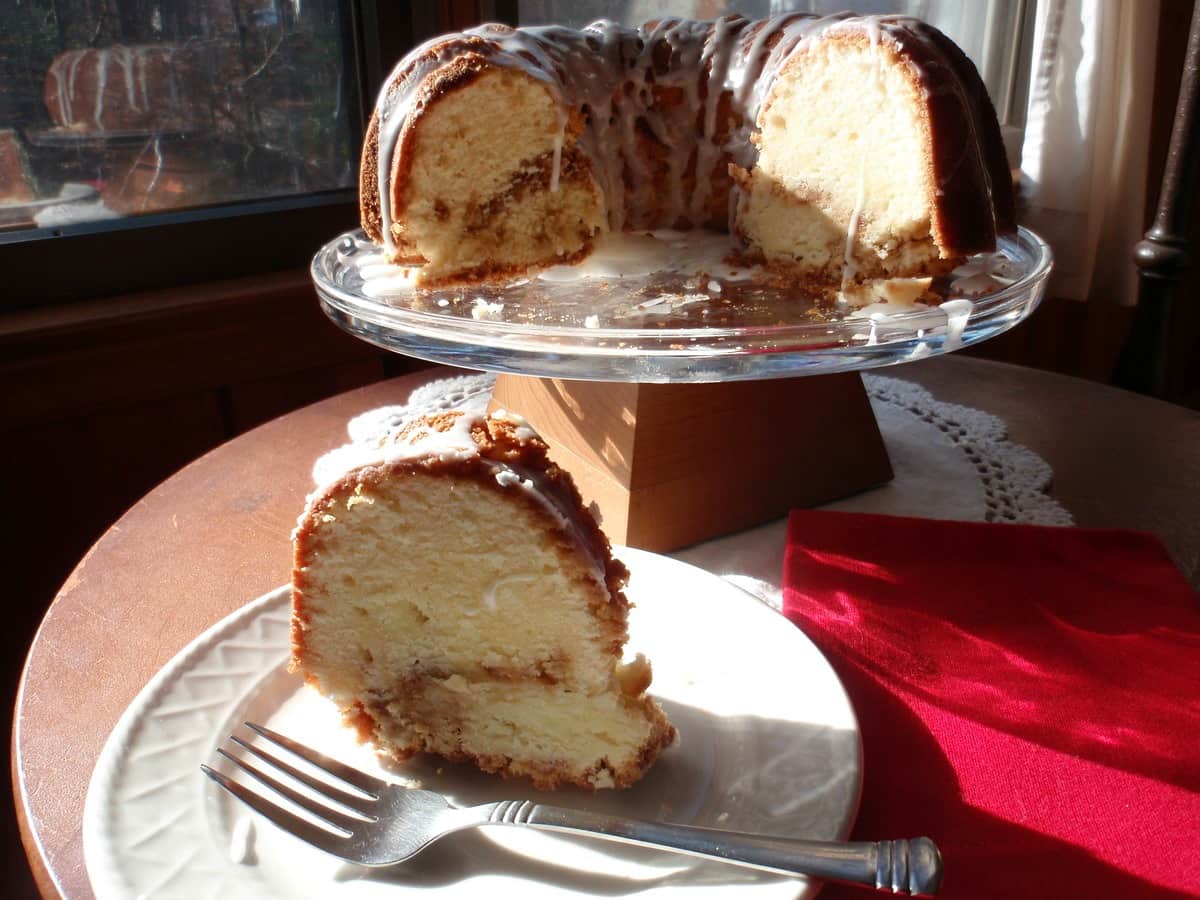 Case in point, after taking these photos, I decided that it would be best if I took the rest of this cake to my Mom's today. Mom is expecting visitors this week, including my gluten-free aunt tomorrow, so I figured this cake would get put to better use to her house than mine.
I visited with Mom for a while and then headed home. It's only about a 10-minute drive. I was only home about 10 minutes when the phone rang and it was Mom. She skipped the usual greeting and gushed, "I'm telling you that cake is to die for! We need to freeze the rest for Christmas Day."
I laughed and thanked her, and told her I was so happy that she enjoyed it so much. I assured her that I could make this recipe again for Christmas.
Before she hung up she said, "I'm going to go brush my teeth now, so I can keep from eating another piece tonight!" Now that's a testament to this gluten-free Cream Cheese Pound Cake with Streusel Filling Cake's goodness for sure!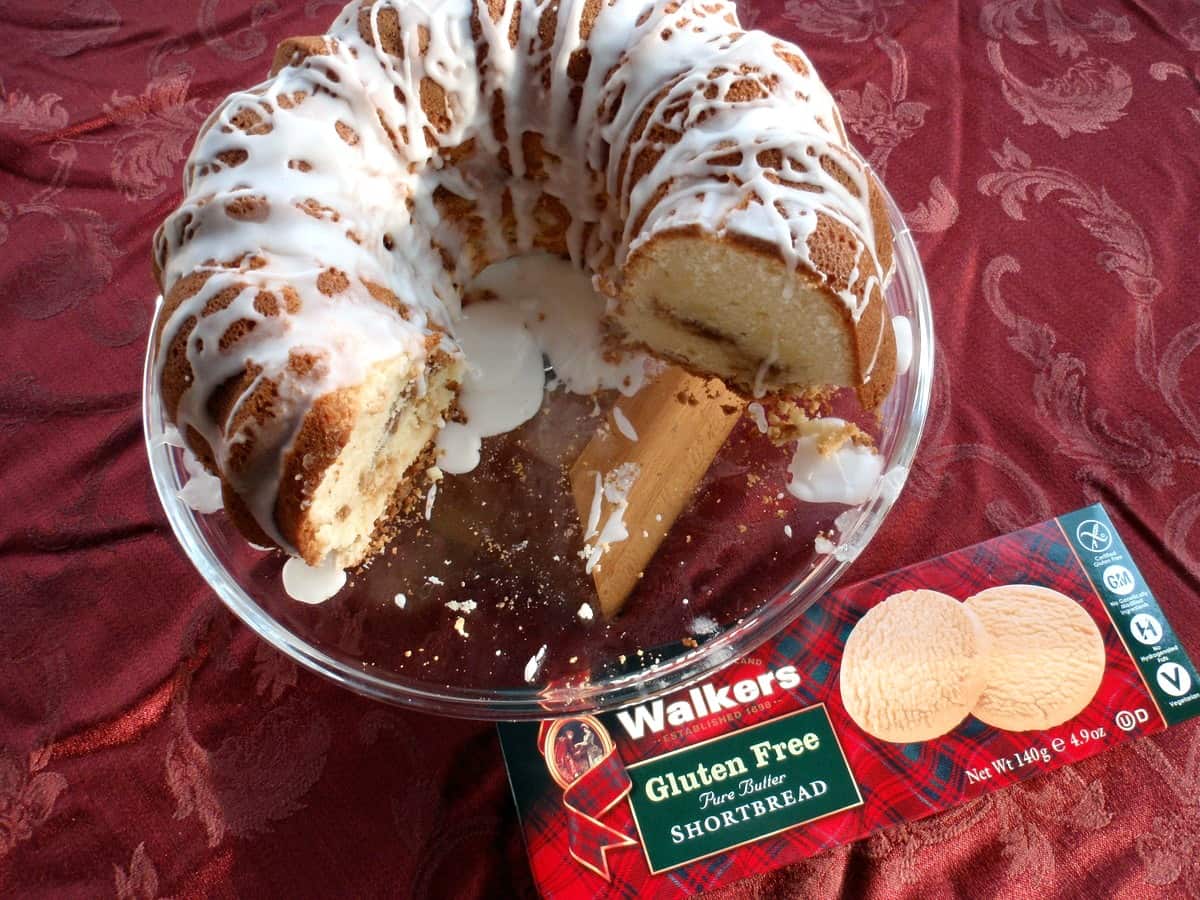 Some of you might remember I shared Salted Caramel Shortbread Bars also made from ready-made shortbread cookies that I made earlier this year. Mom reviewed those and really loved them as well. Such praise from Mom is not given freely, let me tell you.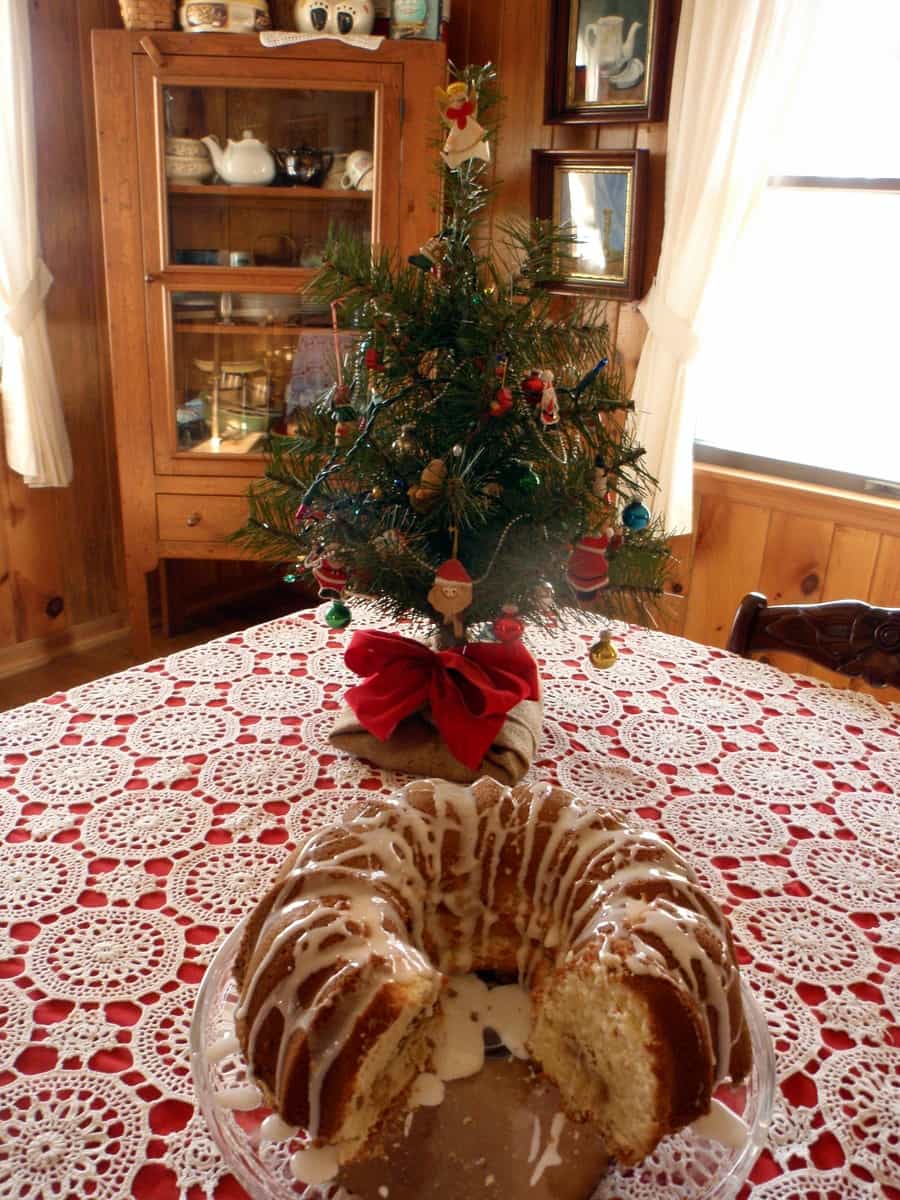 Gluten-Free Cream Cheese Pound Cake with Streusel Filling Recipe
Yield: 12 servings
Gluten-Free Cream Cheese Pound Cake with Streusel Filling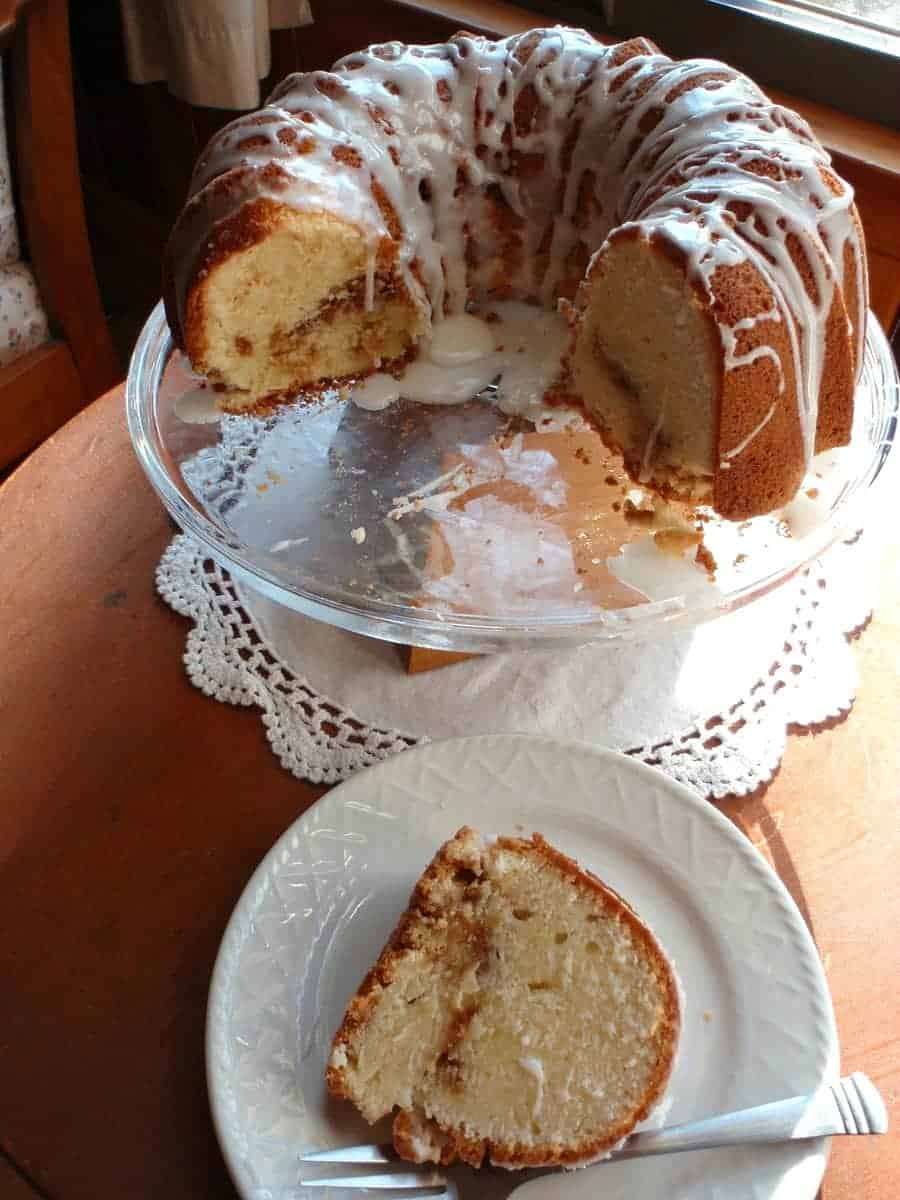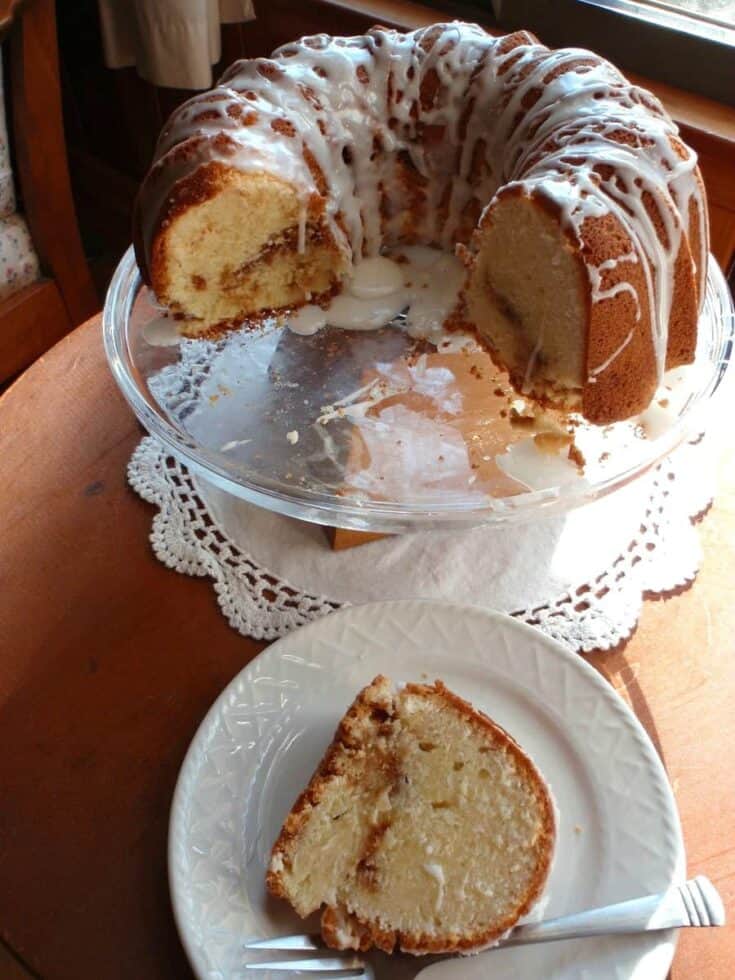 This Southern Cream Cheese Pound cake with an optional Streusel Filling---is simply "to die for"!
Cook Time
1 hour
20 minutes
Total Time
2 hours
10 minutes
Ingredients
Cake Ingredients
1 ½ cups of butter (3 sticks), softened
8 ounces (1 block) of cream cheese, softened
3 cups granulated sugar
6 eggs
3 cups gluten-free all-purpose flour mix (I use my Two-Ingredient Flour Mix, see notes)
1 ½ tsp xanthan gum
Streusel Filling Ingredients
¼ cup (½ stick) butter, melted
1 box gluten-free cookies (about 9 cookies), such as shortbread, vanilla wafers, or even vanilla gf sandwich cookies, crumbled with some smaller "chunks" remaining (see notes for suggestions on how to make streusel without cookies)
½ cup light brown sugar (or coconut sugar)
Glaze Ingredients
1 cup powdered (confectioners') sugar, sifted
2 to 3 tbsp milk (dairy or nondairy, see notes)
¼ tsp vanilla extract
Instructions
Preheat oven to 325F. Grease Bundt pan. (I used coconut oil spray.)
Cream butter and cream cheese together in a large mixing bowl until fully blended.
Gradually add granulated sugar, mixing well as you go.
Add eggs one at a time, stirring well after each addition.
Add flour mix gradually, stirring well and carefully (so you don't "lose" a lot of it) until fully incorporated.
Add vanilla extract. Blend well.
Add batter to Bundt pan, filling about a third of the way full.
Sprinkle Streusel Filling evenly over batter. Use butter knife to swirl into batter more, to evenly distribute if you wish.
Spread remaining batter over streusel mix.
Bake for about 1 hour and 20 minutes to 1 hour and 30 minutes. Test for doneness with toothpick. You don't want anything longer than a toothpick because if you hit the streusel layer you will think the cake has not finished baking. When the toothpick comes out clean and the cake is golden and crusty on the outside, this cake is done.
Cool in pan for about 20 minutes. (I like to place the Bundt pan on the neck of a full unopened bottle of wine to cool.) When cooled, invert over plate or cake plate to remove. Cool an additional 30 minutes or more.
Mix glaze ingredients in medium-sized bowl and drizzle over cake. (I use a teaspoon for the drizzling.) Let glaze set a minute or two.
Serve. Lightly cover to store. Sealing this cake in a container for regular storage is not recommended as it's a very moist cake. I have not frozen this cake, but I think freezing it will work well.
Notes
I do not recommend a bean-flour based gluten-free flour mix for this recipe.
For the glaze, start with the lesser amount of milk and increase if needed to get the right consistency for dripping.
There are lots of options for streusel filling. One simple recipe that does not use gf cookies can be made from the following ingredients. Simply mix all together and use in place of the streusel filling shown. 
4 tbsp melted butter
1/2 cup gluten-free flour
1/2 cup sugar
1/2 cup light brown sugar
1/2 tsp ground cinnamon
If you're not a streusel fan, you can simply leave it out. This cake will still be excellent as a Cream Cheese Pound Cake "on its own."
Originally published January 13, 2015; updated November 10, 2022.