For affiliate links and as an Amazon Associate I earn from qualifying purchases.
Let's face it. It's dessert recipes that tend to get us all excited. (Well, those plus bread and pizza recipes … mostly.) A lot of the dessert recipes new on gfe this past year came from super talented gluten-free blogger friends, some of whom who are also much loved gluten-free cookbook authors. I created my own fair share of these dessert recipes as well. I do love desserts. (After all, I created a whole site dedicated just to share the very best gluten-free desserts!)
Last, I'm also a big muffin fan and when you enoy muffins like I do, there's a bit of an overlap between muffins for dessert and muffins for breakfast, so I decided to share the breakfast and dessert categories for this final recap post from 2014. I haven't shared all the muffins here on gfe from this year, just the most popular ones, but you'll see all 32 of them in the March Muffin Madness (MMM) roundup (or via the MMM badge on my sidebar).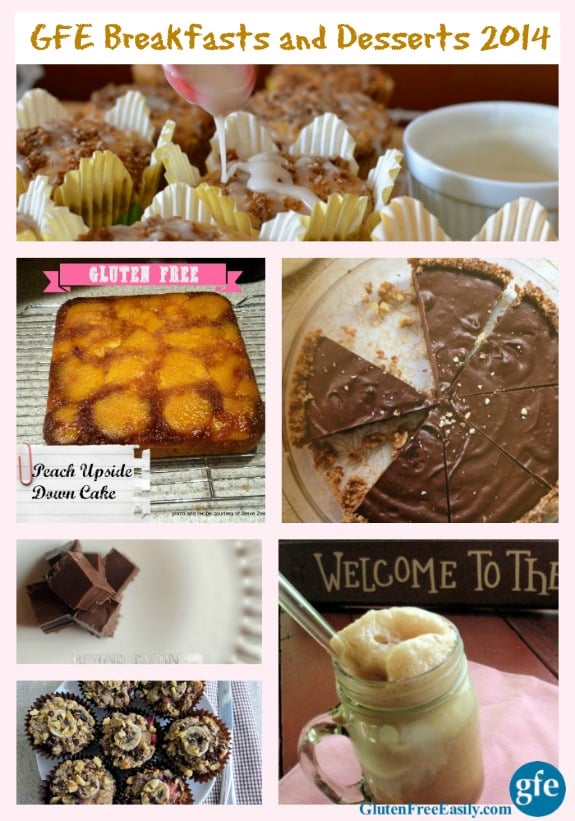 ~ Bacon Muffins ~ Starlene (GAPS Diet Journey) packed her grain-free muffins with so much goodness. They truly work for any meal! Check out Starlene's cookbooks: Beyond Grain & Dairy, Baking with Coconut Flour, and Everyone Loves Pudding.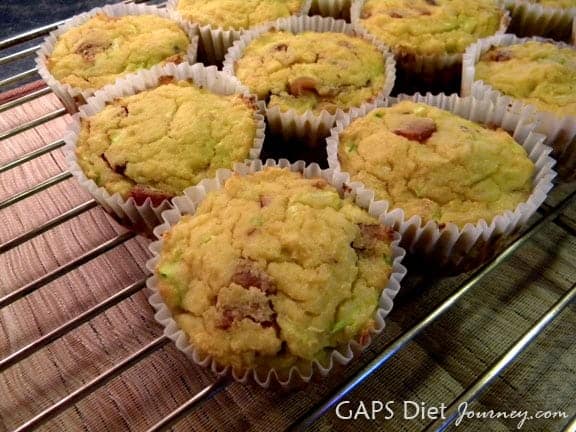 ~ Banana Split Muffins ~ If you want to get your kids excited about muffins, mention that you're making Lisa's (Pocketfuls) Banana Split Muffins and then present them with these beauties. These muffins definitely have the party thing going on, but they are actually very healthy. That's a parent win for sure!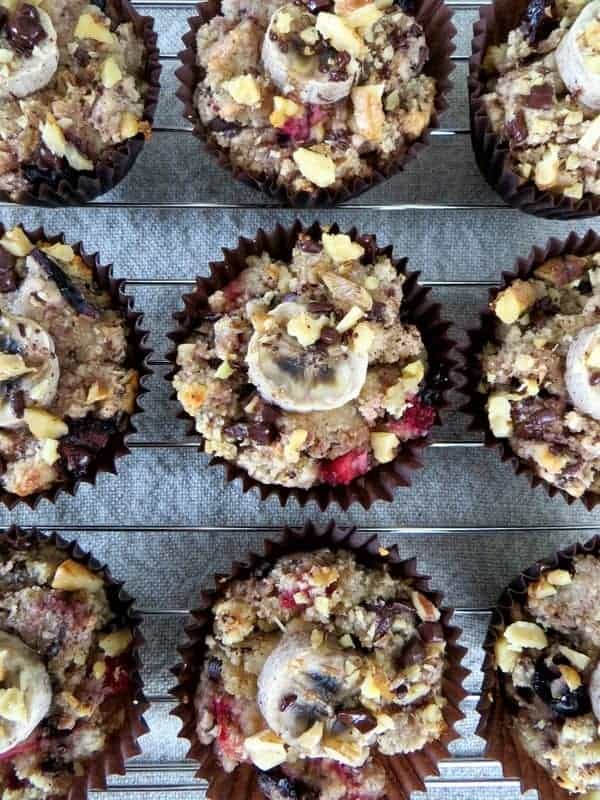 ~ Butterscotch Tassies from Chrystal Carver's Sweet and Simple Gluten-Free Baking ~ Yes, this cookbook is exactly as described, sweet and simple recipes. Chrystal prides herself on using few ingredients in creating recipes that taste the way they're supposed to taste!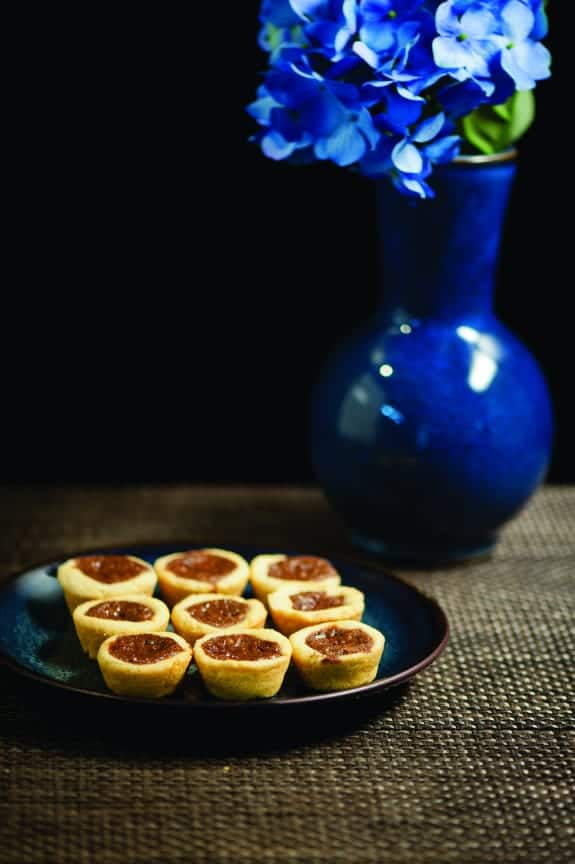 ~ Chocolate Banana Milk and Other Flavored Milks ~ Now this milk is truly naturally flavored and it's healthy. If you have a glut of overripe bananas (who, moi?), you could make this every day and make the kiddos happy. However old your "kiddos" might be!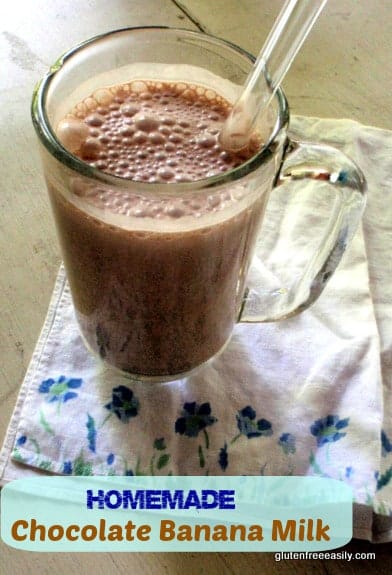 ~ Chocolate Banana Swirl Muffins ~ There's just something about swirls that we find irresistible in our food. I mean lollipop makers and Slurpee makers have been capitalizing on this swirl appeal for decades. Plus, chocolate and banana together is a match made in heaven, right? From Sarah (Sarah Bakes Gluten-Free) and I: "You're welcome!"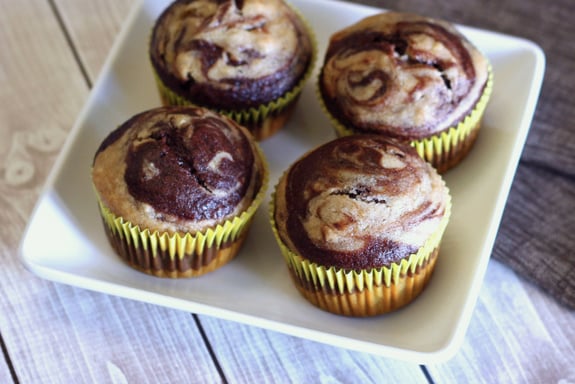 ~ Chocolate Pie with a Raw Graham Cracker Crust ~ This swoon-worthy pie comes from my friend Kelly Brozyna's Paleo Chocolate Lovers' Cookbook. It's hard to believe but this recipe is gluten free, grain free, dairy free, egg free, refined sugar free, paleo, primal, and vegan. However, looking at the photo, it's not hard to believe that this pie is divine! If you're familiar with Kelly's blog, The Spunky Coconut, it won't be surprising though!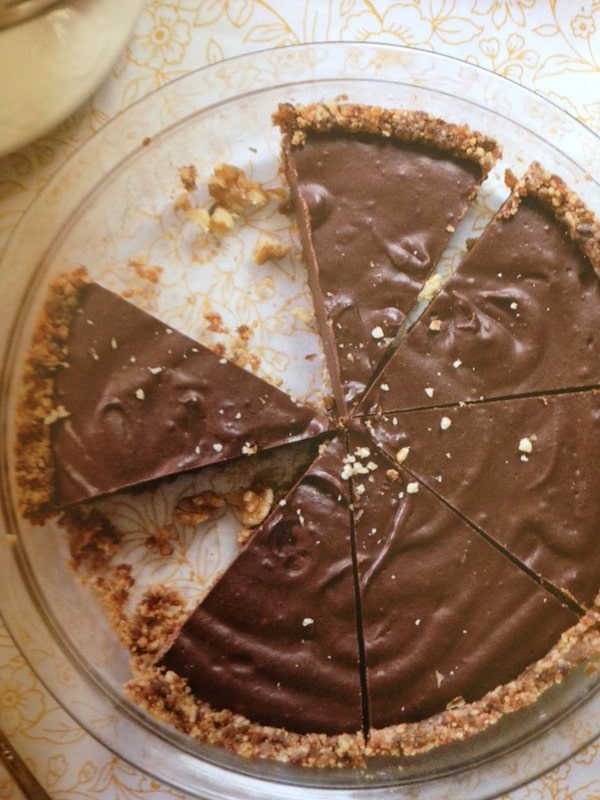 ~ Chunky Monkey Muffins ~ Stacy and Matt (Real Everything, formerly Paleo Parents) created this recipe. You might be able to guess the primary ingredients in these muffins from their name. But you will probably be surprised to learn that this grain-free, paleo recipe is also vegan with a nut-free option.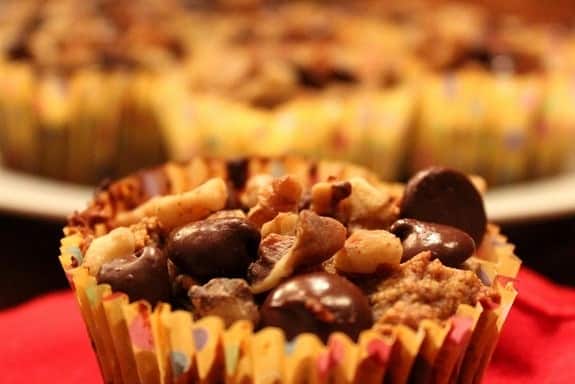 ~ Cinnamon-Sugar Donut Muffins ~ When was the last time you were able to enjoy a gluten-free cinnamon sugar donut? Yeah, I thought so. Well, you are going to happily get your cinnamon-sugar donut fix with this gluten-free, vegan muffin version from In Johnna's Kitchen. Remember that vegan recipes are the perfect solution for those who are dairy free and/or egg free as well.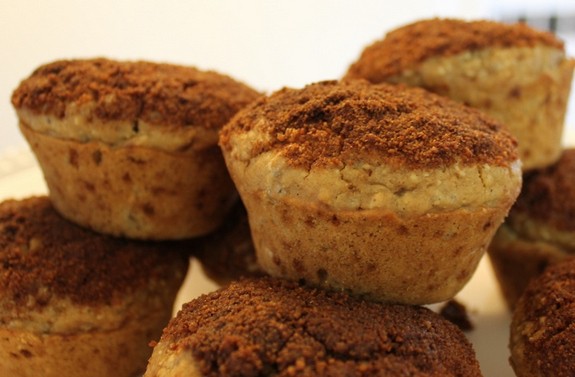 ~ Coffee Cake Muffins ~ Even if you're not one who usually eats coffee cake, I bet you'll want coffee cake—in muffin form, of course—when you take a look at Sarah's (Celiac in the City) recipe!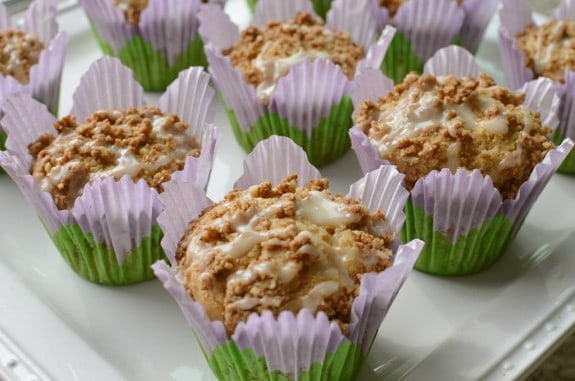 ~ Grain-Free Banana Nut Chocolate Chip Brownies ~ The recipe name and photo say it all. But you hear the "all" louder when you actually bite into one of these babies!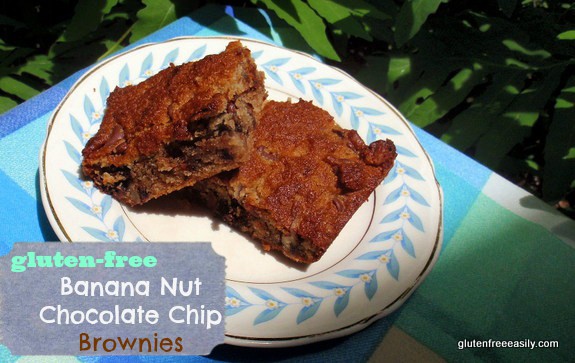 ~ Key Lime Cheesecake Bars from Cara Reed's Decadent Gluten-Free Vegan Baking ~ Cara of Fork and Beans published her first cookbook and it's stellar as you can see by these divine bars!
~ Blueberry Waffles (with lemon option) from Kathy Hester's OATrageous Oatmeals ~ Brighten your day by starting out with these waffles!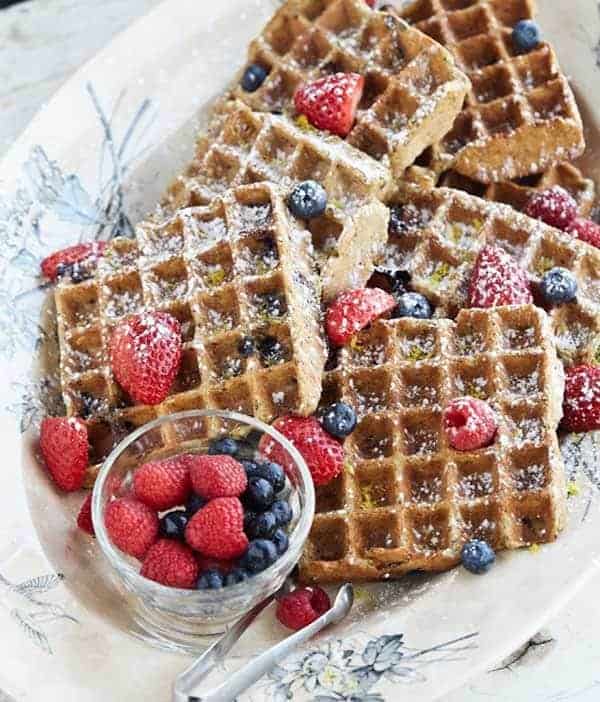 ~ Lemon Chia Seed Muffins ~ Orange is the new black. Wait … wrong reference. Lemon Chia Seed Muffins are the new Lemon Poppyseed Muffins. Yeah, that's it! Thanks to Alea of Premeditated Leftovers for this genius. Chia seeds are nutritional powerhouses and eating them won't cause you to possibly fail a drug test.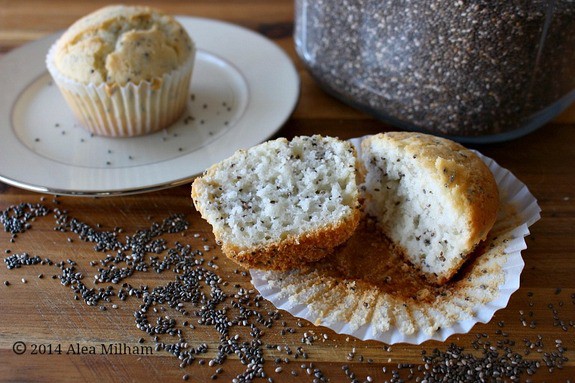 ~ Orange Blueberry Muffins ~ Readers started making Lisa's (Cook Eat Well) recipe the moment it was posted and not a single one has been disappointed!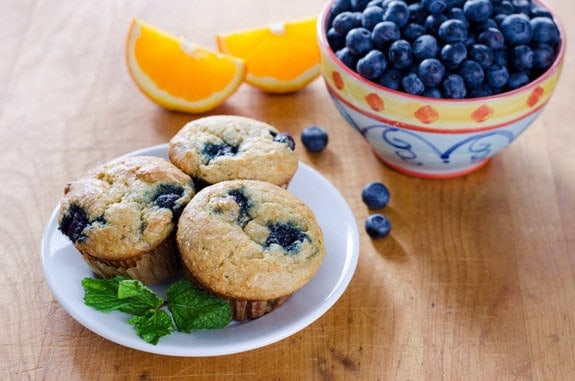 ~ Paleo Banana Chocolate Chunk Banana Bread ~ Maybe the best way to use overripe bananas. Ever.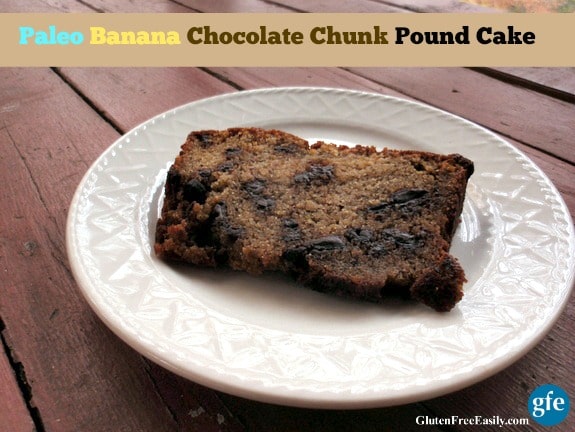 ~ Paleo Disappearing Mounds Cookies ~ If you're a regular reader, you know that I love—and I do mean LOVE—flourless recipes. These cookies are the result of my brilliant idea to substitute shredded coconut for part of the sweetener in my beloved Flourless Cocoa Cookies. The rest, as they say, is history.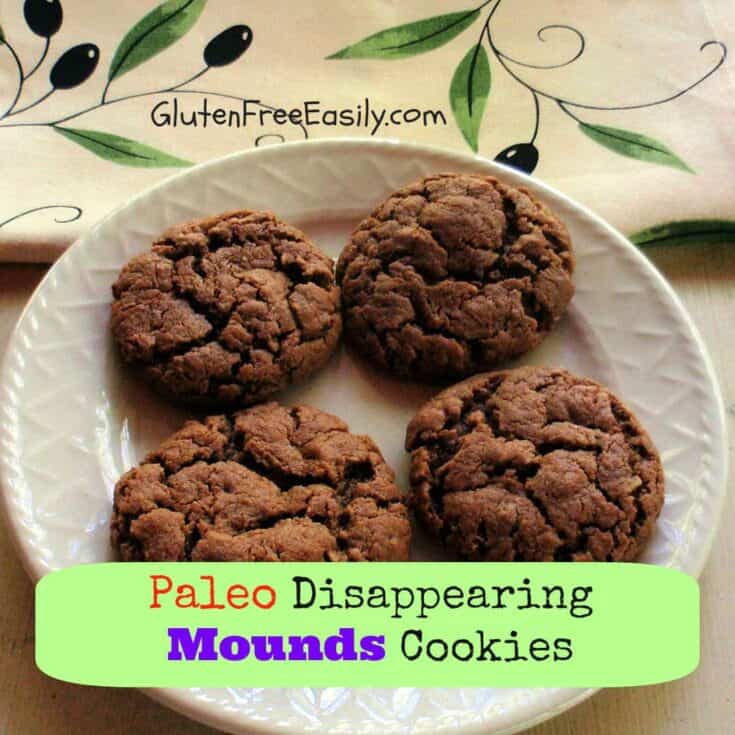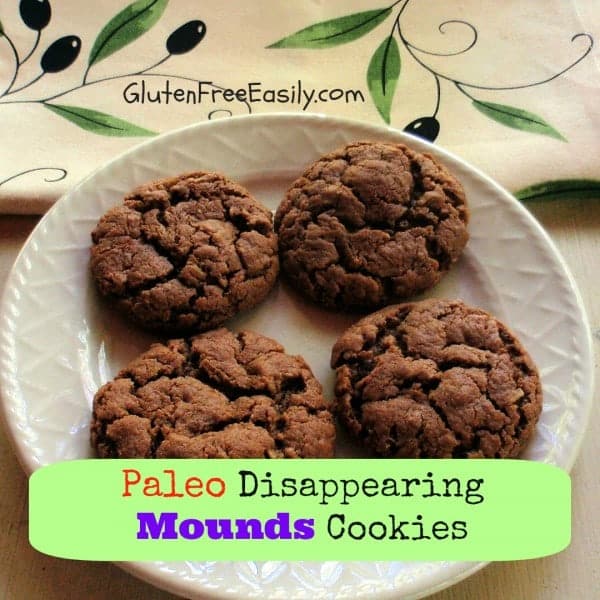 ~ Paleo Sweet Potato Muffins ~ This recipe—from Tessa, the Domestic Diva—is another one that's paleo but also nut free and vegan, which makes it ideal for those who can't eat tree nuts and eggs or choose to live a vegan lifestyle.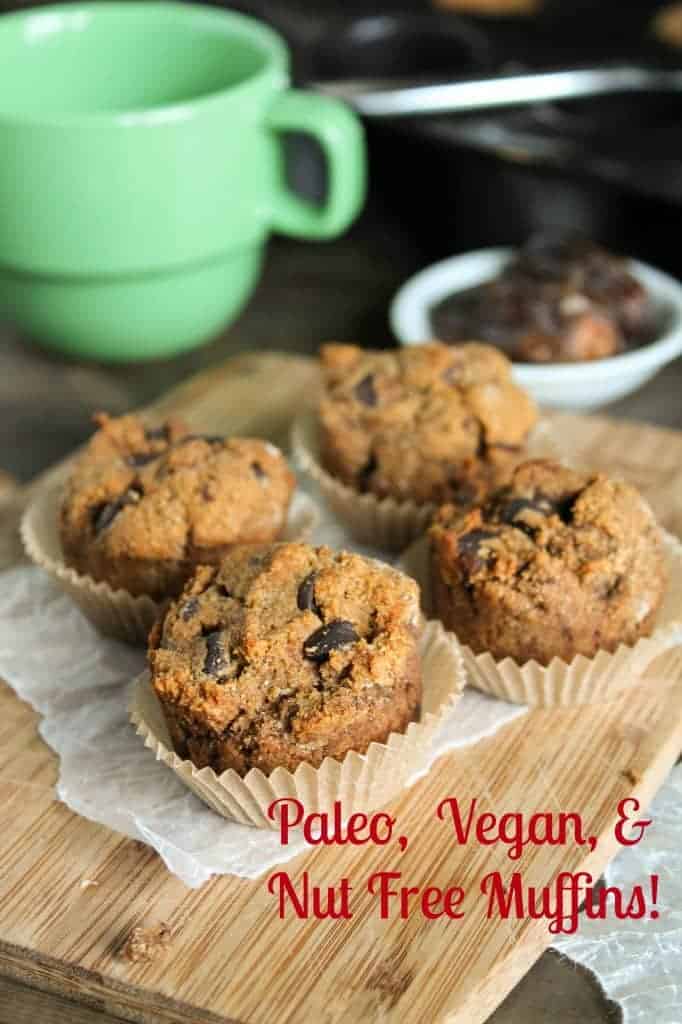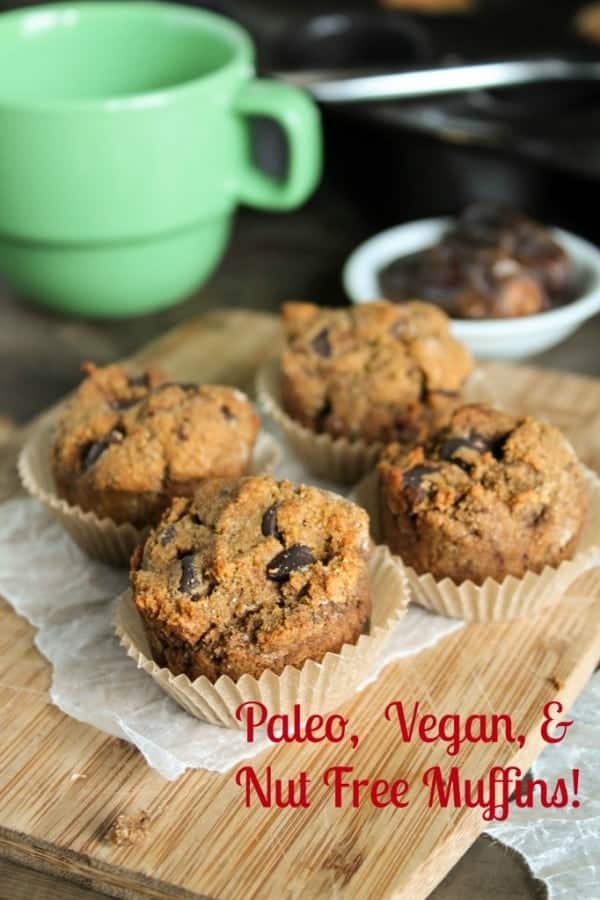 ~ Peach Upside Down Cake ~ Many thanks to my buddy Steve for sharing his recipe and photos with me so that I could in turn share them with you!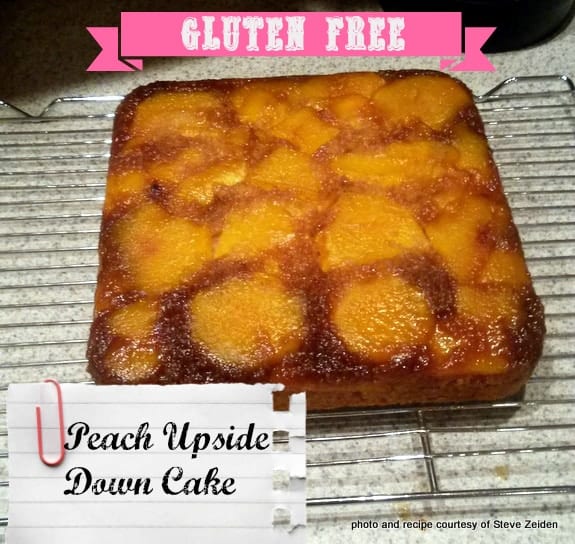 ~ Real Deal Chocolate Chip Cookies ~ It's recipes like this one that made Danielle Walker's first cookbook, Against All Grain: Delectable Recipes to Eat Well and Feel Great, quickly become a New York Times (NYT) bestseller. These cookies are so good! By the way, her second cookbook, Meals Made Simple: Gluten-Free, Dairy-Free, and Paleo Recipes to Make Anytime, recently joined the NYT bestseller list as well!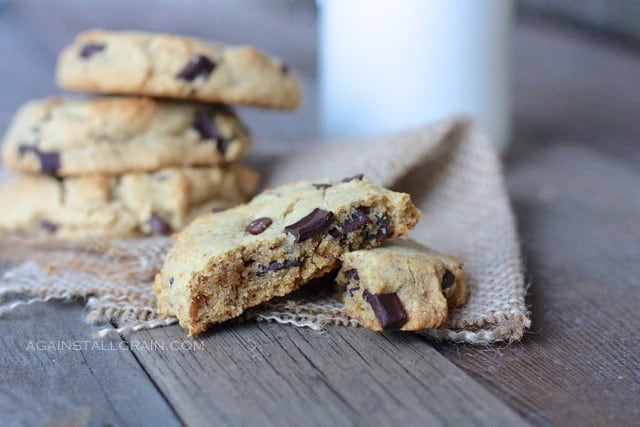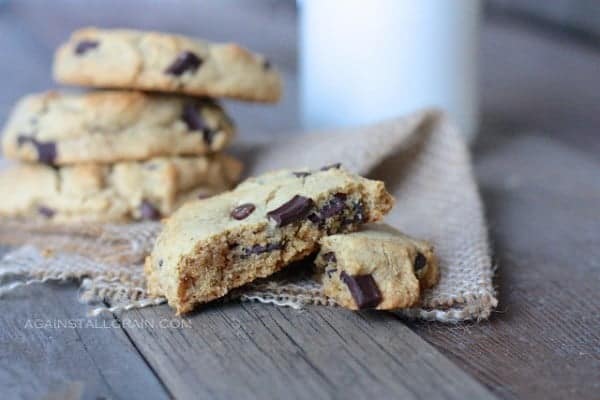 ~ Red Velvet Cupcakes ~ This recipe comes from Carol Fenster's Gluten-Free 101: The Essential Beginner's Guide to Easy Gluten-Free Cooking. Carol gives us this wonderful gluten-free version of our old favorite. Carol's latest cookbook is 100 Best Quick Gluten-Free Recipes.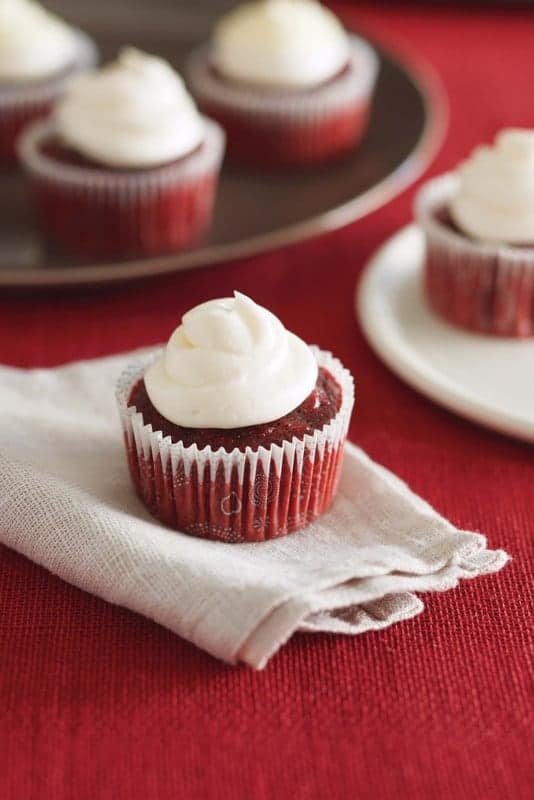 ~ Root Beer & Rum Ice Cream Float ~ My thought process behind this gfe recipe seems pretty obvious and, yes, I do consider this a dessert!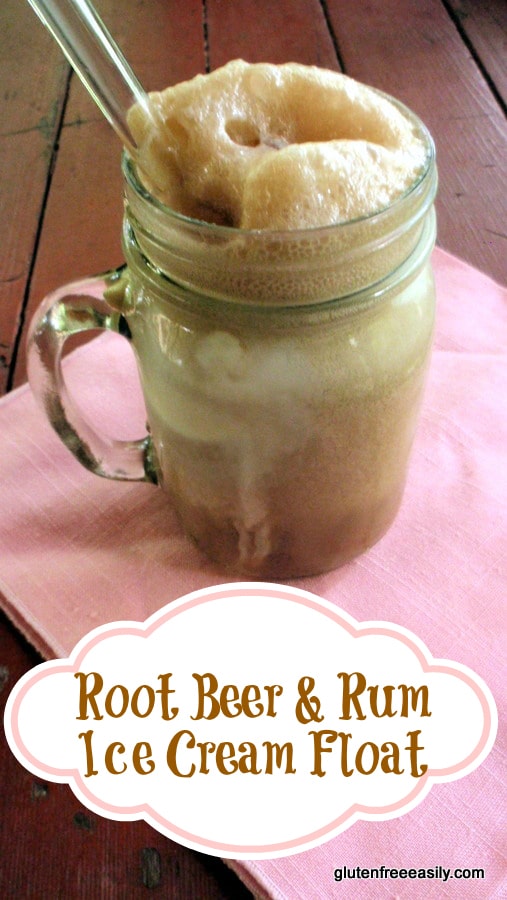 ~ Sneaky Chocolate Peanut Butter Muffins ~ Kathryn, "ChaCha" of ChaCha's Gluten-Free Kitchen, created a winner with this recipe! Readers have been so surprised by the "sneaky" factor and all of them have loved these muffins.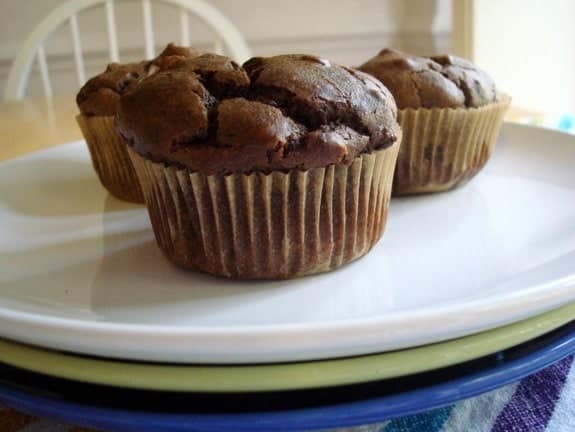 ~ Strawberry Oatmeal Muffins from Maggie Savage's Berrylicious Cookbook ~ Maggie shares gluten-free, dairy-free, egg-free, vegan recipes on her blog, She Let Them Eat Cake, and in her Berrylicious Cookbook (only available seasonally). These muffins are a great way to start or end one's day! I was also tempted to highlight her Raspberry Muffin Cakes from March Muffin Madness. It's clear that she loves her berries and excels in creating recipes using them.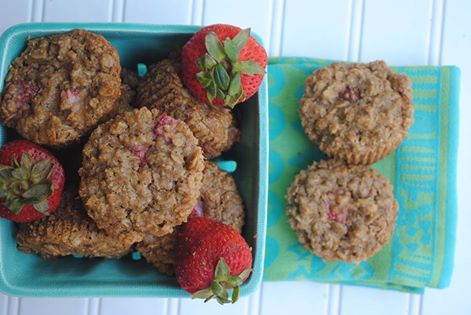 ~ Texas Sheet Cake ~ Enough said.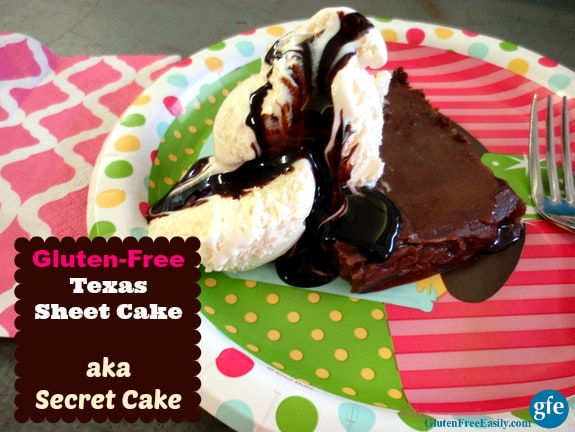 ~ Triple Chocolate Freezer Fudge ~ This recipe comes from Paleo Parents' (Stacy Toth and Matt McCarry) Beyond Bacon: Paleo Recipes That Respect the Whole Hog. Yes, there's a pork factor in this recipe as well. I've made this fudge and it's outstanding. Note that Stacy and Matt's latest book is Real Life Paleo: 175 Gluten-Free Recipes, Meal Ideas, and an Easy 3-Phased Approach to Lose Weight & Gain Health.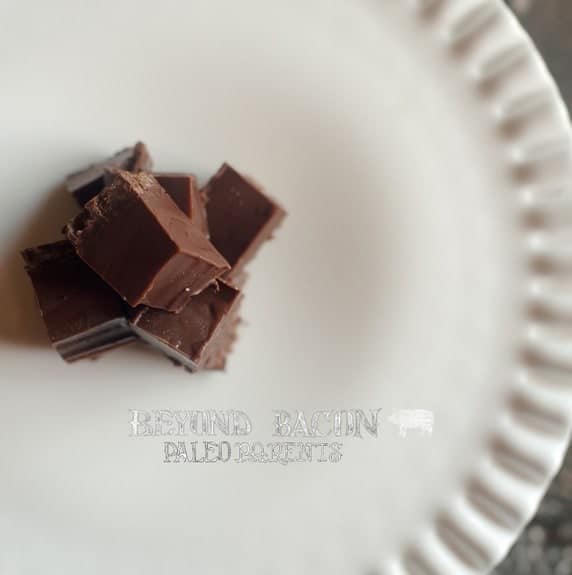 ~ White Chocolate Candy Cane Fudge (or Andes Mint Fudge) ~ Still have some candy canes? Make this fudge and give small portion to all the folks you forgot during the holidays. Your newspaper delivery person, dry cleaner, mechanic, etc. If/when you're out of candy canes, you can make this fudge using Andes Mints or just skip a topping. The "basic" fudge is enough on its own, believe me!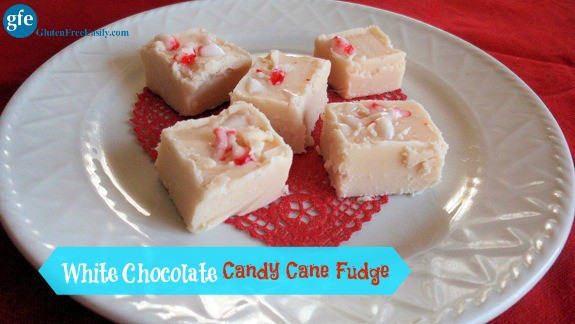 Originally published January 5, 2015; updated November 27, 2022.