For affiliate links and as an Amazon Associate I earn from qualifying purchases.
The other day I told you how Lexie (Lexie's Kitchen) had likened entering the allergy-free world to being a pioneer in her wonderful new cookbook, Everyday Classics: 68 Tasty & Essential Gluten-Free, Dairy-Free, Egg-Free, and Soy-Free Recipes. Today for our Suite of Sweets for Sweethearts event, I'm talking about someone who really has been a pioneer in gluten-free living and a guide to all of us who have followed her, Carol Fenster. And I'm sharing her new cookbook, Gluten-Free 101: The Essential Beginner's Guide to Easy Gluten-Free Cooking, and one of her recipes from it, these gluten-free Red Velvet Cupcakes with Cream Cheese Frosting!
Chances are you know Carol from one of her many excellent cookbooks and/or her many appearances across the nation, and even around the world. Carol went gluten free 25 years ago at the advice of her physician to resolve her chronic sinusitis. It was actually much faster to resolve her health issues by living gluten free than it was to figure out how to actually live gluten free well and deliciously.
After all, those were the days of no internet, which means no online searching for recipes, ingredients, etc. We might fuss about the lack of gluten-free accommodations, ingredients, understanding, etc. now, but in Carol's early days, she really was in unchartered territory. Eventually, though she learned what she needed, created tasty recipes, and met others who lived gluten free and shared her recipes with them. All that led to becoming a well-known and respected cookbook author and speaker (and many other gluten-free roles, such as being an editor for Living Without magazine, which is now known as Gluten Free and More, at one point).
When I started my gluten-free support group almost 10 years ago, Carol and her newsletter were one of my most frequent resources. Yes, the internet had arrived by that time, but there was still a lot of paper versus the electronic access and versions of everything that we take for granted today, so I'd print out enough copies of Carol's newsletter to share with my group each month as not all had computer access. At meetings I'd highlight tips she'd shared in her newsletter and talk about any recipes I'd tried. Her tasty pizza and delicious chocolate chip cookies still stick in my mind.
So it was a real pleasure to actually meet Carol in person a few years ago at one of the major gluten-free events. She's truly such a lovely person. She was doing a bread-making demonstration, and although I'm not much of a traditional bread person (before or after going gluten free), I just had to take time to sit in on her session for a while. She was doing what she's done since shortly after her early pioneer days, sharing all that she has learned about gluten-free baking and cooking with others. Everyone was enthralled, of course. She made everything look very easy! If you'd like to see Carol in the kitchen, be sure to check out her videos on her site here.
Gluten-Free 101: The Essential Beginner's Guide to Easy Gluten-Free Cooking is Carol's 11th cookbook; what an accomplishment! Check them out on Amazon and you'll see that all garner at least 4 stars and most have a 4 ½-star rating. Again, that's a coup.
A few of you gluten-free "veterans" might have experienced a bit of déjà vu when reading the name of this book in association with Carol. You were not mistaken.  Carol did have an earlier book called Gluten-Free 101. This new book has been completely revised and offers much more. For example, there are 175 recipes, 30 of which are new. Each recipe has nutrition information. There are more time-saving techniques, menu ideas and planning tips, and smaller meals and what Carol calls "bites," which are geared to the family on the go.
There are 51 pages of all the information you need to know for living gluten-free as well as possible before the recipes begin in this book. This is the first of Carol's books that I've personally seen that has photographs, and these are color photographs, which add a lot to this book.
This is an all-purpose type cookbook which is just what the "newbie" or the "veteran" needs for living gluten free. You'll find recipes in the following categories: "Breakfast & Brunch," "Small Bites," Soups & Salads," "Main Dishes," "Breads," and "Desserts." The "Breads" category runs 40 pages so if good gluten-free bread recipes and tips are what you are looking for, this section and cookbook will definitely appeal to you! I know that even I was eyeing the photo of the beautiful baguettes!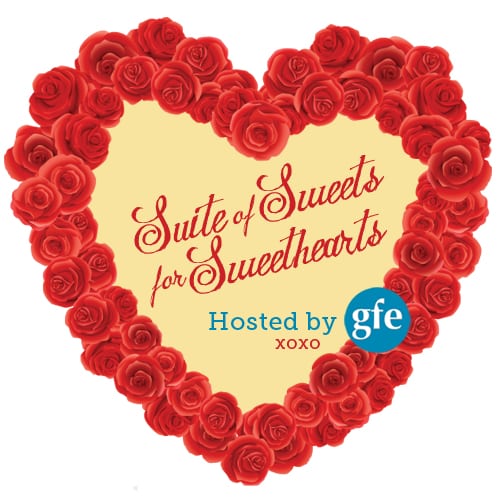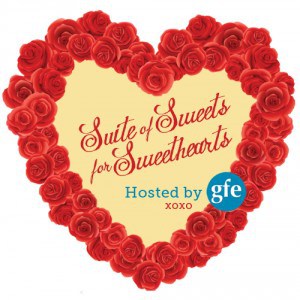 But our event is all about sweets, so let's talk about Carol's desserts for a moment. There are Cookies and Bars; Cakes, Cupcakes, and Frostings; Pies, Tarts, Cobblers, and Crisps; and Puddings and Cheesecakes. Today I get to share Carol's Red Velvet Cupcakes, which I think are pretty much the perfect dessert for Valentine's Day! Sweethearts of all ages—even 25 of them in your child's classroom perhaps—will love these cupcakes! You'll find the recipe and photo, reprinted with permission of Carol and Houghton Mifflin Harcourt, at the bottom of this post.
UPDATE:  This giveaway is now closed. 
Gluten-Free Red Velvet Cupcakes with Cream Cheese Frosting Recipe
Yield:
Gluten-Free Red Velvet Cupcakes with Cream Cheese Frosting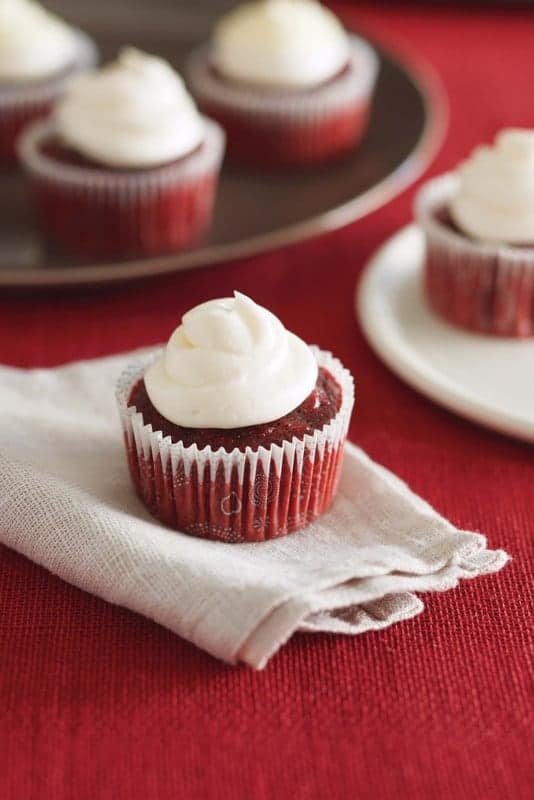 Recipe creator Carol Fenster says: "Now you can enjoy this wildly popular treat, just like everybody else. This recipe makes dainty little cupcakes with flat tops (easier to frost), and their brilliant red color is so inviting. Arrange them on a pedestal cake stand for maximum effect when serving your guests."
Ingredients
1 cup gluten-free flour mix (see notes for Carol's blend)
2 tablespoons unsweetened cocoa powder
3/4 teaspoon xanthan gum
1/4 teaspoon baking soda
1/4 teaspoon salt
3/4 cup sugar
1/2 cup butter or buttery spread, melted and cooled slightly
2 large whole eggs, at room temperature
1 teaspoon pure vanilla extract
1 tablespoon red food coloring
1/2 cup water, at room temperature
1 batch Vanilla Cream Cheese Frosting
3 ounces softened, reduced-fat cream cheese or cream cheese alternative
2 cups powdered sugar
2 tablespoons milk (or water)
1 teaspoon pure vanilla extract
Instructions
Preheat the oven to 350°F. Line a 12-cup standard nonstick (gray, not black) muffin with paper liners.
In a small mixing bowl, whisk together the flour blend, cocoa, xanthan gum, baking soda, and salt until well blended.
In a medium bowl, beat the sugar and butter with an electric mixer on low speed until well blended. Beat in the eggs, one at a time, until well blended. Add the vanilla and food coloring to the water. With the mixer on low speed, beat in one-third of the flour mixture at a time alternating with the water, beginning and ending with the flour mixture. Spoon 1/4 cup of the batter into each liner.
Bake until the cupcakes are firm and a toothpick inserted into the center comes out clean, 25 to 30 minutes. Cool the cupcakes in the pan on a wire rack for 10 minutes. Transfer the cupcakes to the wire rack to cool completely. Frost and serve.
For Vanilla Cream Cheese Frosting, in a medium bowl with an electric mixer on low speed, beat softened cream cheese or cream cheese alternative, powdered sugar, milk (or water), and vanilla extract together until well blended and smooth.
Disclosure:  This giveaway is jointly sponsored by Carol Fenster, Houghton Mifflin Harcourt, and gfe. The opinions expressed are strictly my own.
Originally published February 11, 2014; updated November 10, 2018.