For affiliate links and as an Amazon Associate I earn from qualifying purchases.
I'm late with this post as I was actually still working on my recipe for gluten-free Flourless Magical Muffins yesterday and then watching that other March Madness last night! Anyway, I'm here to share the very last muffin recipe and the last daily giveaway for March Muffin Madness (MMM). But let's enjoy these gluten-free Flourless Magical Muffins first!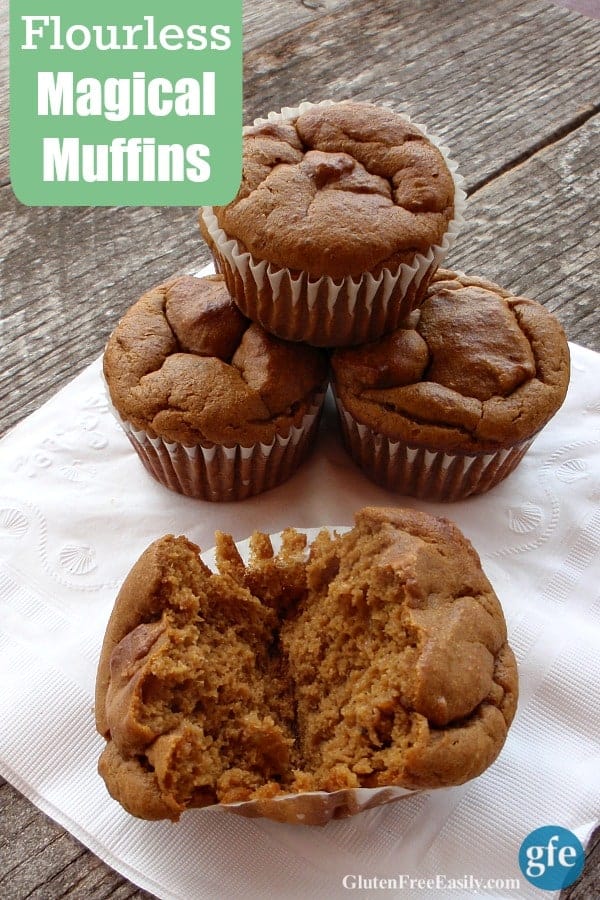 Gluten-Free Flourless Magical Muffins from Gluten Free Easily
I'm absolutely thrilled to be sharing these amazing gluten-free Flourless Magical Muffins with you today right here at gfe! (***Recipe is at the bottom of this post.***) I've been playing around with some muffin recipes, but true inspiration always seems to come at the last minute for me (even after the last minute—ha!), and it usually comes from ingredients I have on hand. That was again the case with today's recipe.
As most of my gfe readers know, I have a love of very simple gluten-free recipes, particularly flourless recipes. With pumpkin butter in the fridge and almond butter in the pantry, my thoughts turned to making a flourless muffin recipe. I remembered one of the most popular muffin recipes from the last MMM event, Sneaky Chocolate Peanut Butter Muffins, from ChaCha's Gluten-Free Kitchen.
I quickly adapted Kathryn's recipe to use the ingredients that I wanted to use and the results were far beyond my expectations. These muffins are light and fluffy, mildly sweet, and the pumpkin flavor is mild as well.
As you can see, they have beautifully rounded tops and are a warm golden brown throughout. So it's pretty amazing that they're flourless—and made from only these five ingredients: almond butter, pumpkin butter, eggs, vanilla extract, and baking soda.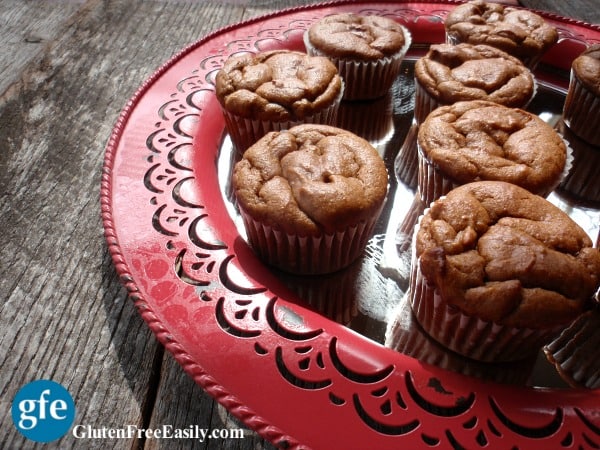 These truly are Flourless Magical Muffins. The beauty of using pumpkin butter (either homemade or ready-made) is that it is already sweetened and spiced and has a deep rich flavor.
When combined with nut butter and eggs, the flavor is sensational and no additional sweetener is needed. If made with my homemade pumpkin butter and natural nut butter, this recipe is even paleo-friendly.
I believe this muffin recipe (at bottom of this post) will work using any nut butter or peanut butter, probably even Sunbutter. I'm also imagining that these muffins could be made with apple butter, peach butter, or pear butter.
You'll want to pick a suitable pairing, of course. I'm imagining Flourless Magical Muffins made with peach butter and cashew butter would be lovely. Please report back on your variations!
Note that the recipe makes 18 muffins, which makes this a terrific recipe to make when you want to both enjoy some homemade muffins and share them with loved ones. There are enough for everyone!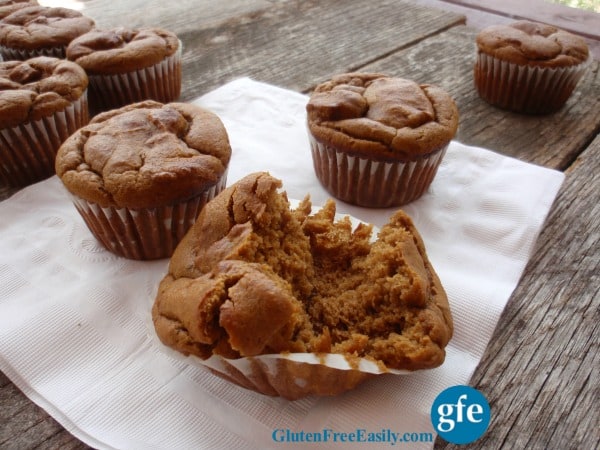 Other Muffin Recipes from gfe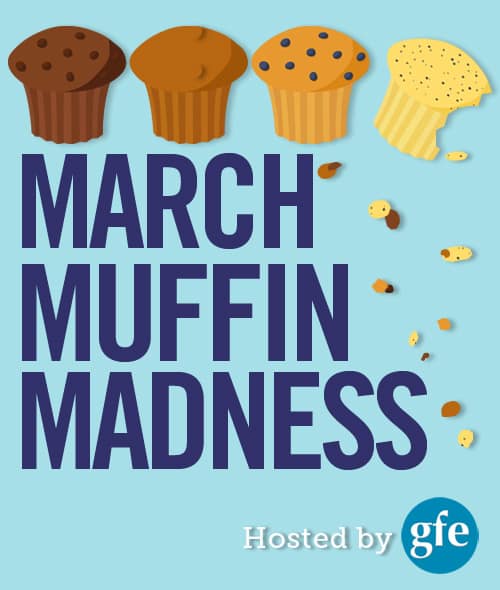 As I've been hosting MMM for a number of years and have had many bloggers contributing their fabulous recipes, there are so many great muffin recipes here on gfe. But here are some favorites of the muffin recipes I've personally created:
~ Almond Banana Carrot (ABC) Muffins,
~ Best Gluten-Free Corn Muffins, and
Now let's get to today's giveaway!
Today's Daily Giveaway
This giveaway is now closed.
~ The Gluten-Free Edge: A Nutrition and Training Guide for Peak Athletic Performance and an Active Gluten-Free Life from Melissa McLean Jory and Peter Bronski (2 winners)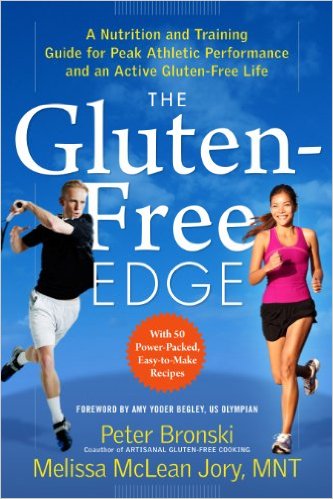 Here's the review of my dear friend Melissa's (Gluten Free for Good) and Pete's (No Gluten, No Problem) book that I shared on Amazon:
"I knew that this book would be good before it was released because it comes from two folks in the gluten-free community who are very respected for their knowledge, well-researched data, and recipes that make gluten-free living easier and healthier. Still, I was unprepared for just how much information would be packed into this book, and how well it would be done overall.
Melissa McLean-Jory and Pete Bronski have teamed up to give you so much eye-opening info, but they present it in a very easy-to-comprehend manner. You can easily read this book in one sitting, underlining key points and turning page corners as you go (well, that's what I did!).
Whether you are already gluten free or wondering what all the fuss is on the benefits of living gluten free, this book is worth your time. You don't have to be an athlete to appreciate the info or the recipes. You just have to be someone who wants to live a healthy life to its fullest. This book is an incredible value. The recipes alone (50 in all) are worth the money, but to get all the data on the benefits of living gluten free and the recipes; well, that's really a tremendous value.
Oh, and one of my favorite features of the book is the personal stories of gluten-free athletes. Story after story of how these athletes have struggled due to symptoms caused by gluten issues (celiac, non-celiac gluten sensitivity) and then gone on to excel after going gluten free! It's terrific to get their personal perspectives on the challenges they've faced, their favorite gluten-free foods, and more. In summary, this book is a terrific wealth of info, inspiration, and healthy and tasty recipes!" Many thanks to Melissa for providing these giveaway copies!
~ Paleo Eats: 111 Comforting Gluten-Free, Grain-Free, Dairy-Free Recipes for the Foodie in You from Kelly Bejelly (1 winner)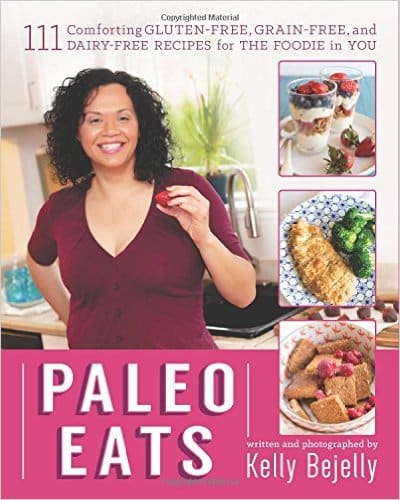 I confess that I have not even seen this cookbook other than via the "Look Inside" feature on Amazon, but I'm a big fan of the recipes on Kelly's blog, A Girl Worth Saving, so I'm sure this cookbook will meet with my approval—and yours. Her cookbook garners 5 stars on Amazon, too, and that's from 142 reviews!
Some of the recipes that readers rave over are Pizza, "Oatmeal" Cookies (made without oatmeal, of course), Sweet and Sour Meatballs, Sloppy Joes, Grain-Free Stuffing, Coconut and Cinnamon Cereal, Southern Fried Chicken, Breadsticks, and Onion Rings. Wait … those are the ones that are tops on my personal "want-to-make" list. Her readers actually rave over many more recipes in this cookbook! Thanks so much to Kelly for sharing her cookbook with MMM (and her 20 Dishes Meal Planner earlier).
Grand Prize Giveaway
UPDATE: This giveaway is now closed. Be sure to come back for the next Muffin Madness event!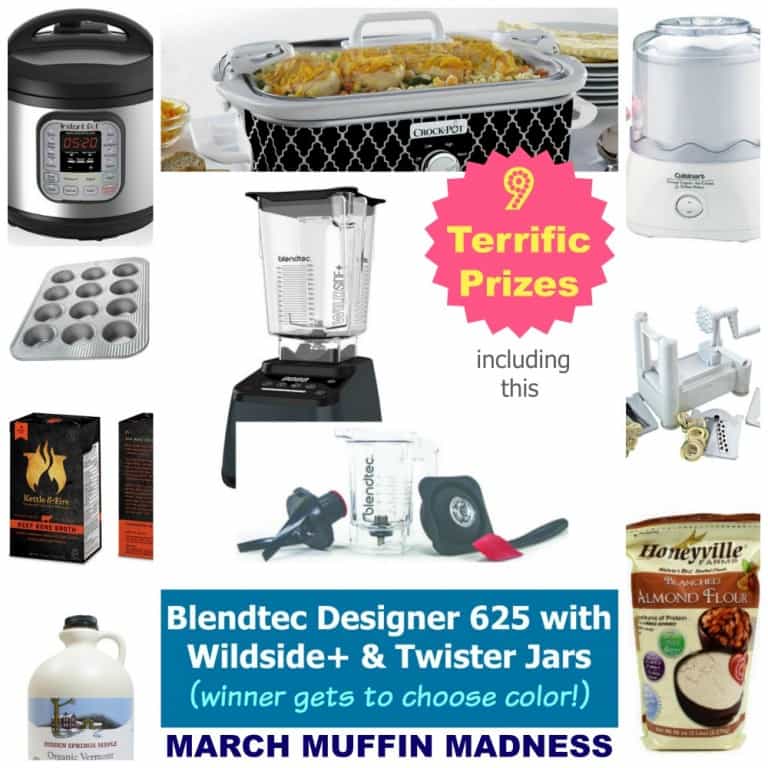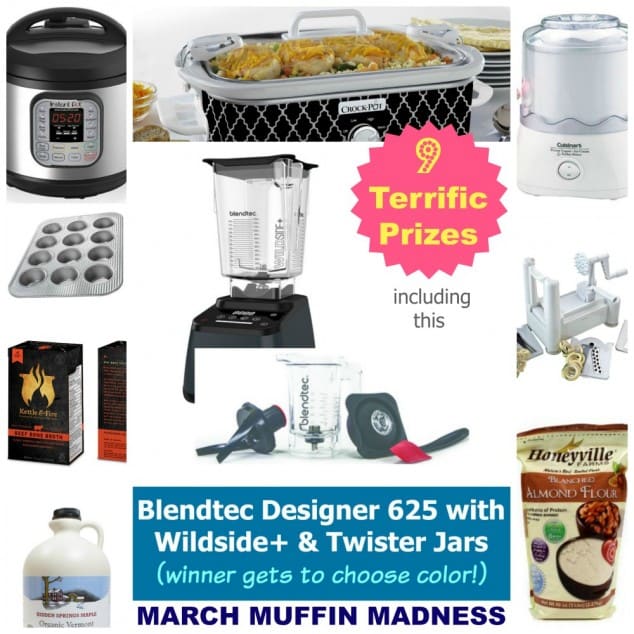 Gluten-Free Flourless Magical Muffins Recipe
Yield: 18 muffins
Gluten-Free Flourless Magical Muffins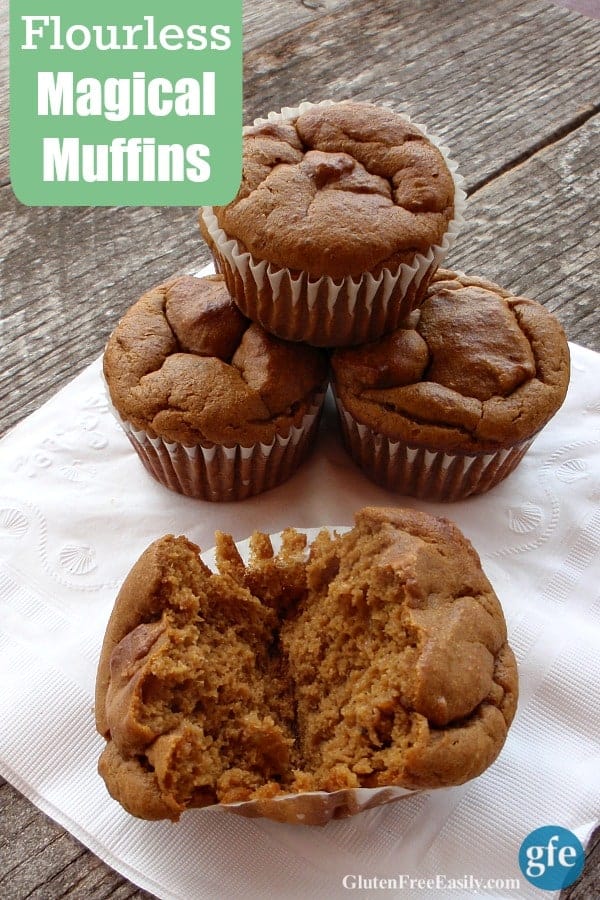 These gluten-free flourless, five-ingredient muffins are simply amazing! They're not only gluten-free but also grain free, dairy free, and paleo friendly.

Prep Time 10 minutes

Cook Time 15 minutes

Total Time 25 minutes
Instructions
Preheat oven to 375F and prepare muffin tins (by greasing them or adding paper or foil muffin liners).
In a large mixing bowl, add all ingredients. Using hand mixer, mix ingredients until blended and creamy.
Spoon batter into muffin tins until each is almost full.
Bake for about 15 minutes. Test doneness with a toothpick.
Cool for about 15 minutes before eating.
Notes
I believe you can use any fruit butter in combination with any nut butter, peanut butter, or possibly even Sunbutter in this recipe if you consider the flavor combinations.

Flax gel eggs (4 tablespoons finely ground flaxseed mixed with 2/3 cup water and allowed to gel) were used in the original recipe successfully so you should be able to use them here. However, also add 1 tsp apple cider vinegar to the recipe if using flax gel eggs. I was able to omit that in my recipe, but it will be needed for a flax gel version.

Adapted from Sneaky Chocolate Peanut Butter Muffins from ChaCha's Gluten-Free Kitchen.

Originally published April 15, 2016; updated December 5, 2021.