For affiliate links and as an Amazon Associate I earn from qualifying purchases.
Today's gluten-free Bran Muffins—or gluten-free Bran New Muffins, if you will—are the result of two recent blogger challenges. I'd been thinking about Amy's theme of Guiltless Pleasures for this month's Go Ahead Honey, It's Gluten-Free! … and I'd been thinking about Linda's (Gluten-Free Homemaker) Create A Muffin challenge, too.
I wasn't sure what my entry would be for either, but then I remembered a muffin that I'd come up with long before going gluten free that used buckwheat flour, cornmeal, and pumpkin. However, I've since learned that I'm as intolerant to buckwheat as I am to gluten, so I decided to re-create this recipe.
My thinking was why not try millet, which I've been using some lately with no consequences? And, why not make these muffins dairy free and refined sugar free as well? Those changes would result in a healthier treat and make these muffins work for folks with additional intolerances, right? So that's what I did.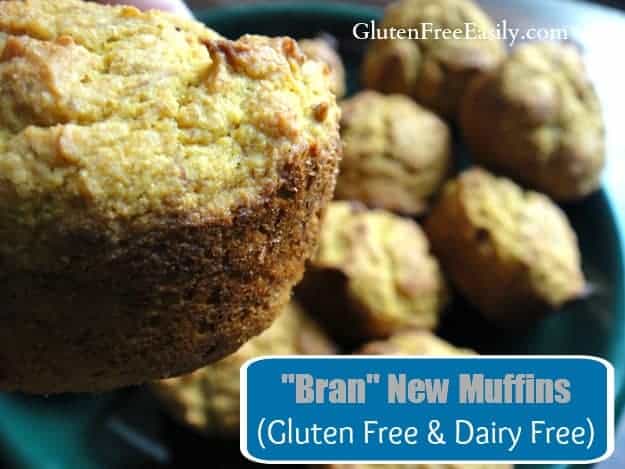 When I tasted the resulting muffin, it tasted pretty much the way I vaguely remembered the earlier muffins tasting, which was very good. But, a few bites reminded me of something else—another flavor, another texture—but I couldn't quite put my finger on it.
Then I offered half a muffin to Mr. GFE. He took a bite, mumbled approval sounds, and said, "ah, bran muffins." That was it! They tasted very, very similar to bran muffins.
WARNING: I'm about to get into some "bathroom talk" here. If you wish to avoid that, you can just skip down to the recipe right now.
Many of us remember enjoying bran muffins before going gluten free. Or maybe we didn't eat them because we actually liked them.
Maybe we ate them for, uh, "medicinal" purposes, so there would be "no consequences" of our daily eating. Ah, don't you love a good euphemism?
Most of us who have suffered from digestive issues related to celiac or gluten intolerance have used many euphemisms over the years to make our symptoms and related illnesses seem more politically correct or less embarrassing to us perhaps. But, as I told my classes at the local Women's Forum this past Saturday, my support group members and most folks who have been diagnosed celiac/gluten intolerant are long past euphemisms. We're out of the closet and out of the bathroom!
Now, please don't misunderstand, we are not like the child who is going through potty training and wants everyone to hear about his poo or, worse, see his poo. See, I said THE bathroom word (or the milder form of it anyway).
But, the fact is that the most recognized symptom of celiac and non-celiac gluten intolerance and gluten sensitivity has to do with bowel movements … either you have too many of them or not enough of them or sometimes alternating issues with each. (Note: Not all individuals with celiac/gluten intolerance have this symptom.)
Recent studies have shown that extraintestinal symptoms are much more common in those with gluten issues today. Please check out my 20+ Reasons You Should Get Tested for Gluten Issues.
If you are prone to diarrhea, your doctor may recommend fiber supplements, daily high fiber intake through the high fiber boxed cereals, adding oatmeal to your diet, eating bran muffins, and the like. If you are prone to constipation, your doctor may recommend fiber supplements, daily high fiber intake through the high fiber boxed cereals, adding oatmeal to your diet, eating bran muffins, and the like.
Yep, that's right … the same treatment is advised for each.
In cases of diarrhea, the idea is that added fiber will add bulk to the stool and eliminate (or reduce) diarrhea. In cases of constipation, the idea is that fiber will help you have more frequent and easier bowel movements. Some folks actually decide to add in extra fiber on their own. For example, they may add baking whole wheat bread to their baking routine because of its health benefits and as a way to avoid loaves of bread made from refined flour and sugar, etc.
In many cases, folks with gluten issues convince themselves that the extra fiber is helping but over time their symptoms may get worse, because there's nothing like high doses of gluten to make a person with celiac or gluten intolerance demonstrate major issues with bowel movements and experience other symptoms as well (e.g., headaches, brain fog, fatigue).
I started eating oatmeal daily the year before I was diagnosed. (I was also taking a fiber supplement daily at the recommendation of my gastroenterologist.) I was convinced I was doing the right thing, the healthy thing. I had also convinced myself that having to go to the bathroom immediately after eating oatmeal was somewhat normal with the added fiber.
Those foggy, spacey feelings I felt afterward? Well, I just attributed them to something else. Not enough sleep, not enough vitamins. You get the picture. All of us who have experienced undiagnosed gluten issues know how we can rationalize our woes. But, if you are having similar symptoms—and I read and hear daily about people who are—you should get tested for celiac.
Normal bathroom behavior (ah, another euphemism, it's ingrained in us!) is one or two bowel movements a day. Sometimes three. It is not normal to have a bowel movement 10 times a day or on the other hand, only once or twice a week.
Do not believe it if someone—and that someone could very well be your doctor—tells you that frequency is normal. Insist on testing even if your doctor dismisses your concerns. If necessary, find another doctor.
After all, remember that there is a reason that most with celiac and non-celiac/gluten intolerance/gluten sensitivity are undiagnosed. As of this writing, the National Foundation for Celiac Awareness (now known as Beyond Celiac) estimates that 95% of those with celiac remain undiagnosed. The founder and head of the NFCA, Alice Bast, saw 22 doctors before she received her celiac diagnosis. Clearly, she did not have doctors who were suggesting that she get tested for celiac—not until doctor #23, that is.
But if your celiac testing proves negative or your doctor won't test you for celiac at all, don't stop there. Find another doctor who will give you the complete celiac panel and do not stop eating gluten until after you have gotten your testing results. You can also take the Enterolab Gluten Stool Sensitivity Test online through the doctor-administered website (admittedly, this site and testing are controversial) and/or you can take Enterolab's gene test or another gene test for celiac (I took MyCeliacId, but that option is no longer available to individuals).
One important note on gene testing though … the experts state that about 1-2 % of biopsy-proven celiacs do not have the genes associated with celiac. (Some even say that percentage is as high as 2-3 %.) Part of the thinking on why that is true is that perhaps not all the celiac genes have been identified thus far.
Again, the Enterolab stool test remains controversial and is, in fact, dismissed by traditional doctors including Dr. Alessio Fasano—who is considered one of our foremost celiac experts. However, a positive reading for gliadin antibodies via this test has led many individuals who could not get a celiac diagnosis via the "gold-standard" (blood panel, endoscopy, and biopsy) to start down the gluten-free path to healing and ultimately become healthy people—when health had previously eluded them.
And, isn't that really what our end goal should always be? To be healthy and feel like we have no bounds?
For those of us with GI issues, that has meant having to know where every bathroom is and seeking out that info the minute you enter an establishment. Many safety-minded individuals look for the exits in a building first and foremost. Those of us with bathroom issues? We look for the bathrooms.
I have no affiliation with Enterolab, but I am one who was initially diagnosed through its testing—at the direction of my own doctor, who is a "gold standard"-diagnosed celiac—before confirming I had celiac genes as well as seeing the resolution of most of my symptoms via the gluten-free diet. (Remember that Dr. Peter Green of Columbia University's Celiac Center has stated that many who are diagnosed with celiac as adults will never fully heal.)
Now, how about those muffins. Do you still have an appetite? Don't these gluten-free Bran New Muffins look good?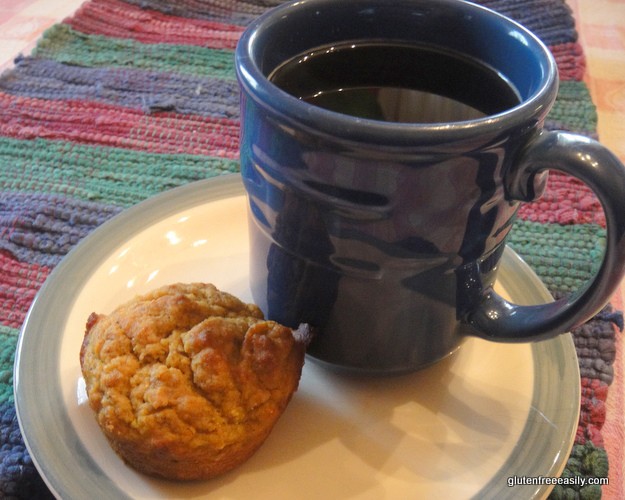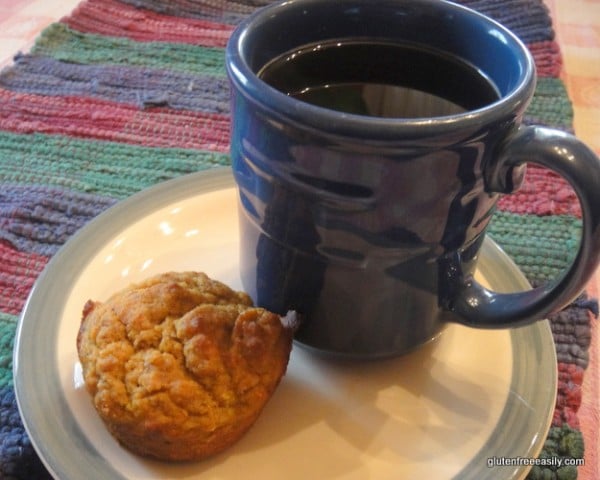 These muffins are great either warm or at room temperature. They are just a tad drier after the first day, but still delicious and with a little reheating and/or a dollop of honey or butter (dairy or non-dairy, as you wish), problem solved.
I believe that it's the cornmeal (or substitutions noted) that helps provide the bran texture. The millet (or buckwheat) provides the heartier taste.
The pumpkin helps with the density and rich flavor, while both the bananas and the pumpkin provide the moisture. The pumpkin pie spice adds a delightful depth of flavor, but it doesn't really make these muffins taste like pumpkin muffins (that's a good thing in this case).
Similarly, the coconut oil doesn't make them taste like coconut. Even the banana doesn't give banana flavoring, just the moisture needed. All of the ingredients just come together to give you this tasty "bran" muffin without gluten, dairy, or refined sugar (although you can substitute granulated sugar if you prefer).
If you enjoyed these gluten-free "Bran" New muffins, you're in luck … next week, for the last three days of March, I'll be doing a different kind of March Madness. Yep, you guessed it … March Muffin Madness. I was so inspired by Linda's Create A Muffin challenge that I couldn't stop at just one! Hope you'll join me over the next several days for all the gluten-free fun. If you don't want to miss a post, subscribe to gfe via email or in a reader.
Gluten-Free Bran New Muffins Recipe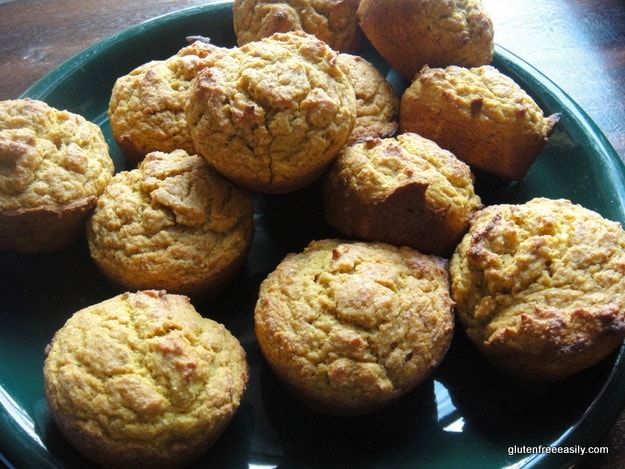 Yield: 12 muffins
Gluten-Free "Bran" New Muffins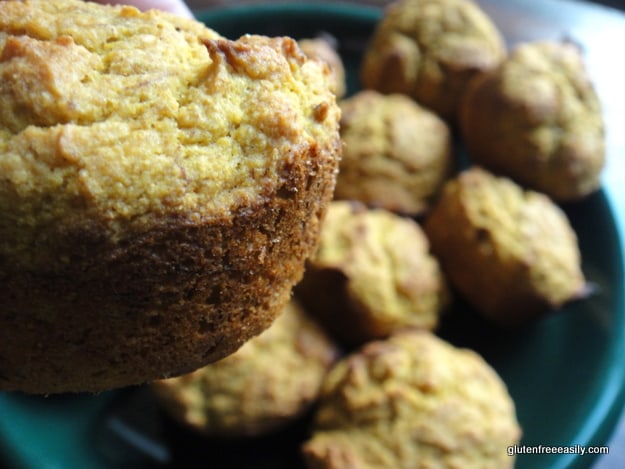 Yes, these gluten-free "Bran" New muffins really do give you a "bran" taste and texture, plus they're delicious! Eat them for breakfast or serve them with a meal as your bread option. They're gluten free, dairy free, and refined sugar free as written but feel free to use substitutes that you prefer.

Prep Time 5 minutes

Cook Time 20 minutes

Total Time 25 minutes
Ingredients
1 cup of millet flour (or buckwheat flour; see notes)
½ cup gluten-free yellow cornmeal (or almond flour or flaxmeal)
2 ½ tsp baking powder
1 tsp pumpkin pie spice
½ tsp salt
1/3 cup honey (or agave nectar, or granulated sugar if you prefer)
2 eggs, beaten
¾ cup pumpkin puree
¾ cup mashed ripe bananas
¼ cup coconut oil (liquefied; or other oil or melted butter)
Instructions
Preheat oven to 400 degrees Fahrenheit. Grease or line 12 muffin cups with liners.
Mix together millet flour, cornmeal, baking powder, salt, and pumpkin pie spice.
Add eggs. Stir in coconut oil. Stir in pumpkin and banana. Stir until ingredients are incorporated, but don't over stir. Batter may be somewhat thick.
Fill muffin tins about ¾ full. Bake 15 – 20 minutes until done.
Notes
No xanthan gum is required for this recipe.

If using fresh pumpkin puree, you may have to cook a few minutes longer due to the additional water content. If you don't have bananas (never a problem for me!) or pumpkin on hand, you can substitute 1 ½ cups of milk, dairy or non-dairy. If you have one or the other, but not both, feel free to use what you have for the total amount of 1 ½ cups. The flavor will be slightly different with all these methods, perhaps offering less of that "bran" taste, but they will still taste good!

One reader reported successfully using gluten-free all-purpose flour mix in place of millet flour.

Originally published March 24, 2010; updated December 4, 2022.