For affiliate links and as an Amazon Associate I earn from qualifying purchases.
Today's the first day of our Gluten-Free Progressive Easter Dinner Party and I'm sharing Mom's Deviled Eggs. Deviled eggs are naturally gluten free, as long as the condiments used to make them are kept free of gluten via cross contact. (Separate jars for mayonnaise, mustard, etc. for the gluten free and the gluten full are indeed a requirement.)
Yes, Easter is coming up soon—April 4th this year! I know that Easter is almost here because Mr. GFE and I went on a motorcycle ride today and saw lots of forsythia blooming (as well as daffodils and tulips).
When you were a child, did you have an Easter or spring photo taken in front of a forsythia bush? Both Mr. GFE and I both had many photos of ourselves (and our siblings) taken in front of that flowering, always cheerful yellow bush. And I know we took photos of Son in front of forsythias. The flowering of the forsythia is a definite sign of Easter for us here in Virginia.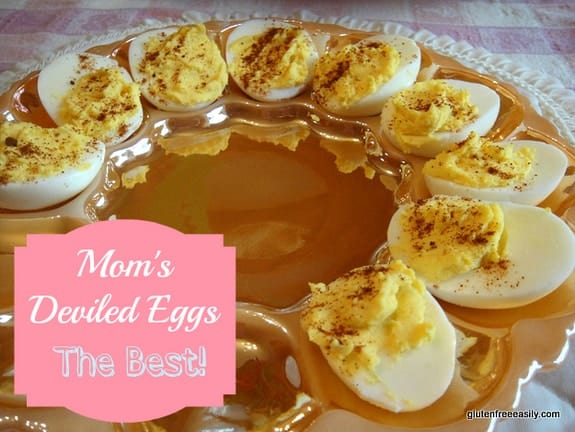 I immediately signed up for an appetizer for the progressive dinner party. I wanted to share Mom's deviled eggs. They are naturally gluten free, so gfe! And they are dairy free.
Mom's eggs are another family favorite for all occasions (much like Susie's Crab Casserole). Mom is a great cook and everyone loves her deviled eggs—even children, and from an early age.
When we discuss what everyone is bringing for our family get-togethers, it's always, "Is mom making her eggs?" And, the answer is almost always yes.
Sometimes if mom is caught short on eggs for an event, she'll still make a small plateful and apologize profusely. Nobody complains; they are too busy being sure they get a deviled egg.
When we first got married, we rented an old farmhouse on 100 acres for $100 a month. Yes, that was 28 years ago, but even then $100 for monthly rent was pretty phenomenal.
The house had sat vacant for several years after the matriarch who lived in it had passed away. Mr. GFE knew the family who owned it and asked if we could rent it.
Part of the deal was that we had to clean out the house to make it ready for tenants. Surprisingly, there was not much that the family members were interested in keeping.
We didn't mind "disposing" of everything that was in the house. Not at all. Some of my prized possessions (including the hat collection that graces our guest room wall) came from that effort.
We lived there for 5 years before having our current home built. We enjoyed some really wonderful times there, but we had to work hard, too.
There was no central heating (or air conditioning) in the farmhouse. Once we found that we'd be moving in during the month of September, we used our wedding money to buy a good woodstove.
Then we cut 7 cords of wood in the few days after the corn was harvested before the winter wheat was planted in the fields that surrounded the house. The fields were our only access to the woods so once any crops were planted, we couldn't access the woods.
Yes, we burned that much wood—7 cords (think 14 pickup truckloads)—each winter! The farmhouse was charming, but clearly nowhere near energy efficient.
The center of the house was a two-story log cabin built in the 1800s. The downstairs of that original living space was our living room and the upstairs was our bedroom. The central log cabin's interior walls had long been plastered over and several additions to the house hid the outer walls as well.
We had different "operating plans" according to how cold the temps were. The "A" plan was all rooms open, with just the main wood stove going; "B" plan was three rooms closed off and main wood stove going; and "C" plan was all but a few rooms closed off, the second wood stove in the kitchen fired up, and super warm clothes worn to bed.
Even with all our planning (and plastic covering the windows), we still went through a lot of firewood and suffered through some cold times. I have to admit that I was pretty content though when I had my little wood stove in the kitchen chugging away.
Our closest neighbors were an elderly couple, Hugh and Maitland McClanahan, who still did most everything "old school." They had a huge garden and raised chickens (free range all the way!), selling their eggs for a little extra money.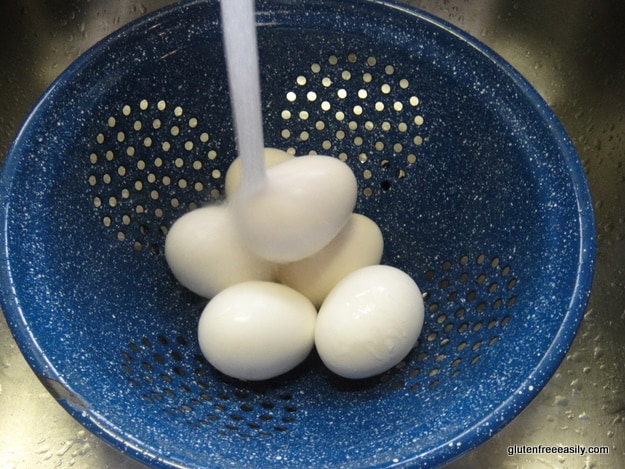 They still burned wood and even though Hugh didn't go out in the woods and cut it himself any longer, he would have whole "blocks" of wood delivered. Then he'd split it himself in short spurts outside their kitchen.
Their home was modest and practical, but comfortable. Their wood stove was in their kitchen, which made for some nice, warm visits. Maitland didn't use it for cooking (it wasn't a cook stove), but she did cook and bake mostly from scratch. Basically, the McClanahans took pleasure in working hard and seeing the results of their efforts.
Over time we all became friends and ended up exchanging small Christmas gifts. One of their gifts to us was the orange deviled egg plate shown in the photos.
Mr. GFE thought it was really cute that someone who sold eggs would give that particular gift. I always thought that the plate might have been one that Maitland had received herself as a gift, and having way too many deviled egg plates already, she decided to pass it on to me.
It's not the type of egg dish that I've ever seen sold anywhere. While I would not have chosen it myself, its carnival glass appearance has a certain appeal.
It may even be authentic carnival glass … I don't know. I do know that whenever I make deviled eggs, I use this plate and smile thinking of Hugh and Maitland, and our wonderful time as their neighbors living in that old farmhouse.
Once we had our current home built, we'd invite Hugh and Maitland for our annual holiday open house. By then, they were driving very little, so Mr. GFE would go pick them up.
They clearly enjoyed getting gussied up a bit and socializing at these special events. I always showed them the different food offerings when they arrived. There was always a little bit of a twinkle in their eyes when they saw the plate of deviled eggs.
The filling of Mom's deviled eggs has just a little mayonnaise, mustard, and simple seasonings. That makes them mild-flavored, but delicious. There's no vinegary, "pickly" taste in these eggs, which makes them especially popular.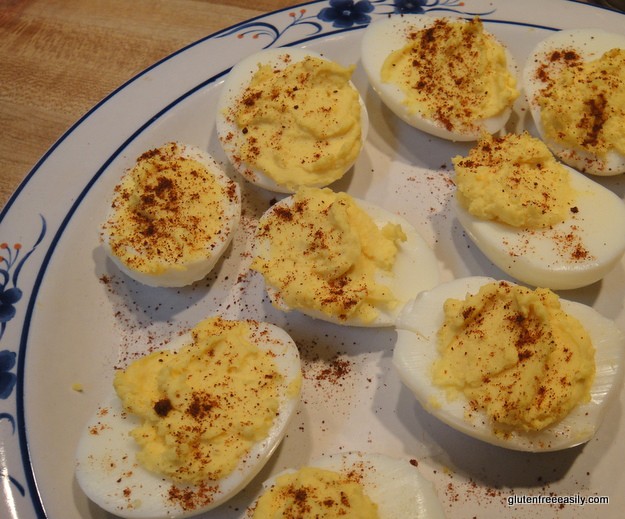 Mom's Deviled Eggs Recipe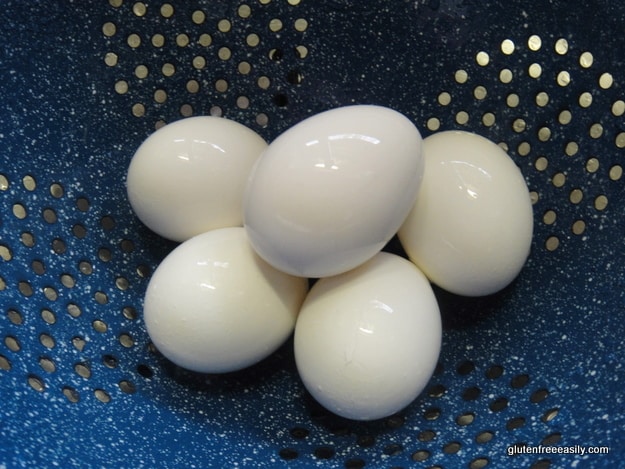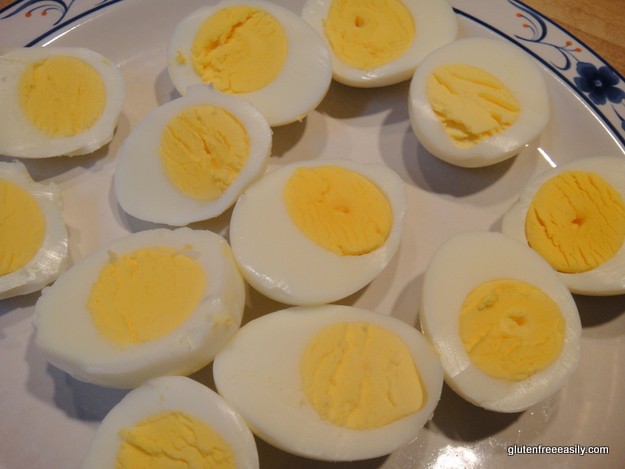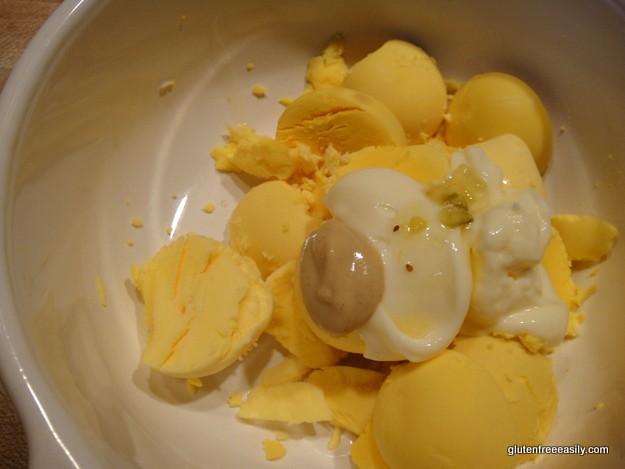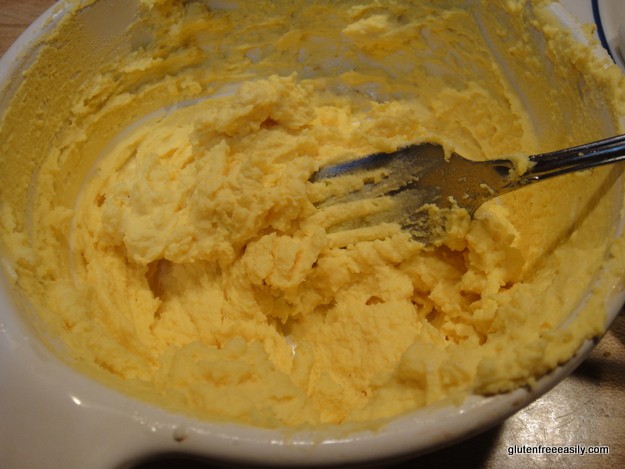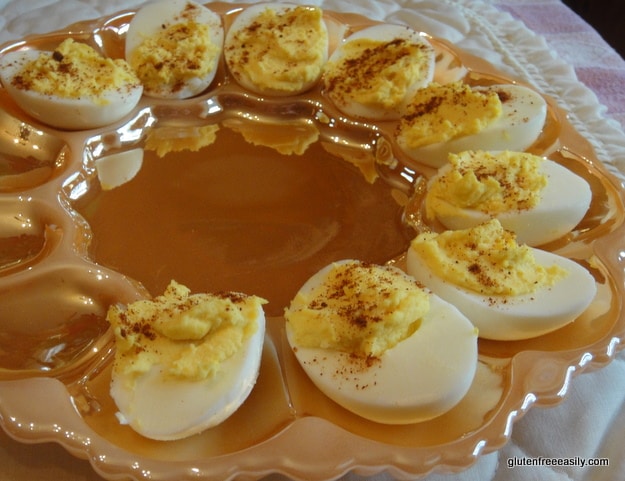 Yield: 12 servings
Mom's Deviled Eggs (Naturally Gluten Free)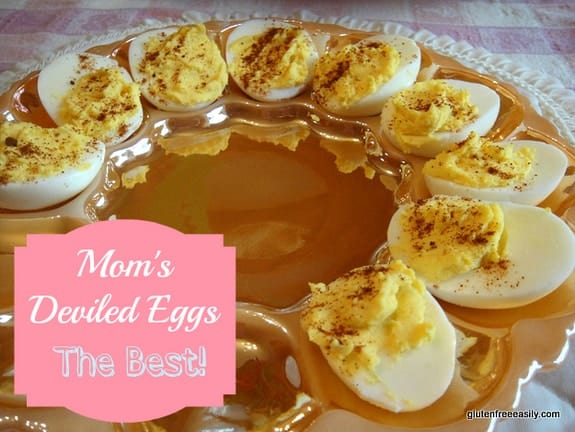 This recipe comes from my mom. She says that it's not really a recipe. She just eyeballs the amounts and tastes here and there. That meant I had to measure and record as I went but I think I figured out the amounts fairly close to Mom's version.

Prep Time 10 minutes

Cook Time 10 minutes

Total Time 10 minutes
Ingredients
6 hard-boiled eggs
2–3 tablespoons of mayonnaise (to taste)
½ teaspoon prepared mustard (I used Dijon)
½ teaspoon pickle juice (I used juice from sweet relish)
dash of salt
dash of ground black pepper
dash of celery salt (optional)
paprika (for sprinkling on filled eggs)
Instructions
Boil eggs. Run cold water over eggs to cool them enough to be able to remove shells.
Slice eggs in half. While eggs are still plenty warm, remove yolks and place in a bowl.
Add 2 tablespoons of mayonnaise, mustard, pickle juice, salt, pepper, and celery salt (if used). Mash all together with fork (or another utensil). Mix well. If additional creaminess is needed, add additional mayonnaise. Add more of the other ingredients to taste, if desired.
Using a butter knife, fill eggs. Do not place on your serving dish at this time. (Just use a regular plate.) Sprinkle with paprika.
Move finished eggs to serving dish.
Notes
Mixing the deviled egg filling while the yolks are still warm makes mixing and blending much easier.

I enjoy these eggs when made with some celery salt, but I didn't have any today and they still tasted great.

Don't obsess over your eggs looking perfect. I've never heard a guest utter, "Oh, my gosh, what an ugly egg!" I've only received sincere compliments. But, any eggs that don't meet your standards you can use as test eggs and taste yourself or move them to the side and let your family members eat before other guests arrive. (They will no doubt be begging for an egg at that point. At least, it's that way in my house.)

Some folks like to place their egg filling in a pastry bag and really do up the presentation but personally I don't like the mixture that's required to get a consistency thin enough for that method. I like the thick filling in this simple method.

Our gluten-free progressive dinner party group would like to give you some ideas for a lovely Easter or spring meal (if you don't observe Easter). Here are the stops for the rest of the week:
Tomorrow, Tuesday, March 23rd–Diane at The W.H.O.L.E. Gang will be serving Roasted Red and Yellow Beet Salad with Avocado, Oranges, Red Onion and Toasted Pine Nuts.
Wednesday, March 24th–Katrina at Gluten Free Gidget will be serving the Main Course, Crockpot Leg of Lamb with a Thai Sweet Plum Sauce.
Thursday, March 25th–I'll be serving the Side Dish, Corn Pudding.
Finally, on Friday, March 26th, I will be serving Dessert, Surprise! Vinegar Pie.
Please join us as we go from blog to blog!
Originally published March 22, 2010; updated April 9, 2022.