For affiliate links and as an Amazon Associate I earn from qualifying purchases.
Well, the cat is out of the bag now. The surprise ingredient in my dessert for our Gluten-Free Progressive Easter Dinner Party is indeed, vinegar. This gluten-free Vinegar Pie is a recipe that I cut out of our local newspaper years ago and just adapted to be gluten free and crustless when the need arose.
Yep, crustless (and often flourless) is often the gfe way. (Be sure to check out other gfe crustless pies like pumpkin, sweet potato, coconut, pecan, and apple.) This pie is definitely gluten free, but it's certainly not free of anything else. It includes dairy and sugar (quite a bit actually), and, yes, it really does contain vinegar!
Before you dairy-free folks get too disappointed, you can substitute non-dairy "butter" (I recommend Earth Balance soy-free buttery sticks or spread). Now for those who are refined sugar free, I'll have to work on that adaptation in the future.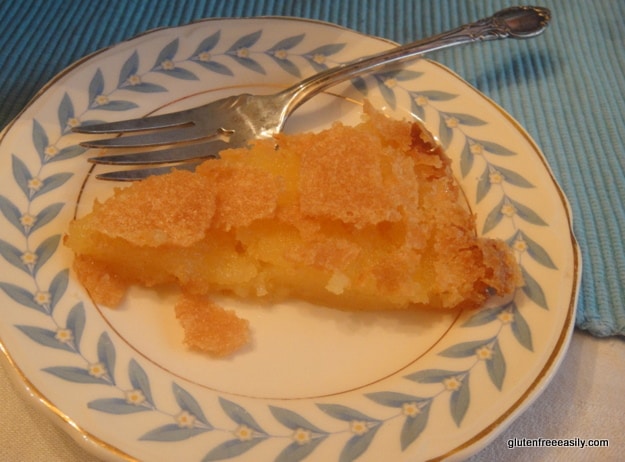 This pie is definitely rich; a small sliver is all one needs. Bake it to serve your guests or share some with your neighbors. That way you get to enjoy some, but not too much.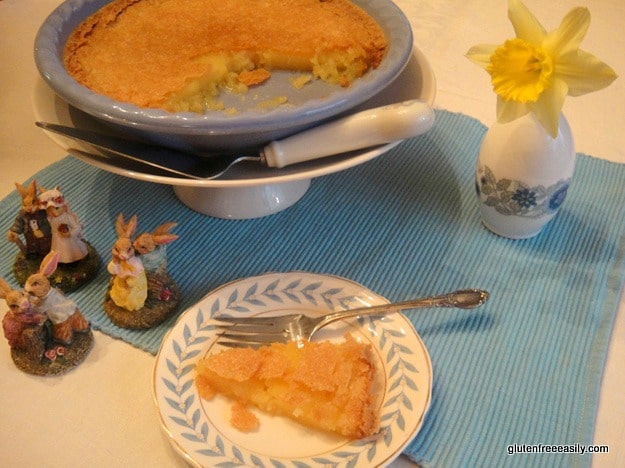 Oh, what does Vinegar Pie taste like? Have you ever had a chess pie? It tastes a lot like a chess pie. In fact, some chess pie recipes do have vinegar as an ingredient. (You can read more about chess pie and the suspected origins of the name here.)
Some folks say chess pie tastes like butterscotch … hmmm, not this vinegar pie. I sort of get a lemon-lime vibe from the taste—sweetness with a little bit of tartness. Most people actually think the surprise ingredient is lemon when I ask them to guess, but there's no lemon.
This pie is a bit reminiscent of a tart and perhaps even a lemon curd tart. The filling stays soft and liquid-like, but the crust that forms on the top and sides is flaky and sticky/gooey at the same time. It's a wonderful pie, absolutely delicious actually. I think I'd really forgotten how good this pie is since it's been a few years since I made one.
Because of the sweetness, some folks like to enjoy a piece with a cup of coffee to balance that out. Topping a slice of this pie with a milder, cold sweetness does the trick, too. You can top it with whipped cream or homemade ice cream (like my homemade vanilla version or honey cinnamon Grand Marnier ice cream) and you will have an award-winning combination.
I've made this pie for Easter dinners in the past so it was the first thing I thought of when I signed up for dessert for this month's Progressive Dinner Party. Oh, and guess what, it's yellow (well, the center anyway), which is fitting for my theme for my earlier GFPDP entries: Mom's Deviled Eggs and Classic Corn Pudding.
The original recipe was called Dorothy's Vinegar Pie. That's worth noting in our family because Dorothy is the name of the totally amazing lady who provided day care for Son from the time he was an infant until he was ready to be home alone for short periods of time. She chuckled when I first showed her the recipe and said that she'd eaten vinegar pie a few times over the years, but had never made it herself.
I took her family one once and they all really enjoyed it. Dorothy, better known as Mamaw Stevens, is now approaching her 86th birthday and will always be revered as my Son's third grandmother. Although she has faced much adversity in her life, she has an indomitable spirit. She's absolutely been a huge blessing in all our lives. She raised Son as much as we did and we will be forever grateful.
Back to the pie, or more specifically, the vinegar … let's talk about that specific ingredient itself for a moment. While I don't plan to give a gluten-free lesson in every post, based on the discussion in comments on my Deviled Eggs, a discussion on vinegar seems to be in order.
Just like there are urban myths that cell phones can pop popcorn and cactuses and biscuits can explode suddenly and wreak havoc (yes, all of those are untrue), there are gluten myths. The gluten myth that is most persistent is that vinegar contains gluten.
Gluten-Free Living magazine and its editor, Ann Whelan, have expounded on this topic time and time again. The bottom line is that distilled vinegar is gluten free. First, many vinegars are made from corn now; so apple cider vinegar is often made from apples and corn versus apples and wheat. Surprisingly enough, Heinz apple cider vinegar is made from grapes and apples—who knew? However, even when vinegar is made using wheat, the distillation process removes the gluten from the final product. So distilled vinegar is gluten free. (Likewise, distilled alcohol is gluten free.)
Vinegars that are not gluten free include malt vinegar and possibly homemade, flavored vinegars that might be received as gifts. First, malt equals barley, which is one of the no-no's for those of us who are gluten free. Remember and teach the mnemonic, BROW—Barley, Rye, Oats, and Wheat; those are the ingredients we need to avoid. (You can run your finger over your brow as you tell it to folks, so they will be more likely to remember.)
UPDATE: On April 4, 2023, Gluten-Free Watchdog issued a new statement, Gluten-Free Watchdog Cannot Recommend Any Brand of Gluten-Free Oats. Read the full statement here. This statement was followed by details on recent testing results of gluten-free products that contain oats., which showed 30% of the labeled gluten-free oat products tested contained quantifiable gluten.

This statement was followed by details on recent testing results of gluten-free products that contain oats, which showed 30% of the labeled gluten-free oat products tested contained quantifiable gluten. I'm not eating any oats and I urge all of my readers who eat gluten free for medical reasons to also abstain.
Why are oats included? Only oats that are certified gluten free purity protocol oats are safe for those who eat gluten free; read more on oats in these posts on Flourless Oatmeal Cookies and Oat Cakes.
In regard to the homemade vinegars, the flavoring that is added after the distillation could include gluten. (When I haven't been in the mood to educate or investigate, I've passed on flavored vinegars that I've received as gifts to others who are not gluten free to err on the side of caution.)
Heinz states that all its vinegars are gluten free except its Malt Vinegar, Salad Vinegar, and Tarragon Vinegar, because all contain barley. That makes me assume that the barley is added after distillation.
To make the vinegar myth even more troublesome, because vinegar is contained in numerous other products, the myth has carried over to those as well. Items such as barbecue sauce, mayonnaise, pickles, and salad dressings have been thought to possibly contain gluten because their ingredients listing contained vinegar.
Remember that if a product contains wheat, wheat must be shown on the label in accordance with the Food Allergen Labeling & Consumer Protection Act that went into effect January 2006. However wheat aside, as far as gluten-free labeling, manufacturers are not always well versed in what is and isn't gluten free.
I'm not saying that is acceptable, but frankly, they can't refer to an FDA-approved definition of gluten free because one does not exist yet (at the time of this posting). Manufacturers are afraid of consumers who are ready to sue at the drop of a hat. Please understand that I am not dismissing the need for or serious nature of accurate labeling. However, many companies refuse to say that their product is gluten free, for that reason alone. They may know their ingredients are gluten free, they may even know their product has no exposure to other gluten ingredients or products that contain gluten, but they are unwilling to label the product gluten free. Some manufacturers will label a product gluten free or list it in a listing of gluten-free items, but then add a caveat about cross contamination or lack of knowledge that every ingredient is 100% gluten free.
The overall issue of gluten-free labeling is not a black and white one, and not something I want to fully get into today, but please know that distilled vinegar is gluten free and any item should not be excluded from being considered gluten free because it contains distilled vinegar. So enjoy this pie! It's the last of our gluten-free progressive dinner party meal. Did you notice that my recipes are all gfe? Not only that, but these recipes can all be made with ingredients that you are likely to have in your pantry and refrigerator all the time … no special trips to the grocery store—love that!
Gluten-Free Surprise Pie, Gluten-Free Vinegar Pie, Recipe
Yield:
Gluten-Free Surprise Pie aka Gluten-Free Vinegar Pie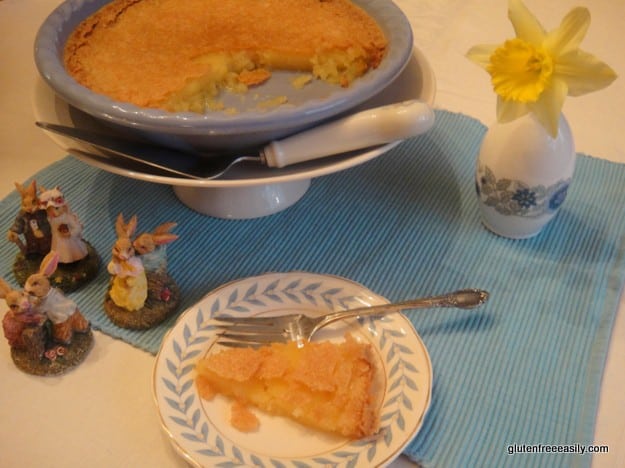 Vinegar pie is in the same Southern family as chess pie and buttermilk pie. Delightfully sweet and tart at the same time.
Ingredients
1 ½ cups granulated sugar
8 tbsp butter, melted and slightly cooled (dairy-free butter should work)
3 large or extra large eggs
¼ cup plus 2 tbsp gluten-free flour mix (I used my Two-Ingredient Flour Mix)
2 tbsp apple cider vinegar
1 tbsp vanilla extract
Instructions
Preheat oven to to 300 degrees Fahrenheit. Grease 9-inch pie plate very well.
Melt butter. Set aside to cool slightly. While butter is cooling, add other ingredients to mixing bowl. Add butter.
Using electric mixer, beat on high for one minute or until well blended and smooth. (It will look a lot like yellow cake batter.) Pour into greased pie plate.
Bake at 300 degrees for about 50 minutes until top forms a golden crust (center should still be slightly liquid). Cool completely before cutting and serve at room temperature (or cold per preference).
Notes
Adapted from The Free Lance-Star newspaper.
Using extra large eggs will yield a slightly higher pie that is a little less tart. Ensure that you grease the pie plate well (sometimes a failing of mine and that's why this pie stuck a bit).
Allow pie to cool as directed before cutting. Otherwise, pieces will fall apart a little (or a lot). However, if your pieces do fall apart a bit, that's easily camouflaged with whipped cream or ice cream for topping. 
I can't tolerate many of the healthier, gluten-free flours; e.g., sorghum, buckwheat. Therefore, my gluten-free flour mix is Asian white rice flour and cornstarch. See my recipe here.
If you haven't already, please check out our other gracious and creative GFPDP hosts and their recipes below.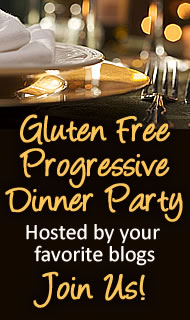 Diane (The W.H.O.L.E. Gang) presented an amazing salad on Tuesday—Roasted Red and Yellow Beet Salad with Avocado, Oranges, Red Onion, and Toasted Pine Nuts. She promises this recipe will make you a roasted beet lover. She's a convert now!
Katrina (Gluten-Free Gidget) shared a fantastic main dish yesterday—Crockpot Leg of Lamb with a Thai Sweet Plum Sauce. As I shared in my comment on her site, it's a winner on so many levels—crockpot recipe–BONUS! lamb recipe–BONUS! (Diane's secret ingredient for the Friday Foodie Fix last week was lamb), naturally gluten-free recipe–BONUS! and new ingredients and flavors to try (e.g., prune butter)–BONUS!
Enjoy!
Originally published March 26, 2010; updated April 17, 2023.