For affiliate links and as an Amazon Associate I earn from qualifying purchases.
Honey Cinnamon Grand Marnier Ice Cream. You're already smitten, aren't you? You should be! Let me give you the back story on this recipe first though.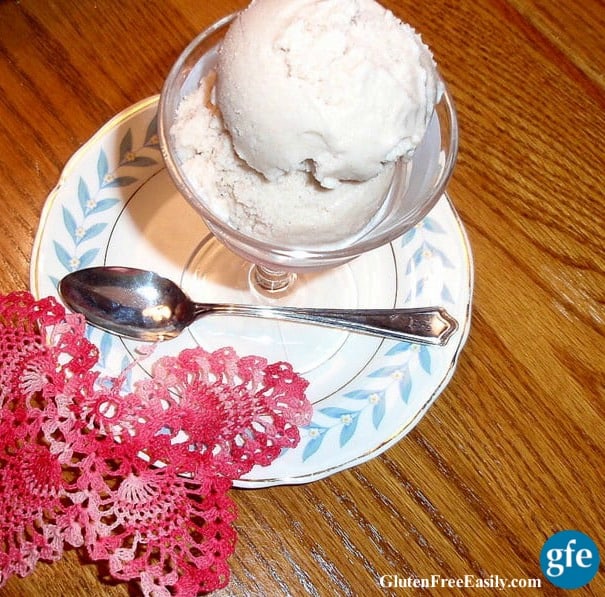 Not too long ago, I decided to give up the whipped topping that comes in a tub. A reader's comment on Mark's Daily Apple led me to a post on another blog that expanded on some of the ingredients used in whipped topping and some of the other uses of those ingredients, such as polysorbate 60. (I'll let you investigate on your own if you are interested, but the information was unsettling to me.)
So, I told Mr. GFE that there would be no more whipped topping in our house unless I made it using whipping cream and a mixer—which is actually very easy to do. He sighed, but knew I wouldn't leave him in the lurch. And, of course, we usually have pie with no topping at all and it's more than sufficient.
However, I decided some homemade Honey Cinnamon ice cream would be very lovely atop any of my Thanksgiving pies (crustless versions of pumpkin, coconut, and pecan).
This ice cream would contain real ingredients: honey (from our happy bees), cinnamon, and coconut milk. The latter would ensure that my dairy-free friends could enjoy this recipe as well.
There weren't any of those friends present for Thanksgiving, but I've also found that I enjoy using coconut milk in recipes. Both the texture and flavor are great.
And, by flavor I don't mean a strong coconut taste. Seriously, nobody ever says "I taste coconut!" when they eat anything I've made with coconut milk. It just adds a slight sweetness, but also provides a creamy texture without dairy.
In fact, I think the creaminess is superior to that provided by dairy.
So my plans were set … until I saw Melissa's blog post over at Gluten Free for Good. She had just made Pumpkin Maple Grand Marnier ice cream. It looked and sounded heavenly.
Adding Grand Marnier to homemade ice cream … now that was a brilliant idea! Although Melissa will be the first to tell you that she got the idea from David Lebovitz. He added Grand Marnier to his pumpkin ice cream recently.
After seeing Melissa's post, my plans quickly changed to include Grand Marnier liqueur in my recipe. Plus, I decided to add a tiny bit of salt to balance out all the sweetness.
The resulting Honey Cinnamon Grand Marnier ice cream was quite nice. Everyone enjoyed the recipe, and appreciated the Grand Marnier undertones. Not one person asked for whipped topping instead.
Two of Melissa's readers and fellow gluten-free bloggers, Stephanie and Naomi, commented that adding alcohol to ice cream ensures that ice crystals won't form and the ice cream will stay nice and scoopable. That's great information to know and it certainly seemed to be true when I made this recipe.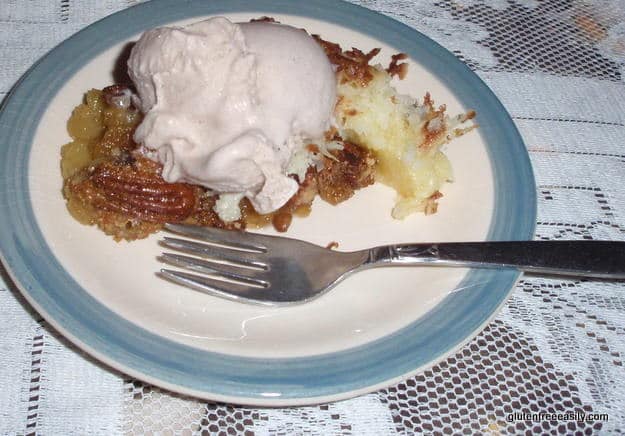 I got one quick photo of the ice cream topping my coconut pie and pecan pie combo, but I decided to make some more this morning before heading to work. I wanted to have it made and I wanted to get a photo in nice morning light.
I even tweeted about it! "You might be a food blogger if you make ice cream in the morning to take a photo in nice light." I asked others to join in on "You might be a food blogger if …" and they did. It was a fun Twitter thread! (Follow me on Twitter @Shirleygfe.)
One reason I wanted to make ice cream again is that I'm planning on making a Raw Pecan Pie on Thursday. (If all goes well, it will be a last-minute entry to the Gluten-Free Desserts Progressive Dinner Party, in the No-Bake category. I didn't commit to it initially because I wasn't sure I could get the Medjool dates that I needed for the recipe. Remember my local grocery store is limited in produce availability and knowledge on anything but the most mainstream ingredients.)
But, it looks like my dear mom will pick some up for me in town. I won't give away any more details on the raw pie, except to say that I knew this ice cream recipe would also complement the flavors of the pie. I also decided to tweak the ice cream recipe a tiny bit from the first time I made it.
I liked the last variation of this ice cream even better … the cinnamon was not as strong and the Grand Marnier flavoring was more subtle. Of course, you can simply omit the Grand Marnier if you like, which would also make the recipe refined sugar free.
Finally, you don't have to use this Honey Cinnamon Grand Marnier Ice Cream as topping; you can just enjoy it by itself. It's delicious and satisfying. One small bowl will suffice nicely. Enjoy!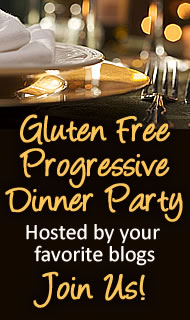 Before you check out this totally delightful ice cream recipe, I want to mention that today is the second day of our Gluten-Free Progressive Dinner Party featuring desserts. Today's specialties are frozen or chilled desserts.
You'll definitely want to check out hostess Diane's Chocolate Sorbet with Roasted Cocoa Nibs at her blog, The W.H.O.L.E. Gang. Also, did you see yesterday's Baked Desserts? Ali made delicious Soft Molasses Cookies. Alison shared Grandma Anne's Butterhorns (gluten free and dairy free) as a lovely tribute to her grandmother. Shauna of Gluten-Free Girl and the Chef is offering up Cinnamon Rolls (I'm not turning those down!). Stay tuned for the other recipes in this event!
Honey Cinnamon Grand Marnier Ice Cream Recipe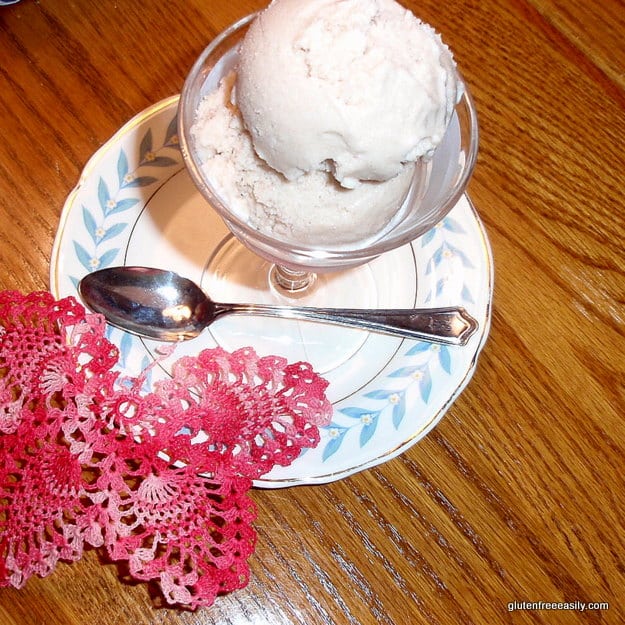 Yield: 6 servings
Honey Cinnamon Grand Marnier Ice Cream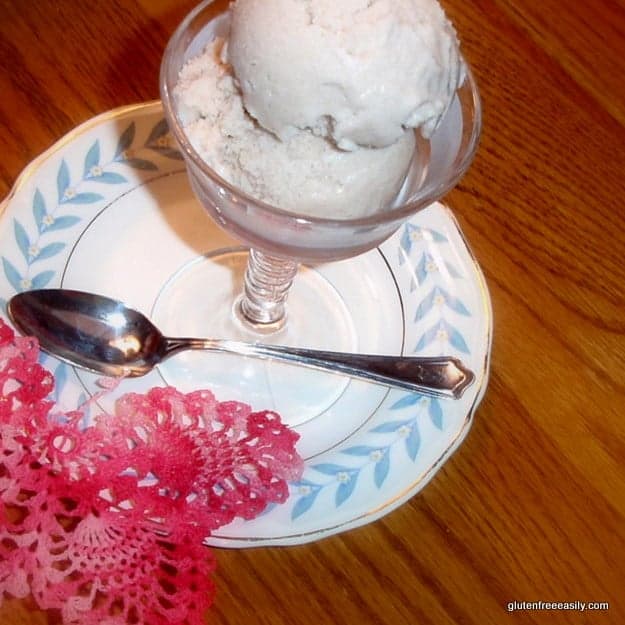 Elegant ice cream that's definitely worthy of guests!
Total Time
1 hour
20 minutes
Notes
The ice cream will still be fairly soft at the end of churning, so you may want to freeze it for an additional amount of time in the freezer. Incidentally, I've found that if I wrap my ice cream container in a towel and leave it on the counter for a few minutes, it will actually freeze a little more on its own just from the frozen container. So if you don't want it to freeze too much more, that might be an option. When I've made this ice cream for folks who don't consume alcohol, I've used vanilla extract instead of Grand Marnier. Of course, most vanilla extract is alcohol based, so if the ice cream must be completely alcohol free, an alcohol-free vanilla flavoring should be used.
Enjoy!
Originally published on December 8, 2009; updated July 14, 2019.