For affiliate links and as an Amazon Associate I earn from qualifying purchases.
It's Holiday Food Fest time once again! The recipe I'm sharing today is Pomegranate Pork, or Pom'd Pork, as I like to say. Our theme is Holiday Dishes: Mains, Sides, Soups … really any holiday dish.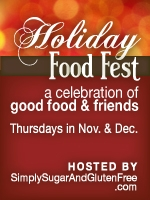 Now for my recipe … while many of us have another round of turkey and ham for our upcoming holiday dinners, some of us like to change things up a bit. We always spend Christmas Eve with my side of the family. We get together in the afternoon and rather than a sit-down meal, we have an informal buffet of appetizers and desserts.
For this gathering, I'm planning to make a variation of a dish I made not that long ago—POM'd Pork. I tested it today.
All things pomegranate have been on mind since I attended the POM Wonderful Blogger Harvest Festival in California back in October—all expenses paid. I was not paid to write this post, but the POM Wonderful product used was given to me. I am a huge fan of POM products because I like their quality, nutritional benefits, and taste.
My starting point was the Pomegranate Beef recipe that Stephanie shared over at A Year of Slow Cooking, which actually originated as Grass Fed Beef in Pomegranate Sauce by Karina, the Gluten-Free Goddess.
As soon as I received Stephanie's fabulous new slow cooker cookbook, Make It Fast, Cook It Slow:  The Big Book of Slow Cooking, I zeroed in on this recipe. I made it using pork and made a few other adjustments based on my own personal tastes and what was in my pantry.
The first time around, I used pork tenderloin. It turned out very well. Frankly, the incredible aroma emanating from the crockpot at the end of the day just about had me convinced how good this dish was before I even took my first bite!
The POM Wonderful juice along with the other ingredients gives the pork amazing flavor and tenderness. It's somewhat sweet, but not too sweet.
Mr. GFE raved over this POM'd Pork. He said I needed to go on the road selling the stuff.
Seriously, he did. I don't make this stuff up folks. He really says these things and he's sincere, so I can't get too annoyed when he goes on and on.
The first night I served the pork in slices with basic, but appealing sides (baked potatoes and steamed broccoli). But, after that, I decided I wanted the pulled pork effect and I semi-shredded the meat, added a tad of Tasty Sauce (which we always enjoy on pork), and served it as barbecue.
"Cole slaw" and a few chips completed the super easy meal. (The cole slaw was actually my cheater version, which is a little poppy seed dressing on cole slaw mix—i.e., cabbage and carrots.)
This evening I went for some Great Salad with my Pom'd Pork. The two make a wonderful combination of flavors.
Pork tenderloin is wonderful, but it usually doesn't feed a big crowd. Even if you buy a large tenderloin, you're still unlikely to have lots of leftovers. I wanted leftovers this time.
Specifically, I wanted some to stick in the freezer for a ready meal after we return from our trip to Key West as the holidays come to a close. Plus, in all honesty, I didn't want to go out and buy pork tenderloin at full price.
Pork butts can be a great bargain—if on sale—and are so flavorful and versatile for cooking.
Yield: 15 servings
POM'd Pork
Total Time
16 hours
10 minutes
Ingredients
1 tablespoon olive oil
1 large yellow onion, sliced thin
3 pounds (or larger) pork tenderloin or pork butt
1/4 teaspoon ground cinnamon
1 teaspoon Italian seasoning
1/2 teaspoon sea salt
4 garlic cloves (whole or minced)
1 (14-ounce) can diced tomatoes with green chiles
1 cup pomegranate juice (I used POM Wonderful pomegranate juice)
1/4 cup balsamic vinegar
2 tablespoons maple syrup
Instructions
Use a large slow cooker. (I used my large programmable oval Crockpot.) Pour olive oil in slow cooker; tilt so olive oil is evenly coating the bottom of the stoneware. Place onion slices over olive oil.
Place meat in slow cooker. Rub the spices over the surface of the meat. Top meat with garlic and whole can of tomatoes with green chilies. Mix pomegranate juice, balsamic vinegar, and maple syrup, and gently pour over the meat so that the diced tomatoes and green chilies remain on top.
Cover and cook on low for about 8 hours, or on high for approximately 5. The meat is done when it has reached desired tenderness. For pork tenderloin, I like it sliceable. For pork butt, I like it to pull apart easily with a fork.
Serve on buns or with a complementary side.
Notes
The photo of all the ingredients shows two cans of diced tomatoes with green chiles; however, I decided one would be sufficient after I poured it over the pork butt. Feel free to vary ingredients to your liking. Look to the original recipe for more ideas.
Adapted from Karina Allrich, Gluten-Free Goddess and Stephanie O'Dea, A Year of Slow Cooking and Make It Fast, Cook It Slow!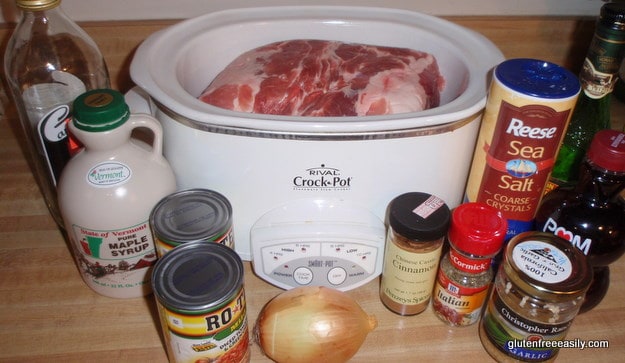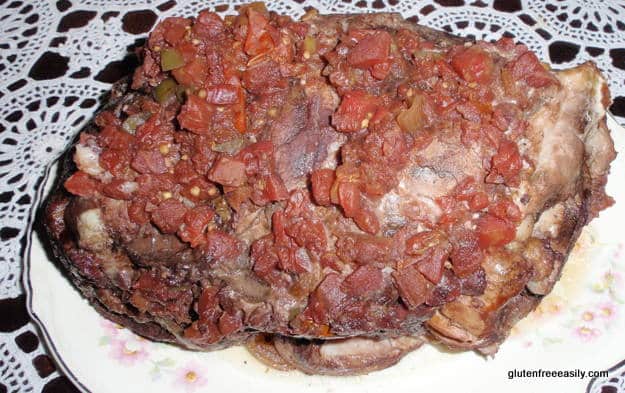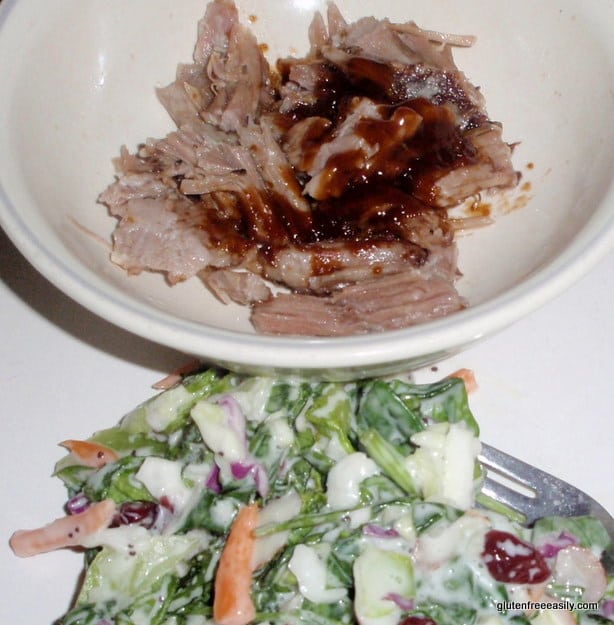 If you haven't been following Holiday Food Fest or need to catch up, you can find the hostesses and themes for the previous weeks here. Visit each blog to get wonderful recipe ideas from some of the best bloggers—Amy of Simply Sugar & Gluten Free, Alta of Tasty Eats at Home, Liz of Hoosier Homemade, Phoebe of Cents to Go Debt Free, Jessica of Life as Mom—and all our amazing blogging friends! Next week is the last week of the Holiday Food Fest and the event will be held at the Life as Mom blog with Jessica, a.k.a. Fishmama. The theme is Holiday Desserts!
If you need a dessert idea before then or just love drooling over desserts 24/7 these days (hey, I'm with you on that!), please be sure to check out the Gluten-Free Desserts Progressive Dinner Party that's going on this week. You can find all the links here.
Remember that the Holiday Food Fest is an all-inclusive event. Some recipes will be frugal, some gluten free, some sugar free, some raw, and so on. Use the gfe approach … go for recipes that are naturally gluten free, look at easy ways to convert others to be gluten free, or just look to recipes for inspiration. Add your holiday dish below!