For affiliate links and as an Amazon Associate I earn from qualifying purchases.
It's time to share my Special Zesty Turkey Breast with you. Slow Cooker Special Zesty Turkey Breast. Only a handful of ingredients.
Special ingredients. Ingredients that create a fabulous turkey breast that your family and guests will demand over and over again.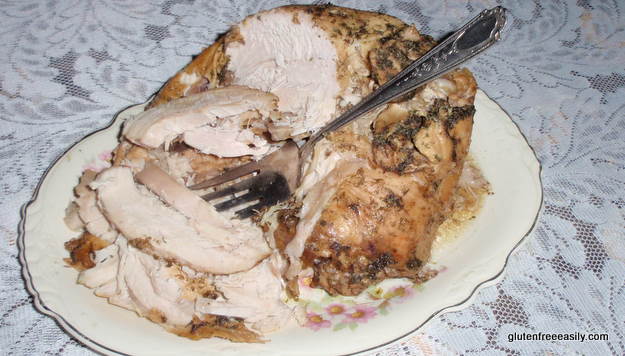 This recipe is another one that I spied somewhere, tried, loved, and I've been making ever since. I have no idea where the recipe came from originally. (If only I'd known I was going to blog, I would have saved all my recipe sources and also would have taken tons of food photos along the way.) I actually have two turkey breast recipes that I cook in the crockpot (slow cooker).
One is the turkey breast that everyone expects—traditional, moist, and juicy with typical flavors and only two ingredients. Yes, a Super Easy Turkey Breast with classic flavors.
The other—the one featured here today—still has simple flavors, but its flavors pack a punch. Son always refers to it as the "special" turkey breast.
He's been enjoying this recipe since he was much younger. So, although you will see that this turkey breast has strong flavors, it is still possible for kids to love it. (Of course, he was also the kid asking for Swiss cheese at the deli counter when he was three.)
It is another one of those recipes like my fabulous pork butt (aka The World's Best and Easiest Pulled Pork) where you'll want to stand by the crockpot and get a fork and just eat until you are satisfied, then you'll leave, then you'll return and eat some more, then you'll leave, then you'll return … you get the picture. Of course, you won't do any of that if you are making this dish for guests.
When anyone approaches the crockpot, you'll brandish your large fork "spear" and say very firmly, "Step away from the crockpot."
I'm serious. You'll need to do that to protect this turkey from being eaten and/or contaminated by family germs before your guests arrive. Of course, first time out, you might be safe. They won't know that this is a special turkey breast.
But, after the first time you cook it, all bets are off … brandish the kitchen utensil—trust me on this. Now when you look at the ingredients below, you'll never believe that they will produce a turkey breast so irresistible that you will have to defend it, but it's true.
I encourage you to give this recipe a try, even if you have a vinegar "phobia." When you walk through the door at the end of the day, the somewhat pungent smell of this turkey breast will greet you. When you bite into this turkey breast, you'll discover that it's rich, briny, and peppery all at the same time … and more than slightly addictive. I'm eating some cold for breakfast right now. Just delicious.
It's best to have a plan for your leftovers (if there are any), and this special turkey breast makes leftover ideas easy. I'll make turkey quesadillas for one meal. The leftover turkey meat will make excellent quesadillas because of its outstanding flavor.
I also love topping a salad with this turkey breast. I'll have a nice salad today using a variation of my Kathi's Great Salad Recipe (in this case, spinach, romaine, cole slaw mix, walnuts, and dried cranberries) with just a tiny bit of salad dressing on top.
Divine. It's the best salad you could possibly have.
Another day will be a turkey salad (like chicken salad, except with turkey) just chopping the breast meat and adding some mayo, sweet relish, finely chopped onion, and a tad of Dijon mustard. The turkey breast adds amazing flavor to this basic salad.
I will be making this turkey breast and the traditional one on Thanksgiving. Because we typically eat in the early afternoon, I usually just get up very early, throw the turkey breasts in the crockpot as directed, and then go back to bed.
It works for me. Even when I arise, I can attend to other matters because the turkey breasts will not need any additional attention. I don't know about you, but I love that fact!
These turkey breast recipes also work for other holidays like Christmas and Easter. Or simply when you want to feed a group or your family with leftover turkey ensured.
Enjoy!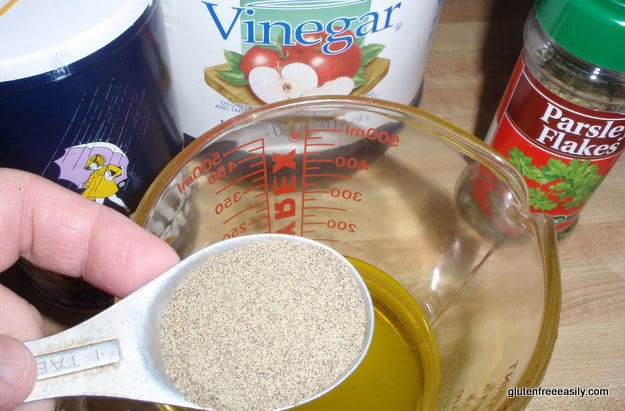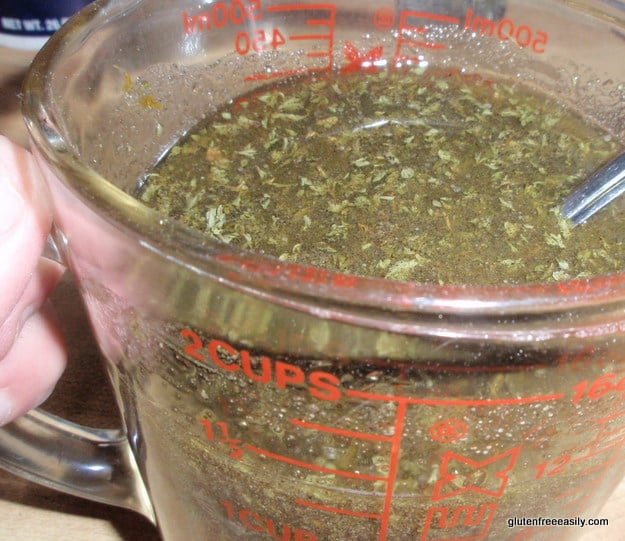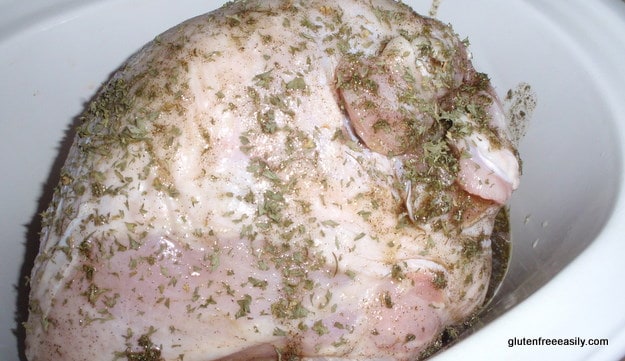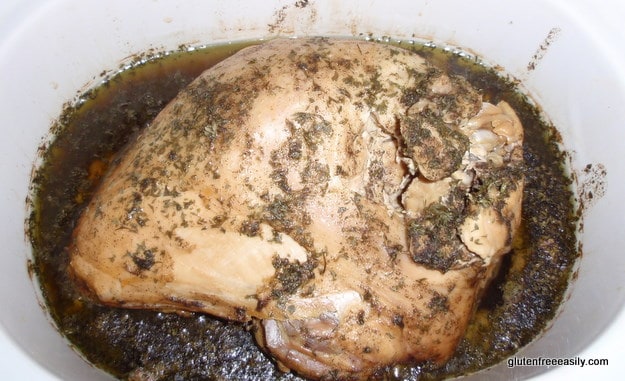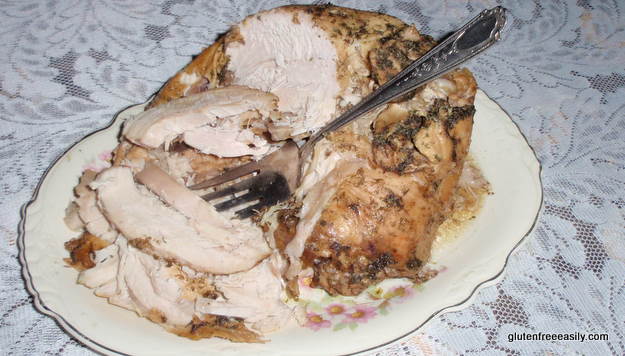 Slow Cooker Special Zesty Turkey Breast Recipe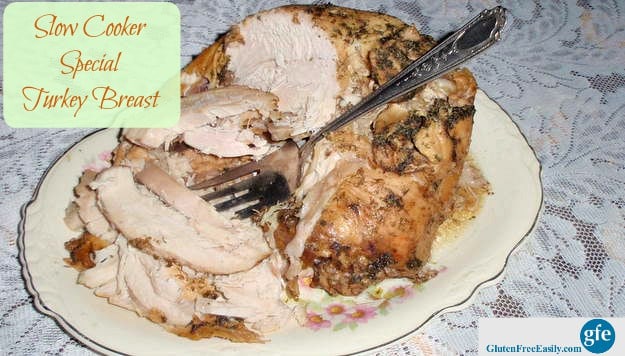 Yield: 12 servings
Slow Cooker Special Zesty Turkey Breast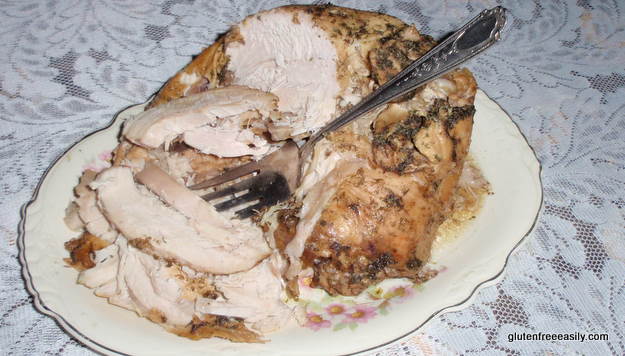 Once this Special Zesty Turkey Breast steps in for the usually dry flavorless turkey breast, you'll never go back!

Prep Time 10 minutes

Cook Time 8 hours

Inactive Time 8 hours

Total Time 16 hours 10 minutes
Ingredients
One 4- to 6-lb turkey breast
¾ cup fresh parsley, chopped and divided---1/2 cup and ¼ cup; or 4 tbsp dried parsley, divided---3 tbsp and 1 tbsp (Note: My conversion to dry is not exactly equivalent to fresh, but it works best for measuring and doesn't alter taste; in fact, if you are running short on parsley, just use whatever you have. I keep dried parsley on hand for this recipe at all times.)
½ cup vegetable oil, any kind (I use olive oil these days, but I've used all kinds successfully)
2 tbsp salt
2 tbsp ground black pepper
1 cup apple cider vinegar (Note: Apple cider vinegar is gluten free, but beware of an apple cider-flavored vinegar that is not gluten free. Personally, I've only read about this product on "no-no" lists; I've never actually seen it in stores. Always read labels, of course.)
Instructions
Remove any packaging carefully. (I've been surprised by gravy packets before--some turkey breasts come with TWO such packets--and I've been grateful that I didn't accidentally puncture them with my kitchen shears.) Rinse turkey breast. Remove any contents from cavity of breast. (If gizzards and liver are included, you can cook those or freeze for another use later.)
Place breast in crockpot and pat dry.
In glass measuring cup (which holds 2 cups or larger), add oil, vinegar, salt, pepper, and ½ cup of fresh parsley (or 3 tbsp dried parsley). Mix well and pour over turkey breast.
Sprinkle remaining ¼ cup of fresh (or 1 tbsp dried) parsley over breast.
Cook for 4 to 4 ½ hours on high or 8 to 8 ½ hours on low. If your turkey breast is larger than 6 lbs, you will need to cook longer. I cooked a 6 ½ pound turkey breast and it took about 9 hours. If I'm home, I often cook the breast for an hour on high and then switch to low for the remaining time. (An hour on high equates to about 2 on low.)
Notes
I use a 6-qt oval crockpot.

Turkey - Bone-in turkey breasts work best, but I've used boneless before and enjoyed them. If the turkey breast poundage is significantly less, just adjust amounts accordingly. If the turkey breast is larger, these ingredient amounts will probably still be sufficient. I used a 6 ½ pound turkey breast this time around and used the amounts as shown.

Seasoning - Sea salt is my preference, but I was out of it. Fresh ground pepper is also wonderful, but it takes a while to grind 2 tbsp, so I went with already ground pepper. The salt will naturally settle to the bottom in the measuring cup, so stir even as you are pouring the oil mixture over the turkey breast. However, if some salt does settle and remains in the cup after you've poured the oil mixture over the turkey, just pour the remaining salt evenly over the breast (you may need to use a spatula).

Serving - After your breast is cooked, spoon a small amount of the "juices" over the breast meat that you're serving. It will keep the meat moist and flavorful. Likewise, remove some of the juices to save with the leftover meat to keep it moist and flavorful. This is a very moist, juicy breast, but if you don't save any of the juices with the meat, the meat can dry out.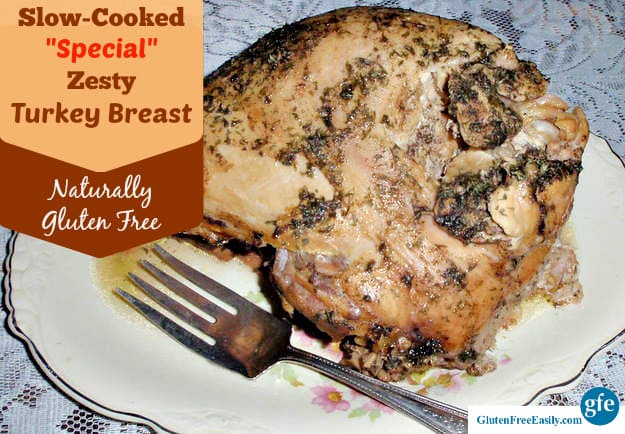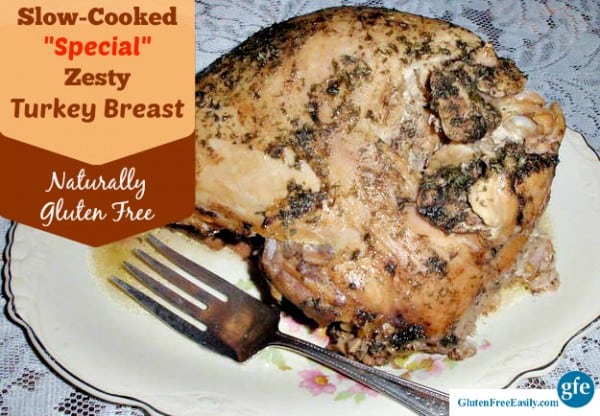 Originally published November 18, 2009; updated December 22, 2022.