For affiliate links and as an Amazon Associate I earn from qualifying purchases.
5th Anniversary Celebration/Open House with Fredericksburg Celiac Support Group
Sunday, November 15, 2:00 pm
Speaker: Dr. Ron Hoggan, co-author of Dangerous Grains, editor of The Journal of Gluten Sensitivity, author of The Iron Edge, and more
Fredericksburg United Methodist Church, Kobler Hall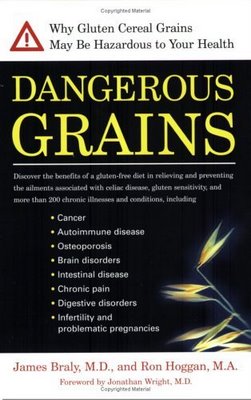 Hanover Street (parking in church parking lot on Charlotte Street), Fredericksburg, VA
Despite some technical difficulties, this open house was a great success! Dr. Hoggan did a wonderful job, especially during the Q & A session. Everyone was able to ask their question and get an answer. Information packets were provided and naturally gluten-free treats and snacks were served. Admission was free, but we asked for donations of non-perishable food items for the church's food pantry for distribution to others in need. Thanks so much to everyone who brought food–the amount the Girl Scouts were sorting (from us and church members) was amazing! Even after the open house was officially over, attendees lingered to share information with each other—loved that!