For affiliate links and as an Amazon Associate I earn from qualifying purchases.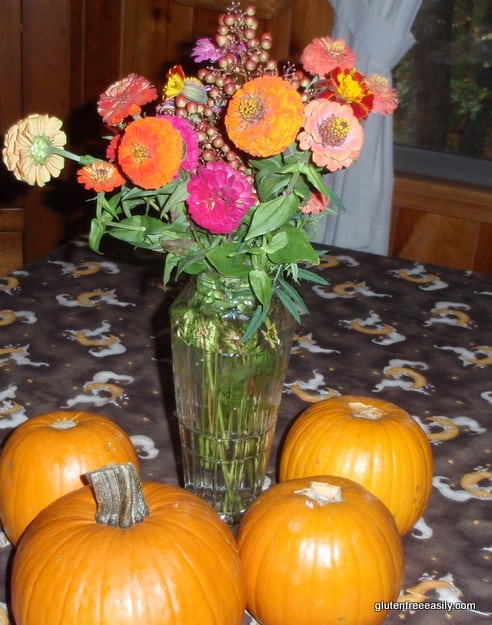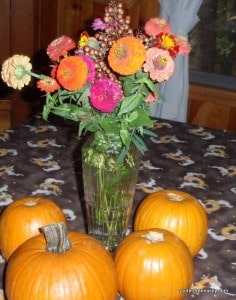 There's so much going on this fall in the blogosphere, specifically here at gfe (up front and behind the scenes), and in life in general for most everyone because the holidays are fast approaching. So we've just barely wrapped up Halloween, Thanksgiving is next week for those of us who celebrate in the U.S., and so many other holidays are coming up right after that. It's all good as they say, but busy, very busy!
Have you ever wanted to join in on Progressive Dinner Party? You know … the ones where folks go from home to home with each host offering a different course? Maybe you wanted to join in on one, but didn't want to have to actually do any of the work. Well, you're in luck! Eight gluten-free bloggers, including myself, have a Thanksgiving Progressive Dinner Party going on right now!
~Ali of The Whole Life Nutrition Kitchen 
~Jean of Gluten Free Organics … and More
~Karen of Cook 4 Seasons
~Seamaiden of The Book of Yum
~Diane of The W.H.O.L.E. Gang
~Stephanie of A Year of Slow Cooking
~Shauna of Gluten-Free Girl and The Chef
~moi of gfe—gluten free easily
This was an idea that was inspired by the immediate connection that we felt at BlogHer Food '09. We all wanted to stay in touch and see how our relationships could further gluten-free awareness and make life a bit easier and, of course, more delicious for folks who need to eat gluten free. Diane of The W.H.O.L.E. Gang is the brain child of this specific idea. She's ensured that we didn't forget our intention and that we actually took action! (Thanks for your commitment to action; gentle and upbeat email reminders; annd work in setting up the framework for this event, Diane!) Not all of the fabulous gluten-free bloggers can join in this time around, but look for similar events and new faces in the future. 🙂
Yesterday Ali (The Whole Life Nutrition Kitchen) and Jean (Gluten-Free Organics … and More) served the beverages. Go wet your whistle right now with Ali's beverage and Jean's drink recipe, so you can move on to the appetizers. Karen, Jean, and Seamaiden are "serving" those today! Tomorrow, you'll want to check back here at gfe for a main course and head back over to Ali's for another entrée option. My inside information says neither dish is likely to be on your menu already, so you'll definitely want to check them out. Side dishes/salads will be shared by Diane, Stephanie, Shauna, and Ali on Thursday.  Finally, Karen, Jean, and Ali will offer up everyone's favorite—desserts—on Friday. (I'll add links when they are up.) That's an entire Thanksgiving meal with a couple of options for each course—14 recipes in all! We're hoping you'll enjoy the dinner party (hey, no need to bring a hostess gift for this one!) and will get some great ideas for your own Thanksgiving meal next week. No worries if you don't celebrate Thanksgiving (or already celebrated in October if you're one of our dear Canadian friends) … just save these recipes for another special meal.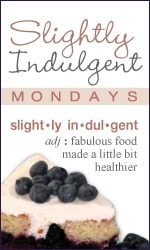 Every Monday is a Slightly Indulgent Monday over at Simply Sugar & Gluten-Free.  You'll want to check by each week for a wide variety of wonderful recipes. Check out this week's roundup and be sure to also take a look at the new e-book, Kid-Friendly Recipes—Best of the Blogosphere. Purchase is by donation amount of your choice ($1 minimum) with all proceeds going to St. Jude Research Hospital. What an easy way to help a great cause and obtain a wonderful resource!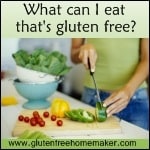 Every Wednesday, Linda, our generous Gluten-Free Homemaker, hosts What can I eat that's gluten free? The first Wednesday of every month has a suggested theme, but any gluten-free recipe, product review, restaurant review, etc. submission is always welcome. Linda is prolific with her recipes and informational posts!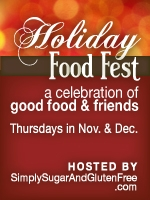 This week is the third week of the Holiday Food Fest (read more here) and the theme is timely—Gifts of Good Taste. Come Thursday, participants will share their recipes for food gifts and even how to package them. Phoebe at Cents to Get Debt Free will be our budget-conscious and inventive hostess. If you've been wracking your brain on economical and/or clever gifts, this roundup could be the solution to many of your holiday giving dilemmas.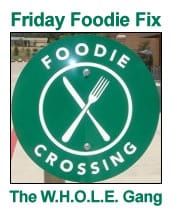 Friday is the Friday Foodie Fix (FFF) back over at Diane's (The W.H.O.L.E. Gang). Diane selects an ingredient each week and asks folks to submit a recipe or post on the ingredient. Diane and the entrants have slowly, but surely building a great resource for gluten-free bloggers. Got mushrooms? squash? cranberries? There's an app for that! Oooops, I meant Friday Foodie Fix! Oh, look, this week's ingredient is turkey! But, of course. We can all participate in that one.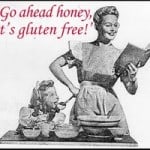 Go Ahead Honey, It's Gluten Free! (GAHIGF) is the monthly gluten-free roundup originated by charming Naomi Devlin (Straight into Bed Cakefree and Dried). November's host is Elana Amsterdam of almond flour fame! She blogs at Elana's Pantry, and is now famous for her cookbook, The Gluten-Free Almond Flour Cookbook. (You might also remember Elana and her chocolate chip cookies from my BlogHer Food '09—Part I post. She truly saved the gluten-free bloggers with her cookies.) Elana has chosen grain-free cakes and cupcakes as the theme for GAHIGF this month. You can read the rules for submitting an entry here. Do join in or at least read all the entries at the end of the month—it's so much fun!
Speaking of cookies … do you love making them during the holidays? Then Drop in And Decorate might be THE easiest and most enjoyable way for you to give back to your community this year. Read more here at Stephanie's blog on how she, Pillsbury, and Wilton are helping out with this mission. This annual charity event comes from the genius and giving spirit of Lydia at The Perfect Pantry.
Looking for a great new cookbook for yourself or a friend? How about a free one? (Free is often my favorite four-letter word!) Be sure to drop by Alisa's at One Frugal Foodie for a week of cookbook giveaways. There are some fabulous cookbooks there with recipes from each that will make you look like a kitchen goddess. Enter each day and your odds of winning are considerably higher! The cookbook in today's giveaway is The Garden of Eating. Who comes up with this ultra-clever titles? I want them with me when I write my cookbook one day. Incidentally, Alisa is also our resident dairy-free guru over at her Go Dairy Free site.
Now for some restful viewing before you head off to work on your "to do" list, here are some photos I've taken the last few weeks while I was "out and about." (Incidentally, there's a little indicator in those words of things to come here at gfe—stay tuned as always.) I call some of these photos motorcycle-driven impressionism … Mr. GFE guffawed big time at that one. See if you can see "us" in the first photo? (It's somewhat like those "picture within a picture" images that were so popular a decade or so ago. Step back … relax your eyes, and then look.) The others were taken at the farm of my beloved friend, Jennifer. Remember the field of sunflowers in my Celebrations post? Same beautiful spot. Jennifer was my very gracious hostess the week before last. Somehow I ended up leaving at sunrise and sunset each day. (I'll share the reason for my visit in an upcoming post.)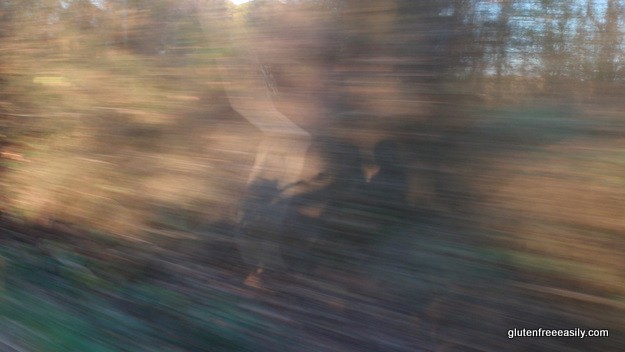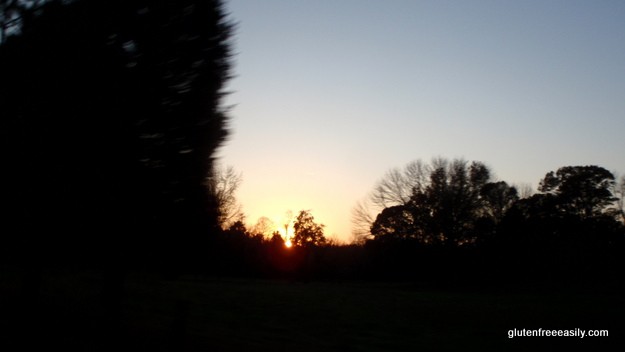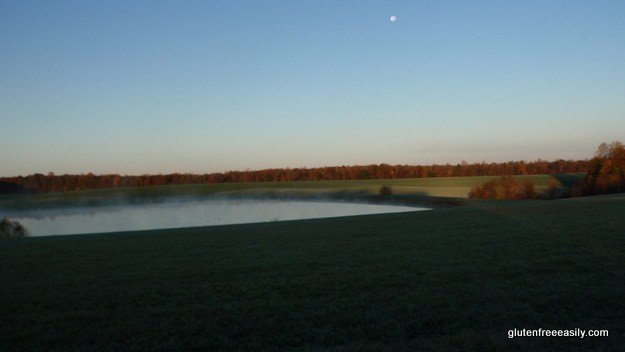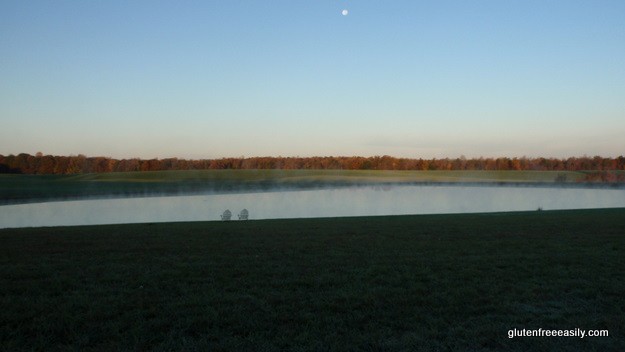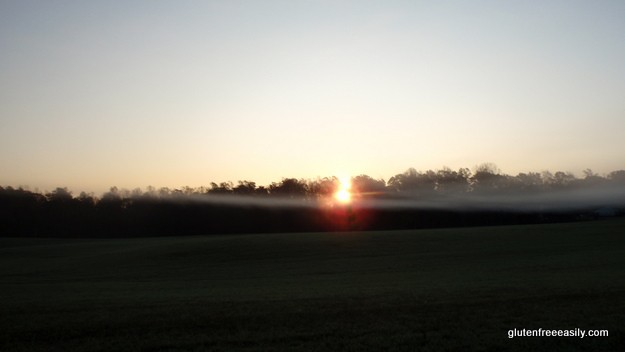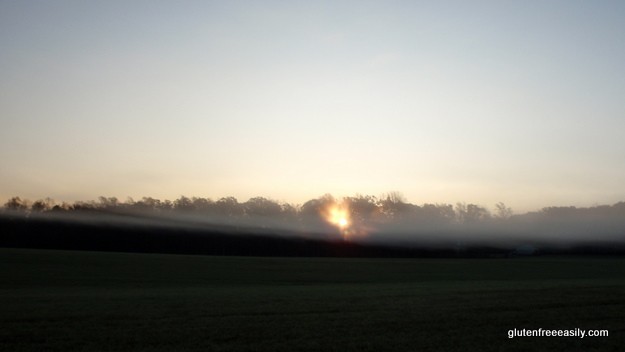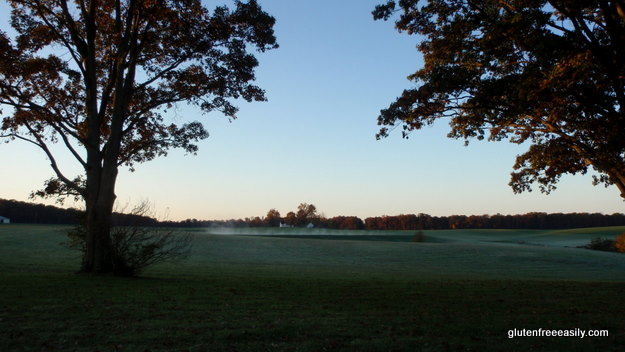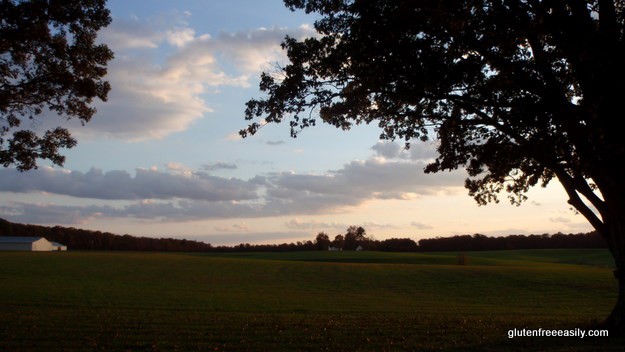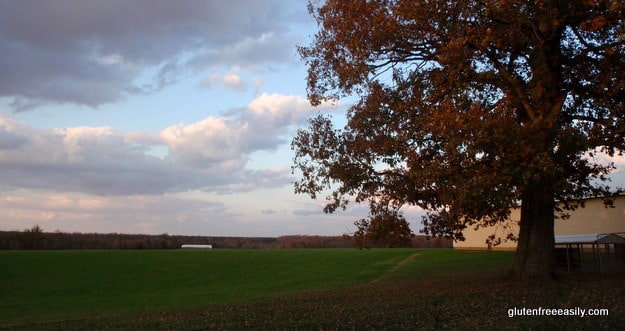 Shirley
Not just gf, but gfe!