For affiliate links and as an Amazon Associate I earn from qualifying purchases.
So many of my recipes come from inspiration from others. A reader, Sara, contacted me a while back asking if had contact info for Sea at The Book of Yum blog. She knew that I've talked about Sea numerous times over the years, sharing her recipes and participating in her Adopt a Gluten-Free Blogger event from back in the day. Sara told me that Sea had a recipe for gluten-free Double Apple Muffins "that my children are obsessed with and her site has disappeared recently."
Sadly, I found that she was correct. The delightful Sea's website no longer exists and I was unable to reach her. In the quest for Sea's muffin recipe for Sara, I decided to consult the
Wayback Machine
.
The Wayback Machine bills itself as the internet archive and I've found it quite useful in locating favorite recipes from websites that are no longer active. At first, I got an error when trying to locate the muffin recipe but when I tried again a bit later, I struck gold and did find the Double Apple Muffins recipe that Sara and her family loved so much. We were both so happy about that!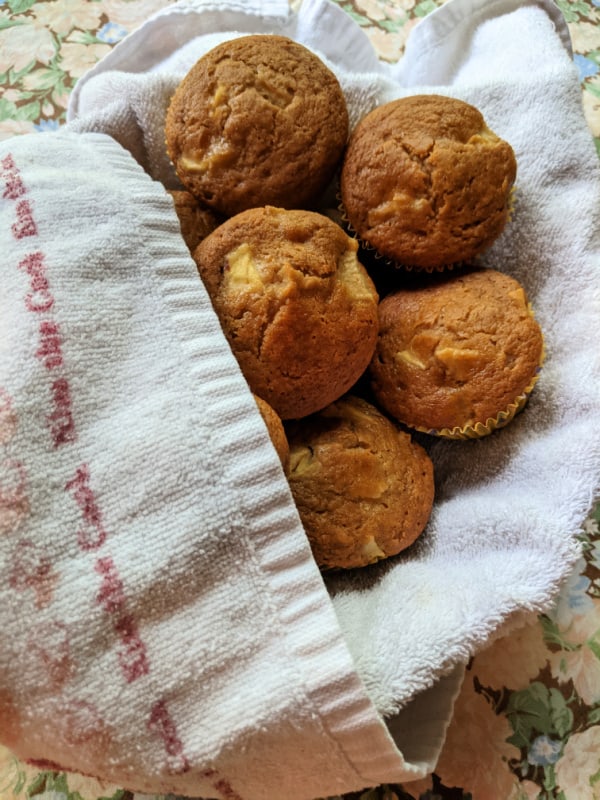 What really helped my search efforts was that Sara had the original link to Sea's recipe. If you're looking for a web page using the Wayback Machine, having the original URL is the clearest route to success. As soon as I entered that, I was able to locate the archived page from Sea's site, save it to PDF, and email it to Sara. (I always recommend saving a located page to PDF as you'll have it no matter what happens to the Wayback Machine—or a specific archived page—in the future.)
Sara was no less than jubilant when I emailed her the good news with the PDF of the recipe. Yay! I'm always happy to help a gfe reader find a gluten-free recipe that makes them happy—even if it's not my own recipe!
Then I decided to take a closer look at Sea's recipe because if Sara and her family loved her apple muffins so much, I wanted to know all about them. Perhaps even try them. Because we like apples in baked goods and I always seem to have apples on hand that need to be used.
Sea's recipe used
Pamela's Baking Mix
, which I know so many of you in the gluten-free community love. However, I'm not a mix person. It's not that I'm against mixes. I simply don't like having to have a particular gluten-free specialty product on hand all the time.
I prefer to have a well-stocked pantry that's mostly "regular" ingredients but also a few basic gluten-free specialty ingredients that I can turn into mixes or simply recipes of my choice any time I like. Plus, Pamela's mix contains dairy—in the form of cultured buttermilk. I usually need dairy-free ingredients and recipes for Son and other strictly dairy-free friends.
Pamela's Baking mix contains the basic ingredients that one would find in a gluten-free flour mix; i.e., different gluten-free grain-based flours and starches, baking powder, baking soda, sea salt, and xanthan gum. Her mix also contains almond meal and cultured buttermilk (in powder form). Sea's recipe started with the baking mix and then added water, eggs, applesauce, thinly sliced apple chunks, and vanilla sugar or honey or agave nectar.
I decided that I'd make a version of these Double Apple Muffins using my
Two-Ingredient Gluten-Free Flour Mix
,
almond flour
(versus almond meal because it's much finer than almond meal and it's what I keep on hand), eggs, full-fat canned coconut milk (as my creamy, fat component to replace the cultured buttermilk in Pamela's mix), applesauce, thinly sliced apple chunks (but more of them than were used in the original recipe), honey, baking powder, and baking soda. I did not add xanthan gum as I find that's often not needed when making muffins. And that's a bonus for folks who can't tolerate xanthan gum.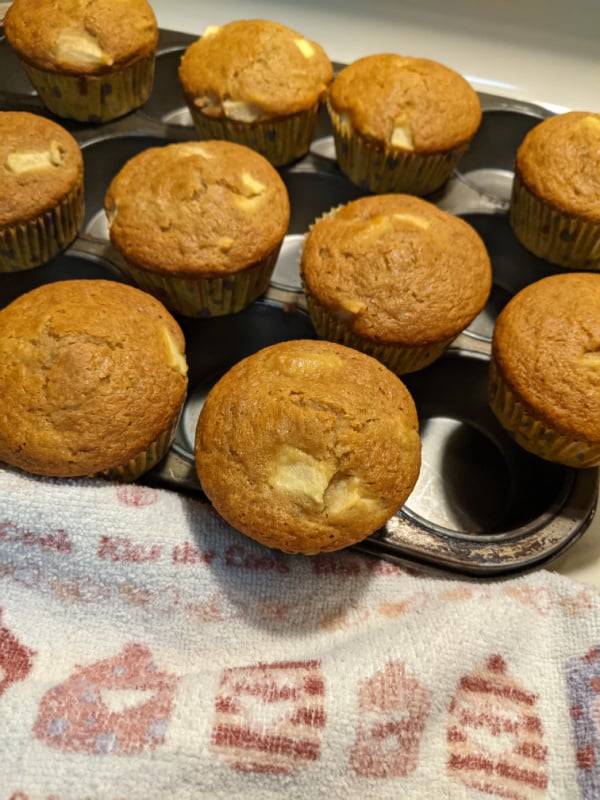 After I filled my dozen muffin cups, I had some leftover batter. While I could have filled another muffin cup in another
muffin tin
(or placed a single muffin liner—
paper
or
silicone
—on a baking sheet and then filled that), I decided instead to make a mug muffin. The results were terrific. I know because I ate it almost instantly! How great is it that this recipe gives you a dozen delicious muffins AND a mug muffin to reward you for your baking efforts?
If you end up with enough batter to make a mug muffin like I did, add the batter to a greased coffee mug and cook on HIGH in your microwave for 1 1/2 minutes. Batter will rise to the very top of the mug while cooking and then sink to a more traditional muffin height. Let cool for about 30 seconds or so before eating. Be sure to test for the heat factor before spooning some in your mouth. You could also turn your muffin out onto a plate but that seemed like too much trouble to me. Eating the mug muffin with a spoon was just fine!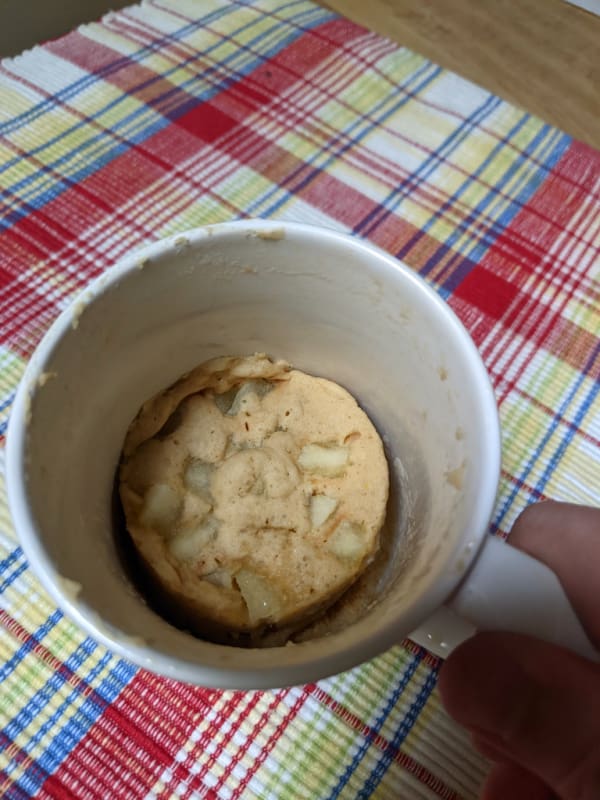 How did the Double Apple Muffins baked in the muffin tin turn out? Beautifully and deliciously! They're plump, perfectly rounded muffins and the reviews from my crew were: "Perfect. The right balance of apples and muffin." and "Wonderful!"
In fact, someone (I'm not going to mention any names) got so excited when grabbing one to eat late at night that they forgot that the muffins had been baked in muffin liners. They had a mouthful of both muffin and paper before they realized it! LOL Yes, that's how excited one can get about these yummy muffins! Thanks to Sara and Sea for the fabulous muffin inspiration!
Gluten-Free Double Apple Muffins Recipe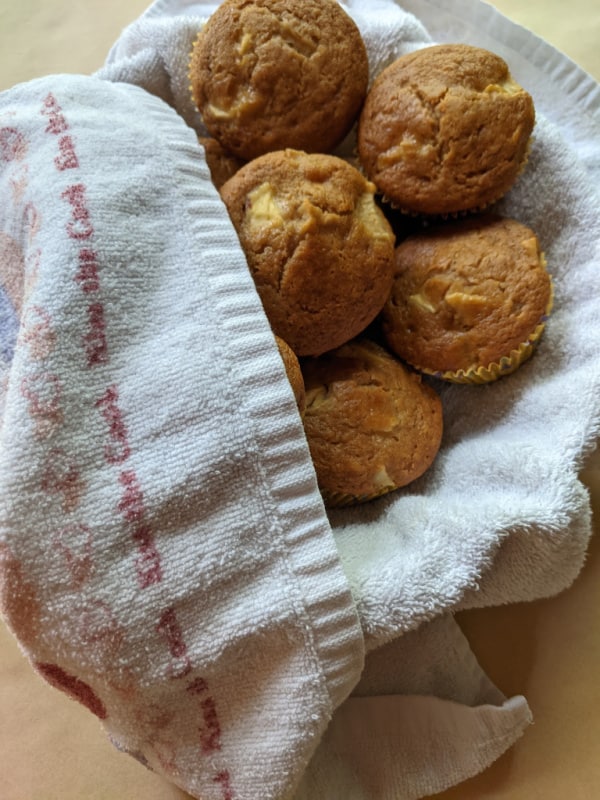 Yield: 12 muffins plus one mug muffin
Gluten-Free Double Apple Muffins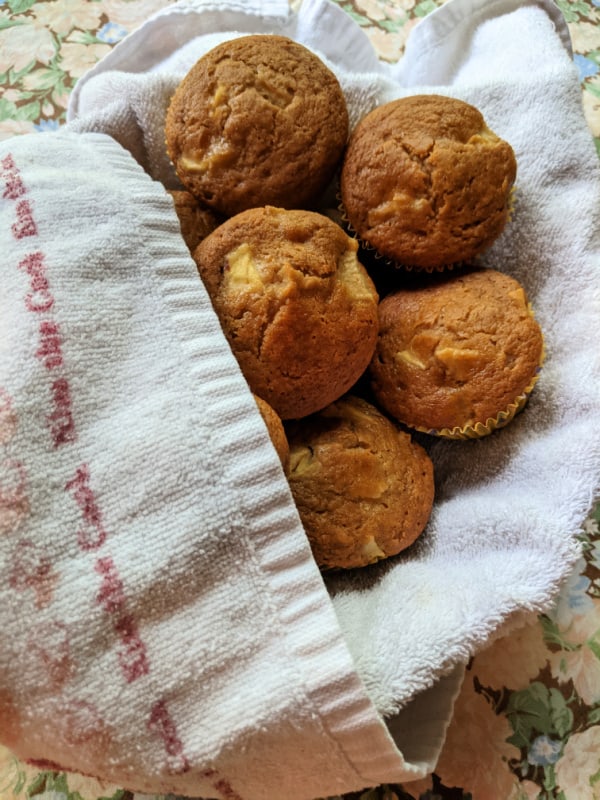 Son said these muffins are the perfect balance of everything. The almost cake factor of the muffin, the sweetness, and the apples. Delicious!
Additional Time
5 minutes
Ingredients
2 cups gluten-free flour mix (I use my Two-Ingredient Gluten-Free Flour Mix)
1/2 cup finely ground blanched almond flour (not Bob's Red Mill; I like Honeyville or Wellbee)
1/2 cup canned coconut milk (not lite)
2/3 cup honey
2 large eggs
1/2 cup (snack-size, 4 ounces) unsweetened applesauce
1 cup apple pieces (small chunks, thinly sliced; about one large apple)
1 tsp baking soda
1 1/2 tsp baking powder
Instructions
Preheat oven to 350F degrees. Line 12-cup muffin tin with muffin/cupcake liners.
In large mixing bowl, add dry ingredients whisking to break up any clumps.
Stir in wet ingredients, except apple.
Mix in apple, saving some to add to the muffin cups at the end so that the apple will show in the muffins after baking.
Fill muffin cups to almost the top of the liner.
Bake about 25 minutes until muffins are golden brown and inserted toothpick comes out clean.
Notes
If you end up with more batter than muffin cups--i.e., about a muffin's worth--make a mug muffin! Add batter to a greased coffee mug and microwave on HIGH for about 1 1/2 minutes. Cool about 30 seconds or until muffin can be eaten safely with a spoon or fork. You can also turn the muffin out on a plate to cool and eat as you would any other muffin.
Originally published May 5, 2021.