For affiliate links and as an Amazon Associate I earn from qualifying purchases.
I enjoyed my friend Tia's gluten-free and paleo Apple Crumb Muffins just once, years ago at a blogger event. Yet those muffins have never left my memory. We all have recipes that stick with us like that, right?
You all know how much I love and how often I share muffins here on gfe. Tia's muffins were delicious. Plus, they included the combination of all things good—almond flour, apples, applesauce, cinnamon, and nuts. Plus, there was their delightful crumb topping made from a sweet and crunchy subset of those ingredients. Yum!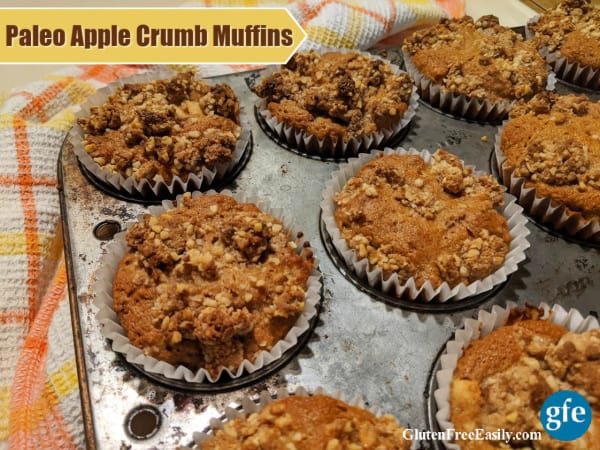 Tia's recipe was on her former site, Glugle Gluten Free. She now shares recipes at Tia's Kitchen but she remains the muffin guru that she has been from the beginning.
When several gluten-free bloggers met up at a blogging conference many years ago, our friend Elana kept us going later in the day with her original gluten-free chocolate chip cookies but it was Tia who fed us delicious gluten-free muffins for breakfast! If I remember correctly, she brought two different types for us to enjoy. Sweet!
Because we often get apples in our produce boxes and they never all get eaten as quickly as needed, I decided to adapt Tia's recipe to use more apples and I made a few more changes per my personal preferences. (Note: Use code COOKWME-XD6MDE to try the same produce supplier and get a discount on your first delivery. Yes, I also get a discount if you purchase a produce box but please know that we have been getting these produce boxes since April 2020 and absolutely love this company and its produce.)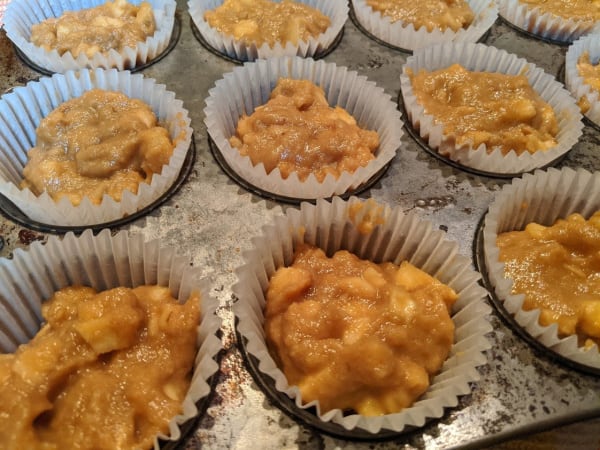 Incidentally, today's recipe for gluten-free, paleo Apple Crumb Muffins is the last of the recipes that readers voted on a while back on Facebook. I asked which recipe readers wanted to see on gfe next. Readers had a choice of these muffins, Perfect Gluten-Free Fried Chicken Breasts, or Classic Cucumber Salad.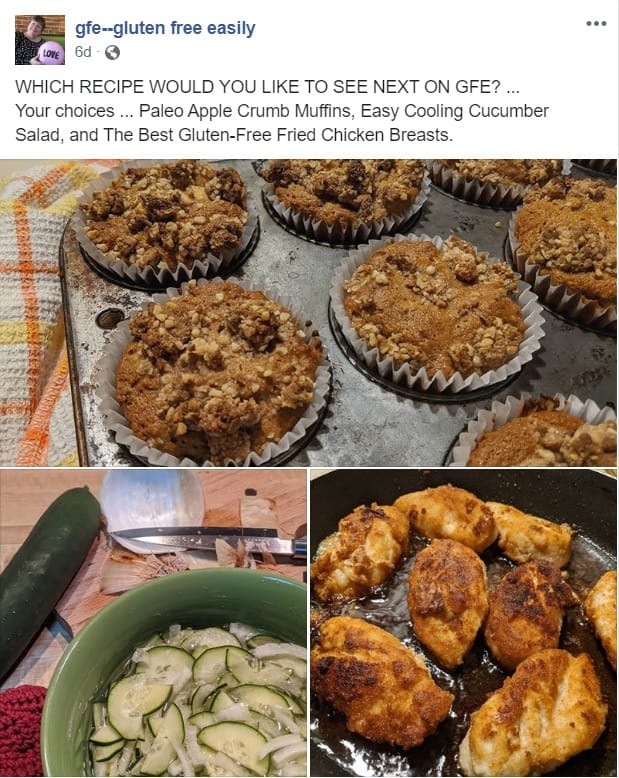 As one reader wisely said, all three together would make a wonderful meal. A serving of Classic Cucumber Salad with a Perfect Gluten-Free Fried Chicken Breast, followed by an Apple Crumb Muffin for dessert. Sounds pretty perfect; don't you think? Update: All three recipes have been shared since then, so follow the preceding links and enjoy!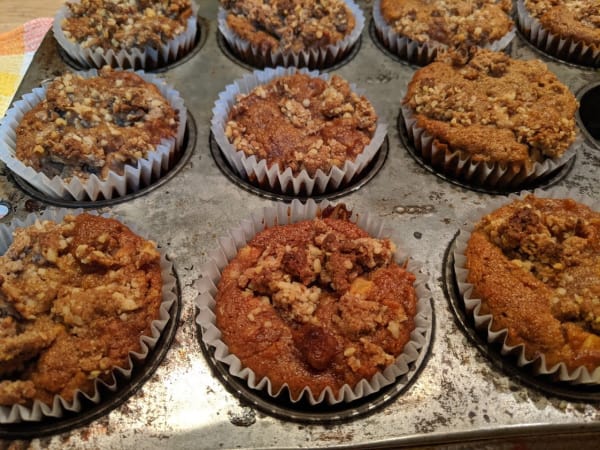 I just heard that Apple Crumb Muffins are one of Costco's biggest draws every fall. That inspired me to do some research. I learned that there are several copycat recipes for Costco's muffins online. Of course, their take on Apple Crumb Muffins is not for gluten-free consumers.
Honestly, I have no idea how these muffins compare to theirs but you can make these muffins and still be one of the cool kids! And you'll be happy you did.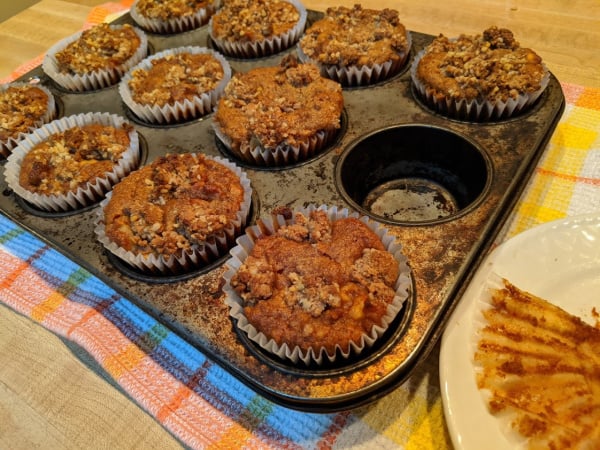 Plus, there's no need to have a Costco membership or leave your home to pick up muffins. The latter is always a bonus in my opinion—anti-shopping "homebody" here—but even more so during our current times. Stay home, stay safe, and enjoy these gluten-free Apple Crumb Muffins!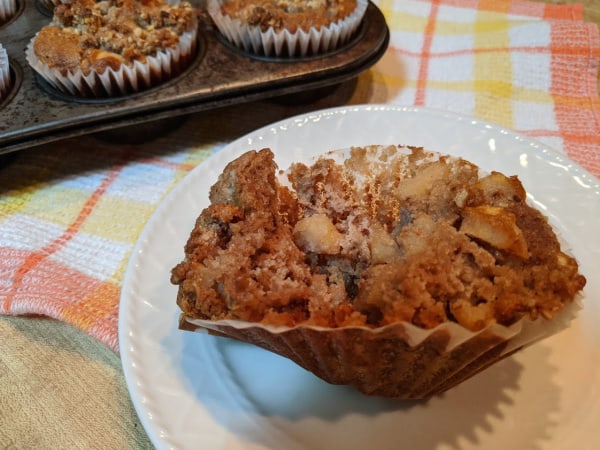 Other Muffin Recipes from Tia's Kitchen and More Gluten-Free Apple Recipes
~ Apple Walnut Breakfast Muffins
~ Apple Cinnamon Volcano Pancake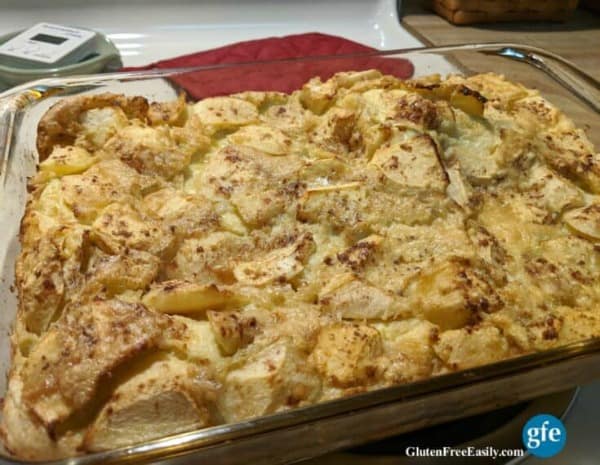 ~ Chocolate Chocolate Chunk Zucchini Muffins
~ Cinnamon Apple Muffins That Say I Love You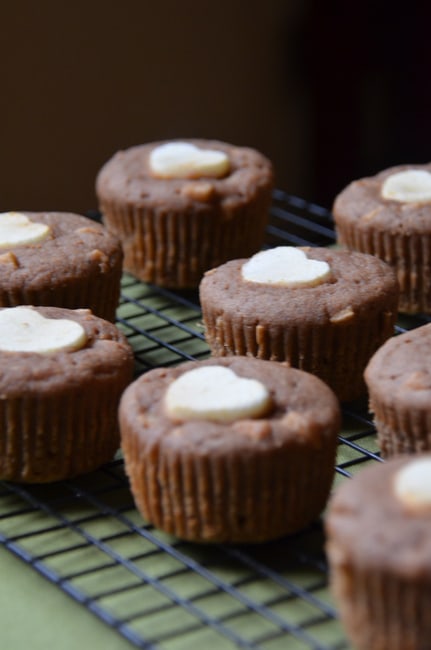 ~ Easy Gluten-Free Apple Pie (Crustless)
~
Pumpkin Apple Muffins
~ Strawberries and "Cream" Muffins
~ Strawberry Banana Chocolate Chip Muffins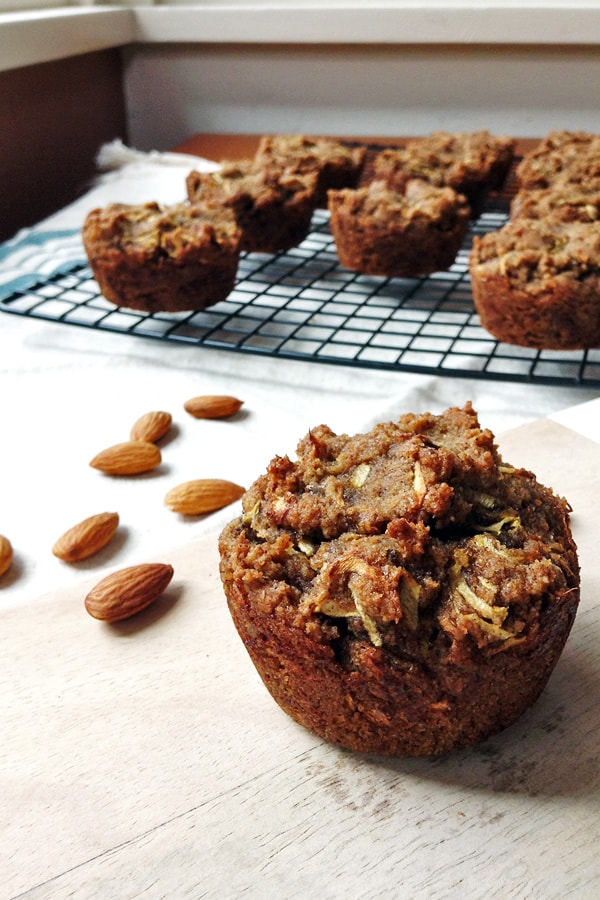 Paleo Apple Crumb Muffins Recipe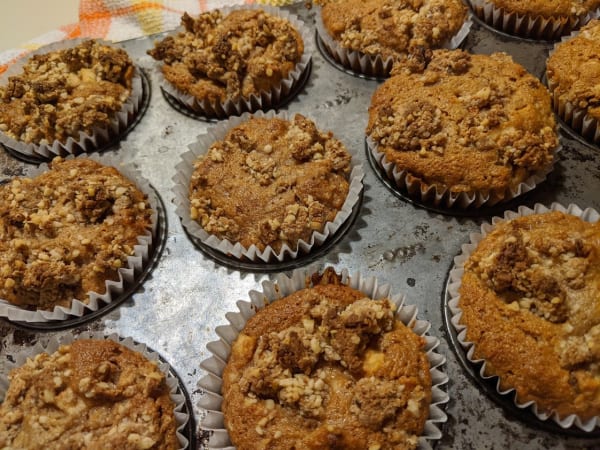 Yield: 12 muffins
Paleo Apple Crumb Muffins (Gluten Free)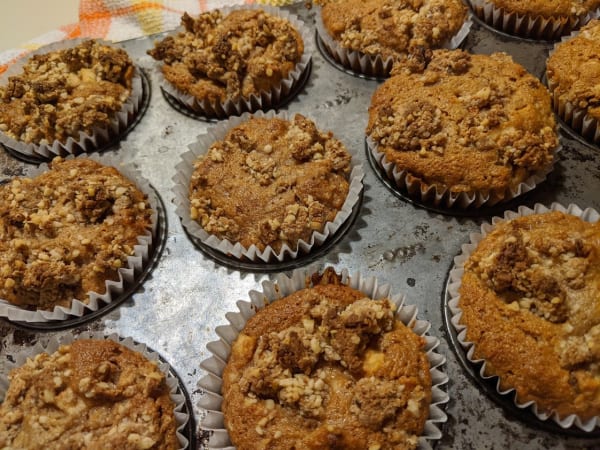 Apple muffins are taken up a notch with a simple and delightful crumb topping! Gluten free, grain free, paleo, and delicious.
Additional Time
5 minutes
Ingredients
Dry Ingredients
2 cups blanched almond flour (not almond meal), packed
1 tsp baking soda
½ tsp salt
2 tsp cinnamon
Wet Ingredients
2 cups apple, peeled and chopped (about four small-sized apples or two large apples),
½ cup applesauce, unsweetened
3 large eggs
1/3 cup coconut oil, liquefied
1/3 cup honey
1 cup walnuts (or other nuts or seeds of choice), chopped
Crumb Topping Ingredients
½ cup almond flour
2 tbsp ground walnuts
1 tsp cinnamon
2 tbsp honey (or maple syrup)
Instructions
Preheat oven to 350° F.
Add muffin/cupcake liners to the muffin tin.
Mix dry ingredients together in a large bowl. Use your whisk to break up any lumps.
Add wet ingredients to the mixture. Mix until just combined.
In a small bowl, mix crumb topping ingredients.
Pour muffin batter into the muffin liners.
Spoon or crumble the crumb topping over the batter in each muffin liner.
Press crumb topping into muffin batter slightly using your fingers or the back of a spoon.
Bake for about 25 minutes. Check with a toothpick for doneness.
Cool about 5 to 10 minutes.

Notes
Because of the moisture in these muffins, I refrigerate these muffins after we enjoy some of them warm out of the oven. They will keep for several days in the refrigerator.
Originally published November 5, 2020; updated May 28, 2022.