For affiliate links and as an Amazon Associate I earn from qualifying purchases.
What a treat to have these gluten-free Cinnamon Apple Muffins That Say I Love You from Amber of The Tasty Alternative as part of our March Muffin Madness (MMM) series! (Unfortunately, Amber's site is no longer active.)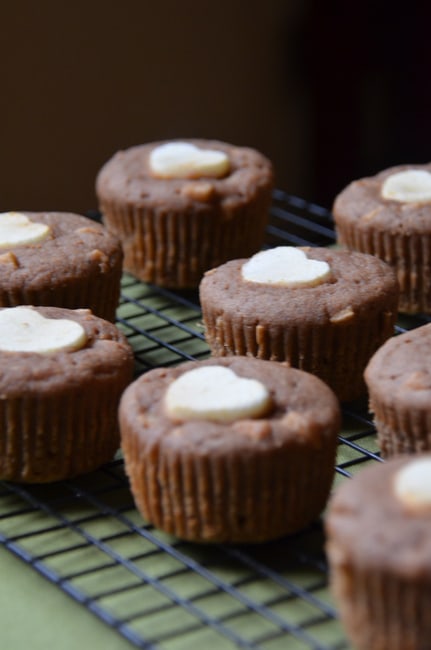 Are they not the most adorable muffins ever? I think Amber has cornered the market on cuteness with this recipe!
There's just something irresistible about creating treats that make the little ones smile—especially when the kiddos join in on the fun, as Amber's son does here. But little ones aside, I'm guessing lots of us grown-ups are also smiling at the sight of her gluten-free
Cinnamon Apple Muffins That Say I Love You
.
Oh, and Amber's muffins are gluten free, dairy free, cane-sugar free, nut free, and vegetarian—and, of course, delicious … as are all the MMM recipes!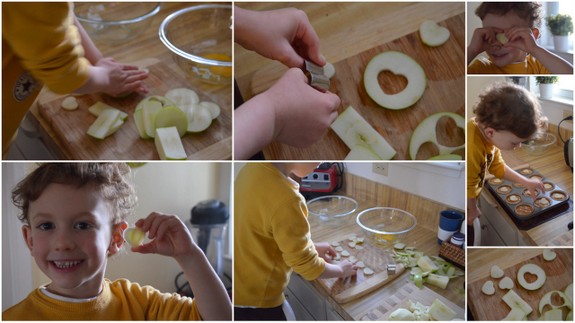 Enjoy learning more about Amber and her I Love You Apple Cinnamon Muffins. Check out the whole line-up of bloggers, blogs, and muffin recipes for this year's March Muffin Madness event.
Amber authors the alternative foods blog, The Tasty Alternative, a blog dedicated to holistic healing and green living. Amber was diagnosed with Crohn's Disease (an autoimmune disease) 10 years ago and has been healing herself holistically with food and lifestyle.
She shares recipes specific for healing diets such as Specific Carbohydrate Diet (SCD), Autoimmune Protocol (AIP), paleo, and gluten free/dairy free. You will find other fun things on her blog in addition to recipes, such as gardening, homemade lotion recipes (great for dry skin and eczema), and homemade non-toxic beauty products.
Amber shares many tips on how to live green in your kitchen with practical, easy tips on how to decrease waste and live with more environmental compassion and mindfulness. I've learned so much from her in this area!
Those are the key facts about Amber's blog for sure, but you also need to know that Amber is a true dear and The Tasty Alternative is always a great place to visit! Sit down with a mug of your favorite hot beverage while reading, learning and most of all, enjoying Amber's "alternative" space.
Amber's warm, caring personality shines through with every post, whether she's sharing a recipe that's gluten free and "more free"; tips on a healthy lifestyle; or one of her comprehensive and inspiring posts on living green.
And now here's Amber to tell you more about her gluten-free Cinnamon Apple Muffins That Say I Love You!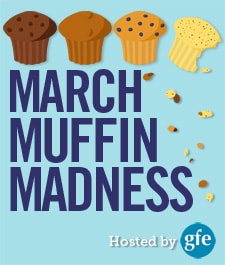 Thank you, Shirley, for hosting such a fun month of muffin recipes. I'm honored to share one of my family's favorite muffin recipes today. I call these "I Love You Cinnamon Apple Muffins" because I make them especially for my children (Daddy gets a few too of course).
My kids LOVE these muffins—and they love to make them with me (it's just a big ole' love-fest). I've included a few pictures of my son, Ethan, helping me one morning before preschool.
These muffins are moist, yet fluffy and have such a nice cinnamon apple flavor. They make excellent snacks or can be part of a healthy breakfast. I hope your family enjoys these muffins as much as we do.
Gluten-Free Cinnamon Apple Muffins That Say "I Love You" Recipe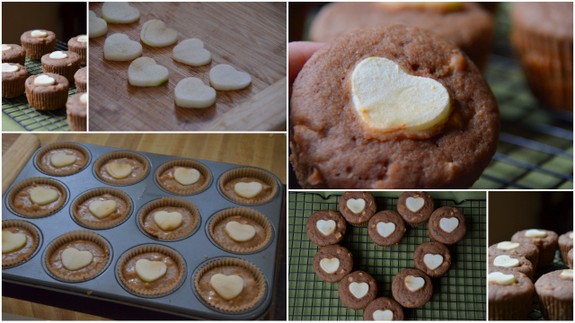 Yield: 12 to 15 muffins
Gluten-Free Cinnamon Apple Muffins That Say "I Love You"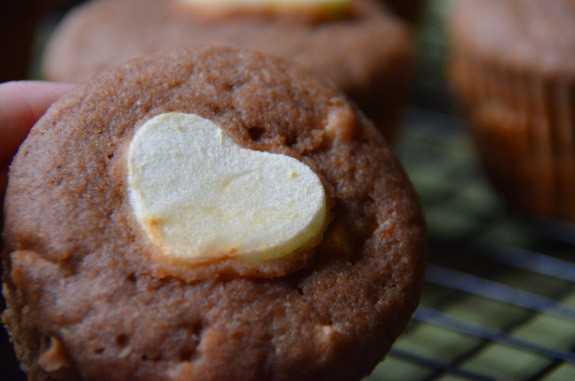 These gluten-free Cinnamon Apple Muffins That Say I Love You will make everyone feel loved! This classic flavor combo wins every time.
Ingredients
Wet Ingredients
Dry Ingredients
Instructions
Preheat oven to 350F degrees.
To make the cute little heart shapes (which are optional, of course), slice an apple and use a little heart cookie cutter.
In a bowl, add together your dry ingredients. I use a scale to weigh out my gluten-free flours, but friends have told me they just scoop out the flours and the recipe comes out great.
In a separate mixing bowl, add the 2 eggs, coconut sugar, applesauce, water (or dairy free milk), vanilla, and stevia and mix with a handheld mixer on med/high for 45 seconds. Add in melted coconut oil and mix another 30 seconds.
Add the dry ingredients to the wet and mix by hand until the dry ingredients are mixed in with the wet, then mix everything again with the hand mixer for 20 seconds or so.
Add in the chopped apples and mix by hand until incorporated.
Fill your muffin tin to the top for nice big muffins, or fill just about 3/4 of the way for smaller ones. Bake for 18 minutes on the middle rack. Makes 12 - 15 muffins (depending on how full the tin).
Notes
In place of water, you can use a dairy-free milk.
If you can't have xanthan gum, use 1 tsp of psyllium husk---or just leave out the xanthan.
Any apple variety will do, but I love the tart of a Granny Smith.
Originally published March 23, 2014; updated September 13, 2020.