For affiliate links and as an Amazon Associate I earn from qualifying purchases.
Yes, we have another savory muffin for you today for March Muffin Madness. Paleo Bacon Muffins from Starlene of GAPS Diet Journey. These muffins are not just your basic muffins with some bacon added. They will surprise you with all their healthy ingredients. They're actually pretty much a complete meal in a muffin! And a very tasty one! They are gluten free, grain free, dairy free, sugar free, paleo, primal, and GAPS compliant.
Enjoy learning more about Starlene and her Paleo Bacon Muffins (see the whole line-up of bloggers, blogs, and muffin recipes here).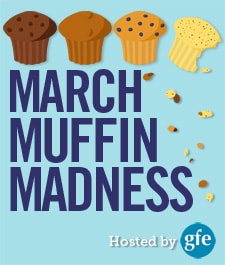 Starlene authors the blog GAPS Diet Journey, which she started to chronicle her experience on the GAPS Diet. Cooking and baking since the age of 10, she has always found experimenting in the kitchen to be a relaxing and creative outlet.
Starlene began GAPS, the Gut and Psychology Syndrome Diet, to help her husband heal from Ulcerative Colitis. However, in reading Dr. Natasha Campbell-McBride's book, she realized that she herself could also benefit from this way of eating.
On her blog, Starlene shares her experience following the GAPS diet and also shares other healing modalities that she has explored. Her recipes are appropriate for anyone who is gluten free and grain free and many of her recipes are dairy-free as well.
Starlene is the author of several e-books including, Beyond Grain & Dairy, Baking with Coconut Flour, and Everyone Loves Pudding. The most popular of the three has been Baking with Coconut Flour.
It's really a great book because in it Starlene not only shares her successful recipes with you, she explains the properties of coconut flour and walks you through converting grain-full recipes to coconut flour-based grain-free recipes. She even includes a troubleshooting section in her book. Oh, and the Pumpkin Poppers included in this cookbook are one of her most popular dessert recipes. You won't want to miss out on her Sandwich Bread recipe or any of the other recipes in this book either.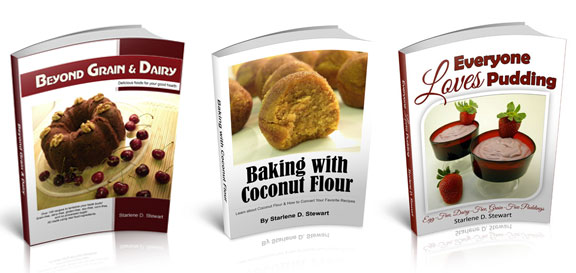 Starlene and I "met" almost 4 years ago. My blog was part of the BlogHer ad network at the time and Starlene had seen my Bourbon Banana Colada recipe post linked in one of BlogHer ads and clicked over. She left a comment admitting that although my beverage didn't fit her diet, she couldn't resist the photo!
A short time later, Starlene graciously shared a guest post here on gfe—her fabulous recipe for Polka-Dot Chocolate Cake with Chocolate Almond Butter Frosting. She had made the cake for her husband for Father's Day. As the recipe was not GAPS compliant at the time (GAPS did not allows cocoa powder then), she thought it was a better fit here. Whatever the reason, we were so grateful that Starlene shared this delicious grain-free chocolate cake with us all!
Here are some additional compelling or tasty posts from Starlene's blog:
~ 7 Reasons I Wish I Had Been Willing to Change

~ Coconut Pecan Frosting (GAPS Legal)

~ Coconut Yogurt—How to Make it Thick, Creamy, and Delicious
And now it's time to hear what Starlene has to say!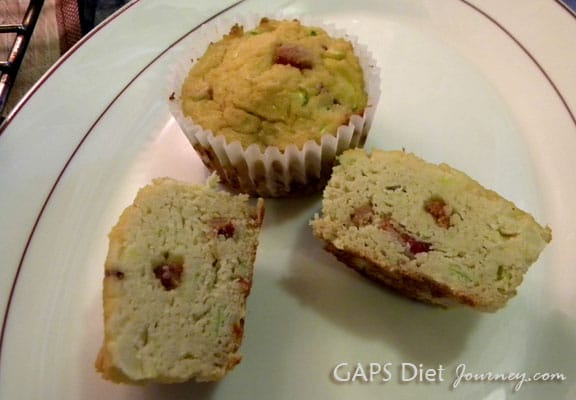 Thank you for inviting me to join in with the March Muffin Madness event, Shirley! Today I'm sharing my recipe for grain-free Bacon Muffins, which are also gluten-free, dairy-free, and paleo, and work for my GAPS Diet.
They are high in protein and contain two kinds of vegetables so you could actually eat them alone as a meal but they are sensational with the addition of gravy. Think biscuits and gravy… delish! I've served them for breakfast and we also love them with chili for dinner. Really they are delicious any time of the day.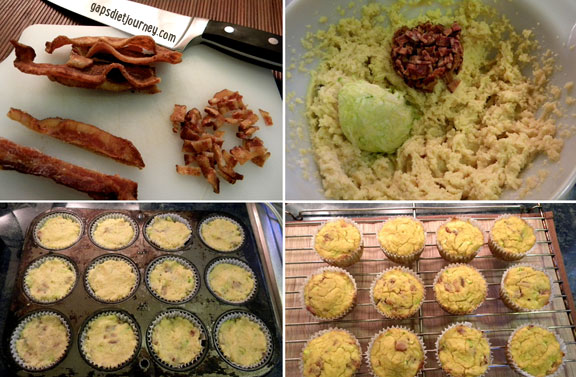 Paleo Bacon Muffins Recipe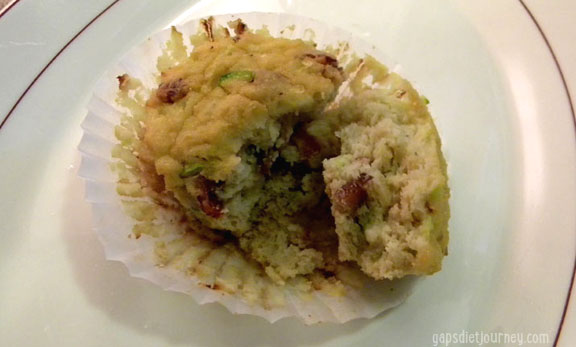 Yield: 12 muffins
Paleo Bacon Muffins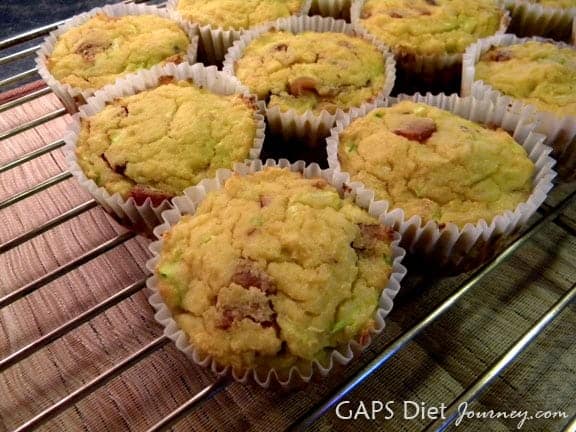 Ingredients
4 whole eggs
1/2 cup coconut flour
1/3 cup bacon grease, liquid state
1-1/2 cup steamed cauliflower, pureed (about 1 small head of cauliflower)
1/2 teaspoon salt
1 cup zucchini squash, peeled, shredded and squeezed (1 medium zucchini)
4 slices thick bacon, fried and diced
1 teaspoon baking soda
Instructions
Steam cauliflower well above water level until fork tender – you don't want the cauliflower to swim in the boiling water as it will absorb too much liquid and be too wet for the batter. Remove and blend using a food processor, Magic Bullet or stick blender until pureed.
Peel the zucchini, and shred it. Measure one cup of the zucchini shreds, place in a cotton kitchen towel and squeeze the liquid out.
Dice the bacon into small squares.
Insert cupcake papers into muffin tin, or grease and flour using coconut flour.
Preheat oven to 350°F.
To a large mixing bowl add the four eggs, coconut flour, bacon grease, pureed cauliflower and salt. Mix with a whisk or hand mixer for one minute until well blended.
Allow to sit one minute so that coconut flour can absorb the fluids.
Add bacon and zucchini into the batter, mix thoroughly with a spoon.
At the very end, add in the baking soda and mix just until it is well mixed into the batter.
Drop spoonfuls of batter into the muffin tins.
Bake 25 minutes, or until a toothpick inserted in the middle comes out clean.
Notes
By themselves, these muffins are a complete meal. But for something really special, serve them with paleo gravy for the muffin equivalent of biscuits and gravy.
Originally published March 24, 2014; updated March 28, 2020.