For affiliate links and as an Amazon Associate I earn from qualifying purchases.
You might be thinking that "the new BBC" is referencing the British Broadcasting Corporation, but really BBC is another BBC altogether. In this case, it's a well-loved cocktail. My version of the BBC is actually a Bourbon Banana Colada.
I don't know about you, but I'm dreaming of warm weather and tropical vacations right now and one can do that a whole lot easier with a tropical drink in hand.
The Back Story on the Original BBC
I first sampled a BBC in the British Virgin Islands (BVIs). Virgin Gorda, to be exact. We had just experienced the magic that is The Baths (a labryrinth of massive granite boulders at the water's edge–see more photos of The Baths). Ready for a cold drink, we all trekked up the hill to the Top of the Baths.
The Top of the Baths features a restaurant, lounge, pool, and shops—with stunning views of the BVIs. When we reached the top, Son and our nephew immediately hit the pool. Mr. GFE ordered his standard beer and I tried to decide between some Bailey's Irish Cream or a tropical classic, a Pina Colada. The bartender, hearing my dilemma, kindly suggested a BBC—a Bailey's Banana Colada.
I had never even heard of a BBC, but I sure liked the sound of it. One sip and I was a fan! Yes, it's every bit as delicious as it sounds. A sort of milkshake made from some of my very favorite ingredients. I had one, then another.
Don't worry though. We weren't driving. We had chartered a private yacht for the week … with crew. If you're looking for a special vacation, that's one we highly recommend. And, surprisingly, it's no more expensive than a week at a very nice resort with meals and drinks. But, back to this BBC …
BBCs have been on my mind of late. Our cousins, frequent visitors to the Virgin Islands, had emailed me a video of one of the friendly bartenders at their favorite bars blending up a BBC on their most recent trip. That email has remained in my In Box. I kept thinking that I really needed to make a BBC. But shortly thereafter I decided I should go dairy free (at least for a while), so Bailey's was off limits.
(Note that Bailey's shows allergen info at the bottom of each product page. You can see the information on the original Bailey's at the bottom of this page.)
But, I was still thinking of BBCs when I read that my friend, Diva, over at Beach Eats, was hosting her own contest, a beverage contest. Her Thirsty Thursdays May Challenge featured bourbon as one of the challenge ingredients. Clearly, I had to make a bourbon version of the BBC. So I did. I made a half gallon of the new BBC and took it to a family crab feast on Saturday.
Those who sampled it really enjoyed it, but let's face it, beer is often the drink of choice when eating steamed crabs. So I wasn't surprised or the least bit disappointed to take about half of the BBC batch home with me. In fact, the leftover libation went into the cooler when it got packed for an overnight trip to our mountain property the next day.
As Mr. GFE mowed the grass that afternoon, I confess that I sat by the fire and sipped on my Bourbon Banana Colada as I also read the paper and watched hundreds of folks float by in canoes, kayaks, and tubes. I had already done my camping set-up chores, so I didn't feel at all guilty. I was quite content actually. Oh, and if you are wondering, yes, the BBCs did taste even better the second day!
While this new BBC doesn't quite make the grade of the original Bailey Banana Colada in my opinion, it's still very good. If the weather is just right, sip this out on your veranda, but if it's sultry, then by all means retreat to the cooler indoors.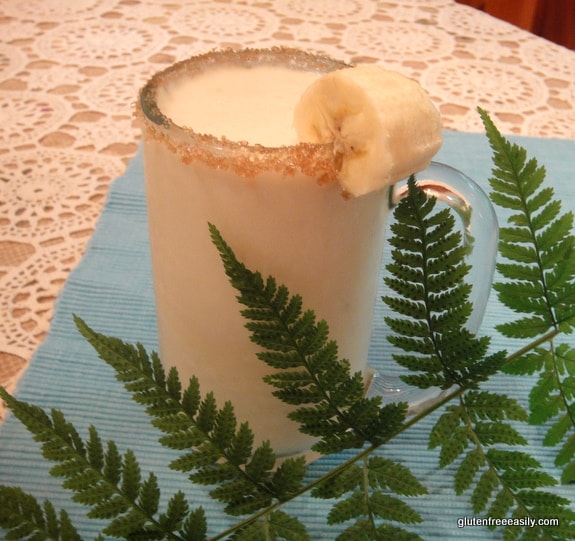 Finally, be sure to check back over at Diva's on Thursday for the roundup and the announcement of the winner. Diva's Thirsty Thursday events are always fun and refreshing; be sure to check them out. Just the other day she headed off to the New York City Library for a mixology function.
Does your local library have cool events like that? No, mine either. It's okay though, just make your own Bourbon Banana Colada (or an original BBC) to sip at home. I don't think you'll miss the library if you're sipping one of these.
Enjoy!
Some More Cocktail Options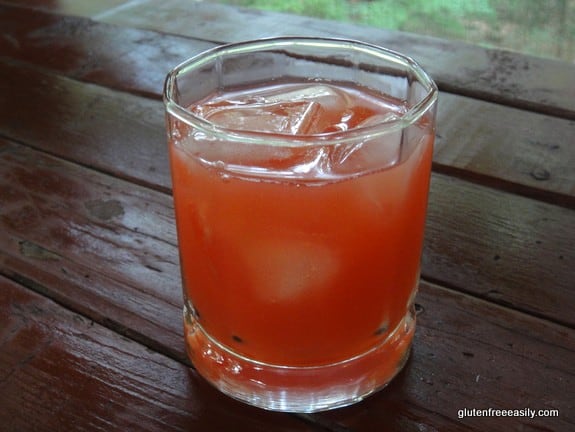 ~ Frozen Watermelon Margaritas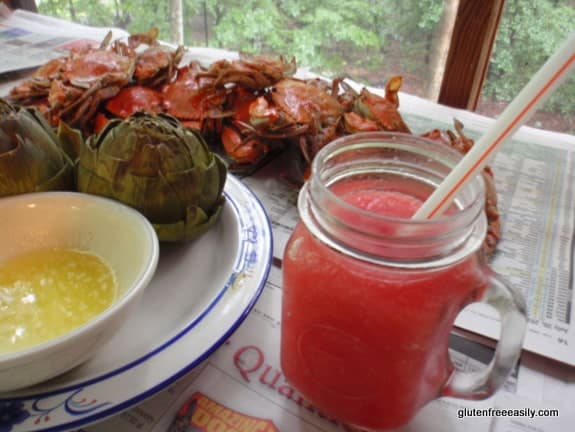 ~ Mudslide Cocktail (and 23 more cocktails in the Boozy Advent series at In Johnna's Kitchen)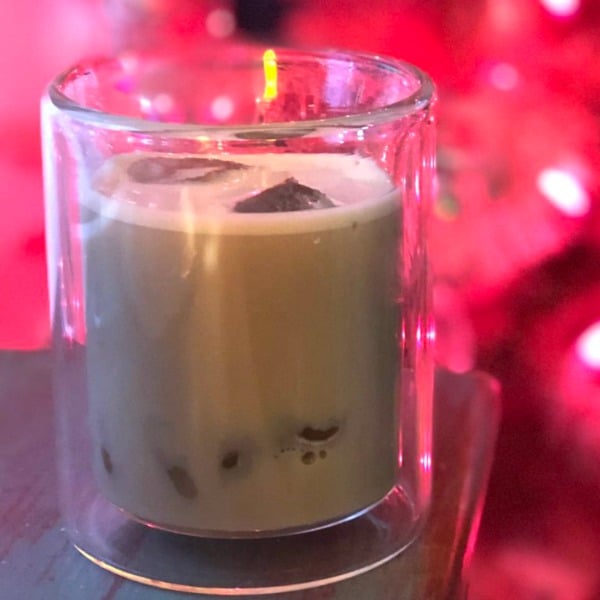 ~ Pom-Bom-Spice-Tini Cocktails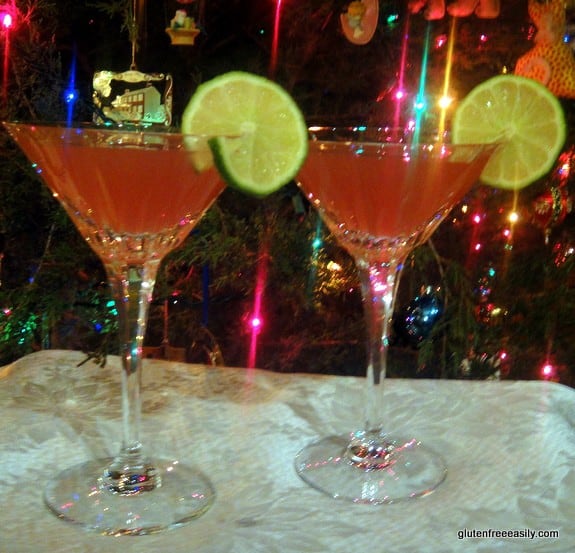 Bourbon Banana Colada Recipe
Yield:
Bourbon Banana Colada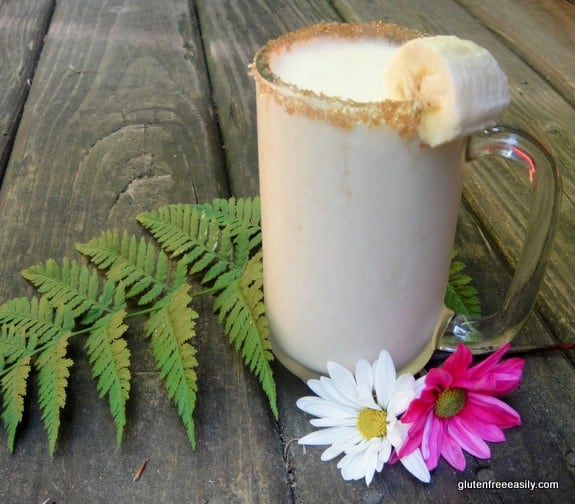 Ingredients
½ cup bourbon
one shot dark rum
one large banana, sliced and frozen preferably (can use slightly more if you love bananas)
one cup pineapple chunks with juice (or pineapple juice)
one cup So Delicious coconut milk beverage (unsweetened, original, or vanilla will work; chilled is good)
¼ cup shredded coconut
about 8 ice cubes (or more if needed--if a frozen banana is not used or other ingredients are not chilled)
Instructions
Mix all in blender.
To prepare glass for serving, pour small amount of bourbon in bowl. Pour small amount of brown sugar or raw sugar in another bowl; set beside other bowl. Dip inverted glass in bourbon and then immediately dip the glass in the sugar. Turn upright. Pour BBC into the glass in the center without disturbing sugar. Garnish with a banana slice.
Notes
Makes about one quart. Adapted from several BBC recipes and my pina colada recipe I doubled the batch to make my half gallon that I took to the party. However, I had to mix it in a large bowl and then blend only a portion at a time as my blender does not hold two quarts. This drink does not have a strong alcoholic taste. You can adjust bourbon and rum amounts if you'd like a more "potent potable." I used Demerera sugar to dip my glass in. Many BBC and colada recipes, in general, call for mixes. I'm not a fan due to the other ingredients in such mixes. It's quite easy to make these types of drinks "from scratch." This recipes is gluten free, dairy free, and sugar free, excluding the sugar on the rim of the glass and the fact that alcohol itself converts to sugar.

Shirley
Not just gf, but gfe!
Originally published May 31, 2010; updated April 29, 2021.