For affiliate links and as an Amazon Associate I earn from qualifying purchases.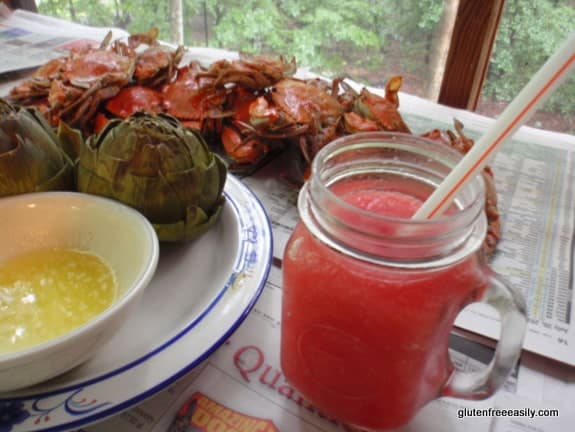 There's something you've probably already figured out about me … I'm very opinionated. And yes, that's even true when it comes to cocktails. That will hold true today in regard to this Frozen Watermelon Margarita recipe. But first, I must confess that my opinion on frozen margaritas in recent years has not been favorable. In my "youth," I drank frozen margaritas. They were like a sissy-fied version of a big girl's drink. I liked the frozen factor. I liked the lime/orange/tequila taste of the combination of lime juice, Triple Sec, and, of course, tequila. I didn't like that if the drink wasn't made with just the right mix of ingredients and ice, you'd run out of liquid long before you'd run out of ice. That was no fun at all and happened most of the time.
After drinking frozen margaritas for quite a few years, I ordered one and the waiter told me that the bar didn't offer frozen drinks, but he could make me one on the rocks with ice. So I said yes, I'd try it. "Would I like salt?" he asked. Well, of course, I would. When my non-frozen margarita came, I tasted. Then I tasted some more. I made sure to get a little salt with each sip. I loved it! Why the heck had I been wasting my time on the frozen varieties? When you finish drinking a margarita on the rocks, there might be a few "rocks" left, but they don't have that unappealing look of the slushy, devoid-of-color ice left at the end of an imperfectly made frozen margarita (which happens to be most of them).
I've also tried the specialty margaritas, either frozen or on the rocks. You know the ones. They have some added ingredient like Midori liqueur and you pay several dollars more for them. They always disappoint. Most taste like a frozen concoction of chemicals (and are, in fact, usually loaded up with food coloring) more than anything else. I would either unhappily sip them until they were mostly finished or send them back immediately and ask for a basic margarita instead until I finally smartened up and stopped ordering them.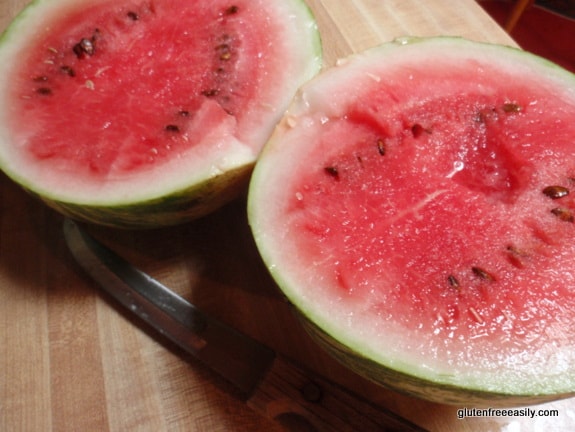 So why did I make frozen margaritas and why am I telling you about them if I am not a fan? Well, when using fresh fruit—in this case, watermelon that my mom and dad grew—frozen works really well for the texture and consistency that the fruit brings to the cocktail. And with this blend, you won't end up with a lot of uncolored ice at the bottom of your glass, because look at the ingredients, there is no ice added at all! Your watermelon, lime juice, alcohol, grenadine, and sugar are all frozen together in your ice cream maker. If your frozen concoction melts before you finish it (which I must tell you is not highly likely from my own personal experience), there will only be the goodness of the ingredients themselves to finish sipping. So make some Frozen Watermelon Margaritas and sip to the very last drop!
Frozen Watermelon Margarita Recipe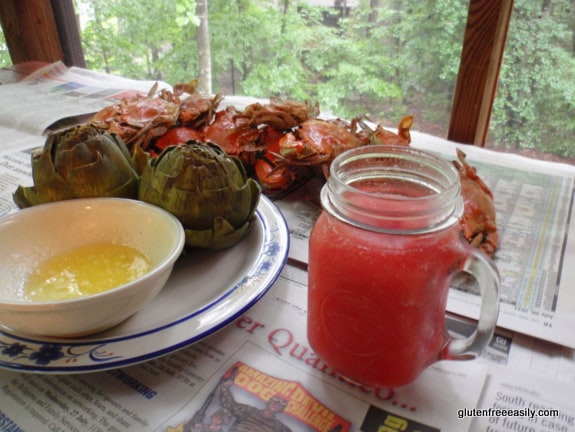 Yield:
Frozen Watermelon Margaritas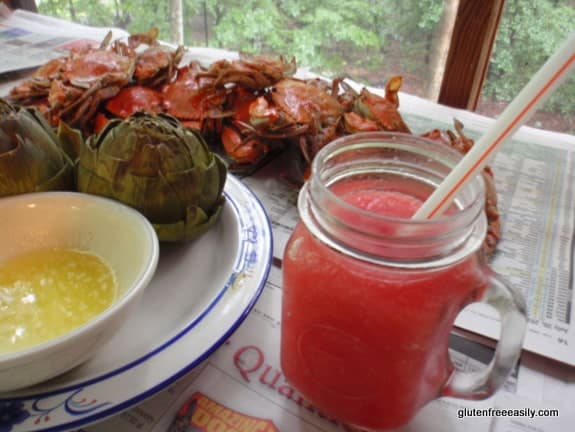 This Frozen Watermelon Margarita recipe is one time when a frozen margarita is definitely the way to go!
Ingredients
3 cups of watermelon, cubed (without rinds or seeds) and already chilled
1/8 cup lime juice
½ cup tequila
2 - 3 tbsp grenadine syrup or liqueur (optional; for more dramatic color, but also adds sweetness ... you can even make your own grenadine syrup using pomegranates or POM Wonderful juice)
3 tbsp Cointreau, Triple Sec, or Grand Marnier liqueur (I used Triple Sec because that's what we had on hand)
2 tbsp sugar, or more to taste (I used coconut sugar)
Instructions
Place all ingredients in blender and blend until smooth. Pour into already frozen tub of your ice cream maker.
Rinse out blender pitcher and set aside.
Churn for about 15 minutes or until perfect frozen cocktail consistency.
Serve. Remove any leftover frozen margaritas from the ice cream tub and place in the blender pitcher. Store pitcher in the freezer.
For the second round, be sure to pull the pitcher out several minutes before you wish to serve. If the ingredients have gotten "chunky" while in the freezer, you may even want to blend your ingredients a few minutes before serving. Oh, what the heck, just leave the pitcher nearby, because you will slurp down these babies a lot faster than you can get through the steamed crabs (or other delectables) that you might be enjoying with your margaritas. Especially if the temps are still warm enough. "Indian summers" do happen. And they happen a lot here in our part of Virginia. We've eaten crabs outside with such suitable liquid refreshment as late as Halloween before. I love it when that happens!
Notes
Inspired by a watermelon martini recipe in Better Homes and Gardens magazine Shirley's Notes: I chilled all my liquid ingredients about an hour before I made my margaritas.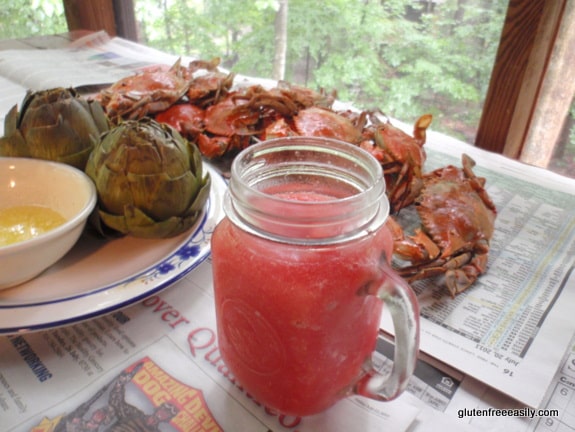 Looking for other terrific summer cocktails? I recommend the following:
~ Bourbon Banana Colada (BBC) from gfe
~ Bourbon Ginger Beer Floats from In Johnna's Kitchen
~ Crab Claws: The Ultimate Summer Cocktail from gfe
~ The Only Margarita Recipe You'll Ever Need from Celiac in the City
~ Paleo Margaritas from Worthybar via Against All Grain
~ Root Beer and Rum Ice Cream Float from gfe