For affiliate links and as an Amazon Associate I earn from qualifying purchases.
It's tradition for many bloggers to look back at a year and share their Top 10 Posts. Sometimes they choose their Top 10 for that year. Sometimes they highlight the Top 10 favorites of their readers. Sometimes they choose their Top 10 in a specific category. Well, of course, it's September, not December or January (although some folks do use September as a new starting point). And today I'm actually focusing on not 10 posts, but 7. That's because the lovely and talented Jenn of Jenn Cuisine (sadly, this site is no longer operating) nominated me for "7 Links."
For the 7 Links event, bloggers must choose their posts that best fit the following categories: Most Beautiful Post, Most Popular Post, Most Controversial Post, Most Helpful Post, Post Whose Success Surprised Me, Post That Didn't Get Attention It Deserved, and Post I Am Most Proud of.
Now without further ado, here are my 7 Links …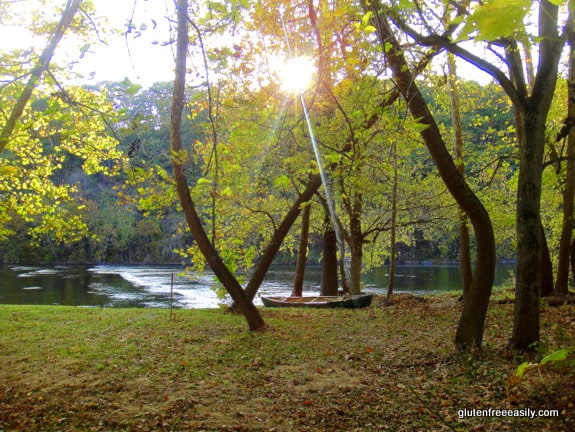 Most Beautiful Post
It's hard to call one of one's own posts beautiful. Humbleness kicks in. And then there's the debate over the interpretation of "beautiful." Are we talking visually beautiful? Or are we talking posts that strike a chord and the reader immediately pauses and thinks, "that's a beautiful piece."
If it's the first definition, I'm not really a photog so saying that one of my posts is beautiful due to the photography is difficult for me, but sometimes the subject matter helps to transcend one's photography talents. Such is the case with this post, October Beauty in the Mountains.
Our mountain/river property is always beautiful (yes, even in the dead of winter; the river becomes crystal clear and takes on a surprising turquoise hue in parts). But if you are talking about the posts that mean the most to me … certainly my tributes to Mom and Dad are dear to my heart. But of course, those posts still fall short when it comes to my feelings for my parents. How can one properly honor and thank one's parents in a blog post?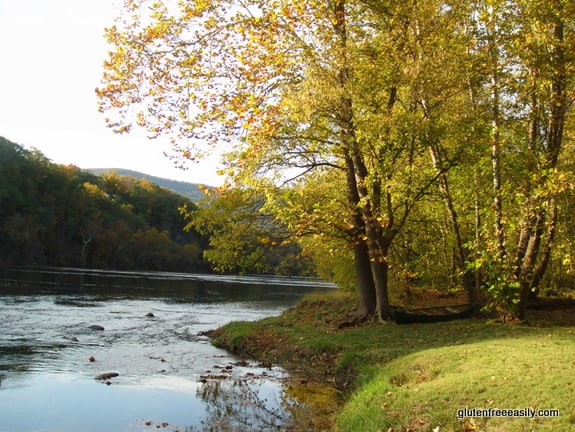 Most Popular Post
For this category, thankfully, I have WordPress statistics to help me out (and you'll see them reflected in the gfe's most popular posts listing on my sidebar, too). The most popular gfe post of all time today is Flourless Oatmeal Cookies. This post includes a simple recipe for oatmeal cookies and a discussion on the need for those of us who are gluten free to eat ONLY gluten-free oats—which means oats that are both certified gluten free and purity protocol—plus, the reminder that not everyone can tolerate gluten-free oats.
UPDATE: On April 4, 2023, Gluten-Free Watchdog issued a new statement, Gluten-Free Watchdog Cannot Recommend Any Brand of Gluten-Free Oats. Read the full statement here. This statement was followed by details on recent testing results of gluten-free products that contain oats., which showed 30% of the labeled gluten-free oat products tested contained quantifiable gluten.

This statement was followed by details on recent testing results of gluten-free products that contain oats, which showed 30% of the labeled gluten-free oat products tested contained quantifiable gluten. I'm not eating any oats and I urge all of my readers who eat gluten free for medical reasons to also abstain.
After that post was published, a study showed that some varieties of gluten-free oats are tolerated better than others (PDF file). I hope you'll read my post, as well as the new study, and if you enjoy gluten-free oats, go ahead and make these delightful oatmeal cookies—chewy, caramelized, oat goodness in my favorite dessert form. Note that my original recipe calls for butter and refined sugar, but readers have substituted non-dairy alternatives and non-refined sugars, so if you're looking for those options, please be sure to read the comments.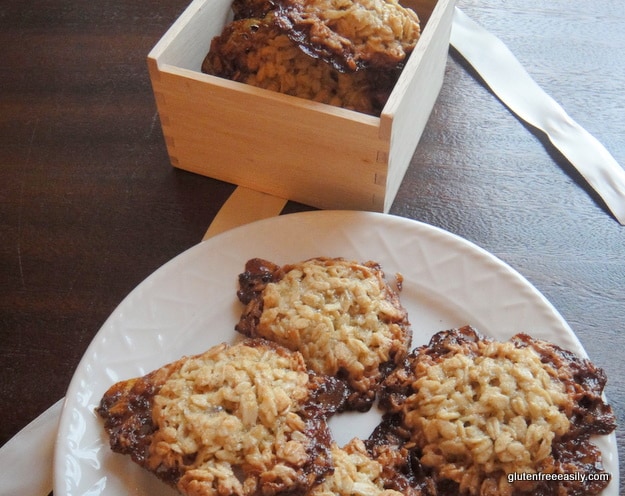 Most Controversial Post
My very first "discussion" post, Stop the Madness, really explains my gfe approach and why I am so driven to teach people to eat this way. Yet, often when I share my approach, some folks tend to think I'm going over the deep end by not promoting gluten-free products, that I am depriving folks of taste, convenience, etc. Or they don't "get" that I really mean that I only use a handful of gluten-free specialty products.
It's only when they ask, "what do you think about Product X?" or say, "don't you love Product Y?" and I reiterate that I can offer no opinion as I rarely use gluten-free specialty products that they begin to understand what the gfe approach is all about. Doesn't everybody want to get off the "merry-go-round" after a while? Please read the post plus the numerous comments and share your opinion there.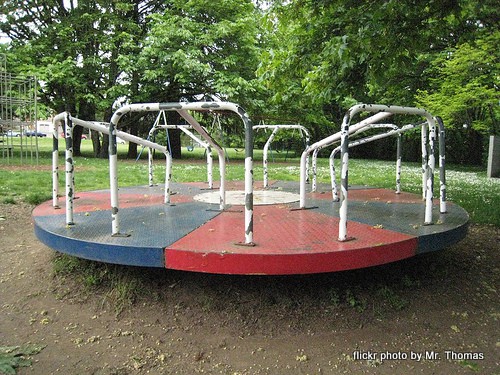 Most Helpful Post
While one would think that a recipe post or an instructive post would fit this category best, it was actually a recent gfe discussion post that seemed to help folks more than any of my previous posts … Grieving Gluten: Five Stages of Gluten Loss Plus One. Finding out that one has celiac/gluten intolerance/non-celiac gluten sensitivity can really throw one for a loop, to say the least.
For many, the diagnosis evokes a multitude of emotions, very much like grieving the loss of a loved one. There are stages to any serious loss that most folks seem to go through. Some get stuck at different stages. Some who have been ill for a long time skip stages just because they are so happy to find out a cause for their health issues. Others experience delayed grieving when they find out they can't eat out without getting "glutened."
Read my post and reader comments to see where you fit into the mix of those who grieve the loss of gluten and if you're aspiring to or have reached the end goal—that newly identified, sixth stage.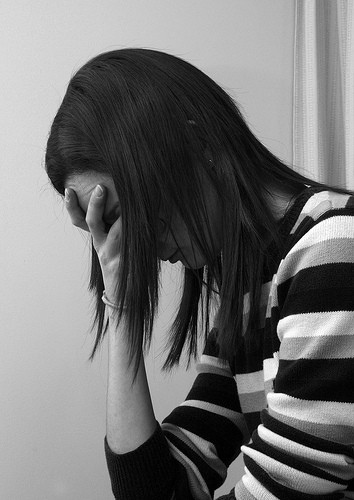 Post Whose Success Surprised Me
My Granola Bars. My Gluten-Free, Dairy-Free, Refined Sugar-Free, Chewy Granola Bars, to be exact. I know that my family and I love these granola bars, but I didn't expect folks to "take to them" as they did. Several readers and bloggers immediately made my recipe, adapting for additional preferences/intolerances as needed. (You can see several of their versions in comments on the post.)
The most flattering adaptation was an egg-free (and vegan) version by Maggie (She Let Them Eat Cake). Maggie even brought some of her granola bars with her to the Gluten-Free and Allergen-Free Expo. She waited anxiously for me to take a bite and see what I thought. Of course, I loved her version as Maggie is a wonderful cook and recipe creator (as I shared here when I adopted her for Adopt a Gluten-Free Blogger).
Then she got a photo of us both enjoying these goodies and included it in her adoption post of me (that's the flattering factor!) for that month's Adopt a Gluten-Free Blogger event. Very cool. Be sure to check out Maggie's post and read comments for my post to see all the variations.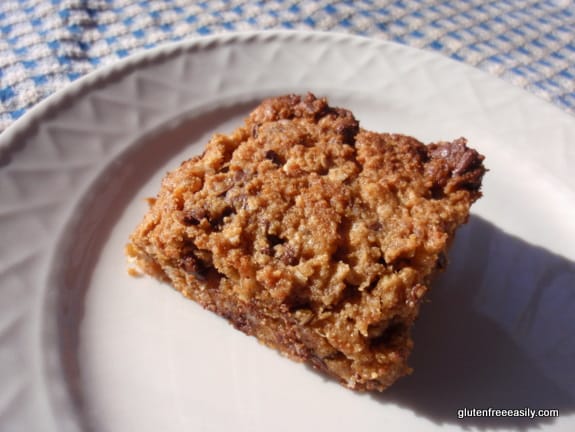 Post That Didn't Get Attention It Deserved
Of course, there's probably more than one. So much with attention to blog posts has to do with timing (what else is going on in the world, what day of the week one posted, if the topic has been overdone, etc.), but the guest post from Cindy Winther on Teaching Children to Accept, Understand, and Support Others with Food Intolerances/Allergies is my most recent favorite. Cindy runs a preschool in Michigan and teaches children every single day to understand those with food intolerances/allergies and to look out for them and support them.
Many readers told me that if Cindy's preschool were near them that they'd enroll their little ones right away! Cindy and her school should be a model for all teachers and schools, respectively, and other individuals as well. Her commitment to teaching tolerance, understanding, and support of others who are "different" moves and inspires me every time I think of it. The lessons we learn at a young age come more easily so it's ideal that her young pupils are seeing this message in action daily, but we are never too old to learn that being different doesn't mean being "less."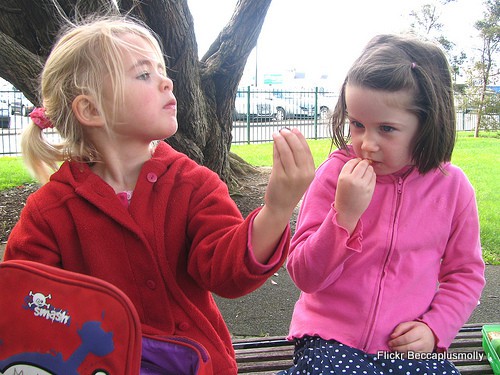 Post I Am Most Proud Of
I am proud of all the posts I write in the discussion category and any post that shares a recipe that demonstrates the gfe approach. Some have called me "the queen of crustless and flourless" and I'm happy to wear that "crown," because cooking and baking that way really makes life so much easier, but no less tasty. So with that in mind and not to repeat any of the posts I've mentioned so far, I'll say that my Crustless Pumpkin Pie makes me pretty proud. Then there's its dairy-free counterpart, Gluten-Free Dairy-Free Pumpkin Pie, which I proclaimed to be the Best Pumpkin Pie Ever.
The looks of satisfaction and pleasure on the faces of family members and friends after they've enjoyed a piece of either of these scrumptious pies would make any baker proud. Of course, it's only after they've praised my crustless pies that I point out that there's no crust … and guess what … all respond that they never noticed! The goodness of the ingredients—in this case, beloved pumpkin—eclipses the absence of a crust. With crustless pies, there's no muss, no fuss, and again a lot more emphasis on the filling ingredients. Oh, and by the way, the dairy-free version is the one that I made in my cooking demonstration at the Gluten-Free and Allergen-Free Expo in the spring. Even non-pumpkin pie eaters (like Debi's husband) praised their pumpkin pie samples! We're headed to our mountain property this weekend and the overnight temps there this week will be in the 40s and 50s, so my thoughts are definitely turning to fall and all things pumpkin!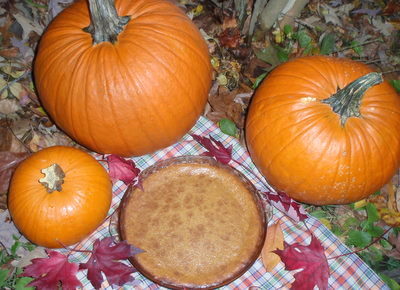 Many thanks to Jenn for nominating me for the 7 Links event and giving me a chance to reflect on gfe!
Originally published September 12, 2011; updated October 24, 2023.