For affiliate links and as an Amazon Associate I earn from qualifying purchases.
Today I'm sharing another successful re-creation of a recipe from my gluten-full days, Gluten-Free Chewy Granola Bars. Before going gluten free, we often enjoyed homemade Chewy Granola Bars on our camping weekends.
The chewy goodness of oatmeal, brown sugar, honey, cinnamon, crispy rice cereal, and chocolate chips (and sometimes raisins and/or nuts) was hard to beat. We always saved a few bars to snack on during our ride home on Sundays. They definitely made the trip so much more enjoyable!
UPDATE: On April 4, 2023, Gluten-Free Watchdog issued a new statement, Gluten-Free Watchdog Cannot Recommend Any Brand of Gluten-Free Oats. Read the full statement here. This statement was followed by details on recent testing results of gluten-free products that contain oats., which showed 30% of the labeled gluten-free oat products tested contained quantifiable gluten.

This statement was followed by details on recent testing results of gluten-free products that contain oats, which showed 30% of the labeled gluten-free oat products tested contained quantifiable gluten. I'm not eating any oats and I urge all of my readers who eat gluten free for medical reasons to also abstain.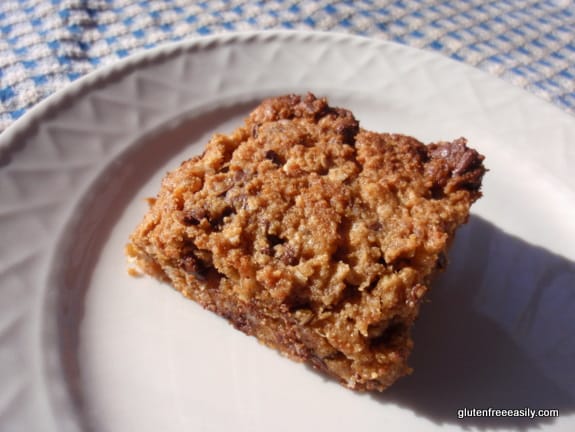 This recipe (of unknown origin … maybe Taste of Home magazine?) has remained in the archives with the hope that I could re-create it one day. I'm happy to say that day is now!
Enter my new gluten-free Chewy Granola Bars. This version of the recipe is gluten free with dairy-free and refined sugar-free options; which means you can make them far healthier than the original if you like. And they taste even better, which I honestly didn't think was possible.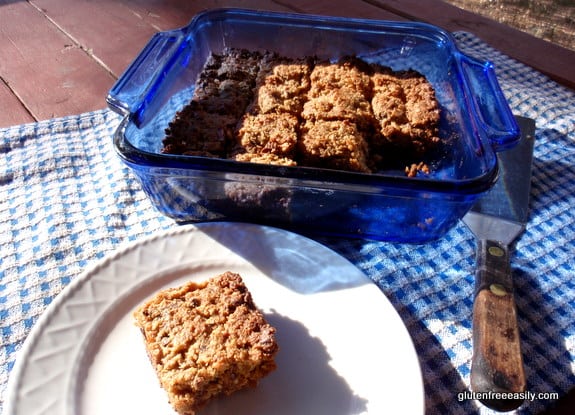 I hope you enjoy them! Here's a silly photo of me and Maggie of She Let Them Eat Cake enjoying these treats at a gluten-free event. I honestly can't remember if we were eating ones I took with me or her slight variation (which is shared in the comments below).
Update: Here are some of the reader reviews:
"I just wanted to let you know that my family LOVES LOVES LOVES these bars! I cannot tell you how many hundreds of times I have made these for my husband and four kids. I started making several dry ingredient bags of these up because we go through them so quickly. 😉 My kids love them for snacks paired with a piece of fruit."
"AMAZING!! I made these today and the kids loved them. Yay! Thank you for this recipe! It will be nice to have "granola" bars back into the mix of snacks ready for a quick grab. Time to go make a bigger batch & wrap them up!!!"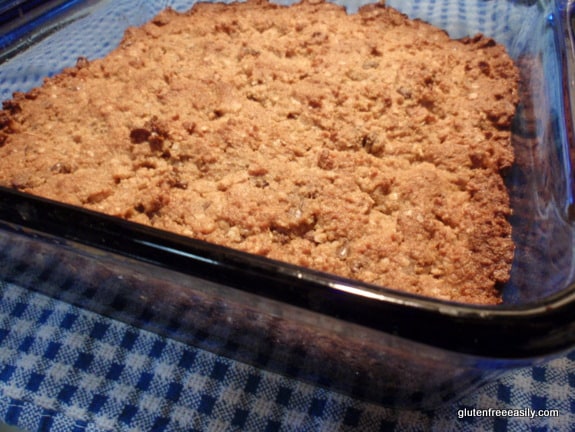 "Now that I finally have a minute to sing praises about these bars, I will! Not only do they taste out of this world delicious, after looking at the ingredients in detail, I see that they are very nutritious, good for you, and can be eaten by diabetics as well. But for me, they are a lifesaver on airplane trips, especially to countries where gluten free isn't widely known and/or accepted and where I don't know the language. They are also SO EASY AND FAST to make and I have just whipped up a double batch at 4:30 am to give to friends going on a trip! 🙂 Thanks for this winning recipe!"
More Gluten-Free Chewy Granola Bar and Other Bar Recipes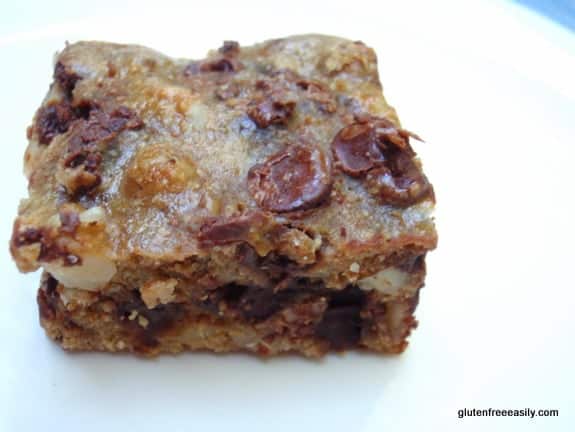 ~ Chocolate Coffee Keto Granola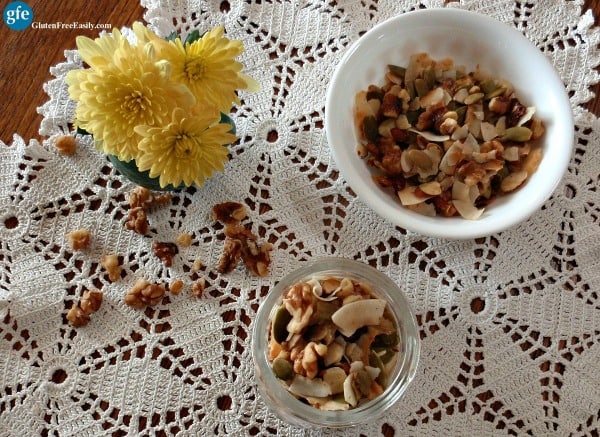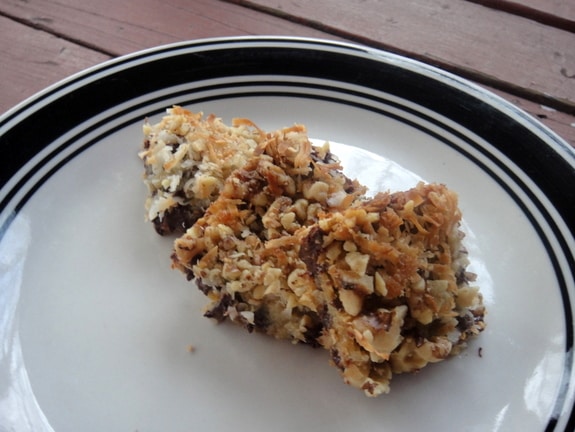 ~ Pumpkin 7-Layer Bars (+ Caramel, Gingerbread, Peppermint, and Valentine's versions)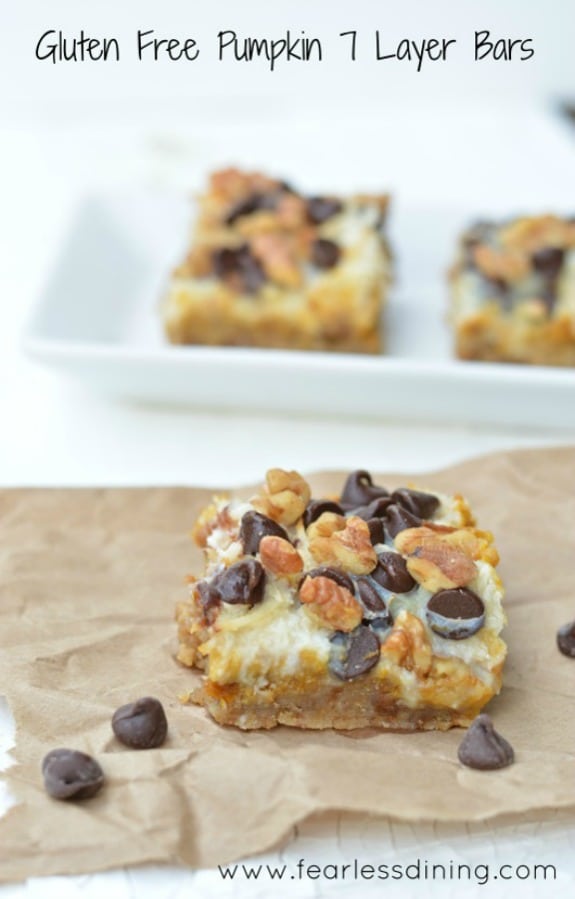 Gluten-Free Chewy Granola Bars Recipe
Yield: 16 bars
Gluten-Free Chewy Granola Bars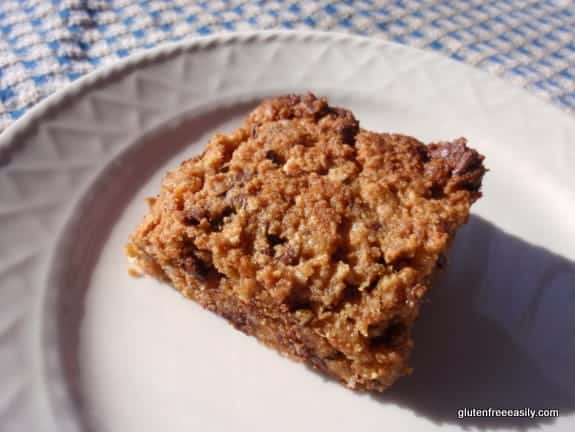 These gluten-free Chewy Granola Bars offer just the right amount of delicious chewiness without being dry or hard as a brick, which is the case for most store-bought bars. 
Ingredients
½ cup butter, softened (non-dairy or dairy)
¾ cup coconut palm sugar (or brown sugar, light or dark)
2 tbsp honey
½ tsp vanilla extract
1 large egg (see notes for substitution options)
¾ cup almond flour
¼ cup coconut flour
1 tsp ground cinnamon
½ tsp baking powder
¼ tsp salt
½ cup quinoa flakes (or certified gluten-free purity protocol oats/oatmeal; see notes)
1 ¼ cups gluten-free crispy rice cereal (like this brand)
up to 1 cup chocolate chips, raisins, or chopped nuts
Instructions
Preheat oven to 350F.
In a mixing bowl, cream butter and then mix in coconut sugar. Add in honey, vanilla extract, and egg; mix well. Mixture will be thick and dense. Note that I very slowly incorporated ingredients from this point on using my beloved wooden spoon.
Add in almond flour, coconut flour, cinnamon, baking powder, and salt; mix well.
Stir in quinoa flakes (or oats), slowly incorporating into mixture.
Mix in gluten-free crisp rice cereal and remaining ingredients, slowing incorporating until mixed.
Spread ingredients in greased 8 x 8 baking pan.
Bake about 25 to 30 minutes. Use a toothpick to test for doneness. Set aside to cool well before cutting.
Notes
The mixture is very thick before baking, which produces a nice dense, chewy granola bar. Depending upon the amount of other ingredients I add (such as raisins, chocolate chips, nuts), I often mix in more quinoa flakes (or oatmeal) if the mixture will take it. I want to be able to still stir the mixture and spread the mixture in the pan, so I am careful not to add too much.
Personally, I never make these granola bars without chocolate chips. Chocolate chips really complement the flavors well and the softened chips help bind the ingredients, too.
Just about any gluten-free flour mix, even gluten-free all-purpose flour, can be used in this recipe in place of the almond flour and coconut flour. A less dense flour like gluten-free all-purpose flour will not be as nutritious, of course. However, it will allow you to add more quinoa flakes, etc. to the recipe.
Readers have reported using flax gel eggs and chia gel eggs successfully to make this recipe egg free.
Originally published March 8, 2011; updated April 17, 2023