This post may contain affiliate links. If you purchase through them, your cost will stay the same, but gfe will receive a few cents for every dollar spent. Thanks for supporting gfe!
Today I'm sharing another successful re-creation of a recipe from my gluten-full days, Gluten-Free Chewy Granola Bars. Before going gluten free, we often enjoyed homemade Chewy Granola Bars on our camping weekends. The chewy goodness of oatmeal, brown sugar, honey, cinnamon, crispy rice cereal, and chocolate chips (and sometimes raisins and/or nuts) was hard to beat. We always saved a few bars to savor on our ride home on Sundays. They definitely made the trip so much more enjoyable!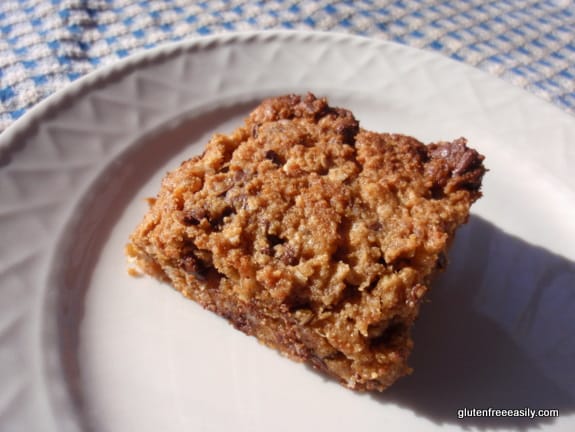 This recipe (of unknown origin) has remained in the archives with the hope that I could re-create it one day. I'm happy to say that day is now! Enter my new gluten-free Chewy Granola Bars, gluten free, dairy free, and refined sugar free; and, therefore, far healthier than the original, plus they taste even better, which I honestly didn't think was possible. Enjoy!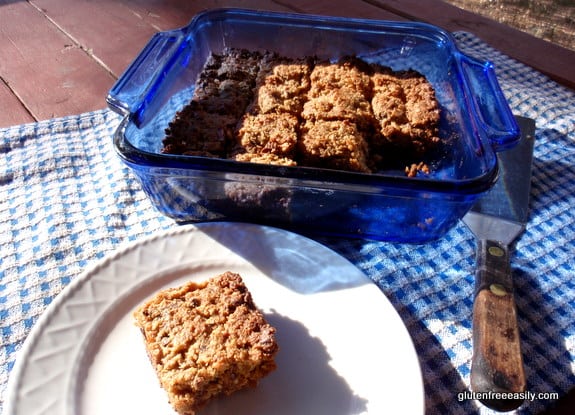 Gluten-Free Chewy Granola Bars Recipe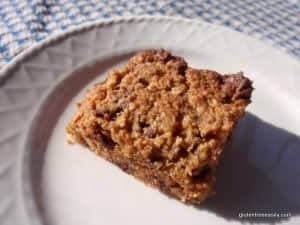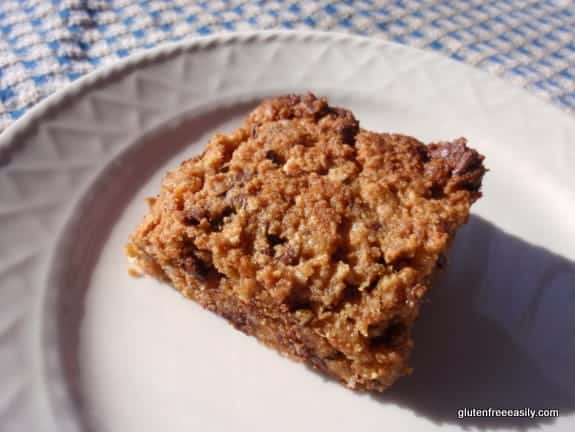 Print
Gluten-Free Chewy Granola Bars
These gluten-free Chewy Granola Bars offer just the right amount of chewiness without being dry like store-bought bars. Plus these are gluten free, dairy free, and refined sugar free, and easily adaptable to even "more free"!
Ingredients
½ cup butter, softened (non-dairy or dairy)
¾ cup coconut palm sugar
2 tbsp honey
½ tsp vanilla extract
1 large egg (see notes)
¾ cup almond flour
¼ cup coconut flour
1 tsp ground cinnamon
½ tsp baking powder
¼ tsp salt
½ cup quinoa flakes (or gluten-free purity protocol oats/oatmeal; see notes)
1 ¼ cups gluten-free crispy rice cereal (like this brand)
up to 1 cup chocolate chips, raisins, or chopped nuts (I used ½ cup Enjoy Life mini-chocolate chips)
Instructions
In a mixing bowl, cream butter and then mix in palm sugar. Add in honey, vanilla extract, and egg; mix well. Mixture will be thick and dense. I very slowly incorporated ingredients from this point on using my beloved wooden spoon.
Add in almond flour, coconut flour, cinnamon, baking powder, and salt; mix well.
Stir in quinoa flakes (or oats), slowly incorporating into mixture.
Mix in crisp rice cereal and remaining ingredients, slowing incorporating until mixed.
Spread ingredients in greased 8 x 8 baking pan.
Bake at 350 degrees for about 25 to 30 minutes. Use toothpick to test for doneness. Set aside to cool well before cutting.
Notes
The mixture is very thick before baking, which produces a nice dense, chewy granola bar. Depending upon the amount of other ingredients I add (raisins, chocolate chips, nuts), I often mix in more quinoa flakes (or oatmeal) if the mixture will take it. I want to be able to still stir the mixture and spread the mixture in the pan, so I am careful not to add too much.
Personally, I never make these granola bars without chocolate chips. Chocolate chips really complement the flavors well and the softened chips help bind the ingredients, too. Just about any gluten-free flour mix, even gluten-free all-purpose flour, can be used in this recipe in place of the almond flour and coconut flour. A less dense flour like gluten-free all-purpose flour will not be as nutritious, of course. However, it will allow you to add more quinoa flakes, etc. to the recipe.Readers have reported using flax gel eggs and chia gel eggs successfully to make this recipe egg free.
Courses Breakfast, Dessert