For affiliate links and as an Amazon Associate I earn from qualifying purchases.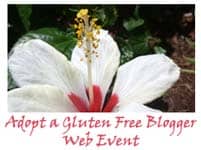 Do you know Mary of Gluten-Free Spinner? Well, please allow me to introduce her! I adopted Mary for the ever-growing, always inspiring Adopt a Gluten-Free Blogger event this month. Created by the lovely Sea (Book of Yum) as a way to foster community among blogs that feature gluten-free recipes, this month's event is hosted by Lexie of Lexie's Kitchen (now at Flo and Grace). Lexie is truly a bright light in the gluten-free, special diet community. Her tagline is Modified Recipes for Modified Diets™, and she does a beautiful job of that!
But back to my adopted one, Mary … Mary has been blogging for almost a year now. She introduced herself to me a few months back. She contacted me out of the blue and I was so happy she did. Mary's a warm, very genuine person. After we chatted, I took a look at her blog and was totally wowed to say the least.
Mary's blog name, Gluten-Free Spinner, comes from the fact that she spins up one delightful recipe after another and puts her own spin on dishes, as she shares on her About page. (Okay, she didn't pat her own back and say the part about delightful recipes, but I am!) Add to that the fact that Mary is a free-lance food stylist and photographer and you get a blog that offers not only recipes that greatly appeal, but also those incredible, "make you want to reach through the screen" photos that all food bloggers strive for.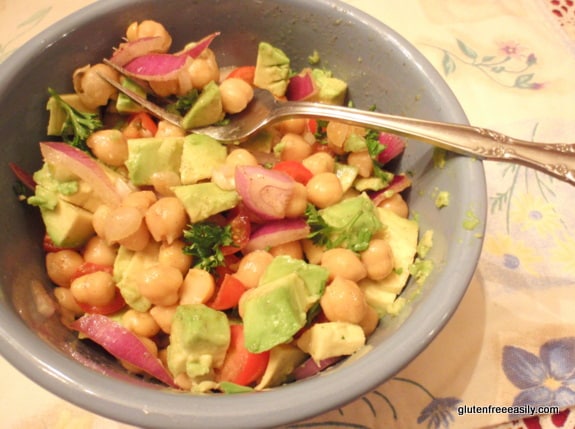 I've been raving over her recipes and photos since that time, so it was clear that I needed to adopt her and actually make at least one of them. Since I'm trying (once again—sigh) to be dairy free and refined sugar free in addition to gluten free, I went for one of Mary's recipes that fit my criteria. A savory recipe was the obvious choice and it didn't take me long to select a dish that featured one of my all-time favorite ingredients.
If you read gfe, you might have already guessed what that might be … yep, chickpeas! Did I tell you that I put chickpeas in my smoothie the other day? I was out of greens and thought a protein boost would be nice with the coconut water and pineapple. I ended up having to add some raw cacao powder to tone down the obvious hummus vibe, but it was palatable and did fuel me for a few hours. However, I digress. (Okay, focus, Shirley.)
Clearly, chickpeas make me both happy, and easily distracted. Thankfully, Mary's Recipe Index included a Chickpea Salad. Bingo! In addition to chickpeas, this salad featured several other favorite ingredients of mine … namely avocado, red onion, honey, cumin, olive oil, garlic powder, and lemon juice. One surprising ingredient in the salad dressing was hot sauce, but I trusted Mary and made this recipe per her directions.
I expected to like this recipe and for it to be good, but I actually loved it and rated it exceptional! This recipe will definitely be added to my regular menu rotation, especially for lunch or a dinner when Mr. GFE is away (he disdains "chickapeas" as he calls them).
Of course, never rule out breakfast either … I'm crazy for non-traditional fare for breakfast. And, while I ate this salad straight out of a bowl, I'll also try Mary's advice in the future and serve it over lettuce or with tortilla chips.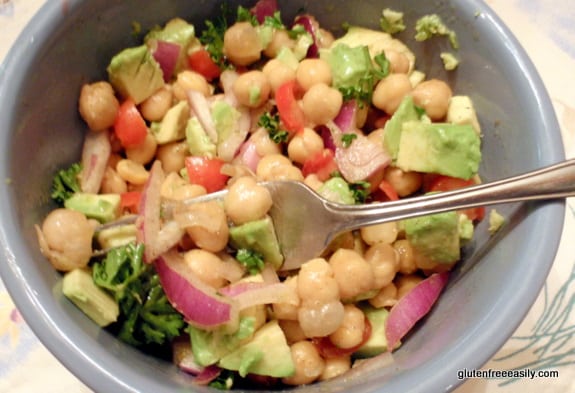 There were in fact, many recipes of Mary's I wanted to try! But, I have to agree with the sentiment that Maggie (She Let Them Eat Cake) expressed the other day in her adoption post for this event, I could stop writing my blog and devote all my time to making gluten-free recipes from all the other great bloggers I know. Chocolate Financiers, Cinnamon-Crusted Banana Bread with Mini Chocolate Chips, Flourless Chocolate Cake with Raspberry Lime Salsa, and Foccacia Sandwich Bread are just a few recipes of Mary's that beckon to me.
Mary also joined in on Sea's wonderful adoption event his month by adopting another favorite gluten-free blogger of mine, Kate at Gluten-Free Gobsmacked. Mary made Kate's Cheesy Quinoa Crackers recipe, substituting sorghum flour for quinoa flour. My word, those are some beautiful crackers. Check them out on Mary's lovely adoption post here. I also adopted Kate quite some time ago; you can see my adoption here. Grain-free cheese rolls and easy pizza crust anyone?
Here are my other past adoptions in case you missed them. I haven't had a bad adoption yet, so they are worth a look for sure.
~ Wendy (Celiacs in the House)—Sweet and Savory Crepes
~ Zoe (Z's Cup of Tea)—Gluten-Free, Dairy-Free Oven S'mores
~ Desi (The Palate Peacemaker)—Pecan Butter and Pumpkin Pecan HoHos (sort of)
~ Jenny (Creative Cooking Gluten Free)—Sweet Potato Fries
~ Iris (The Daily Dietribe)—Breakfast and Sandwich Waffles
~ Pete and Kelly (No Gluten, No Problem)—Shrimp Marinara Sauce with Homemade Pasta and Brownies
~ Melanie (Gluten Free Krums)—Avocado Artichoke Salsa
~ Ricki (Ricki Heller)—Cashew Chocolate Chip Cookies and Chia Pudding
Originally published March 5, 2011; updated November 27, 2022.