For affiliate links and as an Amazon Associate I earn from qualifying purchases.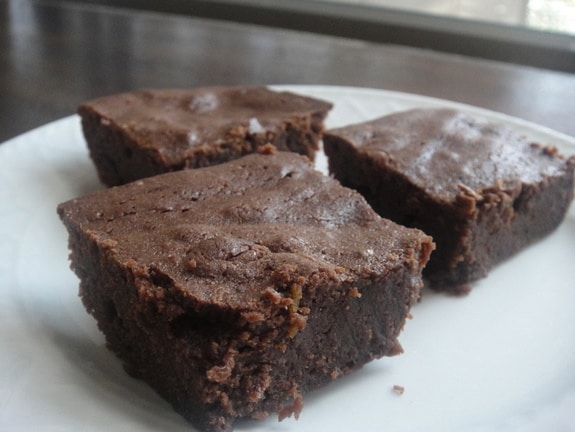 This post is linked to Friday Foodie Fix–Pasta.
When one experiences the wonder of adoption, one just has to share the experience—the love … the joy … the feeling of belonging. No, I'm not talking about bringing any little ones into our home. (Son is 22 now; my child-rearing days are behind me.) Instead, I'm talking about Sea's (Book of Yum) Adopt a Gluten-Free Blogger program. Sea started this event quite some time ago as a way for gluten-free bloggers to get to know each other and to promote awareness of other gluten-free blogs. I had read about her event, and in my reading of other blogs, I'd seen where folks had been adopted, but I hadn't really looked into all the details. Then last month, I followed a trackback link from my blog to Alta's site, Tasty Eats At Home, which has become one of my very favorite blogs in just a short time. (Alta cooks with real food and is always up for a cooking challenge. One of my favorite Tasty Eats features is Kids in the Kitchen where she spends quality kitchen cooking/baking time with her children. You won't want to miss Alta's blog!) To my delight, Alta had adopted ME as part of Sea's program. Boy, did I feel special! I was thrilled and grateful for Alta's post with her extremely generous words. It was also a treat to see Alta's variations on my chicken tenders and perfect pound cake. I immediately knew I just had to pay this kindness forward.
A whole list of wonderful gluten-free blogs ran through my mind. There really are a huge number of them now, and all of them have something to offer depending upon your gluten-free needs and wants. Thankfully—and thanks to Sea—this is a monthly event, so I'll have many more opportunities to adopt great gluten-free blogs. For this month, I've selected the blog, No Gluten, No Problem (NGNP), which is a collaboration of the amazing husband-wife team of Pete and Kelli Bronski. I've been following their blog for well over a year now. Kelli is a veteran of the hospitality and restaurant world. She's a little bit more behind the scenes these days, with their young daughter Marin. But, occasionally, we'll see her baking genius, as we did recently with Cream Puffs. It's Pete who is usually out front and center on the blog. He is an award-winning writer who enjoys cooking greatly, and has since childhood. He's also an endurance athlete. He and Kelli's foray into gluten-free cooking began when he was diagnosed with celiac in 2007.
Their blog's subheading reads: Travel, Adventure, Commentary and Fresh and Delicious Recipes in a Gluten-Free World. As the main writer on their blog, Pete shares their latest cooking adventures, offers tips to athletes on gluten-free beverages and energy treats for competitions (and even provides some insight into preparing for and succeeding in such events), posts restaurant reviews (at home and on the road), offers information on the latest research on celiac and related topics, and, of course, treats us to their culinary creations. Pete and Kelli's blog is really a collection of a little bit of everything, and I mean that in the very best way.
Friday Foto is also a favorite NGNGP feature of mine. Some recent Friday Foto posts have been Grilled Old Bay Shrimp, Pan-Fried Dover Sole, Baguette, and Mussels in White Wine Broth. Hungry yet? You will be when you see the photos!
There were so many possible NGNP dishes I could make. But two events popped up that helped me finalize my selections. A girlfriend invited me to join her at her river house for an overnight stay with another one of our girlfriends. Then Diane (The W.H.O.L.E. Gang) issued the Great Gluten-Free Pasta Challenge.  Well, you know how I just have to respond to a challenge (e.g., Eating My Words)! So, pasta it would be.
Pasta is actually a favorite of Mr. GFE's. I enjoy it, too, but I admit I haven't missed it greatly since going gluten free. We do enjoy gluten-free pasta from time to time, but not too often. However, I've always been intrigued by the idea of making my own pasta. Everyone swears that homemade pasta and packaged pasta are worlds apart. That's the reason that Italian restaurants that make their own pasta (like Mangia Mangia from my Key West trip report) are always packed. Could I do it I wondered? Pete swore making homemade pasta was so easy and his recipe did look simple. The photos were very appealing to say the least. There are several posts on NGNP on pasta … their basic recipe for making homemade pasta, another on making ravioli using the original pasta recipe, and finally a recipe post on gnocchi. I followed the basic recipe (varying their signature flour mix slightly due to intolerances to other ingredients) and then cut my pasta into wider noodles, perhaps a little wider than fettucine. Scroll through the photos below … I DID IT!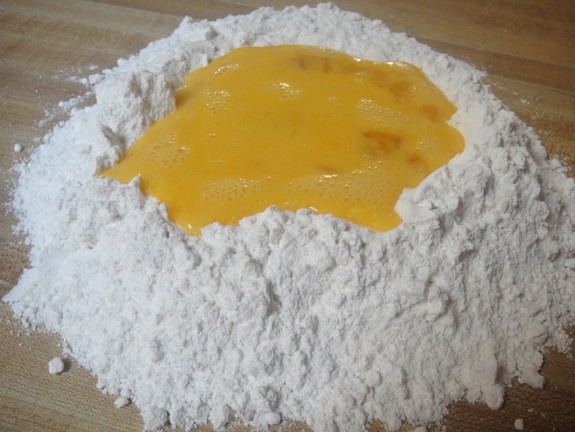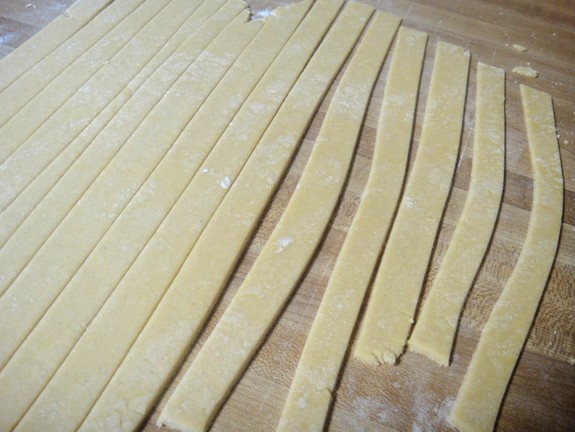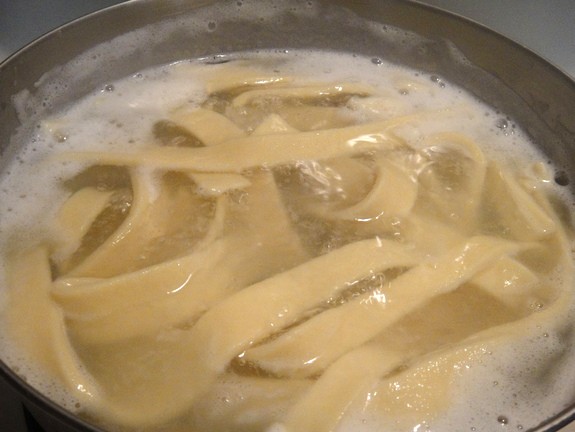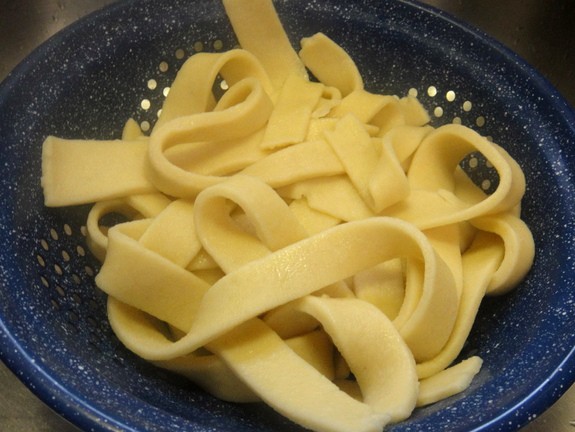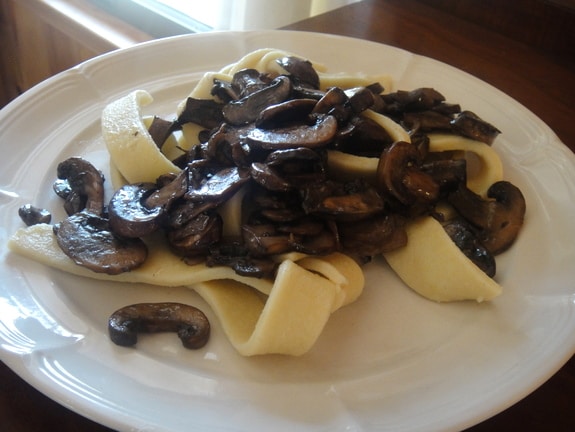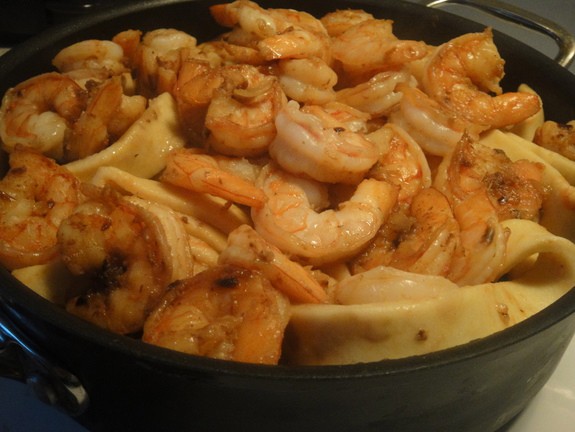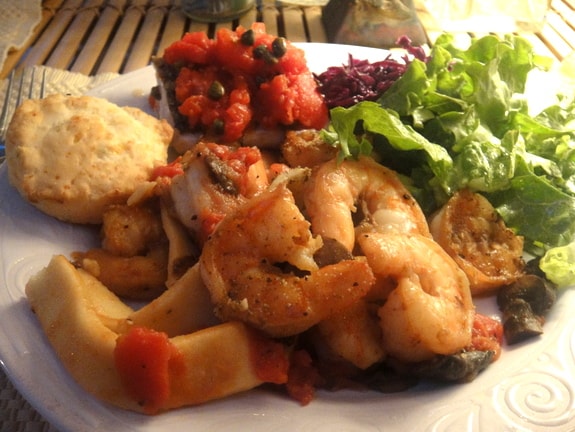 Are you impressed? I was. My girlfriends were as well. Thank you, Pete and Kelli! And, they were right … making homemade pasta using their recipe is not hard at all. This dough was easy to make, easy to roll out, easy to cut; it didn't fall apart at any time (even when cooking!); and it tasted wonderful. Next I'll be trying their ravioli recipe. To top my pasta, as you can see from the photos, first I sautéed some Baby Bella mushrooms in olive oil, which makes for a lovely vegetarian meal. But, my friend, who was the main chef for the evening (her river house kitchen is best used by one person at a time) prepared Shrimp Marinara Sauce—another recipe of Pete and Kelly's—as I read the directions out loud. She chopped and sauteed … first, onions and garlic in olive oil; then shrimp; and finally, diced tomatoes with basil, oregano, salt, and pepper. This recipe is very easy to make, but offers simple, sensational flavors. This specific recipe is not on their blog, but instead comes from their cookbook, Artisanal Gluten-Free Cooking, which came out last fall. However, their marinara recipe shown here at NGNP is the same, just without the shrimp.
Upcoming girlfriend time also required a dessert. I wanted chocolate and I wanted a dessert that was both easy and travel-friendly. Again, I turned to Pete and Kelli's cookbook. The answer came in the one-word recipe that met all my requirements and always appeals to everyone—brownies! Pete and Kelli's recipe calls for butter; however, I needed dairy-free brownies as my one friend avoids dairy. Therefore, I used a combination of olive oil, coconut oil, and cocoa to take the place of the butter and unsweetened chocolate. The resulting brownies were fantastic—dense, dark chocolate, with just a bit of a coconut undertone.
Head over to Pete and Kelli's No Gluten, No Problem blog and take a look … I know you won't be disappointed. But, here's the best part, you can also head over to my Out and About page to read my (and others') review of Artisanal Gluten-Free Cooking! 
Shirley
Not just gf, but gfe!