For affiliate links and as an Amazon Associate I earn from qualifying purchases.
Well, I figured it was time to finally share my Key West trip report. My gluten-free Key West trip report. The timing just didn't work out to share it earlier, but Bean's (Without Adornment) theme of tropical vacation meal for Go Ahead Honey, It's Gluten Free last month reminded me that I hadn't yet shared it.
While there are signs of spring around the area, I'm still burning a fire (albeit a smaller one) in the woodstove at night and I'm still donning fuzzy, warm, socks as soon as I hit the door each evening after work. So, let's venture on a little trip to Key West … which is probably as close as you'll get right here in the continental U.S. to the tropical warmth, color, and funkiness of the Caribbean.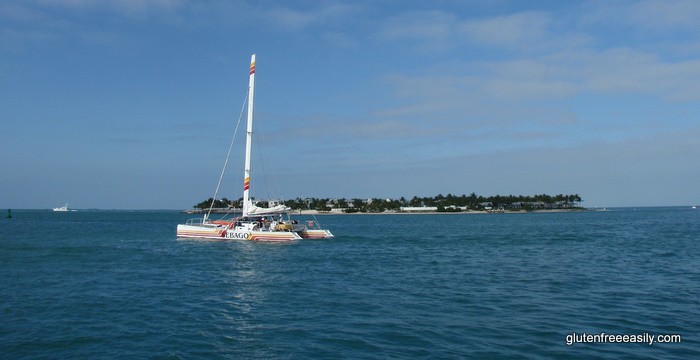 When you live on the east coast, it's tempting to head to Florida on a road trip. While it's particularly enticing to drive to Florida during the holidays because of the "extra" days you have off from work, it's ill advised. We know. We've done it in the past. The most direct route to most of Florida for us involves I-95 South. In case you didn't know, I-95 becomes a virtual parking lot at Christmas time. We've experienced this frustrating occurrence not once, but twice. Mr. GFE always mutters, "two many cars, not enough road" … and, I might add, a few other choice words.
When you decide you can't take the interstate crawl any longer and decide to get a room, you'll be lucky to find one. You might end up going from hotel to hotel in the room pursuit. And, your significant other might even try to get you to stay at a less than desirable motel, just out of sheer fatigue, which can lead to a few testy moments.
So the last two times, we've headed to the Florida Keys, we've flown in. Even with the hassle of traveling by air these days, flying is still preferable to driving when traveling to Key West over the holidays—in our opinion. There is no need to rent a car if you stay in Old Town Key West. Parking is largely a pain anyway; it's hard to find a spot and the few parking lots are expensive. You can walk everywhere you really need to go, which helps to burn some of those calories from vacation meals and drinks.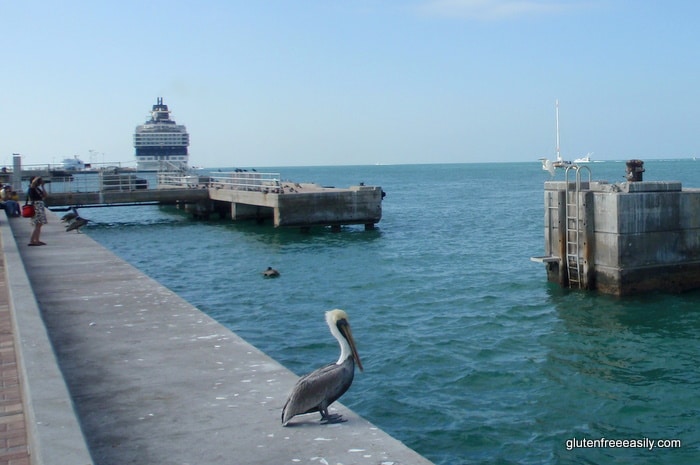 Plus, you see so much more walking and can just stop and look (or gawk in some cases) whenever you like. There are interesting "rides" for people and pets. (Pets, especially dogs, are everywhere in Key West.) I always want to see all the street performers, like the guy in purple (with silverized skin like the Tin Man) who works in robot fashion on his vintage motorized bike if you put money in his cup and the hardworking pets that are always part of "acts."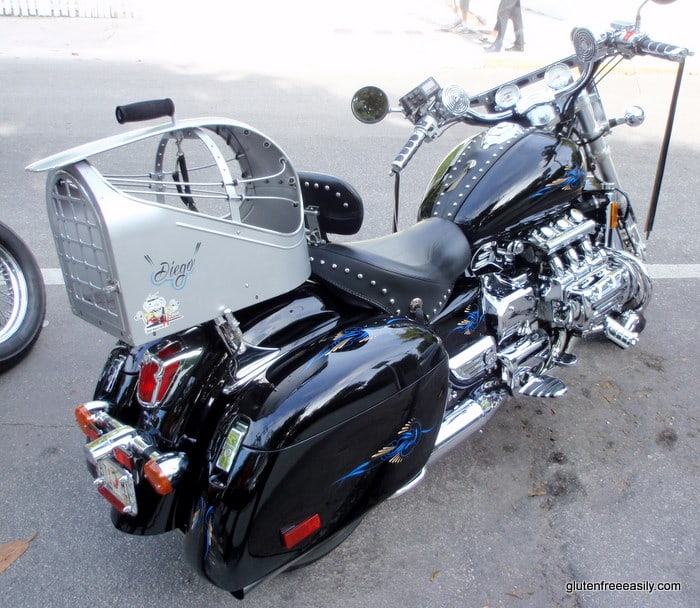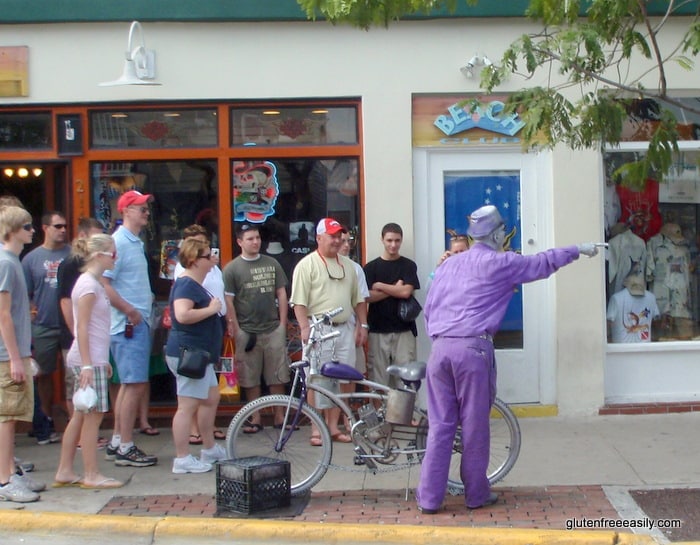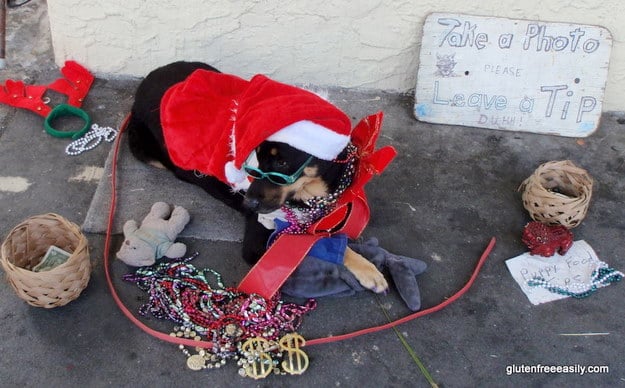 We didn't book our flights until October but still managed to get a pretty decent price for holiday travel. We did have to return home on New Year's Eve because it turned out the discount carrier we used only flies out of our favorite airport a few days a week now. While New Year's Eve is THE big night in Key West, we didn't mind heading home on that day. Son wanted to be with his friends that evening and also home for his birthday a few days later. We wanted to be home to re-acclimate before returning to work. We expected that the Key West airport would be much less congested on New Year's Eve than it would be a day or two later. That was the case and our flights and airport dealings really couldn't have gone smoother.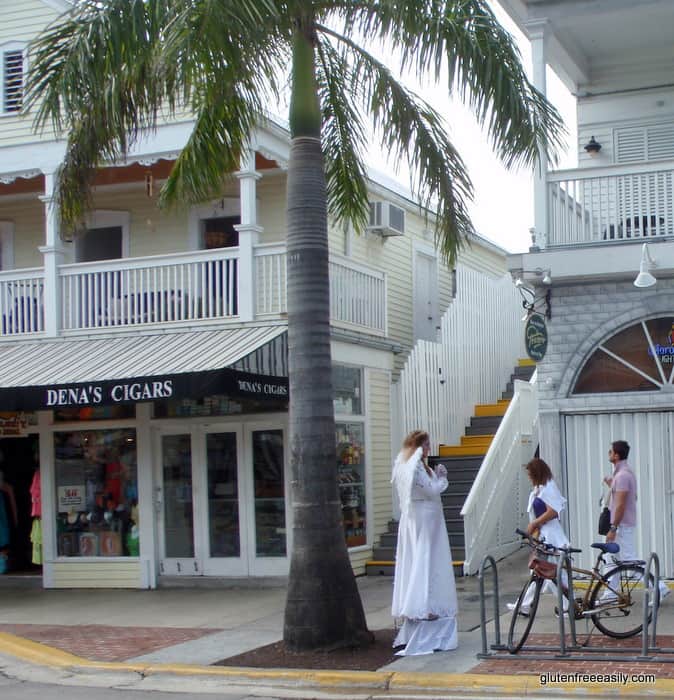 We were even later on booking our accommodations. I had been busy with many other personal commitments, so I didn't even start looking until Thanksgiving. With three of us this time, I knew one room in a bed and breakfast that Mr. GFE and I had stayed at previously would not work. We've also previously stayed in the Truman Annex, the Navy housing that was turned into condos many years back. Made up of individually owned accommodations that suit all sized parties and decorating preferences, the Truman Annex is a bit removed from downtown action in Key West, but you can still walk to everything. But by the time I started making calls, the Truman Annex was completely booked.
The week between Christmas and New Year's is very popular, second only to Fantasy Fest, their over-the-top October event. So I just started doing searches online and came across Casa 325, a guest house located at 325 Duval Street. It showed one suite left, but that address was a bit intimidating. Duval Street is where most of the action is in Key West. Even if one is big on fun, a quiet night's sleep is still a requirement on vacation. However, a quick skim of the reviews of Casa 325 on Trip Advisor allayed my concerns. One comment that was consistent throughout the reviews was that despite the central location, Casa 325 was tucked back behind shops in a very quiet and lovely location.
So we booked the last suite and we ended up loving Casa 325 from the moment we checked in. The front desk staff (Mary and Marsha alternate) run the place. They help you in every way possible to have a fantastic stay in Key West. The guest house itself is just lovely. The historic home is subdivided into studios and one- and two-bedroom suites. Another building houses additional suites overlooking the heated pool. Each suite has a kitchenette. That amenity is great for those of us who are gluten free or really anyone who wants to have the convenience of eating some meals and snacks back at the room (a savings for anyone and an economical and safety factor for those of us who are gluten free).
Casa 325 is immaculate and very comfortable with simple furnishings. Think white-washed floors, plain wooden tables, off white upholstered furniture (one love seat was also a sofa bed), and off white paint—sort of a shabby chic look, which we loved. We even had two rocking chairs with a small table on the wraparound porch right outside our room. Add to this that the rates were the best we've seen for such accommodations and Casa 325 is definitely a winner!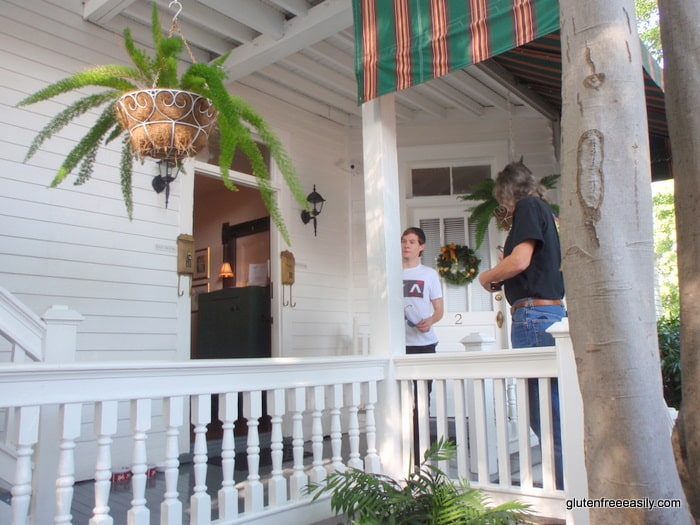 The only negative on Casa 325 in our opinion was that was one of the very handsome resident roosters started crowing at 4:30 am, each and every morning. His call was rather hoarse (and seemed to get hoarser the more he crowed). Usually, we just chuckled and went back to sleep. St. Paul's Episcopal Church a few blocks down would play Christmas carols every morning at 9:00 am. We found them very charming, but Son thought the carols were the most annoying thing ever. (Let's just say his bedtime was much later than ours. Surprisingly, the rooster never awakened him.) If you are interested, you can read the Trip Advisor reviews of Casa 325.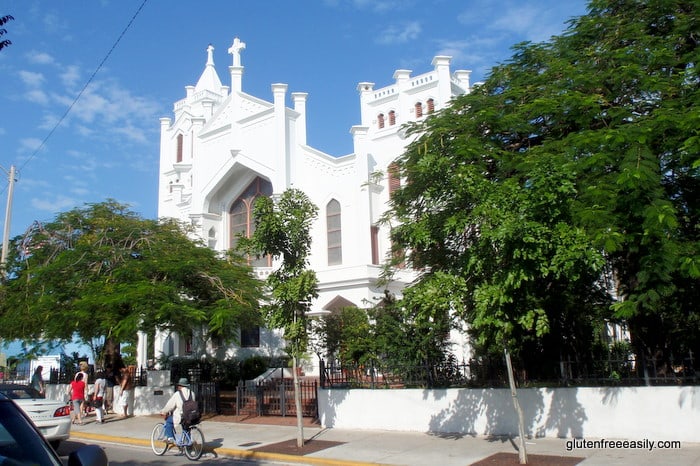 Where did we go? What did we do? Here's a summary of some of our stops on this trip. Admittedly, we did not participate in as many activities as we have in the past. A large part of that had to do with trying to align our schedule with Son's schedule or should I say just trying to intersect in the middle? Any time you travel with someone else, you tend to spend time waiting to connect and not just doing your own thing at will. We did do a lot of walking and enjoying looking at the sights and scenes. But, some attractions that we've visited in the past (many more than once) and will certainly visit again are Mel Fisher's Museum (you can hold a gold bar and view unbelievably beautiful emeralds), Audubon House (great audio tour and many Audubon prints in beautiful 1800s home that Audubon visited, as well as inviting porches and gardens), the turtle museum on the docks, the Key West Museum of Art and History, and, of course, Hemingway's home.
Kelly's Caribbean Bar and Grill (First Flight Island Restaurant & Brewery is now at this location; Kelly's is no longer although its historical Pan American Airlines artifacts remain)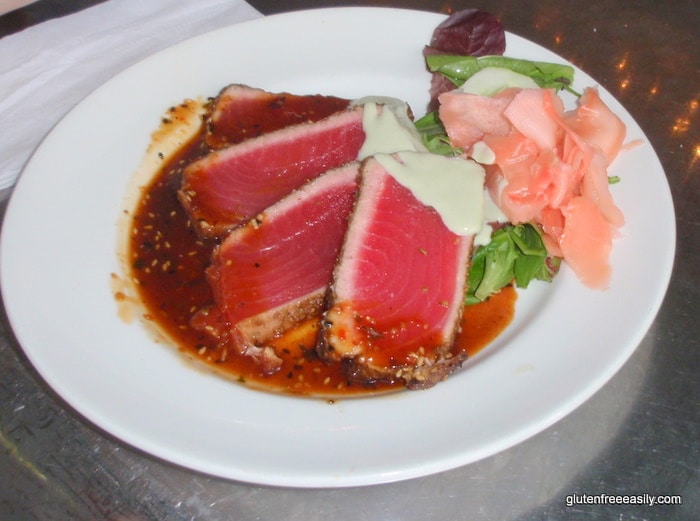 As I shared before, this is our favorite spot for happy hour. Kelly's is so named because it's partly owned by actress Kelly McGillis and her now former husband, Fred Tillman, and his current wife, Sheila. It's also the original location of Pan American Airlines and has the décor to prove it. (More on that in a moment.) From 4 – 7 pm, they serve their microbrewery beer (NOT gluten free), super margaritas (called Top Gun margaritas per my receipt), and appetizers—they are best known for their hot wings … again, not gluten free. We headed to Kelly's for a late lunch right after we checked into our room. It was a very quick walk. We sat at the bar because it's by far the best spot in Kelly's. After all, the bar is called the Pan Am bar and the surface is an airplane wing (you can see it in the photo below).
Son ordered the ahi tuna and I ordered blackened mahi mahi. Instead of fries (which were cooked in the same fryer as everything else), we were given side salads. As you can see, Son's tuna was a huge portion. There was no way he could eat it all in one sitting, so that was the first thing that went into our refrigerator back at Casa 325. Both my mahi and salad were delicious and I was genuinely ravenous (a common occurrence after airport travel with limited safe choices), so I ate every morsel of my meal. While we visited Kelly's more times for happy hour, we only ate one other meal there, but it was one of my favorites during our stay. It was mango-espresso pulled pork and it was in a word, fabulous. Once again, I enjoyed it with a side salad.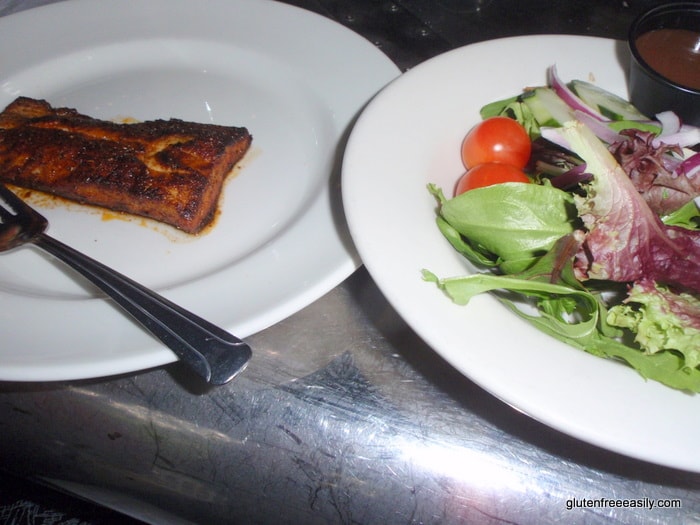 To be clear, Kelly's does not get high marks from locals for anything other than happy hour. Admittedly, the service outside the bar area can be lacking. The best of everything really is right at the bar. Mr. GFE calls Kelly's "the magic bar." The fact is we've met folks there who have become lifelong friends. One couple we met there 7 years ago turned out to live in the next county over from us and we even had mutual friends. The more we travel, the more we are convinced that it really is a small world.
Faustos is one of the grocery stores in downtown Key West. It's a very nice grocery store. It's fairly compact as grocery stores go (which I love!), but it has just what you need—both basics and indulgences. We headed there after our first lunch to stock up on staples like orange juice, milk, cereal (for Mr. GFE), and bananas, Blue Diamond crackers, red pepper hummus, chips, and pistachios. Son also added a few Amy's gluten-free meals to our cart. (They came in handy for afternoon breakfasts and between-meal snacks.)
Braza Lena (this business has closed)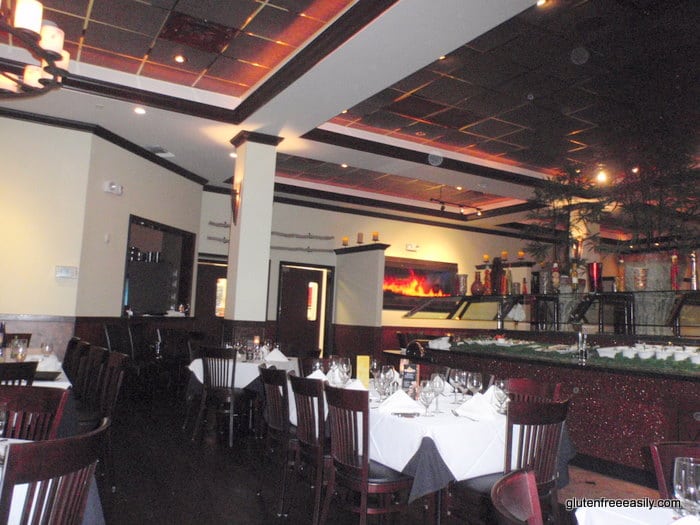 Within 5 hours of our arrival, Son had made numerous friends and had a date for the next evening when the young lady finished her shift at one of the many touristy-type shops. So, it really didn't surprise us when he said, "this place is paradise" and thanked us for bringing him on the trip. A short while later, he called his soon-to-be date and asked her for restaurant recommendations. She recommended the fairly new Brazilian steakhouse. Braza Lena was even closer to Casa 325 than Kelly's, so off we went.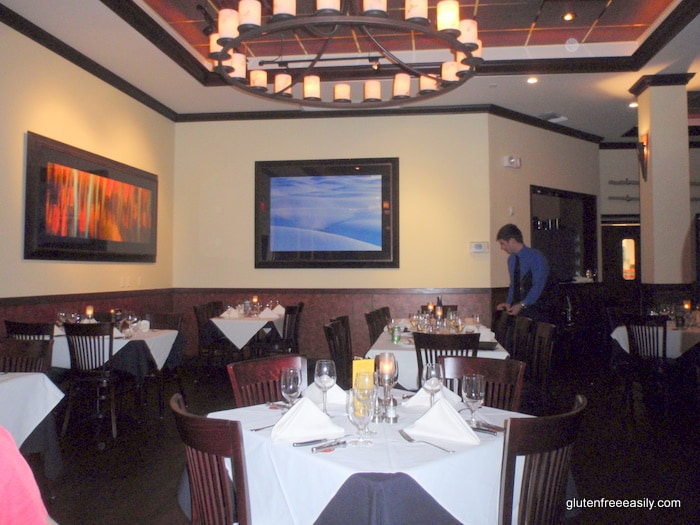 The manager greeted us and assured me that gluten-free dining would not be a problem. He advised us to steer clear of the bread and rice, but assured us that none of the meat was marinated and everything else would be gluten free. Our waiter asked it we had ever been to a Brazilian steak house before; we admitted we hadn't. He showed us the disks he had placed on the table beside each of us—green with "Yes" on one side and red with "No" on the other. He explained that any time we were ready for meat with our meal we needed to turn over our disks to the green "Yes" side.
First, we enjoyed the salad bar offerings. Salad bar is such a misnomer for the wide array of food that Braza Lena serves on its salad bar—think marinated artichoke hearts, heart of palm, steamed shrimp, steamed clams, and so much more. Salad bars are not always safe for those with food allergies and sensitivities due to cross contact, but this salad bar was so pristine with every item in well-spaced, individual serving dishes with no shared utensils (or resting spots for utensils). Son and I felt perfectly comfortable eating from it.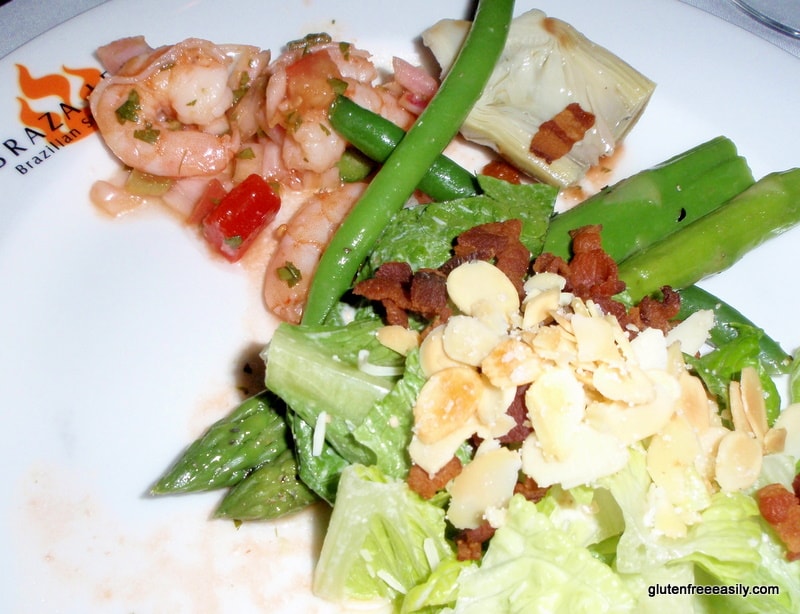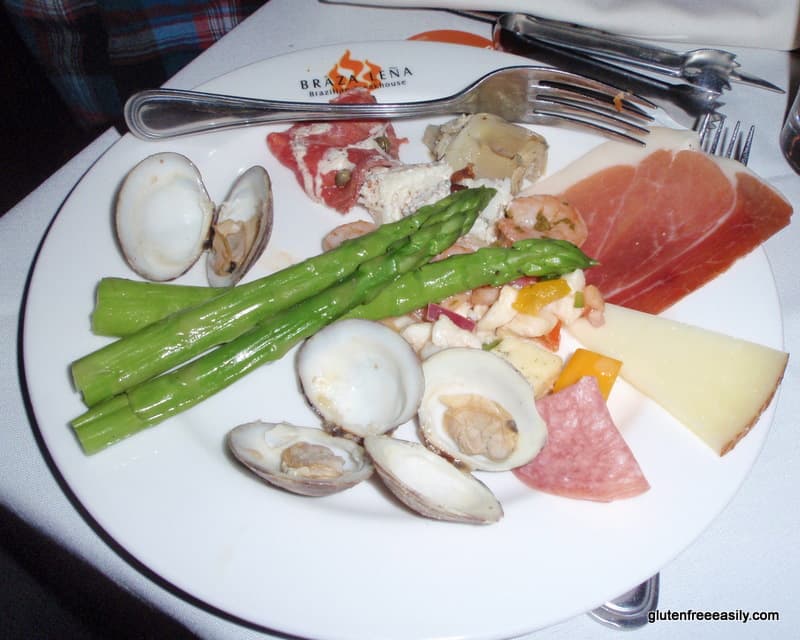 We soon flipped our disks to the green side to let the roving gauchos know that we were ready to sample the meat that they brandished on very large skewers. Lamb, filet mignon, beef tenderloin, pork, sausage, were some of the options … but, as it turns out, not the chicken. As the server was about to serve Son a chicken drumstick, the manager appeared—as if out of thin air—and intercepted the chicken before it hit Son's plate. It was pretty amazing actually. However, because the steakhouse offers mostly the same options each day, a gluten-free menu would have been handy in this case. While we were very grateful for the manager's attentiveness, clearly, it would have been a very bad thing if Son had eaten the chicken drumstick. It wasn't outwardly "glutenous," but apparently had some flour in the coating.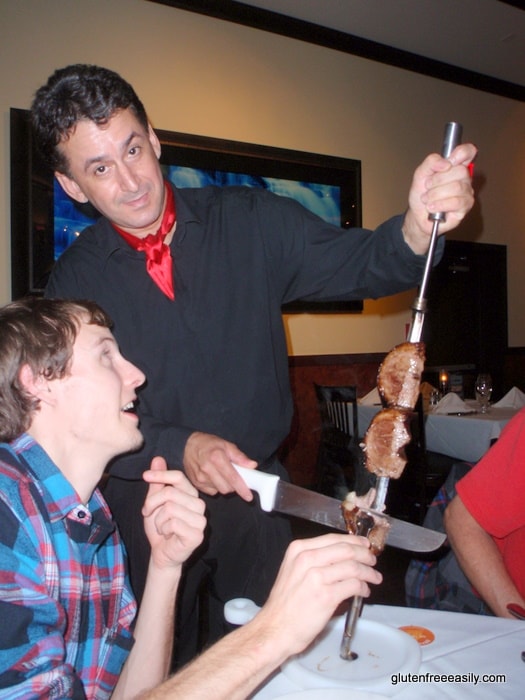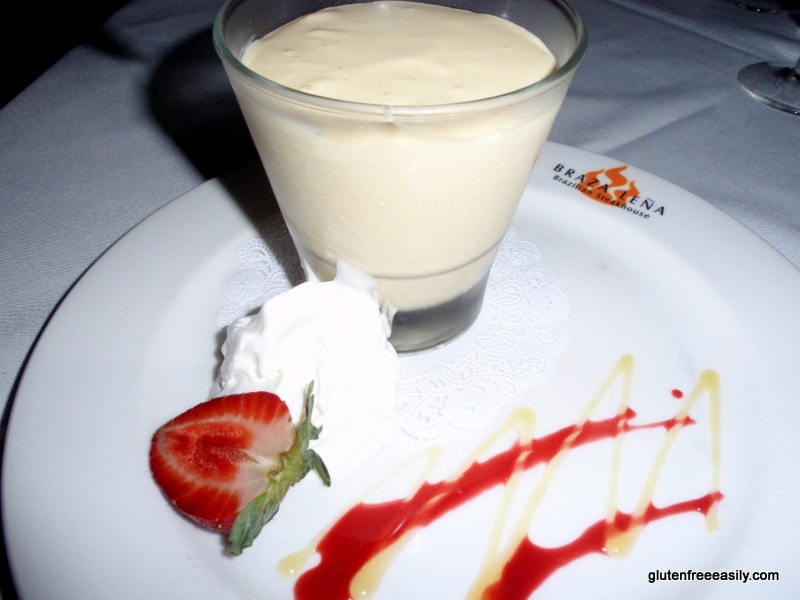 All of the food was beyond excellent at Braza Lena and we totally enjoyed our experience, but just a heads up, this meal was very expensive. It's a fixed price of $44 per person or $28 per person if you just get the salad bar (I told you it's not your basic salad bar … many seafood options, lots of fresh real food, and clean, clean, clean with the least chance of cross contact I've ever seen at a salad bar.) You can add lobster to your meal for an additional market price cost. When the bill came I found out my Brazilian Cosmopolitan was $11—yikes! Son and I split passion fruit mousse for dessert. That was the best bargain on the menu at $8 and absolutely divine. In summary, Braza Lena was an excellent place to dine, but the prices might make it a venue for only very special events for many (that would include us!). Last, a gluten-free menu and proper training of all staff would really make this restaurant an especially fine dining option.
One day for lunch, we were just looking to eat a quick bite nearby. Marsha of Casa 325 suggested Caroline's, which was located diagonally across the street. Son ordered the grilled mahi sandwich, sans the sandwich part. He had a garden salad on the side. I ordered the Caesar salad (sans croutons) topped with blackened mahi. We both requested mango margaritas. The fish seemed very fresh and our overall meal and the service were both top notch. Because the café was quite busy, we were seated in the rear of the restaurant, which had more of a garden view versus that of Duval Street. If you get a table looking out on Duval, Caroline's is a terrific spot to people watch. We stopped by another time to do just that while enjoying a drink at the counter facing out from the bar.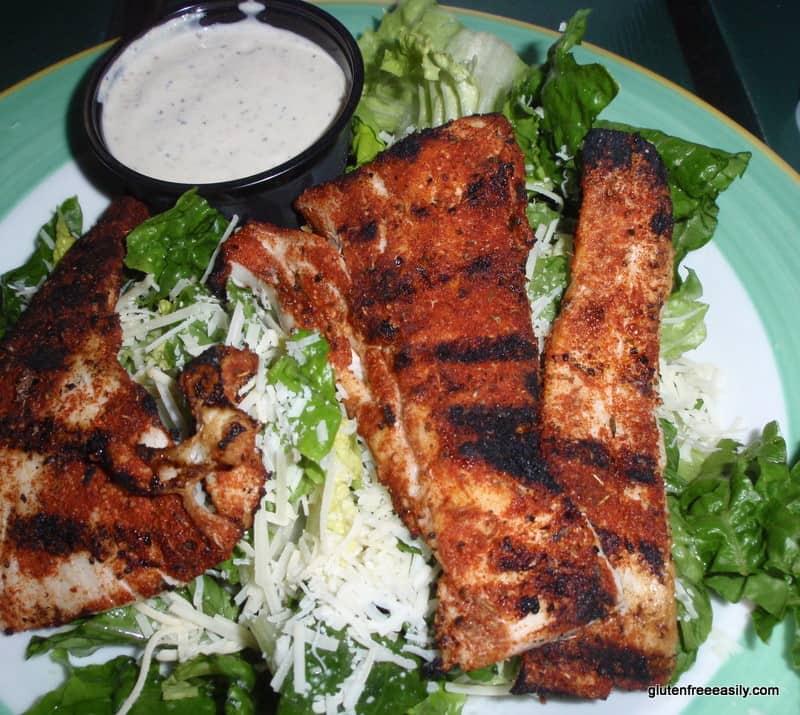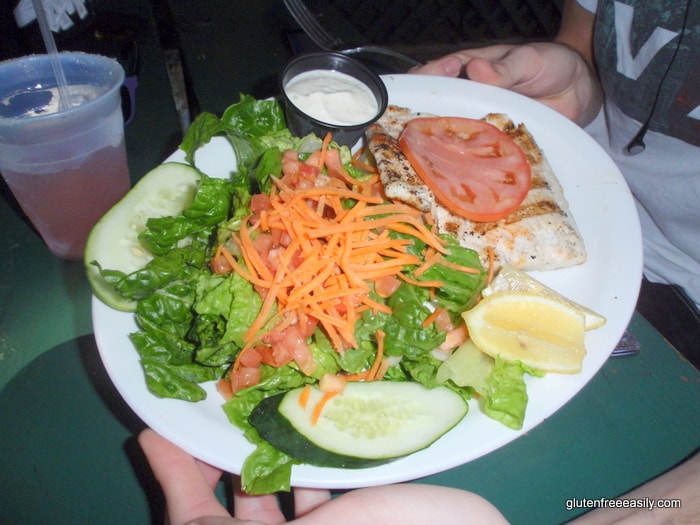 Dante's overlooks its showy, popular pool and the waterfront. It's a casual, laid-back spot where seating is either at the bar or at picnic tables. It was another spot recommended by the Casa 325 personnel. Because we visited on a chilly evening, the pool was already closed and clear vinyl plastic walls were in place around the dining area. Steamed stone crab claws were available at daily raw bar prices. They were still not cheap at $3 a piece, but they were certainly delicious. If I lived in an area that served stone crab claws, I would probably go broke eating them. They are just that good! (Plus, I love the fact that they are a sustainable seafood. Only one claw is harvested at a time, with the crab getting to live to grow another, and another, and so on.) Son ordered prime rib and I enjoyed Caribbean chicken. Jerk seasoning and pineapple juice made for wonderful flavoring in the chicken. Mango margaritas complemented our meals well. Finally, our server was very friendly and attentive—which is always a big plus in our book.
Mangia-Mangia, is a popular Italian dining spot. Loosely translated, mangia-mangia means "eat, eat." One would think that an Italian place that is acclaimed for making its own pasta would not be the best place for a gluten free individual to dine. I was even questioning my own judgment midway through my meal, but I had a wonderful, safe meal there. I ordered fresh sea scallops, sautéed in butter and garlic in a fresh pesto and cream sauce garnished with chopped walnuts—just without the spinach fettuccine that normally is included in this dish. I did experience a moment of doubt when I was suddenly chewing something with substance, but it was either the walnuts in the pesto or in the garnish. Located in a corner storefront Mangia Mangia offers lovely in-house (lively) and courtyard (quieter) dining, very fresh and delicious food, attentive service (despite the full house), and pretty reasonable prices. It's no surprise that this restaurant comes highly recommended by Fodor's, Frommer's, and Zagat's.
Camille's was the restaurant where we shared our last vacation dinner together. It was quite a walk from Casa 325, so Mary at the front desk called a Pedi-cab at our request. It was our first ride in one and it was somewhat interesting, but it was pricey. I'm a walker by nature, so personally I would have preferred a brisk walk to the restaurant on the cool evening. However, Mr. GFE and Son overruled me. But, if you enjoy a leisurely ride, a Pedi-cab ride might be the way to go.
The moment you walk in the door at Camille's, you can tell that it's a family-owned restaurant where everyone pitches in and all bend over backwards to please you—the customer. The owner of Camille's greeted us warmly, seated us, and immediately became very attentive to our gluten-free needs. Our waitress was just as accommodating and in the end we all agreed that we had our best meal of the trip at Camille's. I fell to my old standby, grilled salmon and Son went for the blackened mahi. Because it was our last night, Son ordered a Spanish champagne for us all to enjoy. I'm not typically a champagne lover (it's the after effects, not the taste, that get to me), but toasting and sipping champagne was a delicious and fun way to end our trip.
This place, another spot that is right on Duval Street, is always packed and loud. We ended up there one afternoon for drinks. It's one of those spots that are mostly open air with little structure. For what structure is in place, the décor consists of whatever gets stapled on the walls, posts, etc. In this case, dollar bills are the main wallpaper. Willie T's is known for its mojitos, which are a regular feature on their daily happy hour. I drank one and it was okay, but I'm not really a mojito girl. Theirs might not be the best Mojitos out there though because the one I had seemed more like a mint julep mixed with Sprite. By the way, we've eaten at Willie T's in the past and I did fine eating some of my usual favorites—like grilled or blackened fish with a salad.
We discovered this delightful upscale restaurant on our last trip to Key West. It was located down the street from the B&B we stayed at that time. It's an intimate and simple, but elegant restaurant that is part of the highly-rated Marquesa Hotel. Marquesa Hotel was on Conde Nast Traveler Magazine's 2009 Gold List of World's Best Places to Stay. Its restaurant has been named in the Top 100 of hotel restaurants in the world by Zagat. Dining there is a lovely indulgence for sure. We had our first meal there on our previous trip. It was a late meal after our plane touched down and we hurriedly checked into the B&B. It was especially nice because the restaurant was almost empty and we had the undivided attention of the staff. I enjoyed a seafood dish in a cream sauce served over buckwheat noodles—all gluten free and heavenly. After that first night, we learned that our favorite—and most affordable—way of enjoying the Café Marquesa is with an after dinner drink and dessert. Mr. GFE always has one of their beers (not gluten free) and I enjoy one of their desserts. The chefs at Café Marquesa are culinary wizards when it comes to crème brulee. We only stopped by two evenings on this trip; each time I ordered the ginger crème brulee. Imagine a marriage of crème brulee and gingerbread and you'll know how sensational this naturally gluten-free dessert was. Previously, I've enjoyed homemade ice cream flavors like chocolate hazelnut and lemon basil. Again, everything at Café Marquesa is there to indulge you … particularly the staff. The hostess, servers, and bartenders were the same folks that we remembered from our visit three years ago and were every bit and lovely and gracious as we remembered.
Jungle Cafe (this spot is now closed)
As we were finishing some shopping, we were called in by one of the owners. He was out on the sidewalk promoting "the best food on the island." We don't usually go for that kind of hawking, but some couples were exiting the restaurant and enthusiastically praised their meal. So, in we went. Truth be told … the food was excellent. Mr. GFE ordered a grilled grouper sandwich, which would be a fine gluten-free meal without the bun. I opted for an old standby, half a pound of peel-and-eat shrimp. The shrimp were cooked perfectly and made a great lunch meal. This place is so tucked in (behind "the smallest bar in Key West" no less), that the owner really does have to pull in people from the street. The "hidden" location made for a nice quiet meal though. We were entertained by the house cat with the biggest, most beautiful eyes I've ever seen on a cat, and a somewhat subdued parrot on the porch of a neighboring home.
Yes, shades of Dr. Seuss there. To be honest, we had no intentions of going to this restaurant because it was in the touristy, cruise ship area near Mallory Square, but we had walked to another restaurant only to find it closed. We asked a local business man who was closing up his shop, for his recommendation. He immediately responded "Red Fish, Blue Fish." He told us that it was a bit pricier, but worth it. The truth is, our meal ended up being less expensive there than at several other dining spots. And, it was an excellent meal. I enjoyed grilled grouper and mashed potatoes. Mr. GFE enjoyed steamed shrimp (naturally gluten free).
Six-Toed Cat (now closed; Moondog Cafe and Bakery has opened at that location)
This restaurant was located near the Hemingway House. It had a cute name given Hemingway's famous cats lived across the street. All of the tables were even painted with six-toed cat prints. The décor was colorful and attractive. However, that's pretty much where its appeal ended. The restaurant was busy, but not packed when we headed there after the line at the Hemingway House was way too long. (We had slept in just a little too late and the cruise ship folks were in full force.) Our orders were simple ones, but we waited a very long time. Once our orders did arrive, Son pointed out that the single egg that he and I had both ordered didn't even look like enough for a full egg. Finally, our waitress seemed less than pleased to be serving anyone.
Flamingo Café (now closed)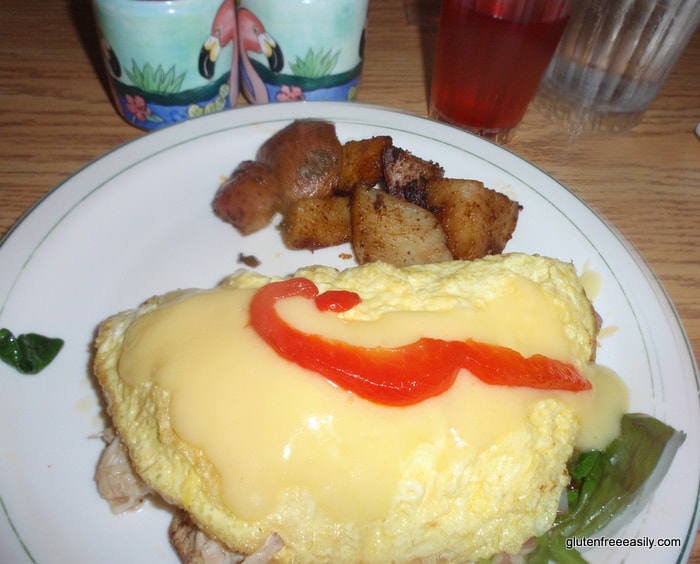 We headed to Flamingo's Café after being in the first group to tour the Hemingway House on the following morning. Although this restaurant was panned by our front desk crew, we had a good experience there. My seafood omelet was great. It included spinach, red roasted peppers, red onions, Swiss cheese, and real Maryland blue crab, not the artificial stuff that contains gluten. (That nicety was no doubt due to the fact that the owner was originally from Maryland.) Son also praised his meal of eggs and bacon. The small restaurant stayed packed, but folks were headed off to other pursuits so none dallied. The staff was very efficient as well, so we enjoyed a nice breakfast in a timely manner.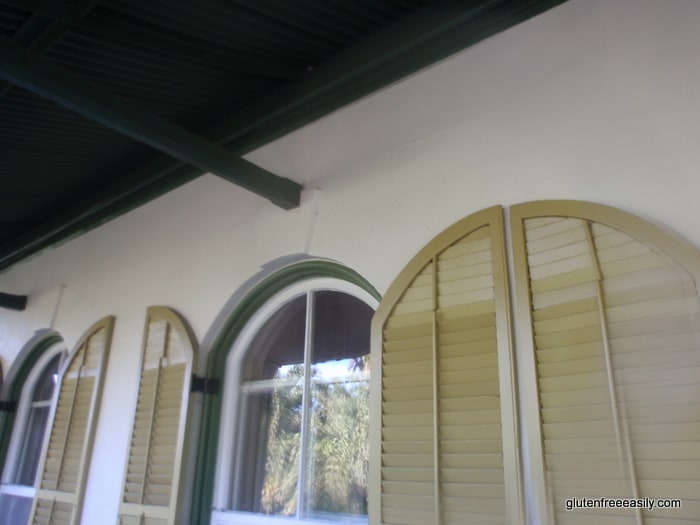 Mr. GFE and I visited the Hemingway House twice before, but as it was Son's first Key West trip and he wanted to check it out. A little bit of history … the three of us plus our nephew went on a family vacation to a guest ranch in Montana a number of years ago. It was purely coincidental, but Michael Palin and a BBC crew arrived at the guest ranch at the same time as we did.
That's the Michael Palin of Monty Python and A Fish Called Wanda fame, and subsequent popularity as a host of BBC travel shows. He and the crew were there filming a documentary on Hemingway. We spent a day and a half with them all, conducting a week's worth of activities into that time just for the benefit of the camera. (After the crew left, we did the same activities but on the usual schedule.) Every person on Palin's staff was totally charming and engaging even though they were very focused on their filmmaking efforts.
The four of us are all shown for a brief moment in the film. My less than 15 seconds of fame was me getting on my horse. The most prominent view was of my derriere. No, I'm not kidding. However, Mr. GFE, Son, and Nephew all looked like fine riding their horses. Mr. GFE is even mentioned in the book on the subject.
But, back to Key West and Hemingway's home there … The house itself is impressive as are the furnishings, grounds, and memorabilia. The stories of Hemingway's time there are incredibly interesting and amusing. (You'll enjoy the history of the swimming pool for sure.) All of the tour guides both educate and entertain. The 40 cats, descendants of Hemingway's original cats (many, but not all, with the unique six toes) still have free reign of the lush grounds, with food and water placed in every nook and cranny for them. In fact, half of the money taken in for admission goes to their care. A veterinarian even visits weekly to check on them all. That's not a bad life at all.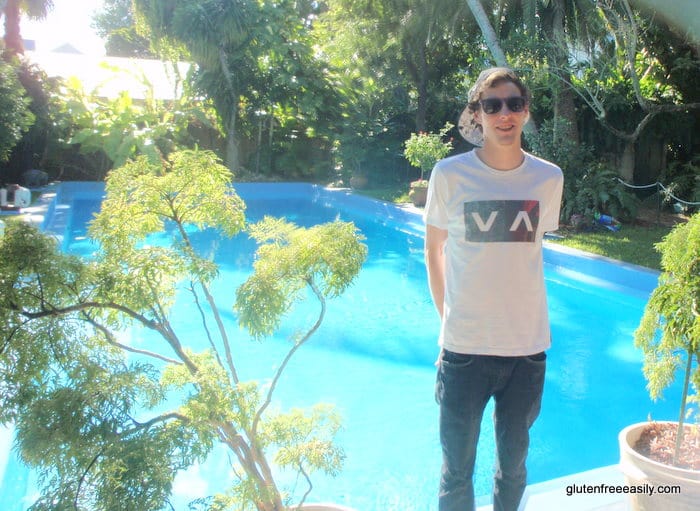 Actually, that's a rather fitting end to this gluten-free Key West trip report. Thinking back on our time together in Key West, it's not a bad life at all.
Oh, while we didn't eat gluten-free Key Lime Pie on this trip, you don't have to travel to Key West to enjoy delicious gluten-free Key Lime Pie!
Shirley
Not just gf, but gfe!
Originally published March 17, 2010; updated February 26, 2020.