For affiliate links and as an Amazon Associate I earn from qualifying purchases.
This post is linked to Gluten-Free Wednesdays.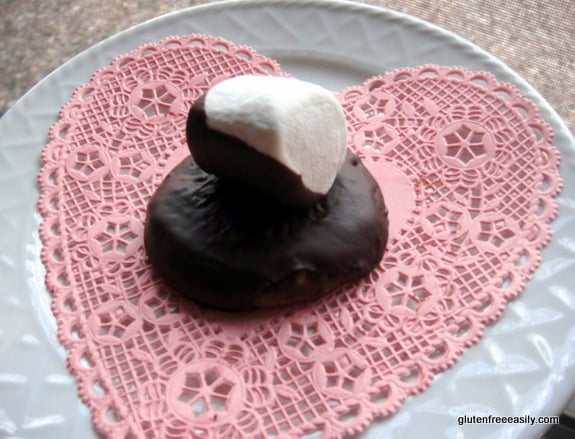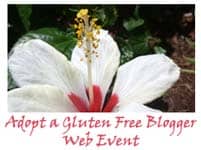 For this month's Adopt a Gluten-Free Blogger event—originated by the adorable gluten-free community builder, Sea of Book of Yum—I adopted Zoe. Do you know Zoe of Z's Cup of Tea? I first learned about her when my friend, Amy of Simply Sugar & Gluten Free, featured Zoe and her Mini Black Raspberry and White Chocolate Crepe Cakes. I know … you want to adopt her now, too, don't you? I understand! I oohed and ahhed over those beautiful, "purple," filled crepe cakes and was reading how Amy had met Zoe through Go Ahead Honey when I read that Zoe was a teenager. I was so intrigued by her lovely recipe and the fact that Zoe was a teenager that I had to head over to Z's Cup of Tea immediately. Now I'm having a cup of tea with Zoe as often as I can—virtually, anyway (for now!). Zoe is charming and delightful. She's a wonderful, creative cook who makes fantastic recipes, especially baked goods. Her recipes usually focus on and fit the Specific Carbohydrate Diet (SCD) and she tells you why here. That makes all her recipes on her blog gluten free. Zoe's also a beautiful writer. Her knowledge and skills go far beyond her years. Zoe actually started her first blog, a literary one, even earlier, a few years ago when she was barely a teenager. It was a post of Zoe's and chatting with her via email that inspired me to purchase Julia Child's My Life in France—the one with the photos, the only one to buy per Zoe's advice. It's still in my "to read" stack, but I'm greatly looking forward to it, thanks to Zoe!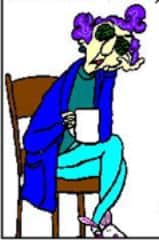 Now to Zoe's recipes with a little meandering along the way. Eons ago, I saw Martha Stewart make marshmallows on Oprah. Oprah expressed incredulity that Martha would make her own marshmallows. Why, she asked? Then she ate one on national television and seemed to have one of her O moments, and better yet implied that anyone could have an "O" moment by eating homemade marshmallows … if you know what I mean. I'm sure I rolled my eyes and said something like Maxine would say. You know Maxine, don't you? She's the cartoon character shown on the right who dishes out her own brand of sarcastic, curmudgeonly wisdom and humor. (Maxine was created by John Wagner for Hallmark's Shoebox Greeting line and has remained hugely popular for many years.) One of my favorite emails that periodically makes the rounds is "Martha's Way Versus Maxine's Way." It always makes me chuckle, even though I've read it a hundred times. Here's the first part:
Martha: "Stuff a miniature marshmallow in the bottom of a sugar cone to prevent ice cream drips."
Maxine: "Just suck the ice cream out of the bottom of the cone, for Pete's sake! You are probably lying on the couch with your feet up eating it, anyway!"
See what I mean … funny stuff. You can see the complete Martha vs Maxine email here.
What does that all have to do with Zoe? Well, Zoe has two great marshmallow recipes on her blog. Both are refined sugar free. First, Zoe made marshmallows using agave nectar and the last time, she used honey as her sweetener. (You know I'm all about the honey love.) Even though I scoffed at making my own marshmallows years ago, since I've gone gluten free, I've been reading labels like all of you. While most, if not all, packaged marshmallows are gluten free, they also contain other ingredients you might be avoiding.
Here's what is in Kraft marshmallows.

Ingredients: Corn Syrup, Sugar, Dextrose, Modified Corn Starch, Water, Gelatin, Tetrasodium Pyrophosphate (Whipping Aid), Artificial Flavor, Artificial Color (Blue 1)

Here's what is in Campfire marshmallows.

Ingredients:
Corn Syrup, Sugar, Modified Food Starch (Corn), Dextrose, Water, Gelatin, Natural and Artificial Flavor, Tetrasodium Pyrophosphate and Blue 1.
I tell you, reading labels is not for the faint of heart. Zoe's recipes call for gelatin, water, agave or honey, salt, and vanilla extract. Period.
I'm pretty sure that the ones Martha made on Oprah so long ago contained corn syrup. And, Zoe actually had an early marshmallow making "disaster" using corn syrup, which you can read about here. Incidentally, as part of her recipe index, Zoe has a category for "Disasters." I love that!
I have a thing for S'mores, particularly Cookie S'mores that have become a favorite of gfe family and friends. So when I saw two lines and a small photo in our local newspaper on making Oven S'more Treats using crackers, chocolate, and marshmallows, I came up with a plan to make Zoe's marshmallow recipe and create this simple appealing treats. Making S'mores would not only be a tasty task, but it would also elicit thoughts of warmer weather and camping fun. However, when I went grocery shopping in town, no "good" gluten-free crackers were to be found. So I formulated a new plan, I'd execute a slight tweak to my Cookie S'mores. A cookie on the bottom, a square of chocolate on top, and then a marshmallow. Simple, bite-sized, and delicious.
Zoe had the perfect cookie recipe for the project—Spur of the Moment Chocolate Cookies. Made from almond flour, gluten-free flour/starches, cocoa, applesauce, egg, coconut milk, and honey, she said these cookies were not too sweet. "Not too sweet" cookies are the perfect kind for topping with chocolate and marshmallows. (Or drinking with a cup of tea for that matter.)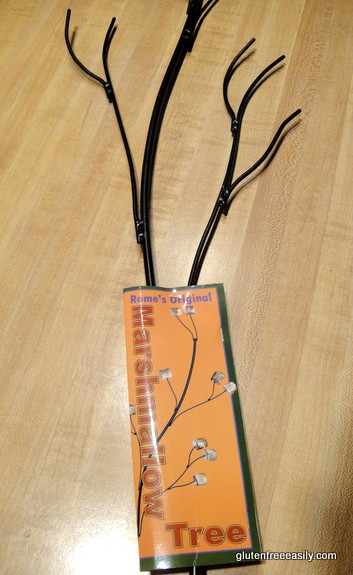 But then other things intervened and my plans for making marshmallows had to be shelved for a while. So,  while I hate to admit it, I did use some store-bought marshmallows for this project. My sister had given Mr. GFE a wrought-iron marshmallow tree for Christmas. I kid you not. See photo, but it doesn't fully show this unique gift. My sister is a bit germ phobic. Her thinking: Why use a yucky natural stick or branch when you can use a reusable and washable (key word!) marshmallow "tree"? Again, the photo doesn't really do this marshmallow tree justice. It's 43 inches long and probably can easily hold the bag of Campfire marshmallows that also came with the gift. It's quite the novelty and will no doubt get used by those who join us this summer for our camping adventures.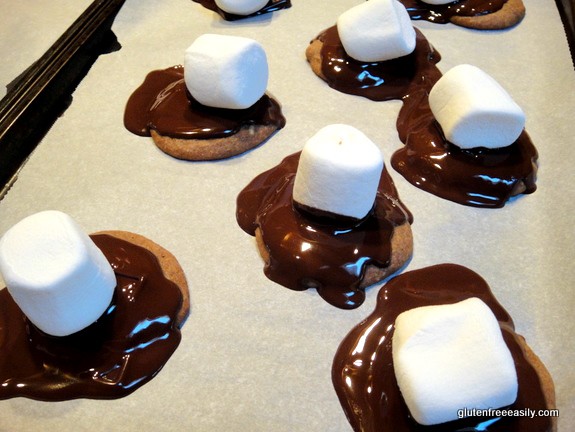 So, back to Zoe and the S'more project … I made her Spur of the Moment Chocolate Cookies and they came out great. I forgot to pack down the almond flour when measuring (which is important for almond flour) so I did add some more to produce a thick enough batter. I also cut back on the honey because of how the cookies would be used. (I found I even liked them plain with less honey though.) Well, the project didn't go exactly as shown in the newspaper. I tried two methods. First, I placed the square of chocolate on each cookie (Ghirardelli's Intense Dark Chocolate Twilight Delight  72% Cacao) right as it came out of the oven and also topped it with the marshmallow. The chocolate melted too much to put back in the oven, even after I placed the baking sheet on the screened porch to cool some. The second time around, I let the cookies cool and then topped them with the chocolate and marshmallow before placing them back in the oven. The results weren't much different. This oven method really doesn't lend itself to the marshmallows cooking enough in my opinion.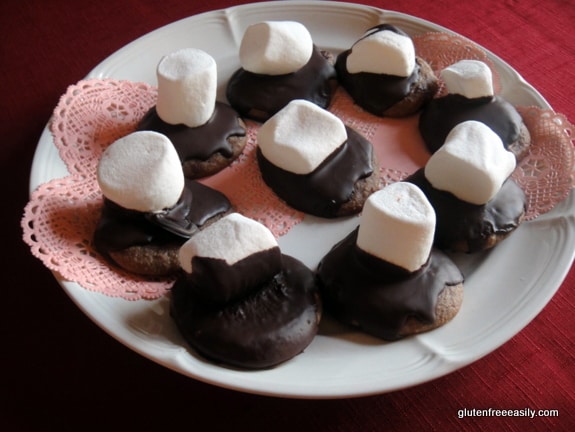 I think Zoe's homemade marshmallows would actually solve that problem as they are flat and rectangular and would cover the chocolate as they melted/warmed up in the oven for more of a true S'more effect. But, until then, I'm thinking I should put this particular version of Oven S'mores in Zoe's "Disasters" category. Although I admit that they are delicious … very messy in the making and not as intended, but still delicious. The lack of  complete success has nothing to do with Zoe though. The recipe of Zoe's was great.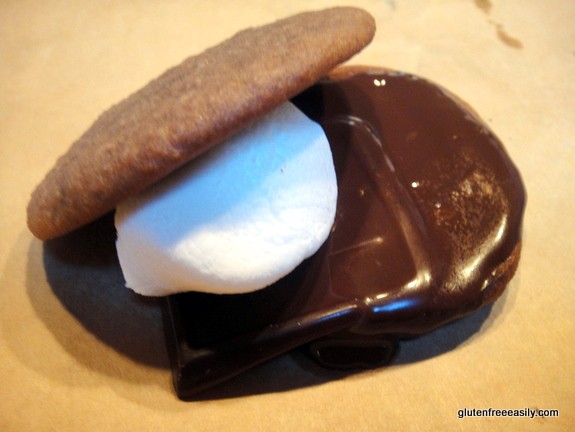 Also on my list of Zoe's recipe to make are: hot chocolate (love the Calvin & Hobbes intro to this post!), butterscotch pudding (adapted from Melanie of The Grecian Garden), and Cinnamon Coffee Bars, which she adapted from Kim (Cook IT Allergy Free) (and Kim's iPhone/iPad/iPod app by the same name).
Finally, there have been two previous adoptions of Zoe that you'll want to read. Linda (The Gluten-Free Homemaker) adopted Zoe last fall. She made another of Zoe's recipe with a Martha connection, Flourless Chocolate Cupcakes. Check that out here. Maggie (She Let Them Eat Cake) also adopted Zoe a few months back. She made Zoe's Mango Banana Popsicles. Even in this cold weather, those sound really good! 
So, in summary, I loved Zoe's cookies, am still dreaming of her marshmallows and a few other recipes, and will keep following her blog faithfully as she, her recipes, and her writing are all fabulous and make me happy. Head on over to Zoe's to share a cup of tea, a cookie, a marshmallow, and more!