For affiliate links and as an Amazon Associate I earn from qualifying purchases.
We've all heard raves about Beer Can Chicken, right? Well, today I'm going to tell you how to make Gluten-Free Beer Can Chicken. Spoiler alert: It's amazingly delicious! And easy to make!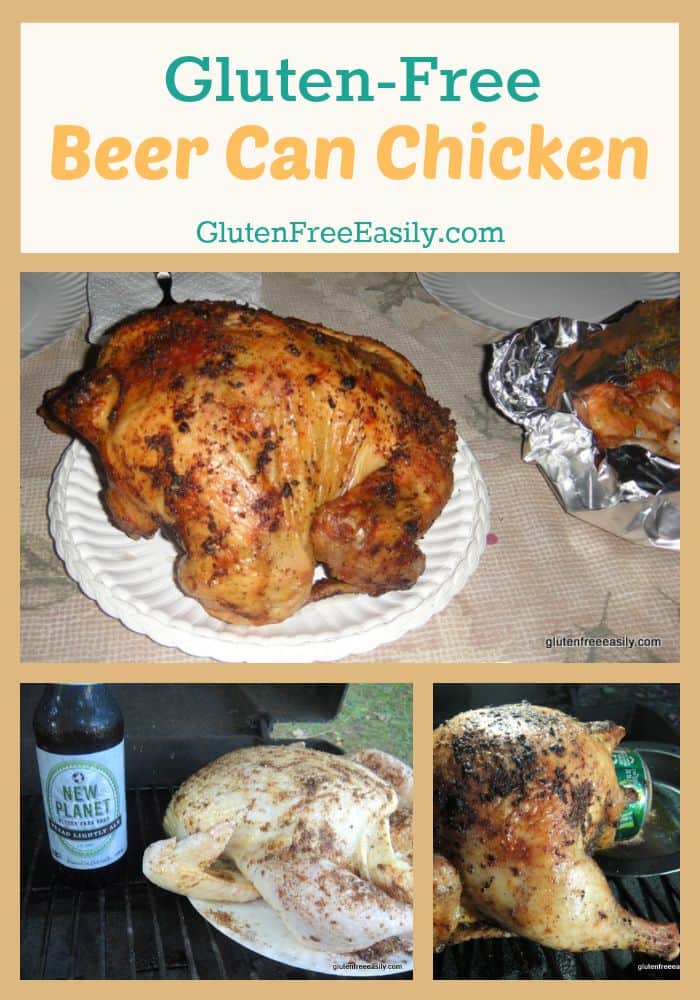 The Back Story on This Gluten-Free Beer Can Chicken
A few days before my birthday, Son called and said he wanted to come camping with us on our mountain property and bring a couple of friends. We said sure!
We never turn down a chance to be with Son and it's fun to hang out with the younger crowd for the weekend. We knew we'd be playing camp staff (cook, counselor, canoe/kayak livery, etc.) but we didn't mind.
The best birthdays are spent with loved ones, right? And, you know we love our mountain property. Just driving there one starts to relax.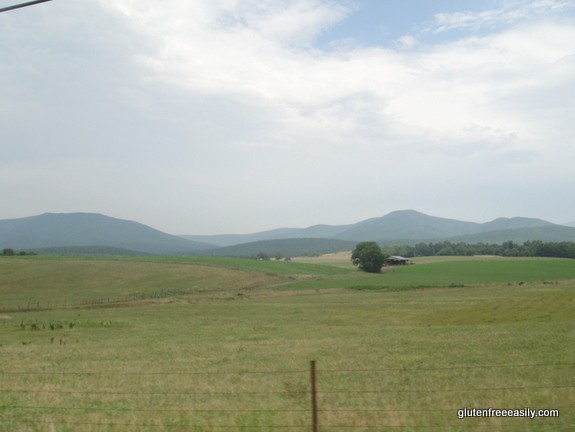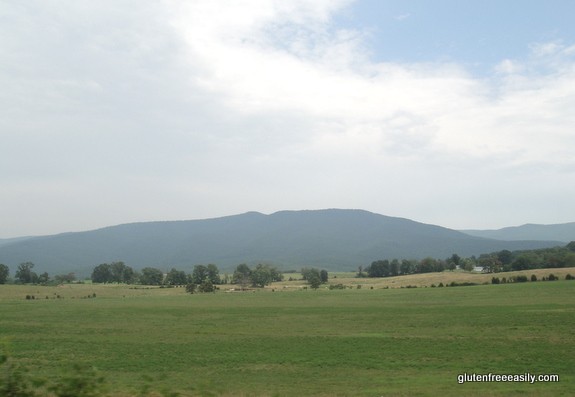 So I started planning the menu, other than the appetizer. I knew Son would take care of that. He loves to catch crawdads … and we love to eat them. This trip was no different.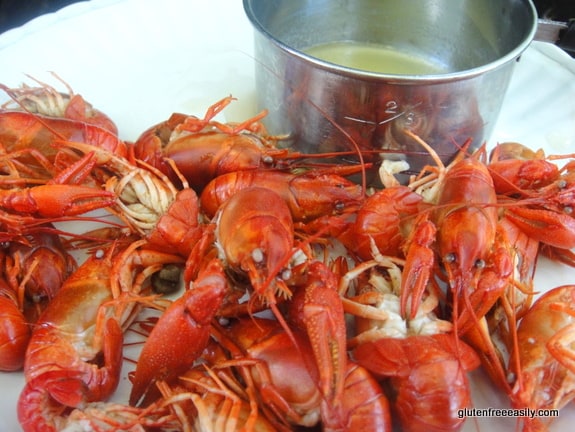 I thought about the cookies I'd need to bake. Last time, Son and four of his friends had gone through 8 dozen cookies, and that was just in the first few hours. This time he was bringing only two friends but still, a mom has to be prepared.
So I made a batch of Brown Sugar Chocolate Chip Cookies and Flourless Peanut Butter Cookies—about 6 dozen cookies in all.
Next up was side dish and entrée planning. Side dishes first, because they are easy. There would be steamed artichokes (one of our favorites—especially for camping) and potatoes baked in the coals.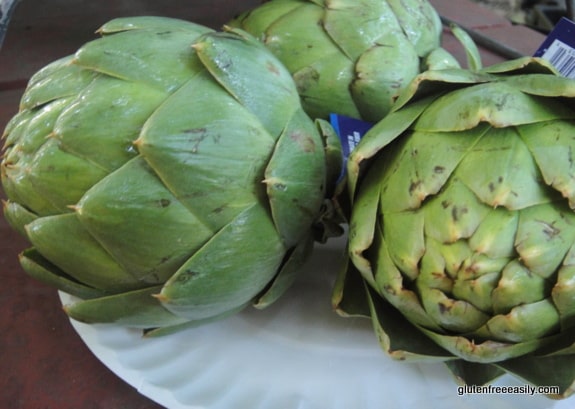 Now for the entrée or entrees. I had just received some New Planet gluten-free beer to review, so I decided that at least some of that would be used to make beer can chicken. Yes, gluten-free beer can chicken. Or as Mr. GFE says, more correctly, it's gluten-free beer-in-a-can chicken because the gluten-free beer didn't actually come in a can.
I don't know any brand of gluten-free beer that does actually (please correct me if I'm wrong), but that's not a problem. (Update: There are several brands of gluten-free beer that come in a can now, including New Planet. I no longer use or recommend New Planet beer. They use oats in their beer today. They identify them as gluten-free oats but there's no indication that they use certified gluten-free purity protocol oats and that's not even a guarantee of true gluten-free status today.)
One can just recycle any type of standard, 12-ounce beverage can by washing it out and adding gluten-free beer. And, that's what I did. I snagged Son's soda can, washed it, filled it halfway with beer, and we were in business.
I proceeded to prepare and roast the chicken using a combination of several ideas I'd read online. I washed it, oiled it, applied a rub (using the blackened seasoning adapted from Ashlie (Edible Existence; sadly, this site is no longer operating) that I first used on my Blackened Black Bean Burgers and later on grilled catfish), inserted the gluten-free beer in a can in its cavity, and roasted the chicken for a little over an hour.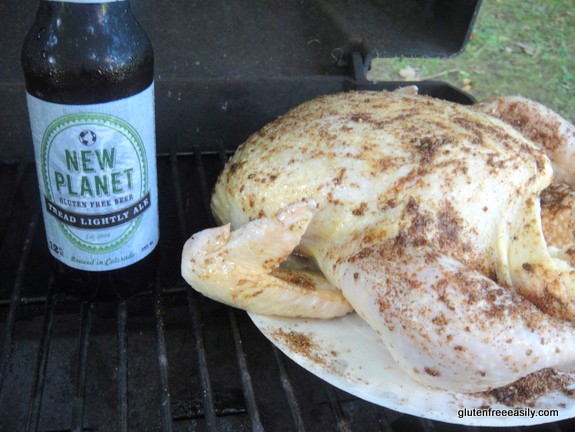 See step-by-step directions below, but this chicken was so easy to roast and the results were surprisingly delicious. Although I'd never had beer can chicken before going gluten free, it really is as super moist and flavorful as is reported.
Note that the final product doesn't really taste like beer in any way—at least not per our experience. (If you don't drink beer, you can certainly use another beverage, like ginger ale for the steaming/moisturizing effect.) There's very little fat left after roasting as the fat drains away as the chicken roasts. (The following photos were taken after dark and required either flashlight assistance from Mr. GFE or the forbidden flash. You can see my plump bird took a tumble towards the end.)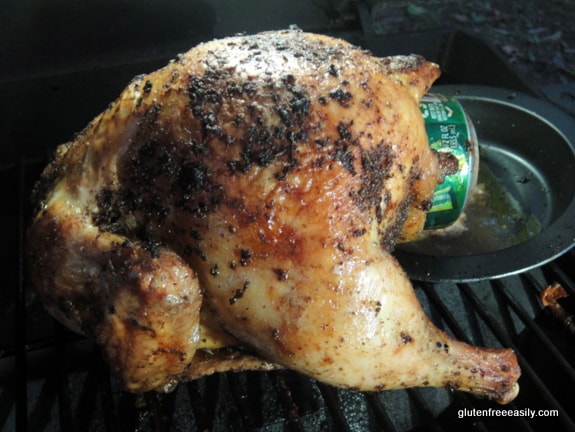 Beer Can Chicken is definitely going on our meal rotation. For camping, we'll only make it when we have a larger group because one chicken goes a long way and cooler space is always a concern, but at home, I anticipate roasting one, saving some leftovers, and freezing a good portion for a later meal.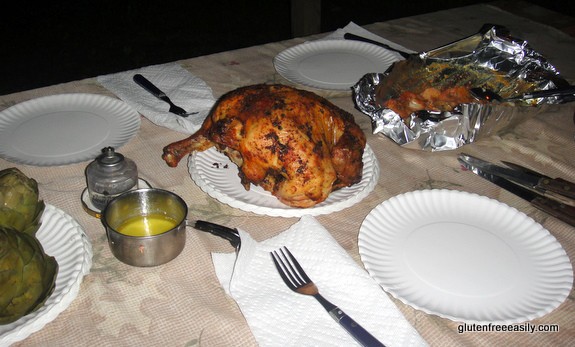 We ate some of the leftover chicken once we returned home, I used some to make chicken salad, and a very meaty carcass went into the freezer for a future soup (e.g., Black-Eyed Pea with Ham and Chicken) or Chicken Pot Pie. With our current heat wave (understatement!), any winning grill recipe is extremely welcome right now.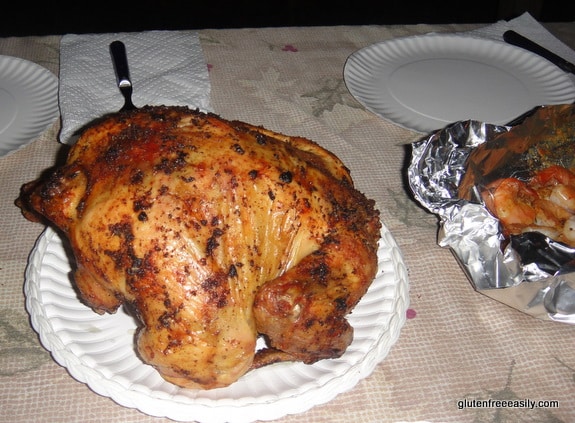 As you can see from the photos, we also enjoyed some Oven-Steamed Shrimp. So we had a great "surf and turf" meal.
It was the first time eating artichokes for one of Son's friends. It's always fun to introduce new folks to the joys of artichokes. Both Son and his other friend were very encouraging, but I think the friend who was new to artichokes was still unsure even after a few bites. If you don't grow up eating them, artichokes can take some time to "grow on" you.
I'd thought about making a batch of Crab Claws (ultimate summer cocktail) for the cooler … it was my birthday after all, and these young men (of drinking age) certainly enjoy libations. Plus, there would be no driving. But, I'd never gotten around to purchasing all the ingredients.
In the end, it turned out to be a good thing that I hadn't partaken of any spirits. One of Son's friends had an allergic reaction that had started once he arrived on his motorcycle and I ended up driving us all to the emergency room. Thankfully, Son's friend was okay after he was treated!
To show you how quiet the area is where our property is located, there was not another soul waiting in the emergency room when we arrived and our entire round trip, including the visit, took all of 40 minutes.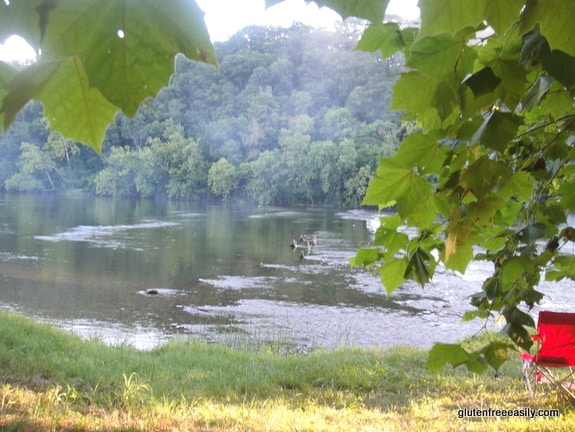 The weekend weather was hot, but it was still sunny and fairly clear (it's always less humid in the mountains) as you can see from the photos. (Any haze is actually smoke from our campfire.) Of course, the high temps were perfect for swimming and relaxing.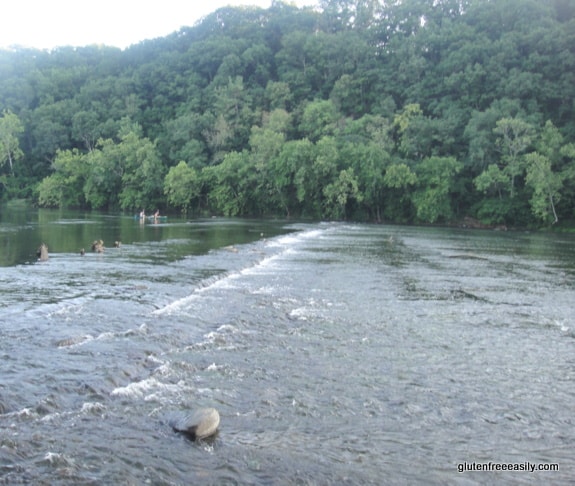 We still had our fire and the temperature dropped enough at night that we slept under blankets.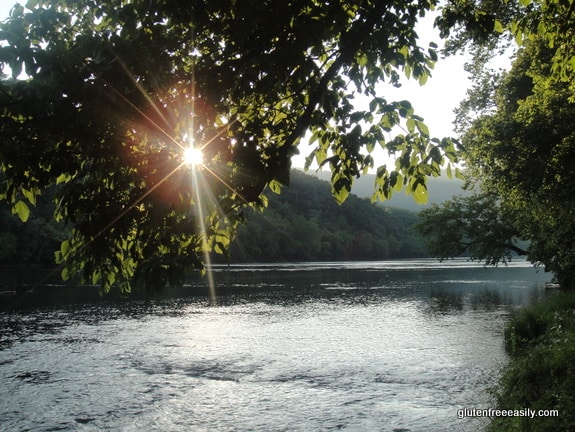 Son and friends used most of the cookies that remained after dinner to make some gluten-free Cookie S'mores using the ginormous Campfire marshmallows that are now on the market.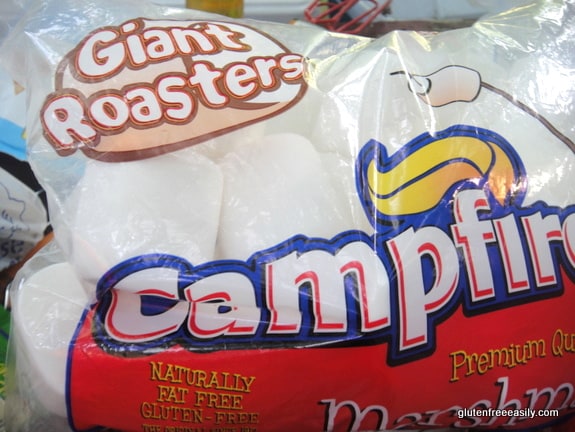 Have you seen them? Notice that they say "gluten-free" right on the bag! Hold your fingers apart like Son is doing in the photo below and you'll see how big these marshmallows really are. Wow, huh?
Of course, homemade marshmallows are healthier. I haven't made any yet, but Zoe (Z's Cup of Tea) has. (Check out her homemade version here and here using two different sweeteners. No artificial dyes or corn syrup to worry about with Zoe's gorgeous marshmallows.)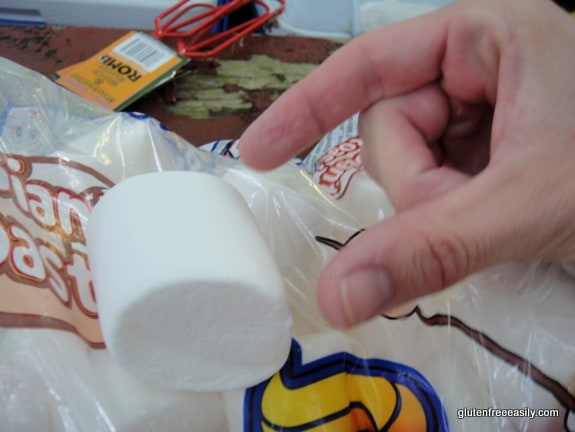 Other meals included lunch with the easy classic of grilled hot dogs with chips on the side and fend-for-your-own breakfast. Oh, and while none of the guys were willing to go so far as to sing Happy Birthday to me, I did receive lots of birthday wishes and even hugs. So this Mom was very much a happy camper!
Okay, I better let you go so you can see if you have a roasting chicken in the freezer and some gluten-free beer in the refrigerator. Hopefully, this delicious Gluten-Free Beer Can Chicken will be on the menu for you!
Gluten-Free Beer Can Chicken Recipe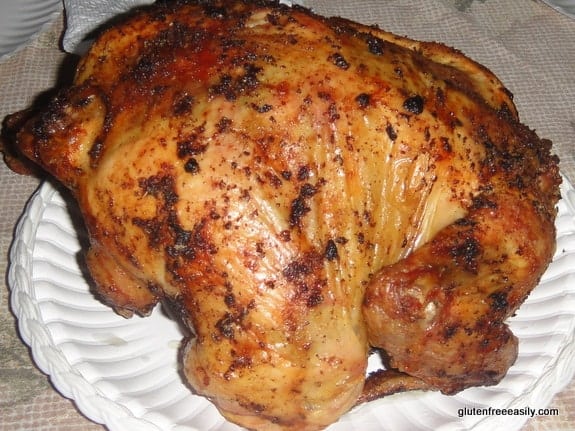 Yield:
Gluten-Free Beer Can Chicken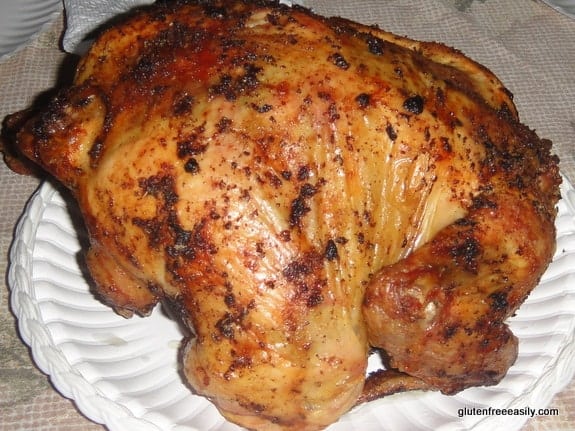 Ingredients
one roasting chicken, any size
couple of tbsp of olive oil
couple of tbsp of blackened seasoning rub (recipe here)
one potato or onion (optional; see notes)
6 – 8 ounces of gluten-free beer
1 empty soda can
Instructions
Turn grill on high on the opposite side of where you will place your chicken. The chicken requires indirect heat for roasting. With the grill lid closed, this method equates to a 350-degree (F) oven.
Wash chicken. Pat dry.
Spread some olive oil over the entire surface of the chicken and rub with blackened seasoning.
See notes below for using beer can chicken apparatus if desired, but otherwise, pour gluten-free beer into can opening until halfway or 2/3 full. Keeping chicken upright, insert can into chicken's cavity. Place all upright on grill. Close lid.
Roast for at least an hour, longer if your chicken is larger. Our chicken weighed 5 ½ lbs and roasted for about an hour and 15 minutes.
SUPER CAUTION WARNING: Very carefully, remove can from chicken. There will still be beer in the can and it will be boiling (or close to it). Immediately pour beer out of can in a safe disposal area and remove empty can to where nobody can reach it (you don't want someone to accidentally pick it up). I crunched ours and added it to our recyclable bin of cans, all while wearing heavy oven mitts.
Serve and enjoy.
Notes
If you're a fussy type, you can buy a beer can chicken apparatus like this one. I didn't have one, but I did use the base of my chicken roaster pan (basically a large metal saucer) to set the can in and position my chicken over. My top-heavy chicken did turn over half way through cooking, but it didn't make any difference. It still roasted perfectly and looked great. But, again, if you're the fussy type, you might want one of the beer can chicken holders. I've made a big batch of the blackened seasoning rub and keep it in our camping food box. It's great for grilled catfish, zippy burgers, and more. Some folks like to insert a whole potato or onion in the neck of the chicken. The latter provides a strong onion flavor, I'm told. Either the potato or the onion can be eaten with the roasted chicken when all is finished cooking. I didn't do that and I think it would have made my chicken even more top heavy, but it is an option. Last, be sure to follow the caution note above when removing the can from the chicken after roasting. Update: Be sure to read all of Nance's great variations in comments below!
Originally published July 25, 2010; updated July 2, 2023.