For affiliate links and as an Amazon Associate I earn from qualifying purchases.
Crème Brulee Ice Cream. Oh my, just look at it!
Well, let me back up a minute. I admit it … I was going to cheat a bit on my entry for this month's Go Ahead Honey, It's Gluten Free!
If you're not familiar, Go Ahead Honey! is the longstanding gluten-free blog carnival invented by sweet and creative, Naomi Devlin, over at Straight Into Bed Cakefree and Dried. Each month, the carnival is hosted by a different blogger, who chooses the theme. (I had the honor of hosting last summer with the theme, Make Me A Happy Camper.)
This month's theme is Ooh, La, La, Bastille Day!—which, of course, means the entries should be recipes for French food. How was I going to cheat with my entry? Well, I made a sort of French dish the other night, but I didn't have to go across the pond for it. It was Catfish Etouffee, a French Cajun dish that turned out very well.
But I'll have to share it another time because it was actually after making the etouffee that true inspiration hit. Suddenly I knew what I really wanted to make—crème brulee. After all, it's my favorite dessert and it's a classic French recipe … Julia Child and all that.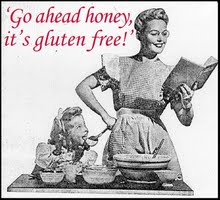 I realized that the thoughts of making crème brulee have been forming in my brain for quite some time. It started subconsciously when I first tasted coconut sugar.
I was so surprised by its caramel/butterscotch flavor and its slightly crunchy texture. I fell in love with my first bite, and that was before I discovered the depth of flavor it can add to desserts. So coconut sugar and its application to crème brulee were bound to reach my conscious state eventually.
To be clear, I didn't actually want to make crème brulee itself. The amazing dessert that comes in lovely little ramekins. (It's the dessert that can determine if a restaurant is a good one or a great one in my book.)
No, I didn't want that crème brulee. I wanted crème brulee ice cream—with that rich, creamy, caramelized brown sugar taste—and I wanted to make it without eggs.
Frankly, I just don't have the patience for ice cream recipes where you have to cook the ingredients, temper the eggs, and usually chill the results for several hours or overnight. (It's that whole "easily" thing, you know?) And, there are always my egg-free gfe readers to consider as well.
I knew I'd add full-fat coconut milk and vanilla extract, in addition to the coconut sugar. Then I decided to add half of a vanilla bean as I had one on hand. But, I knew I needed more thickness and lusciousness to turn the ingredients into creme brulee ice cream.
After I thought about the possibilities, the answer was clear … and easy, too. Condensed milk. One can readily purchase condensed milk or make one's own—even a dairy-free version. (See notes in recipe.)
I cheated and picked up a can of condensed milk at the little, family-owned store I frequent. So personally, I didn't make this particular recipe dairy free but it can easily be made dairy free by subbing in dairy-free sweetened condensed milk. (This brand is my current favorite.)
I started measuring, mixing, caramelizing, and after about a half hour, the ice cream was finished. It was glorious. Yes, glorious. Or, c'est magnifique! And, somehow, I just knew it would be.
With the beater dripping ice cream into a large bowl and a big spoon in hand, I headed to our bedroom where Mr. GFE was relaxing. He eyed me suspiciously, as he looked up from the movie he was watching.
Me (offering a big spoonful of ice cream): Taste.

Mr. GFE (scowling, looking first at me and the large bowl, and then back at the television screen): Is that French?

Me (momentarily confused and then looking at the screen, on which "Entre Acte" was displayed): Yes, it can sort of mean intermission … between acts. Taste.

Mr. GFE: What is it?

Me (impatiently): Just taste, please. It's crème brulee ice cream; I need your opinion.

Mr. GFE (no longer frowning, eyes bright): Uhhmmm. Is that French?

Me: Yes, crème brulee is French.

Mr. GFE: No, on the tv.

Me (looking at the television again and frowning upon seeing "Entre Acte" still displayed): Yes, I just told you that. It basically means intermission.

Mr. GFE (shrugs): Sorry. I got distracted by the ice cream. What is it again?

Me (somewhat patiently): The words on the screen or the ice cream?

Mr. GFE: The ice cream.

Me (as I am exiting the room): Crème brulee. Do you like it?

Mr. GFE did not answer. Instead, he followed me into the kitchen and grabbed a spoon to dig into the beater bowl of ice cream himself.

Mr. GFE (emphatically): That's not ice cream. That's custard.

Me: It's really good, isn't it?

Mr. GFE with his mouth full, nods.

Me: Well, yes, it does taste like frozen custard, but custard is made with eggs and this has no eggs.

(Have you noticed that we discuss semantics a lot in our house? Food semantics, to be specific. Cake or bread—here and here? Pizza or casserole?)

Mr. GFE (still eating, I'm very liberal with the amount that stays on the beater and ends up in the tasting bowl): Now, how are you going to show people how good this is?

Me: With my photos, of course.

Mr. GFE (shaking his head): You can't show them how good this is … you just can't. They have to taste it. Where did you get the recipe?

Me (smiling): I made it up.

Mr. GFE (eating another giant spoonful, doubtfully): You made this up? Really?

Me (smiling even wider): Yep. Pretty good stuff, huh?

Mr. GFE (still eating, nodding): Yeah. Pretty good.

Me: What movie is that you're watching? (I knew it wasn't a high-brow French art film or anything similar, so I was curious.)

Mr. GFE: How the West Was Won

Me (my turn to be doubtful): Really? Why would How the West Was Won have displays in French?

Mr. GFE (shrugs, eats the last bite of ice cream in the bowl): I don't know.
Enough of our bantering and "Who's on First?" routines that go on pretty much non-stop in the gfe household. You'll want to make this recipe, but it is not one to make when you're home alone. Consider yourself forewarned.
I had to take half of it to work today, as a way to impose some self-discipline. Because as much as Mr. GFE loves it, he's also the type to decline when I offer it to him the next night and come back a week later and ask, "May I have some more of that great ice cream?" Yeah, like it's still going to be around a week later.
Clearly, we have different genes … and jeans. He's wearing the same size jeans (34 x 34) that he wore when we met so many years ago.
After we got married and he was no longer eating bachelor cooking, he was on his way to gaining 20 pounds. He was going to have to move, uh, "up" to the next size of jeans.
He refused to do it. So he stopped eating third and fourth helpings (yes, you read that correctly), and soon his jeans were fitting perfectly well again.
Sigh. Now, do you know why I say my marriage is a love-hate relationship? 😉
Oh, and what did my friends at work think of this ice cream? Well, only two got to try it. Here's what they said.
Sherry (expression of incredulity): Ooohhh! That is so good. What's in it? It's so creamy. I could eat that whole container.
Then when she ate some more later, she emailed me: All I can say is CREAMY DELISH GOODNESS !!! I'm glad this is all you brought in cuz I could eat 10 gallons of it !!!! AWSUM delicious I tell you!
Tavie: It's really good. I think it tastes like toasted coconut, but I don't eat crème brulee often, so I'm not a good one to say about the crème brulee flavor.
They both said they tasted the coconut flavor. Neither I nor Mr. GFE taste any coconut flavor, but maybe that's because we're used to coconut milk as a non-dairy milk substitute.
Here's the recipe below, plus some other recipes for ice cream deliciousness! One final note for this Crème Brulee Ice Cream … I'd recommend only spooning a few bites' worth (un petite peu, if you will) into a bowl.
See the amount in my grandmother's creamer in the top photo. (I love using non-traditional, sentimental dishes for small bowls of treats.) That amount is almost too much, but once you've spooned it into your serving dish, you will eat it. You just won't be able to help yourself.
I don't know if you'll agree that it tastes like crème brulee, but I'm pretty sure you'll find this ice cream to be tres bonne!
Other gfe Ice Cream Recipes That You Might Enjoy
~ Chocolate POMerdoodle Ice Cream
~ Honey Cinnamon Grand Marnier Ice Cream
~ Surprise Mint Chocolate Chip Ice Cream
~ Maple-Nut Sundae (with Vanilla Ice Cream)
Creme Brulee Ice Cream Recipe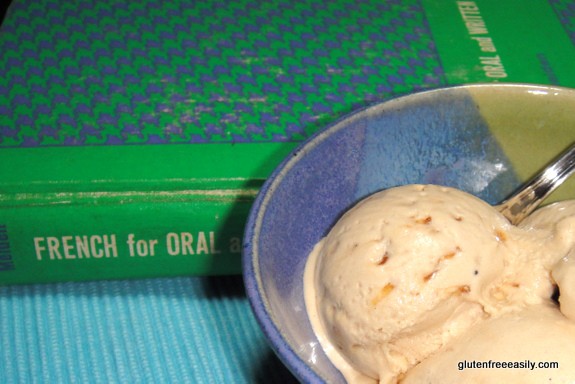 Yield: 1 1/2 quarts
Creme Brulee Ice Cream (with Dairy-Free Option)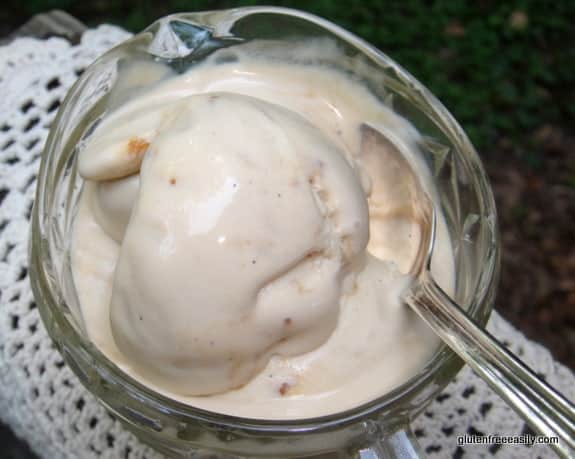 Homemade Crème Brulee Ice Cream recipe. An incredibly luscious and delightful dessert. Move over Ben & Jerry! 

Prep Time 10 minutes

Cook Time 30 minutes

Total Time 40 minutes
Ingredients
"Base" Ice Cream Ingredients
just under 2 ¼ cups full-fat coconut milk, chilled
1 can sweetened condensed milk (see notes for homemade versions---including dairy-free options---and ready-made dairy-free brands here] and [here).
1 cup coconut palm sugar
1 tsp vanilla extract
scrapings from half of a vanilla bean
Ingredients for Brulee Sugar for Swirling In Ice Cream
1 – 2 tbsp oil (coconut or grapeseed oil)
3 tbsp coconut sugar
1 tbsp coconut "cream"
Instructions
Mix ice cream ingredients in a large bowl with a hand mixer. Pour into frozen ice cream tub. Churn 25 to 30 minutes. As soon as ice cream starts churning, start making brulee sugar as shown below. (It doesn't take long to make, but you will want to chill it as directed, which does take several minutes.)
Brulee Sugar Instructions
In a small skillet, heat oil on medium heat until warm.
Add coconut sugar. Stir constantly for a few minutes until coconut sugar is a little crunchy.
Stir in about a tablespoon of the coconut cream (the thick "cream" at the top of the can after refrigerating for a long period of time) or a little less of some full-fat coconut milk, as a binder. Stir.
Place skillet in freezer until 5 minutes before the ice cream will be finished churning. Remove skillet and break up brulee sugar, if necessary, with wooden spoon. While ice cream is still churning, using wooden spoon, knock brulee sugar pieces into ice cream maker, a little at a time. Wait until each piece "disappears" before you add the next one, so you'll have brulee sugar "deposits" spread throughout your ice cream.
Transfer ice cream to a freezer container and freeze a bit longer if needed. Enjoy!
Notes
When making the brulee sugar, I recommend only using grapeseed oil (which is flavorless) or coconut oil, as a second choice. Other oils may be too strong and negatively impact the crème brulee flavor.

After scraping vanilla bean, don't discard it. You can add it to a container of granulated sugar to make vanilla sugar, add it to hot chocolate, add it to your homemade bottle of vanilla extract, etc. (The latter is what I did. My homemade vanilla extract that I made last year for Christmas is getting low. Soon, I'll be adding even more vanilla beans and vodka to the bottle.)

There are quite a few options for homemade sweetened condensed milk. Here are a few recipes: Unconventional Baker; And Love It, Too!; Go Dairy Free; and Adventures of a Gluten-Free Mom. There are also some brands of dairy-free sweetened condensed milk---here and here---that work well. If using non-dairy condensed milk, this recipe will also be vegan. Personally, I'd use full-fat coconut milk when making my own dairy-free condensed milk.

Originally published July 27, 2010; updated July 26, 2021.