For affiliate links and as an Amazon Associate I earn from qualifying purchases.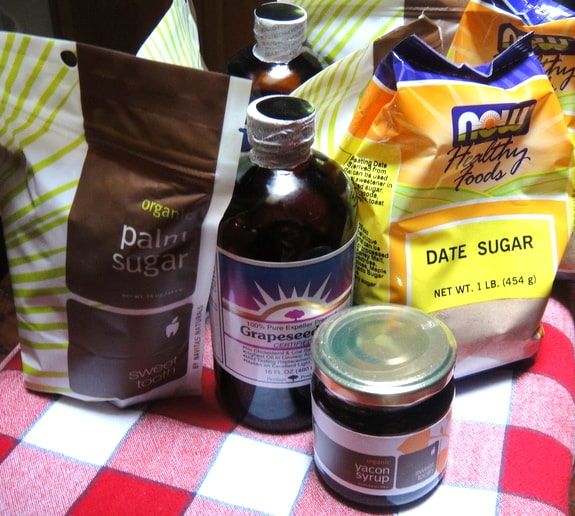 This post is linked to Gluten-Free Wednesdays.
Update: This giveaway is now closed. Congratulations to the winner, Valerie, who blogs gluten free, dairy free, egg free, and usually vegan over at City Life Eats! Thanks to all who entered the giveaway. I enjoyed reading your wish lists and comments. Another gfe birthday celebration giveaway is up here.
I'm a lucky girl … in so many ways. In my Cavemen Cookies review, I mentioned that I'd first sampled the product after winning a giveaway at Gluten Free Food Rocks. I've won several other giveaways, too. But, honestly, it's not that I'm extraordinarily lucky in giveaways, it's just that someone has to win and sometimes the odds are simply in one's favor. If you take the time to enter (usually leaving a comment is sufficient for an entry), you will win giveaways. There's no doubt that giveaways are controversial in the blogging world and while I won't wade too deep into that discussion, I'll just say that as a reader I find them to be a great way to try out new products or obtain valuable services. As a blogger who hosts occasional giveaways, my intention is to offer you the same opportunity. Of course, the giveaways that I've entered and offered have been for gfe products and services. So I was thrilled when I won a $50 shopping spree to iHerb over at Simply Sugar & Gluten-Free where my good friend, Amy, "resides."  iHerb features so many real food, real ingredient products. I had so much fun deciding what I'd get with my $50. My order included chia seed, hemp seed, brown rice flour, millet flour, raw cacao powder, and two bags of flax seed meal. I even received a free bottle of D3 supplements. And, guess what … there's still some left of most of these products. (Don't worry … the food products are staying fresh in my refrigerator.)
Now as a new iHerb affiliate, I get to offer a $50 shopping spree here at gfe! (Note: This giveaway is only open to U.S. residents.) I decided to become an affiliate because iHerb has so many products I believe in. Plus, I admire the company. For one thing, their service is top notch. If you order before 1:00 pm, your order goes out that very same day, and arrives in just a few days. And, if you are in the U.S. and your order is $40 or over, there's no shipping charge. I'd rather not pay shipping, so that's important to me. iHerb offers many quality products, including organic and natural choices. Full disclaimer: As an affiliate, I do get a small percentage of sales (very small, which incidentally does not increase the price of your order; affiliate sales never do). But, it's still nice when you can recommend a company that you'd recommend to a friend any time. I've recommended iHerb to my support group members ever since I tried its products (long before this affiliation), and the members who have ordered have been very pleased. I also like that you can take $5 off your first order when you use a valid affiliate coupon code. Just enter my coupon code, LUT179, when placing your order.
As a new affiliate and a blogger offering a $50 shopping spree, I was offered a $50 spree myself. I keep a running list of specialty items I can't find at my own basic grocery store, so filling my virtual shopping cart was not hard. This time there was grapeseed oil, which I've come to appreciate for its health benefits, flavorless taste, and high heating point, plus palm sugar (also known as coconut sugar, or coconut sap, which Kelly discussed here), date sugar, and yacon syrup.
As I shared in my 30 Days to My Own Food Revolution post, I'm trying to eat dairy free (with one exception so far-—more in a minute) and refined sugar free. The grapeseed oil helps with the dairy-free commitment. Instead of using butter in baking or frying, a little grapeseed oil can be used. Elana (Elana's Pantry) uses grapeseed oil in a lot of her baking, including her now famous gluten-free, dairy-free chocolate chip cookies, which so many of us inhaled (as demurely as possible!) at BlogHer Food '09. If you want your oil or shortening to add flavor, grapeseed oil may not be the best choice, but my doctor recommends three types of fat/oil for baking and cooking: organic butter, coconut oil, and grapeseed oil. Yes, she recommends living gluten free, dairy free, and refined sugar free, but she believes organic butter is part of a healthy diet unless one is completely dairy/casein intolerant. (So, I admit that I've still been eating some organic butter and some European butter.)
As far as the non-refined sugars, I've already baked with the palm sugar several times. I used palm sugar to make Cherry Upside-Down Cake and another version of that same cake, using both cherries and blueberries. I even made a version of my Brown Sugar Chocolate Chip Cookies using a combination of palm sugar and dark brown sugar, instead of granulated sugar and brown sugar, and the cookies were better than ever. I really don't know why I waited so long to try palm sugar … I'm thrilled with this product! Palm sugar has a caramel flavor and sort of a ground coffee texture. I really like it. A lot. I'm not sure it can be used in all of my sweetening applications, but I'm going to give it a try as often as possible. Incidentally, the terms palm sugar and coconut sugar, and even palm coconut sugar are often used interchangeably. But, there are differences, as is explained here. For my eating and baking purposes, I'm not sure that the difference matters. The main thing is that I'm eating a non-refined, lower glycemic sugar (I feel better if I use lower glycemic), which provides a final product that tastes good. Finally, an FYI, technically, palm or coconut sugars are saps. Kelly shared that information in this post over at The Spunky Coconut. Be sure to see what she has to say because she also shares the "green" benefits of eating coconut sugar, as well as other nutritional benefits.
As far as the rest of my recent order, I haven't tried the date sugar or the yacon syrup yet, but I'll report back when I do.
Those are just a few examples of the products that iHerb offers. You may enter the giveaway following the guidelines below. Please remember that this giveaway is only open to U.S. residents, and note that the first requirement listed below is a strict one. You must be registered on iHerb's sit to participate in this giveaway. That's not a bad thing though; iHerb will not fill your In Box with unsolicited emails like many companies do. Oh, and the giveaway will end next Tuesday, July 20, at midnight, EST.
1. Register at iHerb website (required).
2. Leave a comment telling me what you are interested in ordering from iHerb. Are you like me? Do you have a "wish" list at the ready?
3. Subscribe to my feed either via RSS or e-mail, and leave a comment.
4. "Like" my Facebook page and leave a comment.
3. Follow me on Twitter and leave a comment.
5.  Tweet about the giveaway, and leave a comment saying that you did.
7. Post a message on your Facebook page about the giveaway, and leave a comment saying that you did.
8. Post about the giveaway on your blog and leave a comment saying that you did, with your link.
9. Follow iHerb on Twitter (iHerb has great, informative tweets!), and leave a comment.
Hey, you may just get a chance to go on your own $50 shopping spree. A shopping spree that involves food, but is online and free—now that's definitely one of my favorite ways to shop! I'll be celebrating my upcoming birthday all week long (at least!) so look for more giveaways, information posts, and, of course, recipes. 🙂 For those who want to conceive and/or have had gynecological/obstetric issues, you may want to check out this post on the gluten connection and enter to win a scholarship to Donielle Baker's Fertility E-Course.  
Shirley
Not just gf, but gfe!