For affiliate links and as an Amazon Associate I earn from qualifying purchases.
So I mentioned the other day that I'd be posting a trifecta review and giveaway some time this weekend. Well, the weekend passed a few days ago … sigh. Can you say birthday? I played and celebrated longer than I expected and it's been great. Plus, I can't tell you how much I appreciate all of your birthday wishes! But, let's get to these gfe-style giveaways now, shall we? Oh, and there are muffins … Banana Chocolate Chip Muffins! (UPDATE: This giveaway is now closed.)
The Gluten-Free Diner Cookbook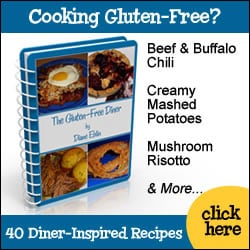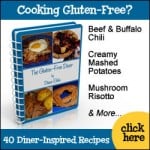 My good friend, Diane Eblin, over at The W.H.O.L.E. Gang recently published her first e-book, The Gluten-Free Diner Cookbook (unfortunately this cookbook is no longer available).  If you follow Diane's blog, including her ongoing 30 Days to a Food Revolution event, you know she believes in eating real food and "making good food no matter what"—her trademarked motto. (She shared her personal story here at gfe earlier.) Creating a diner cookbook was a plan that Diane mentioned to me months ago, so I was so excited to see her e-book published several weeks ago. She kept watching the Food Network's "Diners, Drive-Ins and Dives" with host Guy Fieri and decided there needed to be a solution for all the folks who needed to eat gluten free (and dairy free). Her Gluten-Free Diner Cookbook was born.
The recipes will delight everyone, not just those with food restrictions. For example, take the Boeuf Bourguignon Burger that I made the other night. The burgers included come grated carrots, garlic, and onions, with ground bay leaf and other seasonings. Doesn't that already sound like a really good burger?  Well, while the burgers were cooking, I made the sauce as Diane directed. The sauce perfectly completes the boeuf bourguignon effect with its bacon, mushrooms, beef stock, red wine, tomato paste, and thickener.  And, the moment the sauce actually becomes sauce, well you'll want to bathe in it! I'm not kidding. It's easy to make, but yet a knockout with its rich flavoring, intoxicating smell (red wine does that every time!), and thick, mahogany appearance. Mr. GFE was as pleased as I was and he can't even say boeuf bourguignon. Lucky for you, this recipe is also on Diane's blog. You can check it out here.
I made a few minor changes, adding some tapioca flour versus arrowroot to the burger and using cornstarch with cold water for the sauce. I also used ground venison, which is what we almost always use in place of beef. (It's equivalent to lean ground beef in its low fat profile and is very similar to organic meat in many respects.) I had no tomato paste on hand, but had a tiny bit of chili sauce, so I used that. I think it's a very adaptable recipe that won't disappoint. (The photo below shows two Boeuf Bourguignon Burgers.)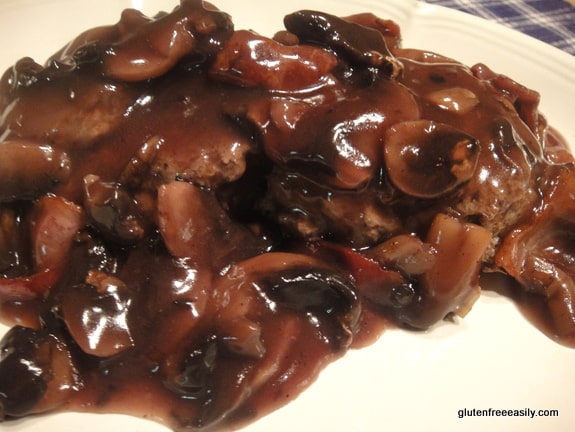 I made one other recipe of Diane's from her cookbook, Bacon-Wrapped Avocado. This recipe is pure decadence. It would make a great appetizer for serving with cocktails. You cut the avocado into eight slices and wrap each with a piece of bacon and then fry just like that. This appetizer was so amazing and filling that I could only eat half of one of the slices—one of those morsels in the forefront of the photo. Since Mr. GFE is not an avocado fan, I only prepared three slices. Then I ate them over the next two days. They were just as good cold as they were hot in my opinion.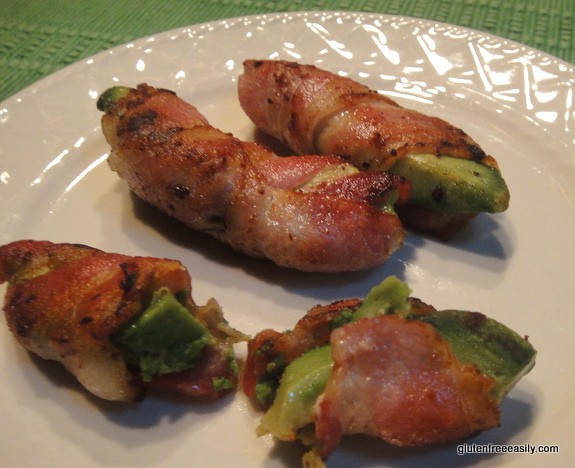 Diane's e-book contains 48 recipes. Every single one looks and sounds delicious.  The next one on my "to make" list is Roasted Tomato and Basil Soup. I had all the ingredients, but ran out of time to make it before our weekend outing. Now, for the really good part … I'm giving away a copy of Diane's e-book to two gfe readers!
7 Quick Start Tips for a Gluten-Free Fit Life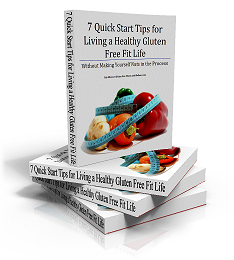 I mentioned Erin Elberson's new e-book, 7 Quick Start Tips for a Gluten-Free Fit Life recently. Do you know Erin? She's the author of the blog, Gluten-Free Fitness. We met on Twitter and haven't stopped talking since! We're either cheering each other, thanking each other, educating each other, or challenging each other's ideas. All that says good friend and great resource to me! But, Erin and her e-book can be a wonderful resource for you, too. She has impressive credentials: Master's degree in Physical Therapy and a Bachelor's in Health Science, as well as 100% completion of the National Foundation for Celiac Awareness GREAT testing (Gluten Free Resource, Awareness and Education Training) for Allied Health Professionals.
However, Erin has much more to offer than her education credentials. She is so personable and down to earth when she's sharing such great information on transitioning to eating gluten free and healthy, and staying fit. Erin covers celiac and gluten-free topics on her blog with knowledge and ease, so I was extremely honored when she asked me to do an early review of her e-book. I love the way I felt like she was talking directly to me when I read it. Truth be told, I wish I'd had her book when I first went gluten free. It's a workbook of sorts … with lists and tips. It even includes some recipes, or as Erin calls so many of them, "not really recipes." By that, she means dishes where you just use a concept and go from there, adapting as you like. For example, she shared my Special Turkey Breast recipe as "not really a recipe," and made it even better by using balsamic vinegar instead of apple cider vinegar and using some different seasonings. (You can see her recipe here.)
Erin's motto is "Eat well and be well." She has graciously donated a copy of 7 Quick Start Tips to one lucky gfe reader.
Sweet Freedom
Last, I'm also a fan of Ricki Heller's. Ricki blogs at RickiHeller.com (formerly Diet, Dessert, and Dogs. And, yes, her blog is as creative and fun as her name. Heck, I even like her own name. It's got spunk, and so does Ricki. She's been trying fervently for some time to get on The Ellen Show to share her e-book, Sweet Freedom. As the title states, it's a cookbook about living refined sugar free. But, Ricki's book and blog are about more than that. She also lives vegan. Ellen DeGeneres is also vegan and sugar free, so that's a large reason for Ricki campaigning to appear on Ellen. I think Ricki would be absolutely hysterical on Ellen and a promotion of healthy eating is always welcome.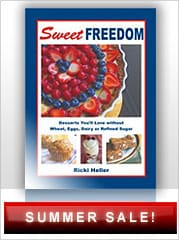 Now, big caveat … Sweet Freedom is not a gluten-free cookbook, although Ricki points out that about a third of the recipes are naturally gluten free (some not requiring flour at all) and two are designed to be gluten free—gluten-free brownies and coconut mini-loaves (or cupcakes). Ricki has been gluten free since she began following the anti-candida diet, but when writing Sweet Freedom, she was not.
Ricki used a lot of spelt and barley in these recipes. I've written about spelt before. Spelt is not safe for anyone who has celiac, gluten intolerance, gluten sensitivity, or even a wheat allergy. This is not just my personal opinion;  you can read more here. Many who eat spelt cite no reaction, but remember that lack of a recognizable reaction to a food or ingredients does not mean that a food is safe. One can actually have a reaction, but one that is different from a typical gluten reaction—different enough, in fact, that it is not recognized as such. Or, one can truly not have a visible reaction for a long time, but then develop a very serious illness. The fact is that spelt is a species of wheat. According to the Food Allergen Labeling and Consumer Protection Act of 2004, foods that contain spelt or kamut cannot carry "wheat-free" or "wheat-alternative" labels. Finally, my friend, Alison (Sure Foods Living), also tackled the spelt topic a while back.
But, all that said, Sweet Freedom is a cookbook that one can easily use for gluten-free recipes and one lucky reader will get the e-book version! Replacing the flour with gluten-free flours (and possibly adding xanthan gum, if needed) is an easy thing to do. That's what I did. When I found a recipe that sounded good, I made it by simply replacing the spelt flour with gluten-free flours. I scrolled through Ricki's entire ebook, but it was her first recipe that appealed to me most at the time—Banana Chocolate Chip Muffins.
These muffins, as I made them, are somewhat heartier with mostly millet and almond flours, but yet are still tender. I used honey instead of agave as that's what we always have the largest supply of at our house, and I like the taste of honey in recipes made with nut flours. With the banana and the honey, even a little nibble with no chocolate chips is sufficiently sweet. Of course, a full bite yields the wonderful melding of banana and chocolate.
Remember I told you that Ricki's recipes are vegan. So, there are no eggs in these delicious muffins, but who can tell? I couldn't, because the flax meal and water added to the recipe take the place of the eggs beautifully. I like these muffins far better than my usual banana muffin recipe. Son also gave them a big thumbs up. In fact, he grabbed two thirds of the batch as he was heading out the door to our mountain property for camping. The plan was to have them for breakfast the next morning, but honestly, I doubt that they lasted the night … or even the 2-hour trip to get there. They are that good!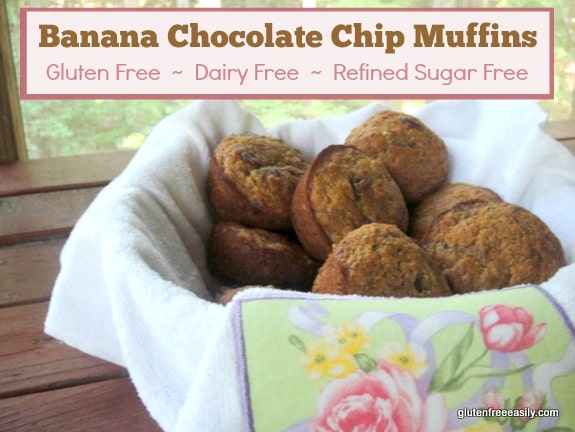 Banana Chocolate Chip Muffins Recipe
Yield:
Banana Chocolate Chip Muffins (Gluten Free, Dairy Free, Refined Sugar Free)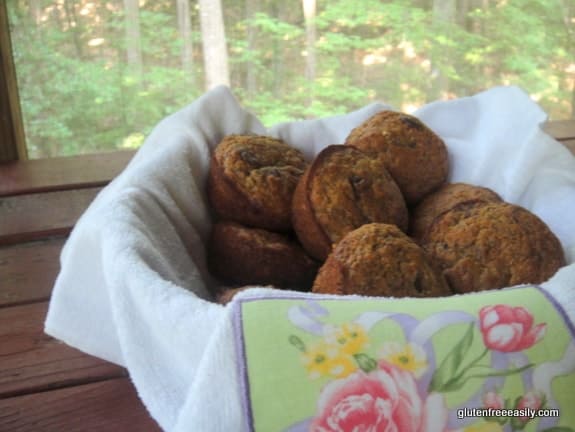 Adapted from Ricki Heller, Sweet Freedom
Ingredients
1 cup mashed, ripe banana (about three bananas)
1/3 cup honey (use another sweetener for vegan option; e.g., agave nectar)
1/4 cup grapeseed oil
2 tbsp ground flax seed
2 tbsp water
1 tsp vanilla extract
1/2 cup millet flour
1/2 cup almond flour
1/2 cup gluten-free flour mix
1 1/2 tsp baking powder
1/2 tsp baking soda
1/8 tsp sea salt
1/3 cup dairy-free chocolate chips
Instructions
Preheat oven to 350 degrees Fahrenheit. Grease muffin tin for 10 muffins.
In large bowl, mix bananas, honey, oil, ground flax seed, water, and vanilla extract. Let sit for 2 minutes.
Then add flours, baking powder, baking soda, and sea salt. Mix a bit (without overmixing). Stir in chocolate chips.
Fill muffin cups 2/3 to 3/4 full.
Bake 25 to 30 minutes. Test for doneness.