For affiliate links and as an Amazon Associate I earn from qualifying purchases.
Today it's all about this gluten-free Chocolate Zucchini Bread. Because it's that time of year when the zucchini vines overfloweth. We don't have a vegetable garden, but I'll gladly take a zucchini now and then. I've even purchased them from the grocery store occasionally, but somehow that just never feels right. You know what I mean?
There are just so many zucchini out there looking for love and a good home. Zucchini that need to be turned into recipes like today's gluten-free Chocolate Zucchini Bread and more.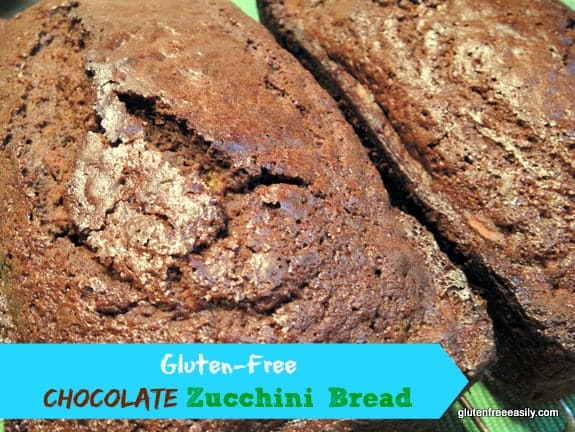 We had our support group meeting—a cookout/picnic type event—at the very "green" farm (green as in low impact to our Earth) of one of our member families this past Sunday. We were only a few feet from their impressive garden and their chickens roamed freely while we ate. It was a lovely gathering of gluten-free friends.
As the meeting was ending, I asked my friends who hosted the meeting, DeLaura and Steve, if they had any zucchini to spare. After a quick trip through their garden, Steve returned with three that were just the perfect size for tender goodness without lots of seeds—ideal for baking!
I'm a fan of both savory and sweet zucchini dishes. When making savory zucchini recipes, this Cheesy Chicken Zucchini Bake from last year is still one of my favorites. I'm trying out some "Squashcchini" (shown below) in this recipe this evening and, of course, keeping at least part of it dairy free.
That's what I was told it's called—a cross between yellow squash and zucchini—but found no mention of this name online. I'm told it's sweeter than typical zucchini. (Has anyone used it before? What do you call it?)
Typical zucchini also shines in stir fry dishes, and, it's always fun to make a veggie lasagna using zucchini. But when it comes to a sweet zucchini recipe, this gluten-free Chocolate Zucchini Bread is my favorite.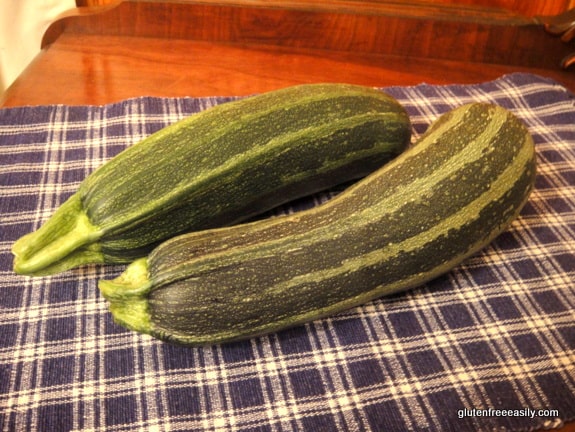 Long before I was married, a friend passed on her Classic Zucchini Bread recipe (which I later adapted to be gluten free—recipe here). It was delicious—a moist bread with lots of cinnamon that one could enjoy on its own, with a cup of tea, or as a dessert.
However, somewhere along the way, this Chocolate Zucchini Bread recipe made its way to me and it trumped the other recipe without question, not because there was anything wrong with the original recipe at all. But, well, chocolate.
Game over. So the original, classic recipe got filed and pushed to the back of the recipe box.
After I happily toted my gift zucchini home the other day, I almost went into a panic when I couldn't find the recipe for the Chocolate Zucchini Bread. I went through my recipe box (coming across the classic recipe in my search under "Breads"). I went through several cookbooks (even though I didn't remember it coming from a cookbook).
I hurriedly flipped through "my pile" of recipes (printed out from the computer, pulled from magazines, etc.). I knew it wasn't in the pile, but I still had to look. (Have you done that?)
Finally, the next day I found the Chocolate Zucchini Bread recipe, in plain sight—just not where I was looking. It was behind the Cakes tab in my recipe box.
Ahhh, the recurring question—is it bread? or, is it cake? When I discussed this same issue regarding my Molasses Banana Bread recipe, most gfe readers said the label didn't matter as long as the end result was good. The same holds true for this recipe.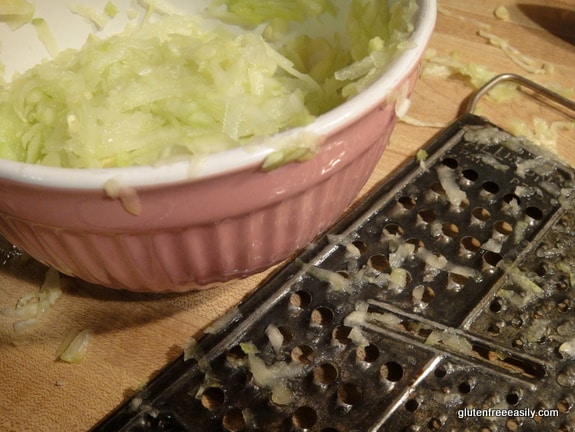 I want to make a couple of points regarding this recipe and adapting recipes in general. First, when I did find this chocolate version, out of curiosity, I compared the ingredients to that in the non-chocolate recipe.
The only differences were the fact that ½ cup of the flour had been replaced with cocoa powder and less cinnamon was used in the chocolate version. It surprised me that the two recipes were so similar, but there's a lesson there. If you have have already a favorite zucchini bread recipe that you'd like to turn into a chocolate rendition, just make that change.
The same guidance will also probably work for other baked goods, like cookies, cookie crumb crusts, and the like (although amounts may vary according to total amount of flour used; keep it proportional). If you don't eat chocolate and have been looking for a good zucchini bread, just use 3 cups of flour mix, skip the cocoa, and add 2 more teaspoons of cinnamon. (See the complete Classic Zucchini Bread recipe.) The original bread is still very, very good.
Next, this is a recipe that previously contained gluten. I simple replaced the all-purpose flour with a gluten-free flour mix and added some xanthan gum for binding. I often skip xanthan gum in recipes, but I prefer adding it in this one.
When figuring out how much xanthan gum to add to a recipe, I usually add ½ tsp per cup of flour used. At ½ tsp per cup of flour, that would mean 1 tsp of xanthan gum. But, I used 1 ½ teaspoons. Why?
Remember the cocoa powder had replaced part of the flour amount, so I added another ½ tsp for that as well, with the final amount of xanthan gum being 1 ½ teaspoons. (FYI—I've read that a higher proportion of xanthan gum is needed when making yeast breads, but I have no experience in that area.)
If you want to attempt to convert one of your old recipes to gluten free, make these changes and see how it goes. (Note: The only recipes that I've not been able to "convert" using this method are recipes for waffles and pancakes. I've made successful versions of both, but they usually require different measurements and different flours and flour mixes. Buckwheat flour is the easiest to use, but I also have a sensitivity to buckwheat.)
I mentioned the other day that my doctor recommends four fats/oils for cooking. I emphasize the four because I left one out the other day, olive oil. So, to restate, my doctor recommends: organic butter (unless you're dairy intolerant, of course), grapeseed oil, olive oil, and coconut oil.
Tomorrow is my actual birthday–yippee! I'll be away at our mountain property with Mr. GFE, Son, and Son's crew, but I'll have up a trifecta of giveaways up some time this weekend. That way we can all celebrate! And, I might be able to squeeze in one more special post on my main page for my extended birthday week. Next week, it will be back to normal (I think). After all, I will be a year older … I might need to take it easy.
Gluten-Free Chocolate Zucchini Bread Recipe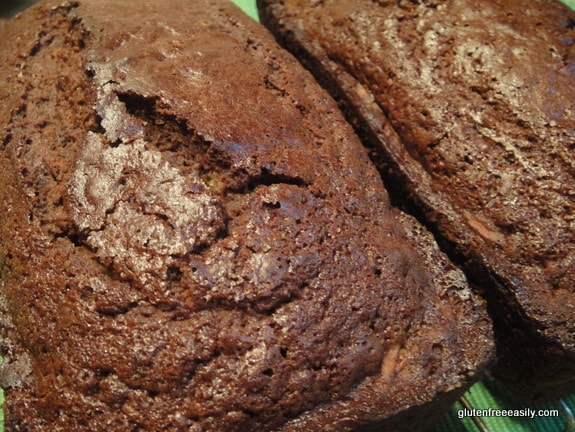 Yield:
Gluten-Free Chocolate Zucchini Bread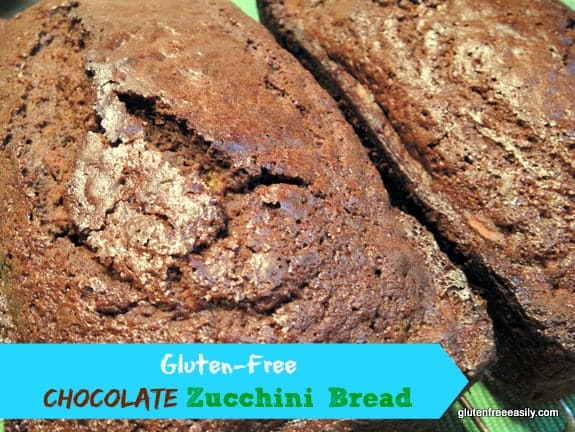 At our house, this Chocolate Zucchini Bread trumps regular zucchini bread every time! It's gluten free and naturally dairy free, too.
Instructions
Preheat oven to 350F.
In a large mixing bowl, beat eggs, oil, sugar, and vanilla.
Add in zucchini; mix.
Add dry ingredients and mix well.
Pour into two greased loaf pans.
Bake for one hour or until bread tests done (check using toothpick method). Cool. Slice.
Enjoy.
Notes
Yield: Two regular-sized loaves.
You'll notice I grate my zucchini the old-fashioned way, but you can use a food processor if you like.
FYI, despite applecauce's reputation for making baked goods moist, I think the addition of applesauce makes this bread just a little bit drier than if all oil were used.
Originally published July 16, 2010; updated April 24, 2019.