For affiliate links and as an Amazon Associate I earn from qualifying purchases.
Many of you are familiar with my gluten-free Chocolate Zucchini Bread, but today I'm sharing the recipe on which that was based—my gluten-free Zucchini Bread, which is a classic quick bread (a quick bread is a bread made without yeast, which means there's no rising time so the bread is "quick").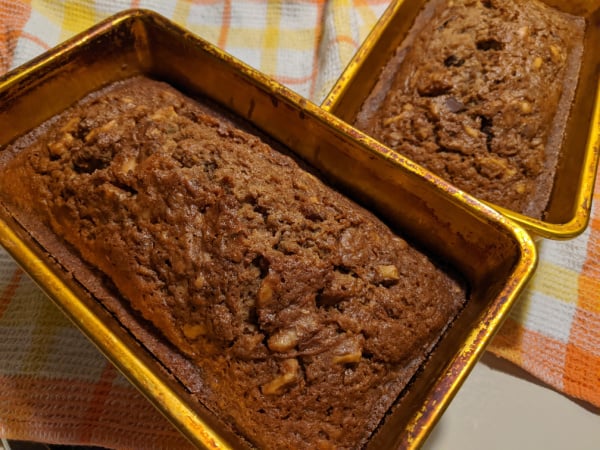 I know it's hard to believe, but sometimes you don't want chocolate. Well, let me re-phrase that … I always want chocolate, but sometimes I enjoy other flavor combinations as well.
This Classic Gluten-Free Zucchini Bread is moist and delicious and flavored with cinnamon. With chopped nuts added (I like walnuts best) if you eat nuts.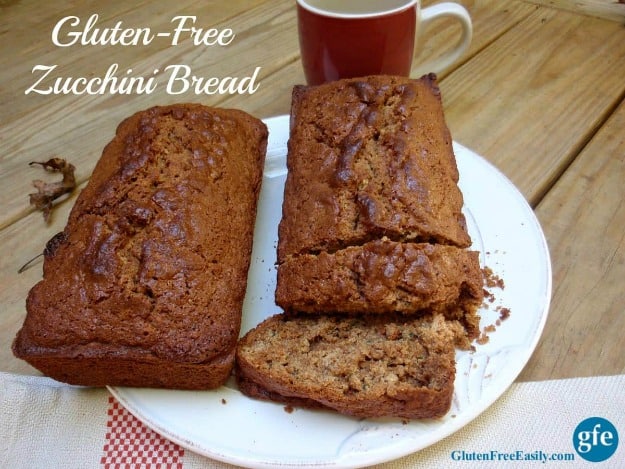 It is a lovely quick bread with a cup of tea in the morning or when that afternoon "I must eat something sweet now" moment hits. The kiddos won't mind if you pack a slice in their lunches either.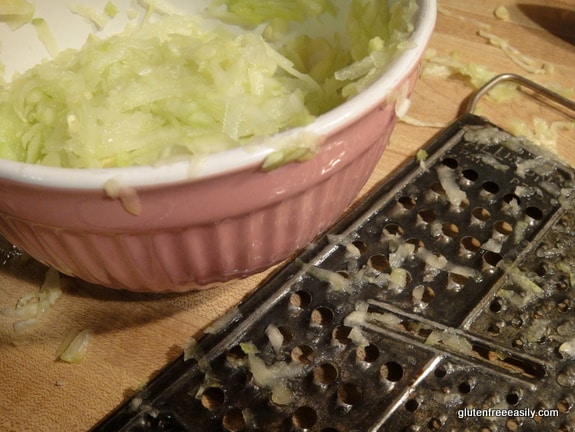 Two more mentions before you go … I often freeze several Ziploc packages of shredded zucchini just so I can continue to make this recipe well into the fall and even through mid-winter some years. Without having to head to the store. Or get a produce delivery.
All you have to do is shred (or grate) your zucchini and place it in a Ziploc bag (removing all the air per usual) or another freezer-safe container. When you're ready to use it, simply thaw and drain thoroughly and add to your recipe per usual. It's that easy!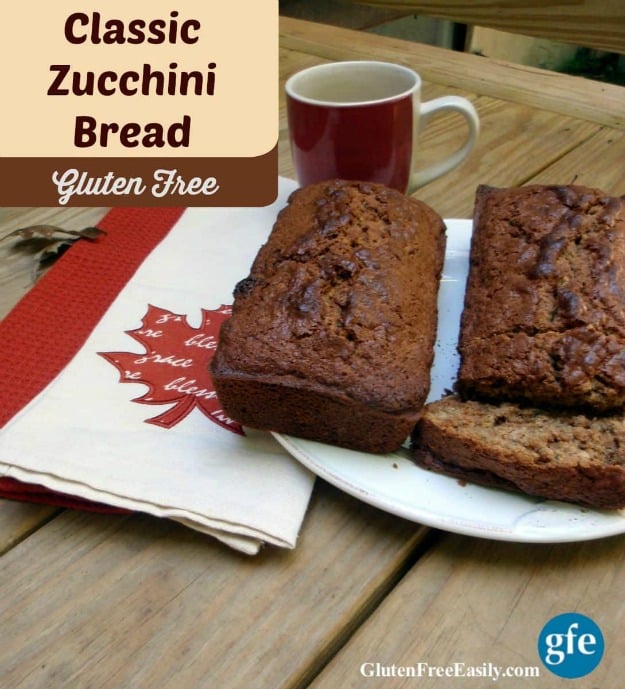 More of My Favorite Gluten-Free Zucchini Recipes
~ 75 Fabulous Gluten-Free Zucchini Dessert Recipes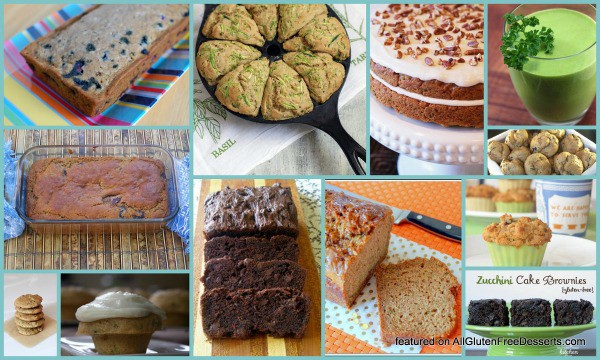 ~ Paleo Chocolate Chip Zucchini Almond Bread
~ Zucchini Ravioli (No Pasta Needed!)
Classic Zucchini Bread (Gluten-Free) Recipe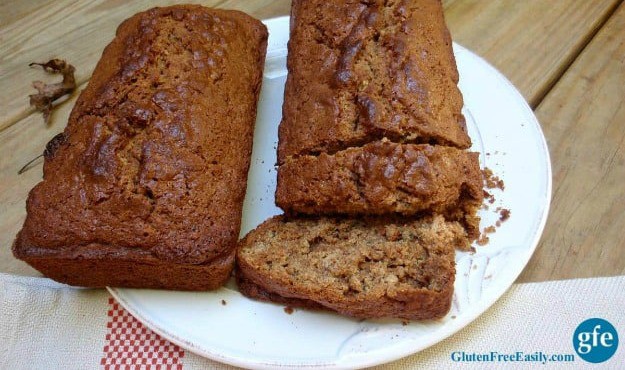 Yield: 2 regular-sized loaves
Classic Gluten-Free Zucchini Bread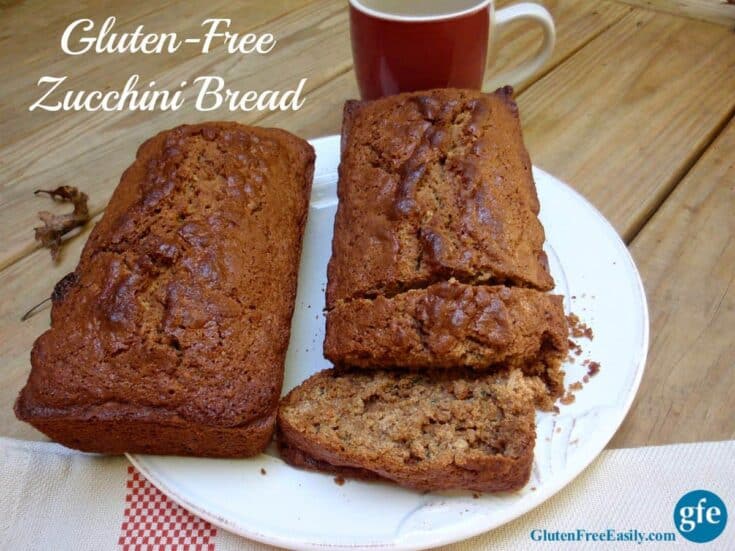 A classic cinnamon-y gluten-free quick bread that makes fine use of summer's favorite green squash.

Prep Time 10 minutes

Cook Time 1 hour

Inactive Time 10 minutes

Total Time 1 hour 20 minutes
Ingredients
3 eggs
1 cup vegetable oil (see notes)
2 cups granulated sugar (I used 1 ¾ cup coconut sugar plus ¼ cup granulated sugar)
2 cups shredded zucchini (I prefer peeled and shredded in this recipe)
3 cups gluten-free flour mix (I use my Two-Ingredient Flour Mix)
1 ½ tsp xanthan gum (optional)
1 tsp salt (I use this sea salt)
1 tsp baking soda
2 tsp ground cinnamon
¼ tsp baking powder
Handful of chopped walnuts (or other nuts of choice, optional)
Instructions
In a large mixing bowl, beat eggs, oil, sugar, and vanilla.
Add in zucchini; mix.
Add dry ingredients and mix well.
Pour into two greased loaf pans.
Bake at 350F for one hour or until bread tests done via the toothpick method.
Let cool for 10 minutes or so. Remove from pan.
Slice and enjoy.
Notes
I like to use oils like extra virgin olive oil and coconut oil (even expeller-expressed coconut oil if you don't like coconut flavor), or a combination of oils. You can even substitute unsweetened applesauce for part of the oil. I wouldn't recommend using a lot of applesauce though. Despite its reputation for making baked goods moist, I think the addition of applesauce makes this bread just a little bit drier than if all oil were used.

Although it's easy to buy zucchini and leave it on your counter for a few days, it's best to use it right away to take maximum advantage of its wonderful moisture factor. Even zucchini a few days old will be much drier. If I can't use zucchini immediately, I place it in a Ziploc bag in my refrigerator and still use it as soon as possible.

I've made this bread with and without xanthan gum. I haven't seen a big difference in the results.

Originally posted September 16, 2015; updated April 26, 2022.