For affiliate links and as an Amazon Associate I earn from qualifying purchases.
Just when you think there can't possibly be a better way to get your Almond Joy fix than from the classic candy bar (or a homemade version), along come Almond Joysicles. Yes, Almond Joy Popsicles that you can easily make at home!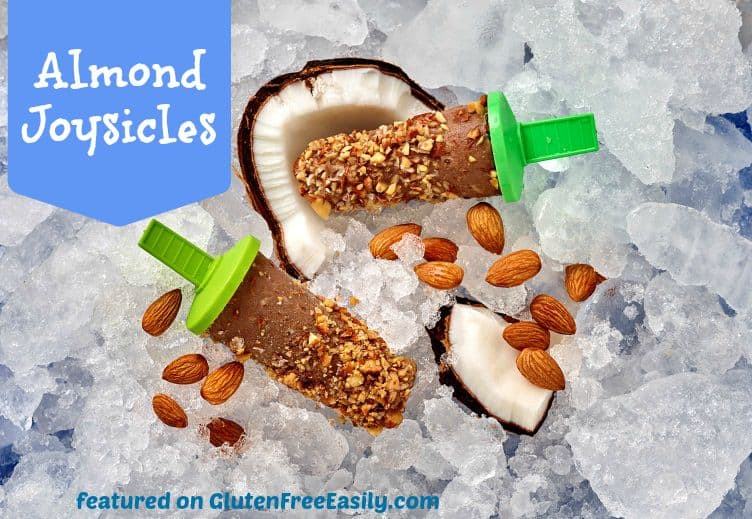 I'm an ice cream lover—and that's all year long—so this recipe from California Almonds is made for me. I'm guessing that most of you would not turn down one of these Almond Joy Popsicles either.
Not only is this recipe naturally gluten free, but it can also be made dairy free very easily by using a dairy-free chocolate syrup. I even think you can reduce the sugar or make this recipe refined sugar free by trying a few tweaks (see my notes in the recipe).
Make these Almond Joy Popsicles before you go to bed or first thing in the morning so you can enjoy one for your afternoon snack or evening dessert at the end of the day!
Other Popsicle Recipes That You're Sure to Love
~ Chocolate Pudding Pops (and other Chocolate Pudding recipes) here on gfe
~ Easy Homemade Raspberry Popsicles from Premeditated Leftovers
~ Keto Lime Creamsicles from Elana's Pantry
~ Paleo Almond Joy Fudgesicles from Beauty and the Foodie
~ Root Beer Float Popsicles (and other Root Bear Float recipes) here on gfe
~ Strawberry Lemonade Popsicles from Against All Grain
~ Three-Ingredient Creamy Popsicles from Chocolate-Covered Katie
~ Watermelon Whole Fruit Popsicles from Nourishing Meals
Almond Joy Popsicles Recipe
Yield:
Almond Joy Popsicles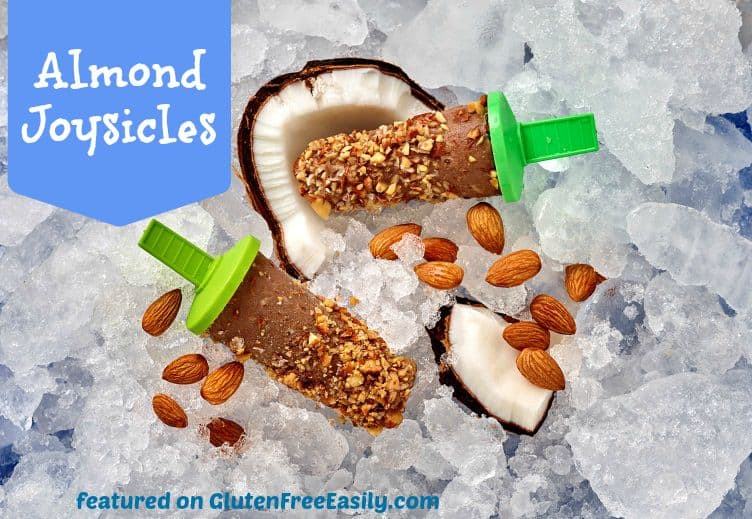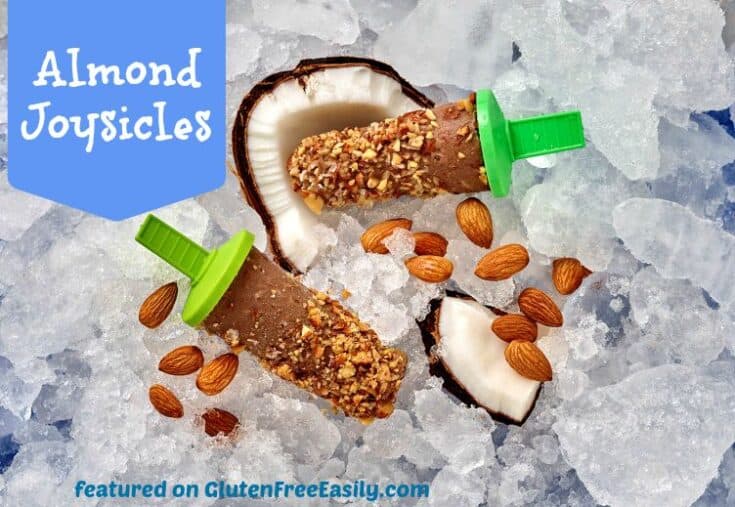 Like frozen candy bars, these Almond Joy Popsicles (Almond Joysicles for short) get a little extra flavor and texture from a coating of toasted almonds. It's an easy garnish that's worth the extra step.
Instructions
Preheat the oven to 350 degrees F. Spread the almonds on a baking sheet and toast them for 8 to 10 minutes, until light brown. Set aside to cool.
In a blender, combine the almond milk, cream of coconut, and chocolate syrup. Blend until smooth. Stir in the coconut. Pour the mixture into popsicle molds. Add sticks and freeze for 6 to 8 hours.
Before eating, spread the toasted almonds on a plate. Unmold the pops and let them sit at room temperature for 1 minute. Roll and press them into the nuts to coat the outside of the pops. Eat immediately or freeze again until needed.
Notes
I'm guessing that you can really play around with this recipe depending upon your own personal preferences and needs. For example, if you're one who tends not to eat much in the way of sugar, subbing unsweetened alternatives for one or more of the ingredients (e.g., unsweetened shredded coconut, coconut cream concentrate) may work just fine because there may be just be enough sweetness for you in another one of the ingredients you're already using in this recipe (such as chocolate syrup). Use a dairy-free chocolate syrup to make these popsicles dairy free. Makes four 4-ounce popsicles.
Recipe from California Almond Board.
Originally published August 25, 2015; updated August 1, 2017.