This post may contain affiliate links. If you purchase through them, your cost will stay the same, but gfe will receive a few cents for every dollar spent. Thanks for supporting gfe!
Yes, it's National Chocolate Pudding Day. Again. So I've updated this post to include a few more gluten-free chocolate pudding dessert recipes from fabulous blogging friends! That means that you'll find chocolate pudding recipes of every description—traditional, dairy free, raw, slow-cooked, microwave, and more. But there are also recipes for chocolate pudding cakes, chocolate pudding popsicles, chocolate pudding pies, and even chocolate pudding sandwiches!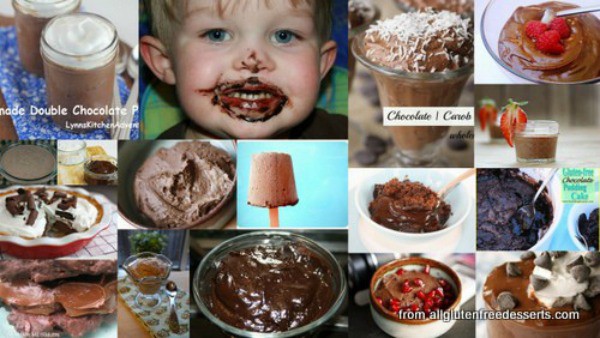 If that isn't a reason for celebration, I don't know what is! Of course, celebrating National Chocolate Eclair Day the other day also rocked. I don't know who decides on these National Food and Drink holidays, but I think I'm getting a major sweet spot for them!
Chocolate pudding was what I'd call a mainstay dessert in our house growing up. Chocolate pudding cake was also in dessert rotation in our house and that was even better than chocolate pudding itself because you got to enjoy both pudding and cake—all in one bowl!
Today I share not only a wide variety of Chocolate Pudding and Chocolate Pudding Cake recipes, but also ones for Chocolate Pudding Pie, Chocolate Pudding Pops, and Chocolate Pudding Sandwiches. We do love our chocolate pudding in every way possible, don't we?
Gluten-Free Chocolate Pudding Dessert Recipes
Starting with Chocolate Pudding Recipes
First, we have the "basic" chocolate pudding recipes, going from traditional to "alternative" recipes.
We'll start with Easy Homemade Double Chocolate Pudding from Lynn's Kitchen Adventures ~ I have to agree with Lynn when she says, "Homemade pudding is so much better. It is rich and creamy and tastes so good. It is an easy and fast dessert to make. It does not require fancy ingredients. Homemade pudding contains ingredients we all have in our pantry."
Chocolate Almond Tapioca Pudding from A Year of Slow Cooking ~ Stephanie describes her slow-cooked creation, and offers a confession: "The bit of cocoa and almond really adds a great depth to a traditional tapioca pudding and tastes fantastic. I've been eating it for breakfast … and for snack … and sneaking spoonfuls each time I walk into the kitchen."
Then we have several non-traditional chocolate pudding recipes. Believe me, these are every bit as tasty as their traditional counterparts, but these recipes also work for those who are more than "just gluten free."
There's Chocolate Pudding from Adventures of  a Gluten-Free Mom ~ Heidi uses milk, stevia, cocoa, non-dairy butter, and arrowroot to create this recipe that's gluten free, corn free, dairy free, egg free,  and soy free.
Chocolate Chia Pudding
from
Elana's Pantry
~ This recipe is a simple one that is gluten free, dairy free, egg free, vegan, and more. I love it when one terrific recipe works for so many!
Easy Chocolate Pudding
from
Elana's Pantry
~ Elana tells us "When I was a little girl, my mom and dad used to pack canned Del Monte chocolate pudding in my lunch. I loved it. This brings back those school lunch memories without all of the sugar and processed chemicals."
Decadent No Cook, Raw Chocolate Pudding
from
Gluten-Free Fix
~ Michelle shares that "Free of refined sugars and dairy, this no cook, raw pudding will not disappoint." Cashews are the key to the success of this recipe.
Chocolate Pudding
from
Z's Cup of Tea
~ Zoe uses just a few simple ingredients to create this gluten-free, dairy-free recipe. As you can see, there's a vanilla version shared in her recipe as well. Zoe advises: "While you may serve it the same day it was made, this pudding tastes even better the next day!"
Five-Ingredient Healthy Chocolate Pudding
via
Paleo Parents
from
Real Food RN
~ That healthy ingredient—avocado—that's often used in chocolate pudding IS used here, but this recipe is still wonderful. Give it a chance!
Healthy Chocolate Pudding
from
Chocolate-Covered Katie
~ This recipe from Katie is made from only six ingredients and she points out that there's no avocado! Katie is known for using avocado in chocolate recipes. In fact, she adds, "No avocado, no banana, no tofu or pumpkin."
Vegan Chocolate Pumpkin Coconut Pudding
from
The Tasty Alternative
~ Amber explains that her daughter is "a budding chocoholic like my sweet husband, and nothing makes me happier than creating a healthy, nutrient dense treat for my girl.  I use cacao on occasion in desserts.  Due to this sparing use it's greeted with treasured delight.  I used what I had on hand today, but you can throw just about anything in chocolate and it will taste…like chocolate!"
"Tricky" Chocolate Pudding
from
Adventures of a Gluten-Free Mom
~ Heidi adapted this recipe from Jessica Seinfeld's
Deceptively Delicious
cookbook. She says: "I blame this recipe for my youngest child's O.B.S.E.S.S.I.O.N. with chocolate!" Look at this pudding by itself and smeared on his happy face! Dare I say it? The proof is in the pudding!
Dairy-Free Chocolate Pudding with Raspberry Infusion
~ Alisa's rich dairy-free chocolate pudding has a "double dose of decadent chocolate and fresh raspberries." Yum! Plus, it can be made in 10 minutes and is overall allergy friendly. She says the cornstarch can be replaced with arrowroot or tapioca starch for a slightly different texture.
Really Great Chocolate Pudding in a Mug
from
Free Range Cookies
~ Yes, you make this recipe in your microwave and chill in your fridge. I would probably pour some milk over this pudding so I could eat it while it was still warm though!
"Secret Ingredient" Chocolate Pudding
from
Unconventional Baker
~ Audrey's recipe is gluten free, paleo, and vegan. There are actually two "secret ingredients" in this recipe. Eat this pudding while warm and gooey or chilled, or use it as a spread (chocolate pudding on toast!) or frosting.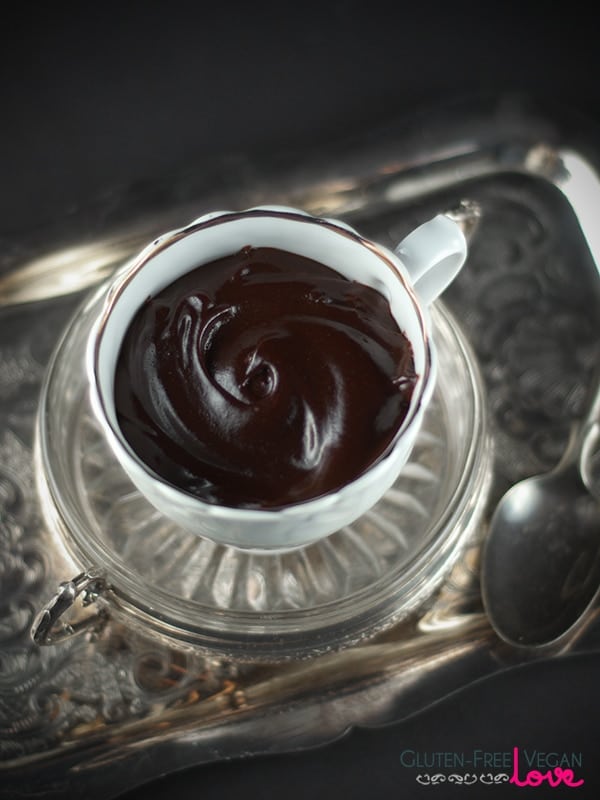 Tw0-Ingredient Chocolate Pudding from Elana's Pantry ~ Elana says: "This 2-Ingredient Chocolate Pudding couldn't be easier to make. All you need is dark chocolate and coconut milk. Luscious 2-Ingredient Chocolate Pudding is rich, thick, and incredibly mousse like."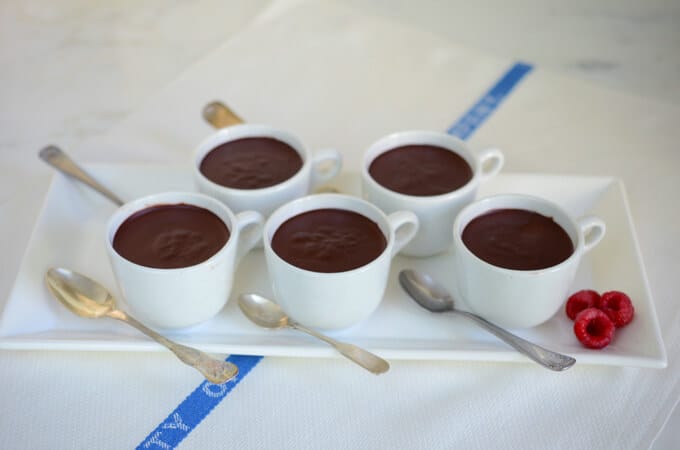 Next Up, Chocolate Pudding Cake Recipes
Chocolate Pudding Cake from Lynn's Kitchen Adventures ~ Lynn says this recipe, which she adapted from Martha Stewart, is "the perfect combination of a fudgy chocolate pudding mixed with cake."
Chocolate Pudding Cake
from
Jenn Cuisine
~ Jenn talks about the power of food and the power of connections via food and favorite recipes even when many miles separate loved ones. "This chocolate pudding cake symbolizes that to me.  Often made in my parents' home and now mine, it's simple and humble, comforting – like a favorite book that you want to read again and again."
Chocolate Pudding Cake
from
Faithfully Gluten Free
 ~ Of her recipe, Jeanine says, "The top bakes up into a beautiful cake with a crisp top, but underneath is a thick, warm, coffee flavoured chocolate syrup that completes the dish."
And Chocolate Pudding Pie
We are pie lovers in my family. This Chocolate Pudding Pie from Against All Grain would quickly become a big hit! Danielle made the recipe many times before she shared on her blog, hence, her statement that she had been keeping "a really decadent and delicious secret" from all of her readers. I and others were so happy when she finally revealed this recipe!
Plus Chocolate Pudding Pops
Based on a friend's recommendation, Michelle of Gluten Free Fix modified her chocolate pudding recipe (mentioned earlier) to create these Chocolate Pudding Pops. One reader's review: "Uh, yeah. These are amazing. Seriously delicious!"
Even Chocolate Pudding Sandwiches
What might be even better than "single" chocolate pudding or double chocolate pudding, and an enticing alternative to cakes, pies, and pudding pops? These Triple Chocolate Pudding Sandwiches from She Let Them Eat Cake, of course! Maggie semi-humbly admits, "Well they are delicious.  And they're so easy to make.  Oh, and did I mention healthy too?"
With all of these chocolate pudding dessert recipes, there's bound to be one that you will love. Check them out and give one a try. Seriously, don't let this National Food Holiday pass by without a proper celebration!
Originally published June 26, 2013; updated November 28, 2017.