For affiliate links and as an Amazon Associate I earn from qualifying purchases.
Gluten-Free Peanut Butter Hot Fudge Cake. I bet that got your attention, right?
Most of you know my friend Amy Green from her blog, Simply Sugar and Gluten Free. Today I am sharing my review of her cookbook and my version of her gluten-free Peanut Butter Hot Fudge Cake recipe, which is made in the slow cooker. Really. It's so good!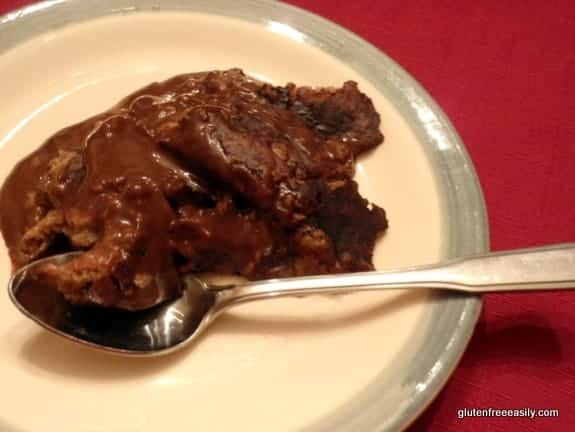 Several months ago Amy's cookbook, Simply Sugar and Gluten Free: 180 Easy Recipes You Can Make in 20 Minutes or Less, was published. Amy and her publisher provided me a copy for review. I read Amy's cookbook right away, but it took me a while to get to actually make a recipe. The wait was well worth it (as it usually is in such cases), but let's dispense with a few "nits" and then we'll move on to the good stuff, some REALLY good stuff!
Although Amy's cookbook has a 5-star rating on Amazon, some folks have taken issue with the term "Sugar Free" in the title because they don't consider Amy's recipes sugar free, but rather refined sugar free. Amy's book title is in keeping with her blog title and on her blog she states that her recipes are "refined sugar free."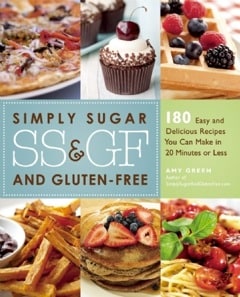 The title of Amy's cookbook states that the recipes can be made in "20 Minutes or Less." This wording is misleading. That time allotment refers to the recipe preparation only. All recipes are not actually ready in 20 minutes or less, but the "easy and delicious" part is correct (as you'll see in a moment).
There are no photos. Some dislike cookbooks without photos; others find it freeing because their results don't have to match perfect photos. The truth is that color photos can add greatly to the cost of a book. Amy's cookbook has been a bargain at about $10 or so from the beginning. Plus, there are many great cookbooks—even classics like The Joy of Cooking—which contain no photos.
The cookbook states that Bragg Liquid Aminos are soy free. That is an error. As stated on Bragg's site, "Bragg Liquid Amino is a Certified NON-GMO liquid protein concentrate, derived from healthy soybeans." However, just FYI, Coconut Secret Coconut Aminos are soy free and gluten free.
It's also stated that honey always crystallizes. That statement is not true, although it's often stated. We raise honeybees and in our 29 years of marriage and beekeeping together, our bees' honey has never crystallized. Crystallization is dependent upon water content in the nectar that the bees collect, humidity in the environment and hive itself, etc.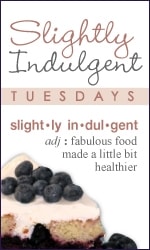 Okay, let's get to the good stuff in Amy's cookbook and there's a lot! The recipes include: breakfasts; starters and snacks; spreads and condiments; simple soups; salads; main dishes; side dishes; cookies and bars; cobblers, crisps, and pies; cupcakes and cakes; fast frostings; mousses, puddings, and custards; and frozen desserts. While great tips are shared throughout within the recipes, there's also a kitchen guide at the end of the book that addresses flours, other ingredients, kitchen storage, kitchen equipment, tips for gluten-free pasta, conversions, substitutions, resources, product resources, and recommended reading.
Amy also shares an extensive thank you section. I'm very honored to be listed. Amy and I have collaborated on several great projects the last couple of years, including the Gluten-Free Holiday extravaganza last year. Most weeks I've also linked up to Amy's very popular Slightly Indulgent Tuesdays roundup, which features recipes made a little bit healthier. (Note that the recipes for this roundup are not all gluten free.) I've made a number of Amy's recipes from her blog or used her ideas in my own cooking. I've never been disappointed.
Of all the recipes in the Simply Sugar and Gluten Free Cookbook, one spoke my name more clearly than the others, the gluten-free Peanut Butter Hot Fudge Cake. Gluten-free Peanut Butter Hot Fudge Cake made in the slow cooker, no less—a pudding cake, if you will.
Yes, I could clearly hear "Shirley, Shirley …" emanating from Amy's book. This is a cake that is easily made per Amy's recipe or even with slightly different ingredients on hand. For example, I used regular cocoa instead of Dutch-processed cocoa and coconut oil instead of canola oil. Amy stated that the cake would take 1 to 2 hours and in my large oval Rival crockpot, it was done in exactly 1 ½ hours.
When I took my first bite of this gluten-free Peanut Butter Hot Fudge Cake, I truly could not believe how good it tasted. Unbelievably good! But you best make this cake for a crowd, otherwise, you will not just be slightly indulgent, you will be VERY INDULGENT.
Gluten-Free Peanut Butter Hot Fudge Cake (Slow Cooker) Recipe
Yield:
Gluten-Free Peanut Butter Hot Fudge Cake (Slow Cooker)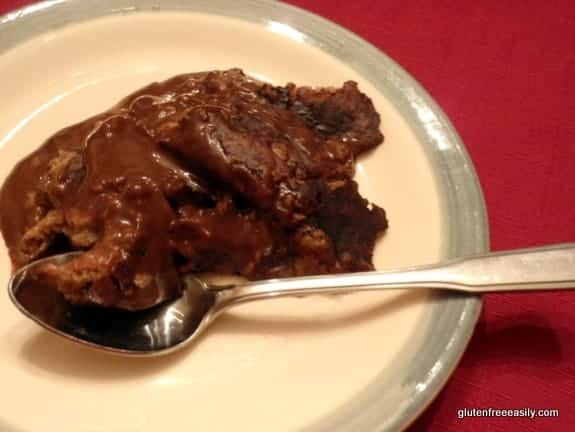 What could be better than hot fudge cake? Peanut butter hot fudge cake! And what could be better than baking hot fudge cake? Using your slow cooker, of course!
Instructions
Coat a medium (4-quart) slow cooker or large (5- to 6-quart) slow cooker with cooking spray. The smaller your slow cooker, the thicker your cake will be and the longer it will need to cook.
In a large mixing bowl, whisk together the flour blend, ¼ cup palm sugar, the baking powder, salt, and xanthan gum. In a medium bowl, whisk together the almond milk, oil, and vanilla. In a microwave-safe bowl, microwave the peanut butter for 20 to 30 seconds, just until softened and easy to stir. Add the wet ingredients to the dry ingredients, then stir in the warm peanut butter.
Evenly spread the batter in the bottom of the prepared slow cooker. The batter will be thick.
In the same bowl you used to mix the batter, whisk together the cocoa powder, remaining ¼ cup plus 1 tablespoon palm sugar, and coffee granules. Carefully pour the hot water into the cocoa mixture and whisk until smooth. Pour on top of the batter in the slow cooker. Do not mix.
Cover and cook on high for 1 to 2 hours, checking after 1 hour. The cake is done when a toothpick inserted into the center comes out clean. Serve warm or cold.
Notes
Though mixing the batter and the fudge in the same bowl may at first seem like the wrong thing to do, it doesn't harm the recipe at all. All the ingredients are going in the same place, and it saves dishwashing time later on.Recipe courtesy of Amy Green and Ulysses PressNotes in parentheses were added by me, Shirley Braden, to indicate how I made this recipe.

UPDATE: This giveaway is now closed.
Full disclosure: The copy of the book I reviewed and the copy that will be given away were both provided free of charge from Amy Green and Ulysses Press. This is not a compensated review and the opinions expressed within are my own.