For affiliate links and as an Amazon Associate I earn from qualifying purchases.
Doesn't watermelon sherbet sound (and look) so refreshing and cooling? It definitely is, so it's just perfect for scorching temperatures of late. It's also a nice entry for this month's Go Ahead Honey, It's Gluten Free event. Diane, the queen of all things related to Harry Potter, is hosting Naomi's longstanding blog carnival with the theme, It All Ends Here. Harry Potter fans will recognize that as the tagline for the lastest movie. (Thanks for the help, Zoe—I need it!)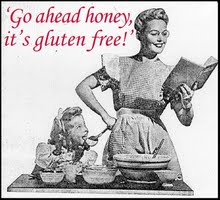 Diane explains that means that the recipes for this event will be ones that end a meal. That could be a dessert, a beverage, or whatever recipe you choose to end your meal. There is no need for your recipe to be Harry Potter related, say Butterbeer Ice Cream or Cupcakes. (Incidentally, I had never even heard of Butterbeer before I met Diane!) Although both sound good, again there is no need to submit an HP-themed recipe as Diane will weave all of the entries into a Harry Potter-esque tale when she does her summary at the end of the month. (FYI: Entries are due to Diane by Tuesday, July 26.) Believe me, Diane's a wizard at weaving such a tale. Check out her post from the last time she hosted Go Ahead Honey with a Harry Potter twist here. And if you're a Harry Potter fan, you'll also want to read about Diane's trip to the New York premiere of the new and final Harry Potter movie.
But a little more on my latest recipe using watermelon … I'm trying to eat lighter and cooler these days. Watermelon purchases have led to simple snacking and other recipes so simple they hardly seemed like a recipe—e.g., my Good Morning, Sunshine! Watermelon Orange Smoothie and today's Watermelon Sherbet. The sherbet also led to another simple, chilled concoction, but we'll get to that in a moment. You know my gfe approach, right? When it comes to ice cream, sherbet, or sorbet, rarely can I be bothered with tons of ingredients, heating and then cooling, then freezing, and such. So this sherbet has only three ingredients, and honestly, it doesn't need any more. Simply blended and then churned, it's a light and lovely ending to a meal.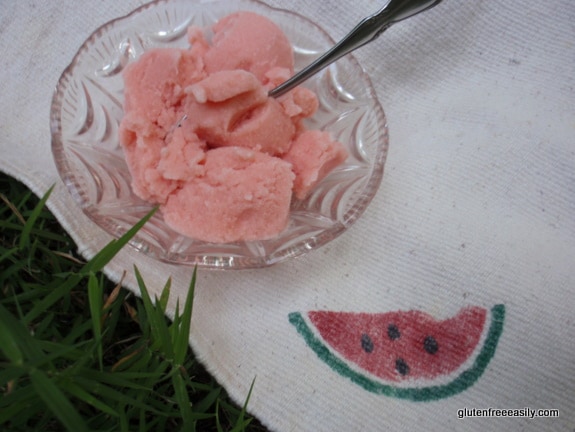 Yield:
Watermelon Sherbet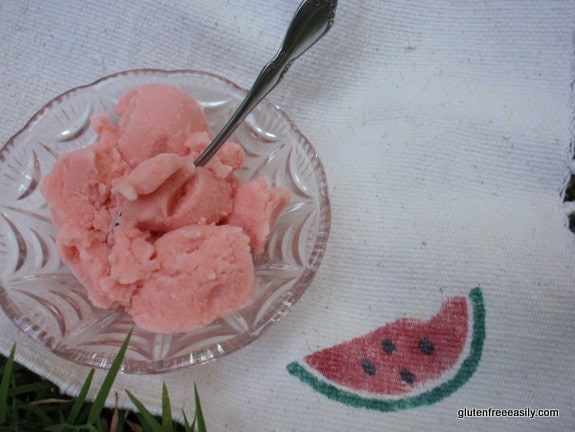 Ingredients
2 cups ripe watermelon, ideally frozen and then slightly thawed
¾ cup full-fat coconut milk
¼ cup honey (or agave nectar for vegan option)
Instructions
Blend ingredients in blender for about a minute or so until well blended.
Pour into prepared tub of ice cream machine.
Churn about 15 to 20 minutes.
Scoop and enjoy!
Notes
Makes about 3 cups. Freeze any leftovers so you can make a milkshake the next day (recipe below).
Yield:
Bonus Watermelon Milkshake
Ingredients
About 1 ½ cups of watermelon sherbet
1 ripe banana
1 cup almond milk (or other milk of your choice)
Instructions
Add all ingredients to blender and blend until smooth.
Notes
Drink and be amazed at how good this healthy milkshake is!
This shake is another entry for Linda's (Gluten-Free Homemaker) Create a Beverage Challenge. It made for a perfect breakfast as I headed out the door one recent morning. You can read all about the health benefits of watermelon in my Good Morning, Sunshine! Watermelon Orange Smoothie post. You may be surprised at all the health benefits that watermelon offers. Honestly, right now, I'm drawn to any recipe that includes watermelon for just its plain refreshing goodness! It was AndreAnna's (Life As A Plate) Cucumber Watermelon Skinny Martini that got me going on this sweet and juicy tangent. And quite frankly, more watermelon cocktails sound good. For other cooling watermelon recipes, check out the following:
Sunny's (And Love It, Too!) Cucumber, Watermelon, and Mint Salad
Elana's (Elana's Pantry) Naturally Sweetened Watermelon Aguas Frescas
Karina's (Gluten-Free Goddess) Quinoa Salad with Blueberries, Strawberries, and Watermelon
Heather's (Gluten-Free Cat) Watermelon Jalapeno Love Salad
Silvana's (Silvana's Kitchen) Sparking Watermelonade
Please come back tomorrow for a serving of Savory Lemon-Kissed Sun-Dried Tomato Artichoke Chicken Clafouti. After I posted a photo of that recipe on Facebook, many of you have been pleading for it. The wait is almost over!
On Friday, I'll share my post on Family, Friends, and Pets for the July Self-Care event. Co-hosted by Cheryl (Gluten-Free Goodness) and Valerie (City | Life | Eats), this event is all about helping us take better care of ourselves, something that many of us are really challenged by.
This post is linked to Gluten-Free Fridays.