For affiliate links and as an Amazon Associate I earn from qualifying purchases.
Good Morning, Sunshine! Watermelon Orange Smoothie. Did anyone ever greet you with "Good Morning, Sunshine!" Good heavens, I hope not. That would probably put me over the edge in the early am.
But this delightful watermelon orange smoothie will softly whisper that greeting to you as you sip. Once you've finished it, you'll feel energized and happy and may not even mind if someone booms, "Good Morning, Sunshine!"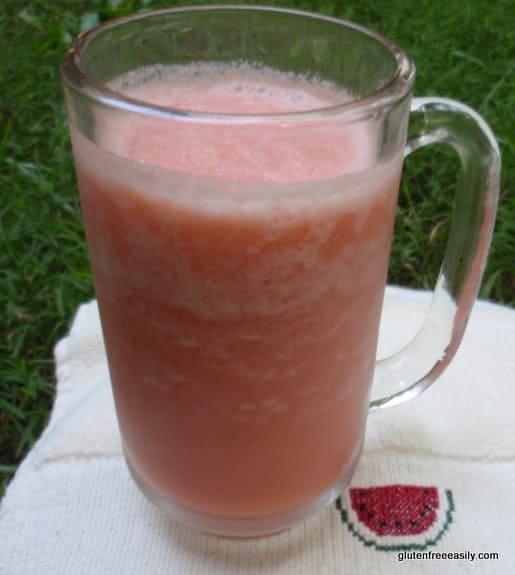 My sister and I will be celebrating our birthdays this weekend. We were born 6 years and 2 days apart.
We've been very close for most of our lives, but I'll admit that I was kind of mean to my sister growing up. Okay, maybe not mean, but sometimes I ignored her or indicated I wasn't crazy about her. Annoying little sister and all that, you know? (I'm sorry, Sis!)
But even from an early age, we've always shared our love of watermelon. When we were in our early 20s, during the summer time, it was not uncommon for watermelon to be about the only thing in each of our refrigerators.
Some our age had refrigerators full of beer. We had watermelons.
Summer meant watermelon. Watermelon meant summer. Life was good.
We'd eat watermelon all day long, Sometimes watermelon would be our sole breakfast or lunch. It was that beautiful combination of red and green (only Christmas competes for best use of red and green together).
It was cold and juicy. It was super sweet (if you did a good job picking your watermelon, and thumping still rules in our opinion—despite media guidance to the contrary).
It was even low fat. Yes, low fat was all the rage then.
Watermelon also rejuvenated us on a hot day due to the hydration factor. We didn't care that as a result of eating so much watermelon we had to make frequent trips to the bathroom.
As good as watermelon is—and as good as it is for you—subsisting on watermelon is probably about as smart as following a cabbage diet, or whatever the current fad diet might be (and please for goodness sake, don't bring up "gluten free" in the same sentence as fad—thank you!). Still watermelons just epitomize summer and happiness to me, and one must appreciate their true health benefits, so there's always a place in my summer-time diet for watermelon.
Here's a  summary of the health benefits of watermelon below:
Excellent source of Vitamin A, Vitamin C, B6, and potassium.

Has the highest concentration of lycopene of ANY fresh fruit or vegetable. Lycopene is a powerful antioxidant that helps fight heart disease and cancer. (Take that tomatoes! Tomatoes are best known for their lycopene content. I like tomatoes, but I far prefer watermelon.)

Contains amino acids citrulline and arginine, which support healthy cardiovascular function.
Since childhood, we tended to cut our watermelon into large pieces (think eighths and quarters) and eat it with a paring or steak knife in hand. After cutting, we'd stab the piece with the knife and then eat it right off the knife.
That's actually how we learned our first knife skills, and we never ended up with cut tongues. These days, I'm sure that most parents would consider that risky business.
Because I've loved watermelon so much, I've been given a lot of watermelons over the years as presents … cut-out watermelons, cross-stitch watermelon pictures and towels, stenciled watermelon placemats, watermelon bowls, etc. I've declared a moratorium on gifts in the watermelon theme, but my kitchen is still decorated with watermelons. I've removed many from the decorating scheme as I was getting overwhelmed, but I've hung on to a few.
Just for fun, I'm sharing some in these photos. Note that my very favorite watermelon is the one that young Son made by coloring one of the wedges left behind after Mr. GFE cut down a tree.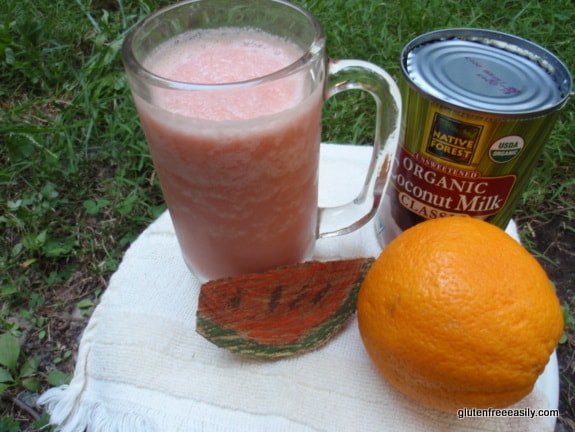 Now how about that smoothie … great for morning, lunch, afternoon snack, dessert … see once I get going with watermelons, I can't stop myself. And look for my simple Watermelon Sherbet recipe soon. (Update: Here's the Watermelon Sherbet recipe.)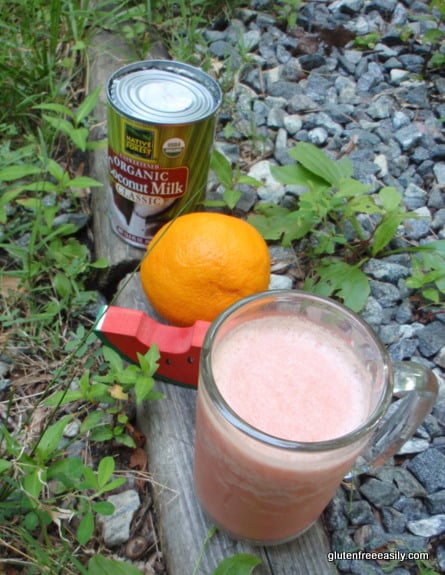 Yield: Makes about 4 - 5 one-cup servings
Good Morning, Sunshine! Watermelon Orange Smoothie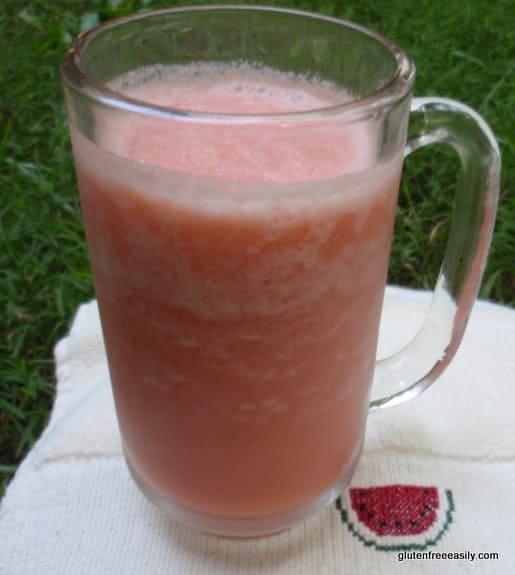 This three-ingredient smoothie not only gives you a reason to wake up; it helps you to wake up!
Ingredients
1 cup full-fat coconut milk (other non-dairy milk will work, too, or dairy milk if you consume dairy)
About 2 – 3 cups seedless watermelon chunks (slightly frozen chunks work best)
Juice of one orange (I used a Navel orange), about ¼ cup or so
Instructions
Blend all together on high for about a minute or so until smoothie consistency.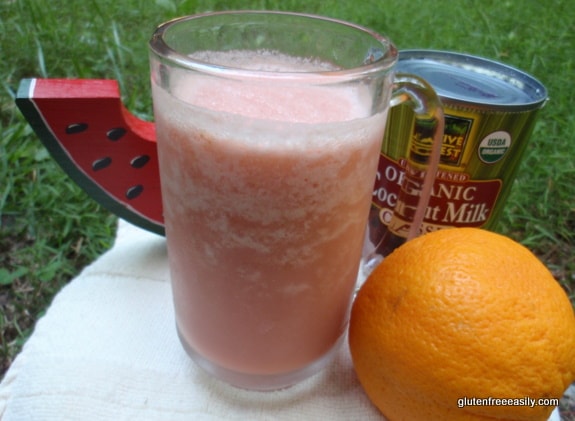 Originally published July 13, 2011; updated August 3, 2017.