For affiliate links and as an Amazon Associate I earn from qualifying purchases.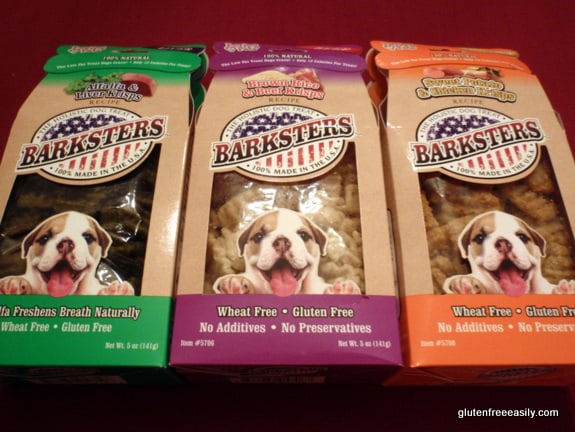 Full disclosure: This is an uncompensated review post and the opinions expressed within are strictly my own. The BARKSTERS Krisps products I reviewed and that are offered in this giveaway were complimentary ones provided by Loving Pet Products. 
UPDATE: This giveaway is now closed. Congratulations to Sara and her dog, Molson! Thanks to all who entered. Be sure to heck out other giveaways going on this week at gfe.
Yes, with a product name like BARKSTERS Krisps, I probably didn't even have to add the amplifying information in my post title. It's going to be a good day for dog lovers here at gfe, and I'm really, really excited! Truthfully, there have been few times I have gotten really, really excited about the products I've been sent for review. Don't get me wrong, if I accept a product, it meets the gfe approach and usually makes me very happy, but some review offers are just super special. Receiving the Bombora and CooranBong Australian vodkas, award-winning spirits distilled from grapes, had me very excited (Pom-Bom-Spice-tini, anyone?). Getting New Planet Beer to share with Son and Mr. GFE was a major high point. Then sipping their ales and enjoying Beer "Can" Chicken on my birthday weekend as a result was awfully nice. Receiving a couple of cases of POM Wonderful pomegranate juice and pomegranates from my participation in the POM Blogger Harvest Festival was pretty special. (I love POM Wonderful juice "as is" or in recipes: POM'd Pork, POMerdoodle Ice Cream, Chocolate POMerdoodle Ice Cream, and of course, the aforementioned Pom-Bom-Spice-Tini.) Those are just major highlights; I've truly had some great opportunities. However, when Kristina (Spabettie) mentioned that her "too cute for words" dachshund, Basil, had received "goodies" to review (and it wasn't the first time), I admit that I was jealous. I even said something to that effect in comments. I wanted some freebies for our own dog, Sonny.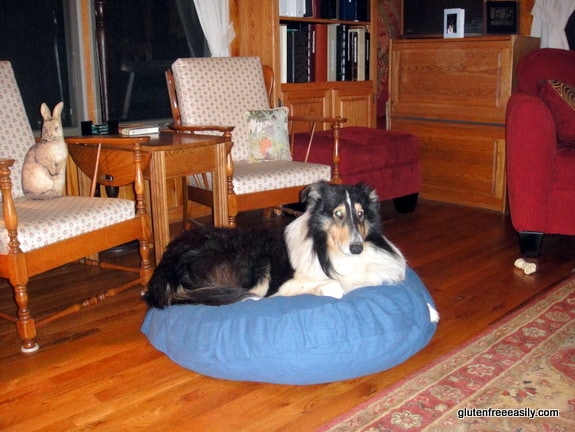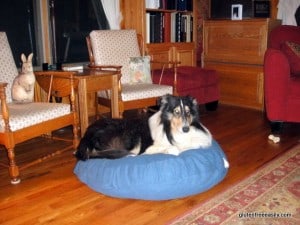 Sonny, our tri-color rescue collie, happens to be the sweetest, smartest, and, of course, the best dog in the world. I know you are laughing and thinking, "hey, that's my dog!" You're right, of course. Each of us has the best dog in the world—with all the other superlatives that go with that designation. Incidentally, if you have more than one dog, I don't know how you handle that issue. I'm the mom of both an only child and an only dog, so I have no experience in that area. But back to my wonder dog … he has so many fine characteristics that I can't even list them all! It only took one camping trip to find out that he's a natural for tent camping and canoeing. He has three trips to his credit so far with many more to come. He's an outstanding dog that deserves all the best in life. So imagine my delight when lo and behold, the review gods spoke in the form of a representative from Loving Pets offering their BARKSTER Krisps for Sonny's review. Yes, they called him by name … smart marketing folks! Sonny's been gluten free and grain free almost since we brought him home, so again I was super excited for him to get the opportunity to review these healthy gluten-free treats. So here I am doing a pet product review. Oh, wait I mean Sonny, or really both of us, because as smart as Sonny he is, he can't blog. So I guess Sonny and I are actually collaborating on this post.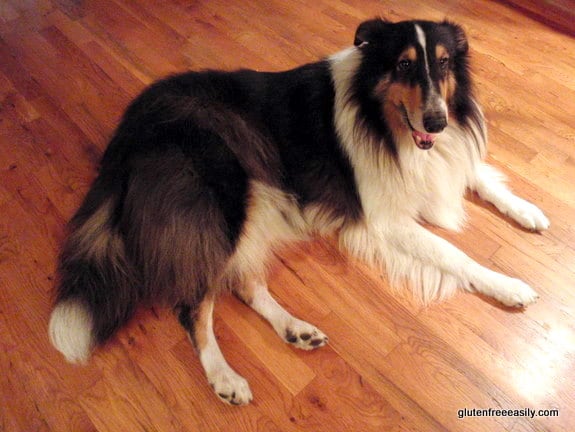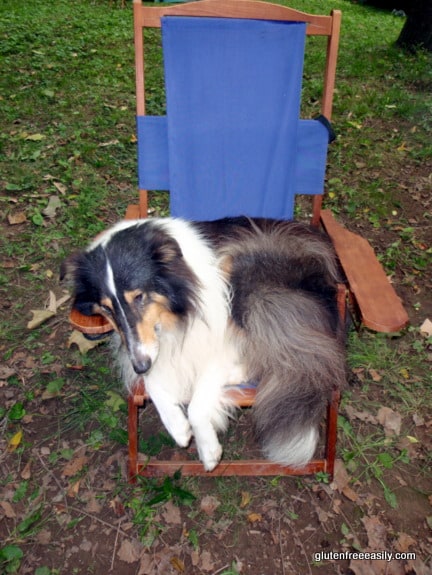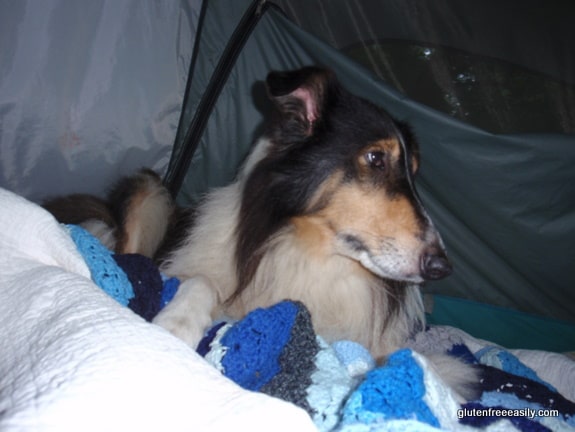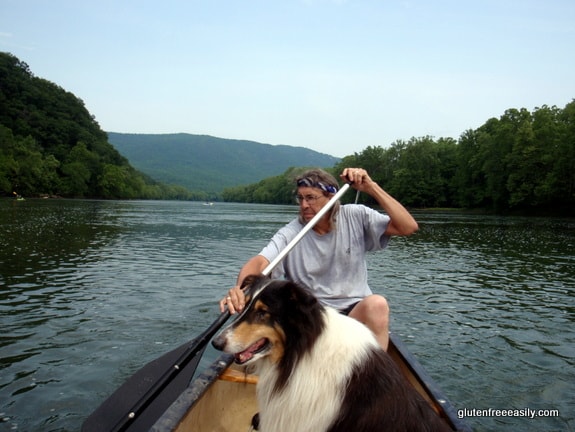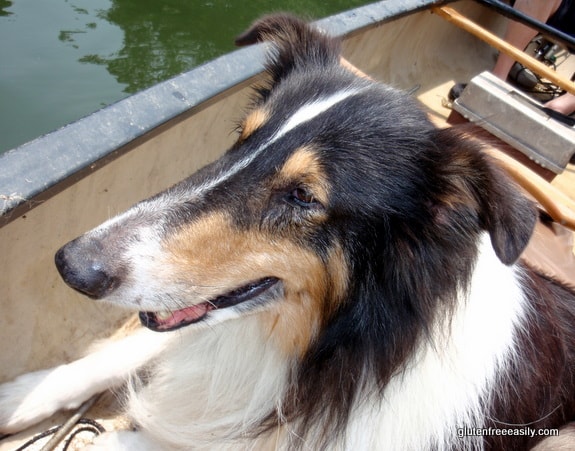 Now while I could make up what he was thinking when he was offered these treats and tried them, that's best left to my friend, Ricki (Diet, Dessert, and Dogs). She does an outstanding job "channeling" her girls, Elsie and Chaser. If you're a dog lover, her blog is one to follow. But for Sonny, I'll just show you some photos (some of them simply to prove he is the smartest, sweetest, and best dog in the world) and tell you that he loves these dog treats. We received Brown Rice and Beef, Alfalfa and Liver, and Sweet Potato and Chicken. His absolute favorite is the Alfalfa and Liver BARKSTERS Krisps. That proves that he is my 'furbaby" son as I'm a liver lover myself. There's some additional info on these treats further down.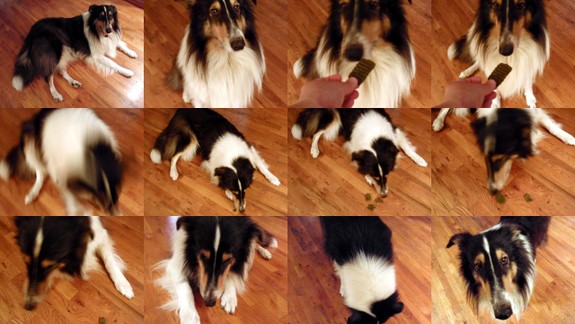 BARKSTERS Krisps (from Loving Pets) are low-calorie, wheat-free, gluten-free, by-product-free, preservative-free, and are made in the USA from 100% USA farm-grown ingredients, including some immune-boosting California Rice Bran Oil.  The texture is a bit like a Sun Chip (they are really pretty tasty even for humans!). 

3 Base ingredients/9 combinations: 

•    Alfalfa/Chicken 

•    Alfalfa/Beef 

•    Alfalfa/Liver 

•    Brown Rice/Chicken

 •    Brown Rice/Beef 

•    Brown Rice/Liver 

•    Sweet Potato/Chicken 

•    Sweet Potato/Beef 

•    Sweet Potato/Liver 
Take special note of this comment from Loving Pets description: "The texture is a bit like a Sun Chip (they are really pretty tasty even for humans!)." Some of our friends visited us while camping this weekend and actually all four of them tried the Sweet Potato and Chicken variety. It was their idea, not mine, but all said that the BARKSTERS Krisps tasted good and did resemble Sun Chips in taste and texture! One said that the sweet potato flavor came through nicely. The Loving Pets representative told me that sometimes both pets and their owners eat these Krisps, but I know nothing about cross-contamination or the certified gluten-free status of these treats at this time. So personally I'm recommending that they just be enjoyed by your pooches for now! 
I do feel comfortable handling BARKSTERS Krisps though and that's often the initial driver for gluten-free pet owners putting their pets on a gluten-free diet—no fear of "glutenizing" the humans in the family. But there's considerable evidence that supports pets being on a gluten-free diet and more veterinarians are even recommending grain-free diets. We have a support group member who is a holistic veterinarian who recommends grain-free, and ideally raw foods, primarily meat for one's dog. Interestingly enough, she thinks corn is even more of a problem for dogs and cats than gluten. Read more on pets and their gluten issues at the site of Dogtor J. Dogtor J is John B. Symes, D.V.M. He not only talks about how gluten and other foods can adversely affect your pets (e.g., arthritis, seizures, allergies, hot spots), but covers more than that:  "Food Intolerance in Pets and Their People." My dear friend, Melissa (Gluten Free For Good), also shared her beloved dog's recovery from multiple health issues by following a gluten-free diet in this post. 
Finally, the best part—the giveaway! One gfe reader will receive two bags of BARKSTERS Krisps and a fashionable Dolce pet dish (your choice on color and pint or quart size–check out the specs on these; they're cool bowls!). The giveaway will end Saturday, July 16, at midnight Eastern. Enter per guidelines below. Only one entry is needed; the rest are optional additional entries. Note that each must be entered separately to count as separate entries. 

~ Leave a comment telling me why your dog is the ______ dog in the world, and/or tell me if your dog is eating gluten free (or grain free) and share any health benefits experienced. 

~ Tweet about the giveaway. Include @Shirleygfe in your tweet.  Leave a comment.

~ Share the giveaway on Facebook. Tag gfe in your status. Leave a comment.

~ Subscribe to gfe via email or reader. Leave a comment.

~ Like Loving Pets and/or gfe on Facebook. Leave a comment.

~ Last, don't forget to hug your dog today! Leave a comment.

p.s.—Loving Pets also has a gluten-free, vegetarian treat option, Vegitopia. I'm hoping Sonny will get to review those, too. You know what that would mean …