For affiliate links and as an Amazon Associate I earn from qualifying purchases.
Adopt a Gluten-Free Blogger is the monthly community-building blogging event created by Sea of Book of Yum (sadly, this blog is no longer active). This month it's hosted by Wendy (Celiacs in the House) (this blog is also no longer active) and the turnout was great!
I decided to adopt AndreAnna of the blog, Life As A Plate (this blog is also no longer active), and make her Skinny Martinis and Stuffed Peppers.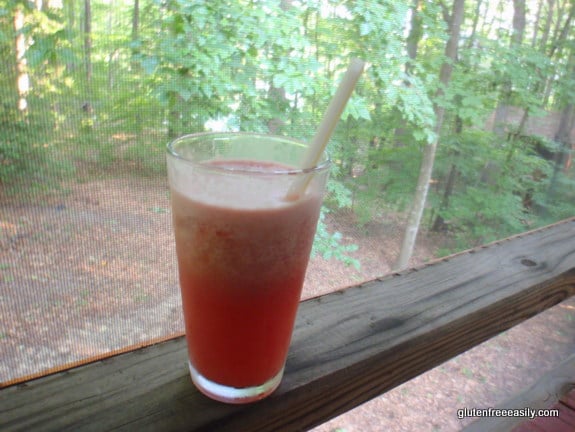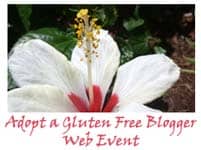 I was first introduced to AndreAnna and her blog several months ago by my good friend, Elana (Elana's Pantry). Elana had made a version of AndreAnna's Apple Spice Bread. Elana referred to AndreAnna, "The Primal Matriarch."
I immediately checked out AndreAnna's blog and found out that she was eating grain free, and therefore gluten free, as part of following The Primal Blueprint. I was very intrigued. I knew about the paleo diet, but little about Mark Sisson's Primal Blueprint, which AndreAnna follows.
AndreAnna's transformation as a result of eating primal and becoming a Crossfit devotee has been nothing less than phenomenal. Even if one does not embrace paleo or primal eating, AndreAnna's focus on real foods is something we all can admire and aspire to. Her blog's subtitle/motto is "Real Food Makes Life Real Good." The matriarch part comes into play because AndreAnna's husband and children are gluten intolerant and also eating grain free and gluten free.
In May, I got to meet AndreAnna in person at the Gluten-Free and Allergen-Free Expo. I immediately fell in love with her very positive, high energy, but utter honesty and somewhat "take-no-prisoners" approach to life.
Basically, she's a total sweetheart who speaks her mind, and I'm a huge fan of that philosophy and of hers. I really appreciate that AndreAnna is so open about sharing her struggles and personal information, especially if it may help her readers—fighting the pull of unhealthy food.
When AndreAnna posted her Cucumber Watermelon Skinny Martini recipe, I "oohed" and "ahhed" at my computer screen. Admittedly, I've never been drawn to anything with skinny in the title before, but AndreAnna's skinny martini was pretty!
I am super weak when it comes to a pretty cocktail made from real food ingredients with a little bit of alcohol. This drink fit the bill perfectly … made of cucumbers, watermelon, honey, orange juice, gin, and vodka.
Finally, the other day I had a perfectly sweet watermelon on the counter (thank you, Mr. GFE!) and freshly picked cucumbers from Mom and Dad's garden. "Hot off the fire" steamed crabs were on the dinner menu.
Crabs with AndreAnna's skinny martini sounded very appealing. With just a little chopping action and a whir of my blender, I had a lovely, "light" martini to sip while cracking claws and spending time with Mr. GFE. (Note that my martini is not nearly as pretty as AndreAnna's version as I threw all ingredients into the blender at once.)
The other recipe of AndreAnna's that I wanted to make from the moment she posted it was her Mexican Pulled Chicken Stuffed Peppers. The pulled chicken in her recipe comes from chicken cooked with tomatoes, green pepper, salsa, spices, and seasonings in the slow cooker. The mixture is then stuffed into a bell pepper, baked in the oven, and topped with cheese and salsa.
When it came time to make this recipe, we were headed out camping. I already had slow-cooked barbecued chicken so I decided to use AndreAnna's concept, but not her exact recipe. I also had other products on hand that I needed to use and I had to make this recipe work for camping.
We don't have electricity on our mountain property where we camp. Well, unless you count the time that we ran 250-feet of extension cords to our neighbor's outlet for my husband's 20th college reunion so that the rock band could perform. But I digress.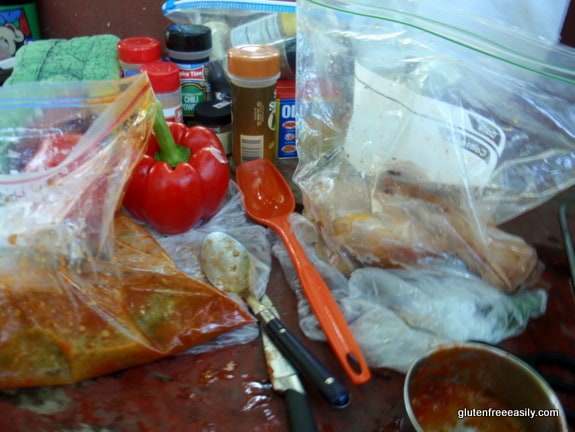 I chopped my slow-cooked barbecued chicken and mixed it with super spicy salsa, some salsa verde, and cheddar cheese. I spooned the mixture into red bell peppers, wrapped them in foil, and set them right in our campfire for about 20 minutes (same amount of time AndreAnna advised for oven baking). We enjoyed our Mexican stuffed peppers with steamed artichokes.
Mr. GFE's review of the stuffed peppers: "Delicious. Wonderful. Very good. Tasty." Mr. GFE's motto is something akin to "why use one word when you can use five?" (If you think I'm wordy, you must meet him one day.)
I appreciated his positive feedback though and I completely agreed. This recipe was a very nice change from our normal camping dinner fare and was really easy to make.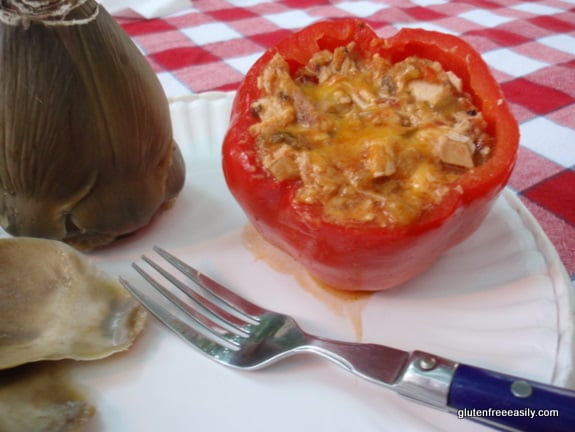 The peppers themselves didn't cook fully for dinner, so we just used them as serving vessels and ate the filling from them for dinner. I saved the empty peppers though and refilled them with leftover filling to eat the next day for lunch. Again, I wrapped them in foil and placed them in our campfire.
That time the peppers cooked through and we ate them in their entirety. Total yum.
I'm sure I'll make these stuffed peppers exactly per AndreAnna's recipe in the future, although if we're camping, I'll definitely use the campfire as my oven once again. I did like the ease of using leftover chicken, spicy salsa, and salsa verde, so I may well make stuffed peppers that way in the future, too.
Be sure to check out my other Adopt a Gluten-Free Blogger posts to meet gluten-free bloggers who might be new to you and sample their recipes!
Originally published July 10, 2011; updated December 31, 2021.