For affiliate links and as an Amazon Associate I earn from qualifying purchases.
Full disclosure: The beer reviewed in this post was complimentary from New Planet Beer in Colorado. However, the opinions expressed here are strictly my own. I am sharing my review because I genuinely like this beer. I'm not a beer connoisseur so you won't find all the aspects of beer critiqued here, just pretty much my overall assessment.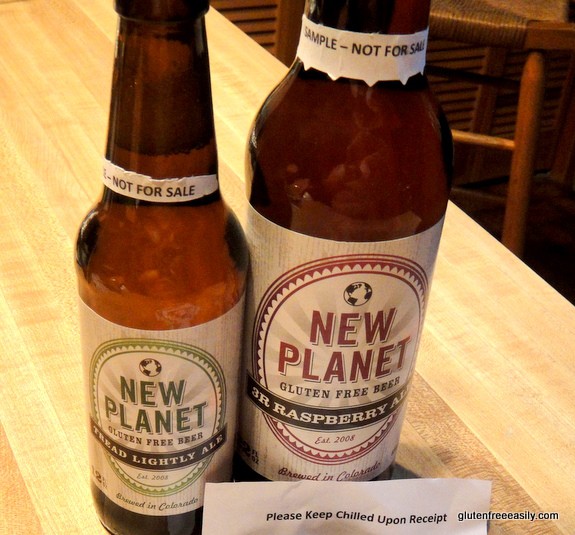 The folks from New Planet Beer emailed me and asked if I'd like to try some of their new beer. I'd read great reviews over at Pete's (No Gluten, No Problem)—one for the 3R Raspberry Ale (with the 3R meaning Reduce, Reuse, Recycle) and another for the more traditional flavor, Tread Lightly Ale (the latter as part of a blind beer tasting). So I quickly replied, "Sure!"
Admittedly, I'm not a huge beer fan, but gluten-free Son certainly is, not to mention Mr. GFE (who still consumes gluten). Plus, I had this Beer Can Chicken recipe in mind.  (As I share in that post, even though New Planet beer doesn't come in a can, that was a minor detail and easily remedied.) I have to admit it's an odd thing to have beer delivered in a cardboard box by our FedEx friend. An odd thing, but definitely not a bad thing. It comes at room temperature, of course, but with instructions to chill immediately.
Before I used some of the beer for the recipe, the three of us sampled. As you can see, the kind New Planet folks had sent two bottles, one each of the Tread Lightly Ale and 3R Raspberry Ale. New Planet beer is brewed from sorghum, corn, orange peel, hops, and yeast, with raspberry puree added for the 3R Raspberry flavor. New Planet beer is certified gluten free. The raspberry ale came in a large, 22-ounce bottle. We each tried some and all declared it very good. Mr. GFE said it reminded him of the blueberry ale he always enjoys in Maine—with just a light flavoring of the fruit used. Neither Son nor I could really taste raspberry, but we enjoyed the beer. I especially liked that it was such a light tasting beer. Most beer has way too strong of a taste for my liking, but much to my delight, not New Planet's 3R Raspberry ale.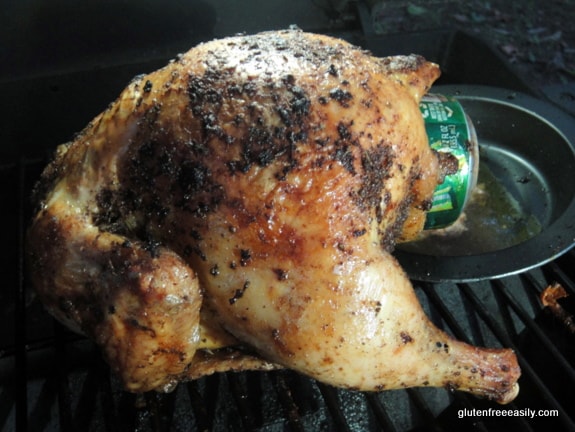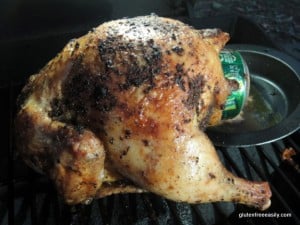 Then we moved on to the Tread Lightly Ale, which comes in a standard, 12-ounce bottle. That flavor was a "classic" one that I wanted to use for the Beer Can Chicken (using a can from another beverage, of course, since New Planet only comes in bottles). Mr. GFE and I sampled some and we passed the remaining amount—a few sips at best—to Son. Son liked this flavor even better. Mr. GFE and I liked them both. In fact, Mr. GFE proclaimed both the 3R Raspberry and Tread Lightly Ales as "Excellent beer. Just not enough of it!" I agreed. Sadly, I couldn't run out and buy any more for us to enjoy as New Planet beer is made in Colorado and currently only sold there. However, the company hopes to expand to the national market. I hope they will. We all found this beer to be the best gluten-free beer that we've tried to date and, by the way, the beer can chicken was absolutely delicious. (Here it is once it had tumbled over and finished roasting.)
Thanks so much New Planet for giving us the opportunity to try your great new gluten-free beer! To all my buddies in Colorado, find some New Planet beer and drink up … responsibly, of course. And, New Planet, we'll be waiting for your beer to come to Virginia!
Shirley
Not just gf, but gfe!