For affiliate links and as an Amazon Associate I earn from qualifying purchases.
POMerdoodle Ice Cream. What the heck is that you may be saying? Well, if you've been reading gfe much of late, you know I've become smitten with my ice cream maker. I've already shared my versions of Snickerdoodle Ice Cream, Peach Sorbet, and Honeydew Sherbet … and raved about them all.
The first time I made the Snickerdoodle ice cream, I used coconut milk versus dairy to ensure everyone in our support group could safely eat it. It did not disappoint. I decided to make the original version for my mother's birthday recently. That recipe called for heavy cream and half and half.
Mom and Dad were quite surprised when I showed up with the towel-wrapped frozen container of newly made ice cream. It's always a treat to get homemade ice cream delivered to your door, right? They enjoyed it very much. Every recipe I create becomes my new favorite. My latest frozen treat is no exception.
Remember when I wondered if I should call the Snickerdoodle ice cream, Cocodoodle, or Snickernut?
Well, the "doodle" part has been stuck in my brain … making me think of designer dog names. Seriously. I know. I find them all so ridiculous, but amusing.
I'm not sure I could actually own a dog with such a silly hybrid name, but, again, the names do entertain me. (And, please no offense if you own one of these breeds. I am sure it is the cutest dog EVER!)
Even when I was making the first batch of Snickerdoodle ice cream, I was thinking of yet another ice cream version and already knew what its name would be—POMerdoodle—because I wanted to use the POM Wonderful juice that I had on hand. The POM Wonderful folks gave me a small sampling of their juice several months back for testing/review purposes. Because I've been treating the stuff like gold, I still had some.
For the most part, I've just been adding a little POM Wonderful juice to my green smoothies now and then. (The green smoothie recipe I use is courtesy of Ali over at Nourishing Meals, who incidentally has a new, awesome White Nectarine Ice Cream recipe up.)
But, again, adding POM Wonderful juice to ice cream to provide a nice pink color and a zippy flavor had definitely been on my mind. With leftover whipping cream and half and half from the batch made for Mom and Dad, I decided it was time.
Of course, the way my brain works, there had to be another tie-in as well. Remember … I'm the girl that likes to squeeze in as much fun as possible (does cruising 10 states in 11 days across 2,100 miles ring a bell?). Sweet and enthusiastic Katrina at Gluten Free Gidget is currently hosting Go Ahead Honey, It's Gluten Free!, the always joyful gluten-free carnival originated by the always delightful Naomi Devlin (Straight Into Bed Cakefree and Dried). Katrina's theme is Dinner with Disney.
Her guidance was to choose your favorite Disney movie and make a gluten-free recipe that would relate to the movie. I don't know that I actually have a favorite Disney movie. In fact, there might be some that are definitely non-favorites.
Oh, no, it has nothing to do with Walt and the crew. It's just that I watched so many of those movies over and over when Son was little. As a result, I can recite entire movie scripts and know the words to songs no grown-up should.
In fact, sometimes those tunes pop into my head and just won't leave! Therefore, I'm re-interpreting Katrina's rules a bit and submitting my POMerdoodle ice cream recipe as an homage to all the Walt Disney dog-themed movies.
If Disney is interested in making a designer dog movie about a cute little POMerdoodle (a pink Pomeranian crossed with a cockerdoodle, perhaps?), then I want credit and, of course, I'll be happy to be involved in the making of this new classic as well! We can sell the POMerdoodle ice cream along with the cute t-shirts and requisite itty bitty toys, and pink POMerdoodle purses. Of course, we'll make both kinds of POMerdoodle ice cream—dairy and non-dairy, which will all be naturally gluten free or gfe!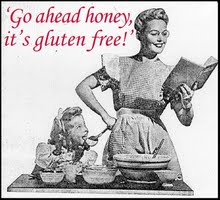 This POMerdoodle ice cream came out extremely well. It is the palest of pinks—a sort of blush color. With the flecks of cinnamon and nutmeg, it also reminds me of the pink "sand" of Bermuda's beaches. That alone is reason enough to love this ice cream in my book because Mr. GFE and I love visiting Bermuda, but there are more.
It retains its scoopable softness even after being in the freezer for several days. And, with its muted color and superior creaminess, it looks much like the chocolate frozen custard from nearby Carl's Frozen Custard that locals (including myself) revere around here.
Hey, I might even add some cocoa next time and make a Chocolate POMerdoodle variety. But, I don't know … the flavor and everything else about this POMerdoodle ice cream is pretty darned good right now! (Update: I did make a Chocolate POMerdoodle version. It's fabulous, too!)
This POMerdoodle Ice Cream is not overly sweet either with the delightful POM factor. I expected it to be tart, but it's not tart at all; the POM just provides a little burst of flavor that keeps you coming back for more. It's lovely really.
But, I'm still having a hard time imagining a designer POMerdoodle dog … Share your favorite Walt Disney dog movie (or your least favorite) if you have one, and enjoy this ice cream!
POMerdoodle

Ice Cream Recipe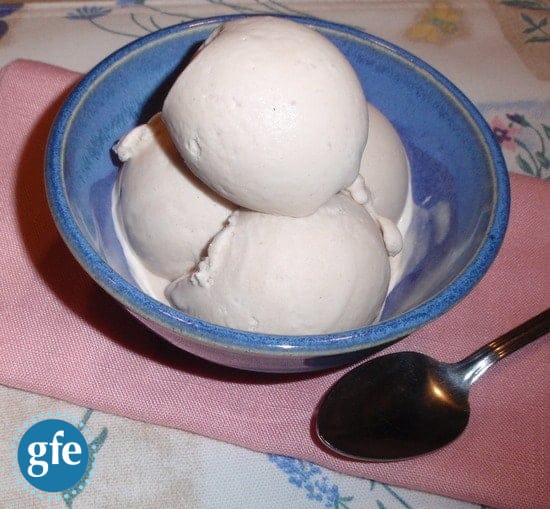 Yield: 6 servings
POMerdoodle Ice Cream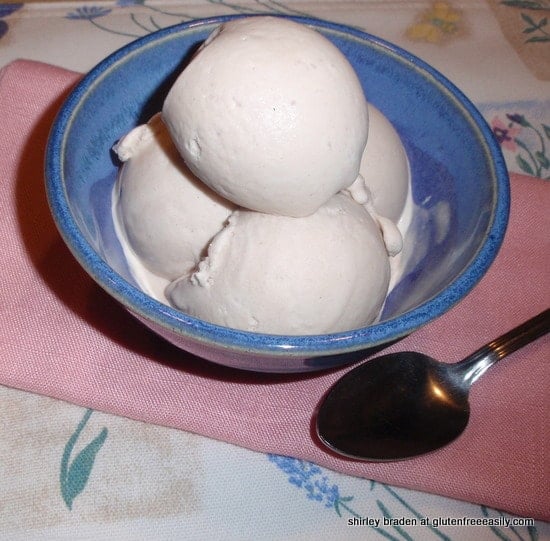 This POMerdoodle ice Cream has a silly name but it has an elegant look and taste.

Prep Time 5 minutes

Cook Time 20 minutes

Inactive Time 30 minutes

Total Time 55 minutes
Ingredients
1/2 cup honey
1/2 cup packed light brown sugar
1/2 teaspoon ground cinnamon
1/8 teaspoon ground nutmeg
2 cups heavy whipping cream, chilled
1/2 cup half and half cream, chilled
1/2 cup POM Wonderful juice, chilled
Instructions
In a blender or large bowl, combine honey, light brown sugar, cinnamon, and nutmeg. Add heavy whipping cream, half and half, and POM Wonderful; blend until smooth. (Either a blender or hand mixer will work fine for all mixing.)
Pour the cold mixture immediately into ice cream maker and freeze according to the manufacturer's instructions. Churn about 20 minutes.
Scoop ice cream into a freezer safe-container. Freeze until ready to eat.
Notes
Adapted from Recipe Girl.

Originally published September 22, 2009; updated June 29, 2023.