For affiliate links and as an Amazon Associate I earn from qualifying purchases.
We squeezed in a stop at our mountain property over Labor Day weekend. Monday morning we slept late, had a very light breakfast, and then headed out in the canoe. The Shenandoah River flows north. It's one of the few rivers in the world that does. We headed south—paddling against the flow—weaving our way between the rocks (this section of the river is called the maze) and leaving as little of our canoe's "hide" behind as we possibly could while doing so. We paddled as far south as we could (we don't portage for such outings) and then crossed the river and turned north, to float back to our property. Around each bend of the river was another postcard view … the river itself, mountains, wildlife, and many other sights–scenes that are always comfortingly familiar, yet always surprising us, too.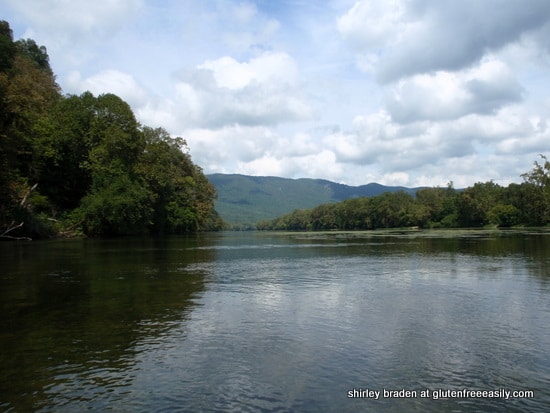 Sycamore in sepia …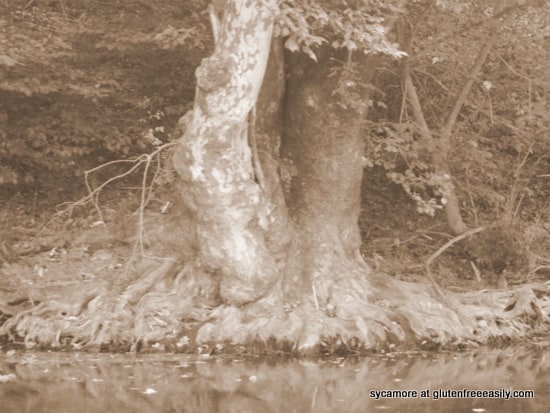 One of a pair of great blue herons … always just far enough away to avoid a great photo …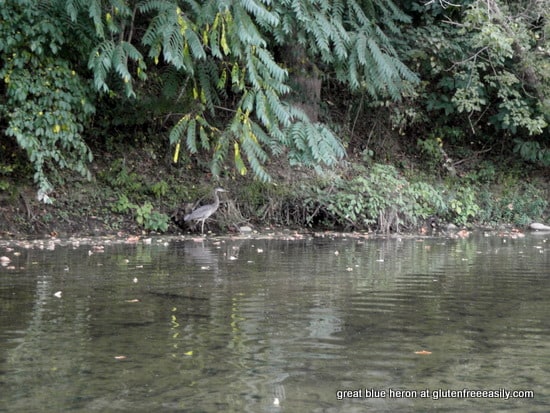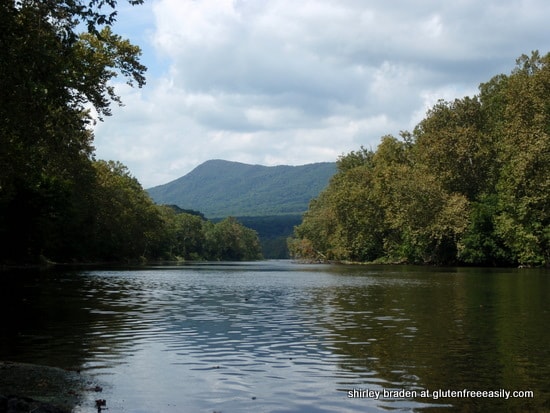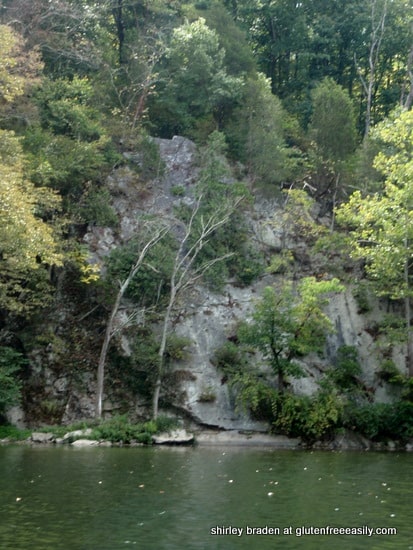 There are caves at the top of this rock face … we love visiting them, especially with new folks. 😉
Below, Mr. Green Heron on the hunt …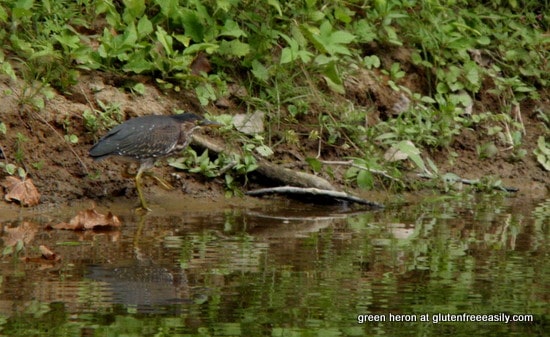 This smallmouth bass only "visited" for a minute or two (we "catch and release") and then he was off after bigger fish—hopefully, ones with no hooks …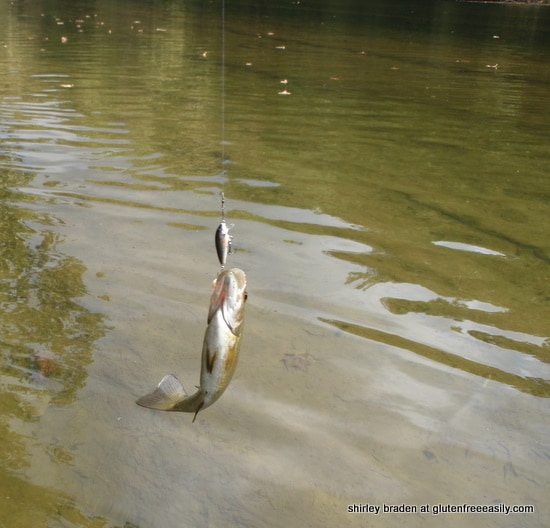 The turtles reappeared for the first time since spring …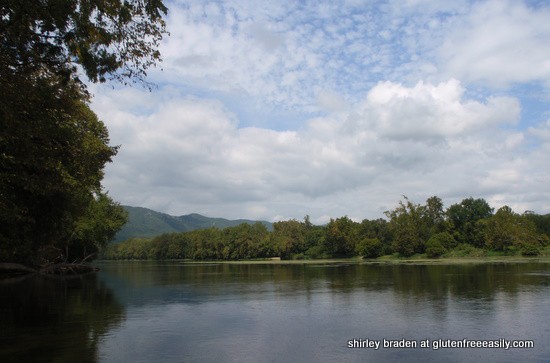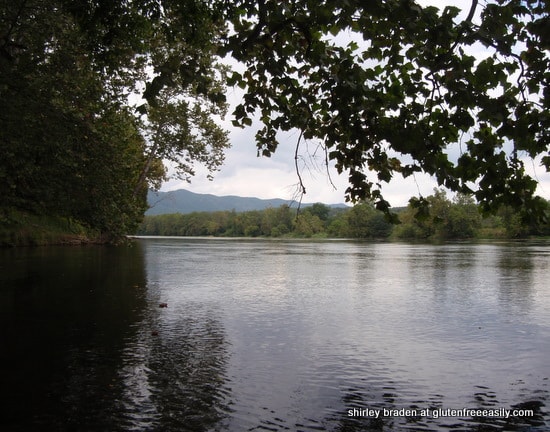 Shooting "our" rapid …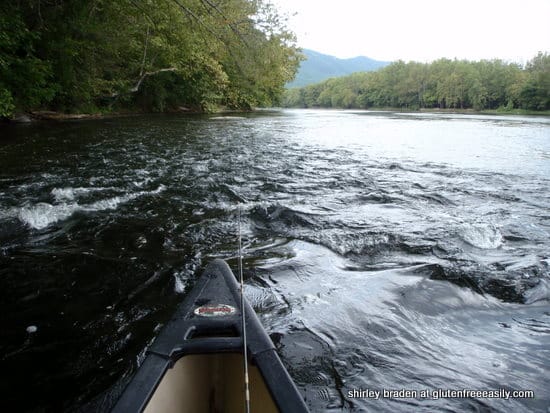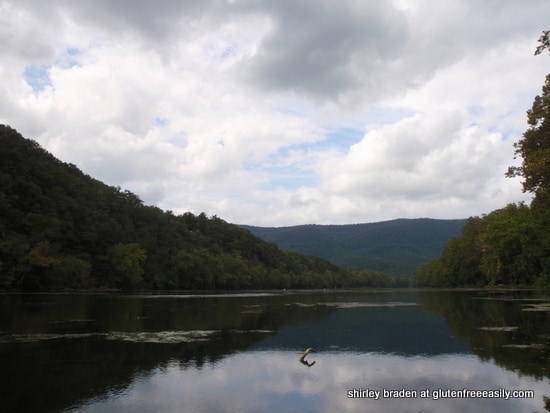 And, then we enjoyed lunch … hash made from leftover ham and sweet corn from dinner the night before, and diced potatoes (skins on), to which I added a little olive oil, cayenne pepper, and onions. The burned bits are the onions. Clearly, I added them too early in the cooking process. I forgot how long the diced, but raw potatoes would take to cook. Usually, I use leftover potatoes that have already been baked in the campfire. Since we had a long trip from North Carolina and Mr. GFE's college reunion the previous day, we had prepared a very simple meal the night before–grilled ham steaks and grilled corn on the cob; there had been no time to get an adequate bed of coals for baking potatoes. The burned onion bits weren't bad (I often rather like that flavor–just a little beyond caramelized, if you will), but they weren't exactly the most photoworthy. Hash like this is a great meal though … so easy to make. I don't even use a pan. I just make mine on foil on the grill. How do you use your leftovers like these? Do you make ham hash, steak hash, or just great hash browns by themselves? Or maybe something else?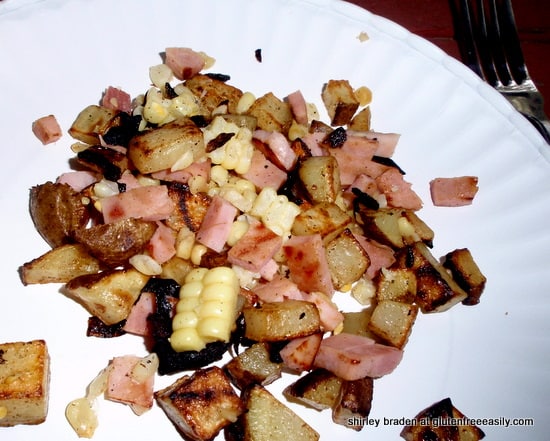 We're headed to our property again this weekend. It should be a lovely camping weekend given the weather forecast—70s during the day and high 40s at night. Some friends of ours, a couple, will be joining us. Each has a kayak, so we'll all be out in the water doing a mini float. This trip might be our last camping for the season at our property because next weekend I'll be heading to the BlogHer Food conference in San Francisco (which I'm really looking forward to, because I'll be meeting so many of my online buddies in person!) and October is pretty unpredictable for mountain weather. But, we have had Indian Summers that allowed us to camp through October before. One year we even enjoyed a balmy Halloween weekend there—complete with a spooky jack-o-lantern! 😉
Fall officially begins on Tuesday. I'm definitely ready. It's my favorite time of year … that edge of coolness and freshness in the air, long-sleeved comfort, chasing away the overnight chill in the house by baking, building the first fire in the woodstove … that all just sounds so good. That last one, building the first fire in the woodstove is far from here yet, but it's part of fall to me. I know we'll certainly have a big campfire blazing tomorrow night in the mountains. Mr. GFE is already talking about his special "hot fire" wood that he has stashed at our property. I trust him, but I'm still taking a hat and gloves and the makings for hot cocoa … oh, and gotta have my alternative S'mores. That, of course, leads me back to baking. I'm making flourless chocolate cookies to use as a base this time, so maybe I'll just skip adding more chocolate in between. Two rich chocolate cookies with a perfectly-roasted marshmallow in the middle … that sounds like a lovely S'more to me.
Hope you all have a great weekend planned!
Shirley
Not just gf, but gfe!