For affiliate links and as an Amazon Associate I earn from qualifying purchases.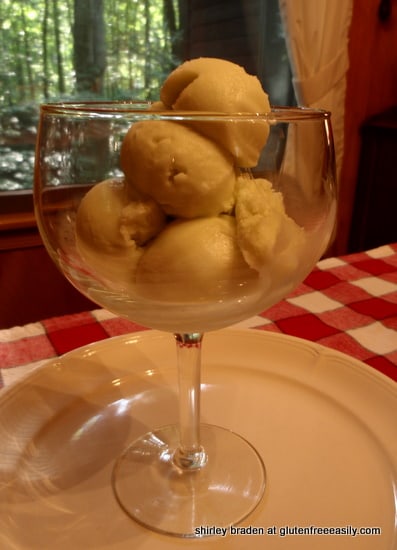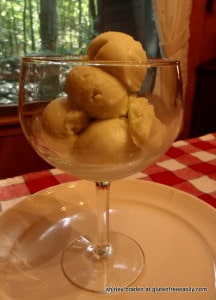 Honeydew Melon Sherbet. I had so many other ideas for the Slightly Indulgent Mondays event. Because I had shared the peach sorbet last week, I was thinking about yet another chocolate cake recipe I've been wanting to share or maybe another main dish.
But, today I was still "puny" (which is Southern speak for not feeling at all very well) from a bug that started Thursday evening. Although I have been varying my time between the sofa and bed, I was functional enough this weekend for the occasional stint into the kitchen to make lunch or dinner. So, I had some good eats remaining in the refrigerator, but I had no real appetite.
Suddenly I found myself thinking of the things that my mother always prepared when weren't feeling well … and similar things I'd made for Son. Chicken soup, hot tea, toast, crackers, applesauce … nope, but, then I remembered the very special treat of sherbet.
Son always wanted a little orange or rainbow sherbet when he was puny. But there was no sherbet in the house (and the peach sorbet was long gone).
Then I remembered the honeydew melon that had been too ripe to include in Mom and Dad's anniversary glorious fruit easily (gfe) creation. I'd spooned the melon into a freezer container for later contemplation. Hmmm, surely, running the ice cream maker wouldn't take much of my energy, I thought.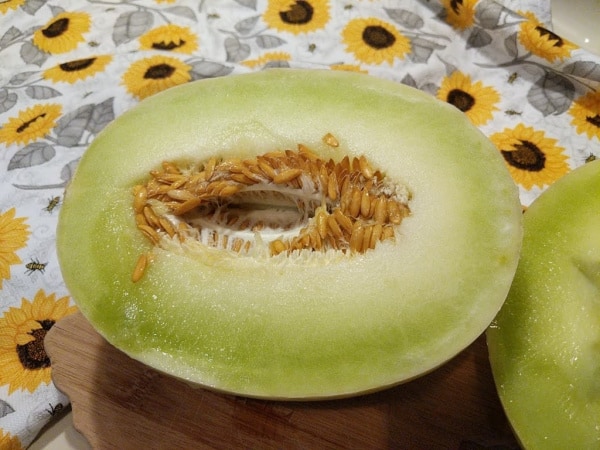 I thawed the honeydew a few minutes and dumped it into the blender. Working off the measurements from the successful peach sorbet, I came up with a three-ingredient recipe: honeydew melon, coconut milk, and our bees' honey. (I didn't add any vanilla extract because I didn't think it was needed with the sweetness of the melon and the honey.)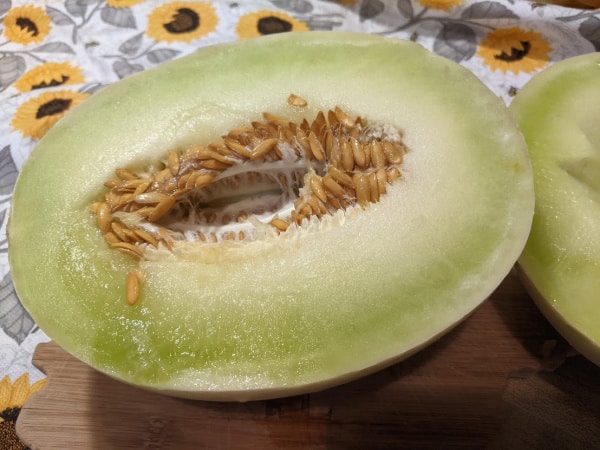 I only had two cups of the honeydew melon and I wondered if there were any warnings about not filling the ice cream maker up enough, but I didn't look in the manual. I didn't want to know.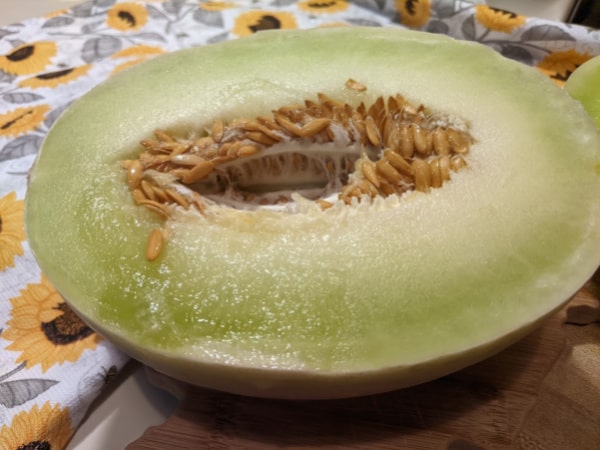 I just wanted the honeydew sherbet that I was already tasting in my mind—cool and creamy … definitely comfort food. Because the container was not full, I only needed to churn this sherbet for 15 minutes. And, in the end, it was everything I hoped it would be.
It may be my best attempt in the ice cream maker yet … and that's saying something up against the Snickerdoodle Ice Cream and the previously mentioned Peach Sorbet.
Oh, and sherbet … or sorbet … I'm not following the real rules on what differentiates the two. This sherbet might not contain any dairy, but it's got sherbet flavor all the way.
Whatever you call it, it would be lovely in small portions to cleanse the palate before a meal or as a delightful and creamy, yet lighter, dessert. One of our favorite B&Bs, Long Hill in Winchester, Virginia, gives you a choice of about six different sorbets before their award-winning breakfast. Sundrop (remember the old-fashioned citrus drink? another Southern pleasure) is one of the flavors they offer and the one I always select; this honeydew sherbet pleases me just as much.
Here's my "bowl." Oh, wait … you wanted some of this sherbet, too? So sorry. You'll have to make your own.
First, find a very ripe honeydew (hey, you might even negotiate with the produce manager for a better deal on one that is super ripe!) and then follow the recipe below. (Incidentally, I appreciate that photo not just for the sherbet. Soon the neighbor's house will "reappear" as the leaves fall, the evening light will be fading earlier … and the shadows will be different as a result, and, finally, the red-checked tablecloth will be put away until warm weather returns.)
Last, if you are wondering, I think I'm definitely going to live now … I wasn't so sure before. The fact is that I don't get ill very often since going gluten free. No viruses, no colds, etc.—unlike the old days.
However, I did get glutened last weekend (a story I'll share another time) and I think my resistance was down as a result. I'm hoping to wake up bright-eyed and bushy-tailed tomorrow. Better eat some more of this honeydew sherbet to be sure!
Honeydew Melon Sherbet Recipe
Yield: 6 servings
Honeydew Melon Sherbet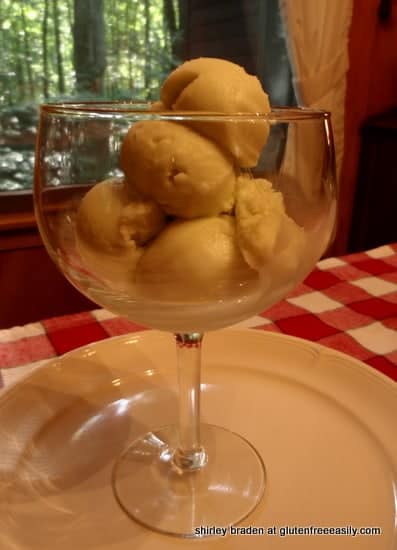 This Honeydew Melon Sherbet is absolutely delicious! So flavorful and cooling on a hot summer day.

Prep Time 5 minutes

Cook Time 20 minutes

Inactive Time 20 minutes

Total Time 45 minutes
Ingredients
2 cups very ripe honeydew melon, slices/scoops, frozen and then thawed slightly
¾ cup full-fat coconut milk, chilled
¼ cup honey
Instructions
Blend melon, coconut milk, and honey for a few minutes until well blended.
Pour into ice cream maker.
Churn 15 – 20 minutes.
Freeze additional time in your freezer before serving if you wish.
Shirley
Not just gf, but gfe!
Originally published September 14, 2009; updated September 8, 2021.