For affiliate links and as an Amazon Associate I earn from qualifying purchases.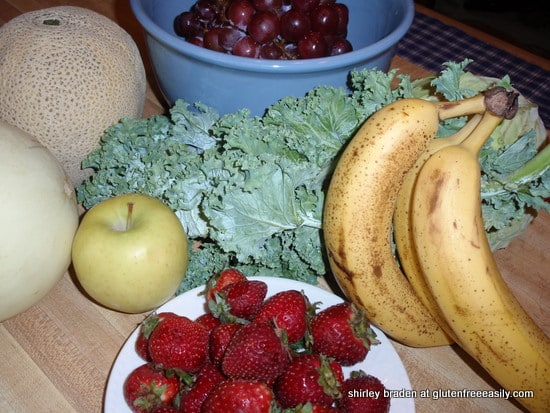 This post is linked to Friday Foodie Fix—Strawberries. 
Yep, glorious fruit easily—gfe! You didn't know there were so many definitions of this acronym, did you? Well, honestly, neither did I, but it came to mind for the creation I made today to help my parents celebrate their wedding anniversary. Made of fruit, this creation was indeed glorious and it came together easily. Of course, it's also gfe the other way, too—gluten free easily.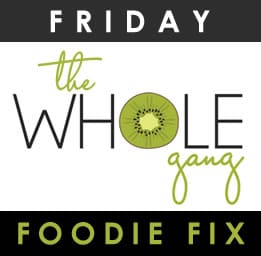 I like to participate in Diane's Friday Foodie Fix over at her blog, The Whole Gang, whenever I can. This week, the secret ingredient is cantaloupe. I enjoy cantaloupe, but I usually only eat it two ways—either cut into slices or cut into chunks as part of a fruit salad. There are tons of wonderful fruit salad recipes, so that was an option for an entry. But, then looking through one of those coupon packages that come in the mail, I saw an ad and coupon for Edible Arrangements. If you are not familiar with Edible Arrangements, they are what they sound like. They are "flower" arrangements made of many pieces of fruit (some dipped in chocolate) artfully arranged as a lovely bouquet. To be honest, when I first saw one of these arrangements, I thought it was a rather silly thing. I wasn't "in" to eating much fruit back then. However, last year, I received one of the arrangements after an illness. Mr. GFE and I just loved it. It was really attractive for one thing. More importantly though, all the fruit was so fresh; every piece was the perfect ripeness. Mr. GFE thought the chocolate-covered strawberries were wonderful. I thought the chocolate-covered bananas were especially good. (Please note I have no affiliation with Edible Arrangements. I'm just sharing my one personal experience.)
So I started thinking I might make such a creation for Mom and Dad, with cantaloupes, which is a common ingredient in such fruit arrangements, for Diane's Friday Foodie Fix. I had actually dissected last year's arrangement when we had finished eating all the fruit. I am always big on re-using whatever I can. I had already recycled the deep ceramic container for a flower arrangement for my mother-in-law. I'd also passed on the nifty "no-spill" box for transporting the arrangement to an overnight guest at our Valentine's Day party. (Her husband had her Valentine's bouquet delivered to the party—excellent move on his part … some major brownie points on that one.) When I had removed all the skewers (plastic, but wooden would work) when taking apart the remains of the arrangement, I had discovered that the base was actually a head of cabbage topped by some kale! I thought that was so neat for an edible arrangement. And, of course, since I've been making the green smoothies, those are two ingredients I always have in the refrigerator. I also found this video on Edible Arrangements from a Food Network show. It tells all about the company and their practices and shows quite a bit on how their arrangements are made. Their operation is quite impressive, really.
I was going for a fairly simple creation that didn't require scooping out dozens of melon balls or anything like that. I also wasn't looking to spend a fortune. (In that regard, although the Edible Arrangements can seem pricey, they are probably a real bargain for all you get and NOT having to make them yourself.) I had bananas and apples on hand, but picked up a honeydew melon, a cantaloupe, some strawberries, red seedless grapes, and some chocolate for dipping. I chose a deep, heavy pottery bowl as my container. Then I cut off just part of the head of cabbage to best fit the bowl and inserted it. At this point, it would have been good to add the kale to cover the cabbage before inserting any skewers, but I didn't think of that and added it at the end of my work, sort of scrunching it in between all the skewers. Then I melted the chocolate and dipped the strawberries and banana slices (that I'd already placed on the skewers). I set these skewers in tall glasses to harden. I also dipped two apple slices in chocolate, but tried one and decided I didn't like that combination enough to use any more apple slices. The honeydew melon proved to be pretty ripe and I didn't think it would hold up well, so I only used a few pieces. (I scooped out the rest into a freezer container for a later recipe.) At the last minute, I decided to use cucumber slices, as all of my family loves cucumbers and I had one on hand. Not a fruit, of course, but they added nice color and had a lollipop/flower look, too.
After about a half hour of arranging the loaded skewers, I was pretty pleased with the outcome. It was not on the caliber of an Edible Arrangement, but it was colorful, healthy, and fun. I'm even entering it as another submission for Kim's Go Ahead Honey It's Gluten Free! Chill Out theme because these juicy pieces of fruit are cold and refreshing. (I personally verified this fact as I was sampling the pieces leftover from my cutting as I went.)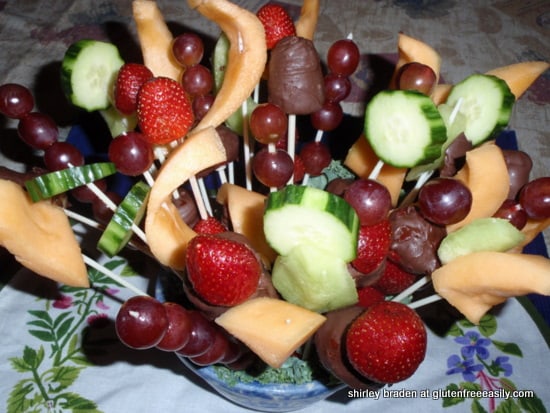 Creating such a fruit centerpiece would be quite a fun project to do with children, too … as long as you don't get hung up on perfection. A few other notes … I was quite happy I'd gotten the grapes because stacked on the skewers they provided a nice look on their own, but I also used them to cap off any skewers on which the fruit slid down. I used some of the plain strawberries this way, too. I also didn't hesitate to stack some combinations, like chocolate-covered bananas and chocolate-covered strawberries.
To go with this gfe creation, I found the perfect card in my card box. (I have a special box of cards for all occasions. I buy cards I love throughout the year and just add them to the card box. Some cards can be used for any recipient; others are bought with certain people and occasions in mind.) This card was sappy. I don't often give sappy cards, and when I do they have to be for just the right person. I believe a good laugh is usually much better—last year I gave Mom and Dad a giant Roy Rogers and Dale Evans card that said something about still "being in the saddle together after all these years"—they laughed so hard when they opened it and kept it on display for months! (Dad and I had met Roy Rogers many years ago, so we'd had to reminisce about that at the time, too.) Somehow, for my parents' 54th anniversary, this sappy card seemed just right though. With a photo of a gorgeous bouquet of flowers (a photo of actual flowers this time), it read:
LOVE …
Through the laughter
through the tears
LOVE lasts
through the years.
The strength of your love inspires us all.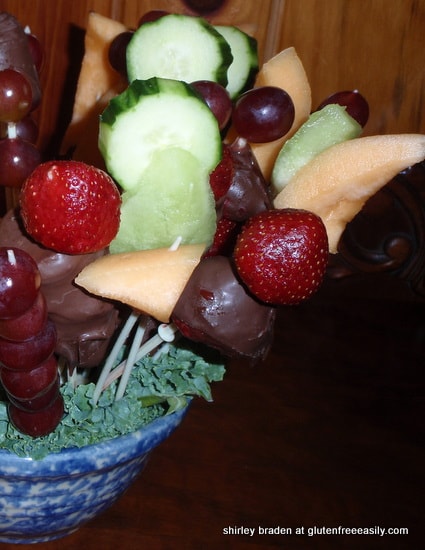 We'd already given my parents a gift earlier, but they were delighted by the creative fruit arrangement. They immediately pulled out a few skewers and enjoyed a variety of fruit goodies. Mom loved the card saying, "Ah, that's sweet." Dad, always a jokester when it comes to mushy cards, said, "You don't know the half of it!" Ha ha, but I'm sure he's right. Their 54 years of marriage is exactly twice the number of years that Mr. GFE and I have been married. WOW–when you look at their years together frm that perspective, their anniversary is really impressive! I love you, Mom and Dad! Happy Anniversary!
Shirley
Not just gf, but gfe!