For affiliate links and as an Amazon Associate I earn from qualifying purchases.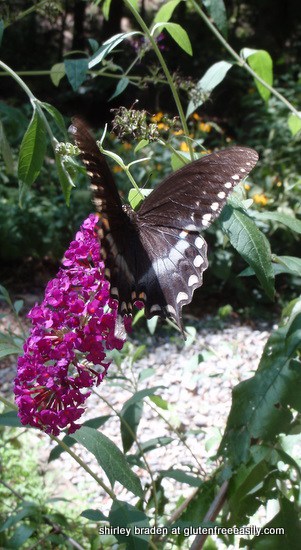 I know you've been waiting anxiously for the results of the giveaway for The Whole Life Nutrition Cookbook. I don't blame you … it's such a worthy prize. The winner of the giveaway was determined the old-fashioned way: slips of paper in a hat. (Okay, it wasn't really a hat … it was the promotional gift bag that my new cell phone came in yesterday. Hey, it was a handy receptacle and it worked!) Mr. GFE, who is completely unbiased, closed his eyes and pulled out the winning entry. And, the winner is … christina. Because more than one Christina commented, to clarify, this Christina's comment was:
"We love making green smoothies too! I would love to win a copy of this book. My daughter has had skin problems this past year, and I'm experimenting with gluten free. It looks like it's the answer for her. So I would love any help I can get. And free is even better! Thanks."
Congratulations, christina! (Note to christina–Please send me an email via sidebar link with your mailing address.) Thank you all for participating in this giveaway and reading gfe! Of course, special thanks to Tom Malterre and Ali Segersten of Whole Life Nutrition for sponsoring the giveaway of their truly wonderful cookbook/kitchen and nutrition resource book. If you're not already a reader of Ali and Tom's sites, Whole Life Nutrition and The Whole Life Nutrition Kitchen, please check them out. You can get a frequent dose of their wisdom and recipes at those sites, but if you want to order your own copy of their current cookbook, you can do so at their site or on Amazon.
I always believe wholeheartedly in celebrating life, but after losing some friends unexpectedly these last few weeks, I'm focusing extra hard on those celebrations right now. Last week, there was my parents' wedding anniversary, which we celebrated with glorious fruit … and some chocolate. Today, I'm sharing photos of life, life being celebrated, and what I think is fun stuff in general—hope you'll agree and enjoy these shots. Some photos are additional scenes from our motorcycle trip (taken from the back of the bike, of course), some are recent ones from our mountain property, one is from a visit to a dear friend's farm, one is from our yard, some are from a recent trip to the National Zoo, and some are from recent meetings of my beloved gluten intolerance and celiac support group (with links to gfe recipes shown below it).
I hope everyone has a wonderful holiday weekend planned … summer's last hurrah, so to speak. We'll be heading south tomorrow to Mr. GFE's college reunion, with a few other interesting stops along the way. The reunion is not an official, college-sanctioned event—just a gathering of a large group of old friends. It will be held in the beautiful mountains of North Carolina along the New River. Sunny days and cool nights are in the forecast. That and good friends sounds like the perfect way to spend any weekend to us! Oh, and yes, it will definitely be a celebration. We'll be seeing friends we only see every few years and others we haven't seen in many years. Of course, I'll be making my brown sugar chocolate chip cookies before we hit the road; everyone will be expecting them. Maybe I'll make my flourless peanut butter cookies, too, for any peanut butter fanatics.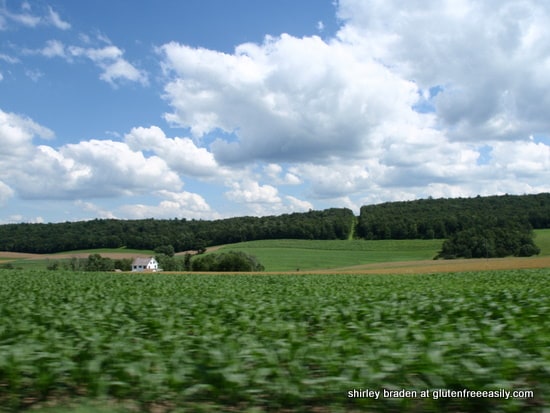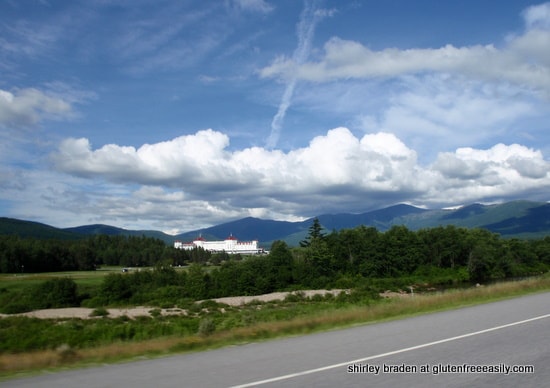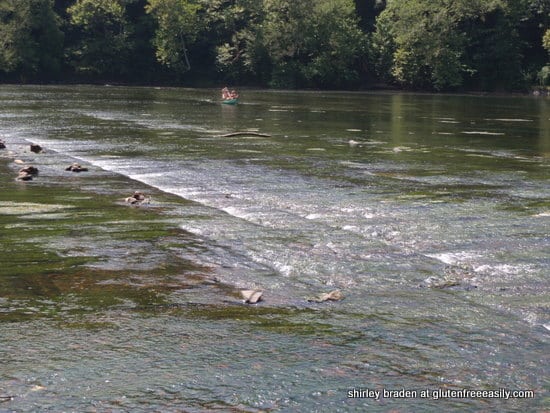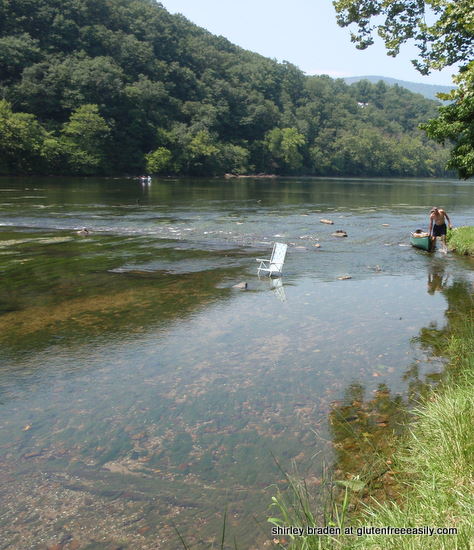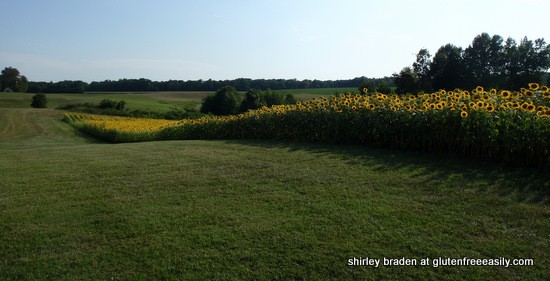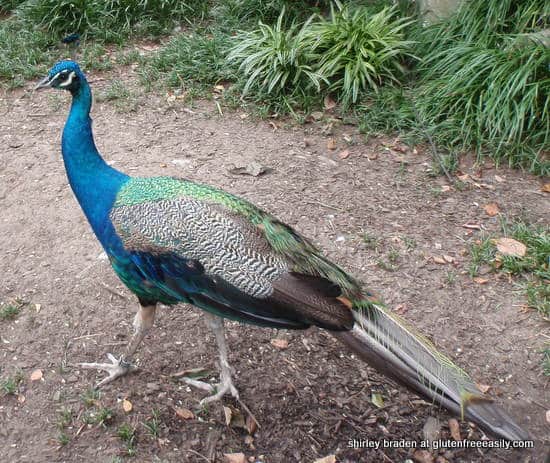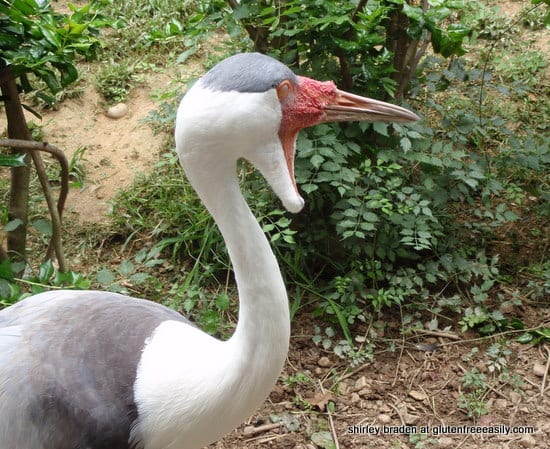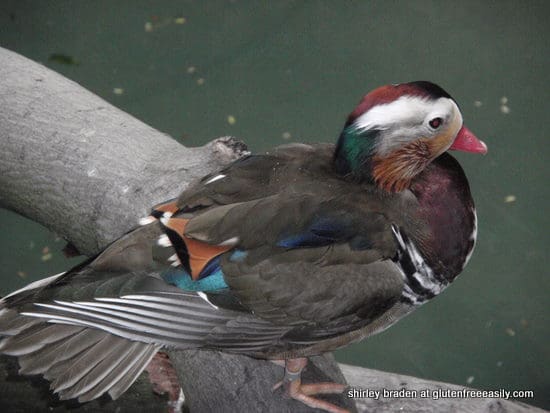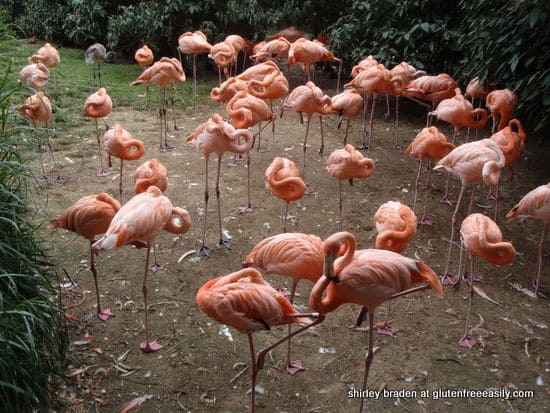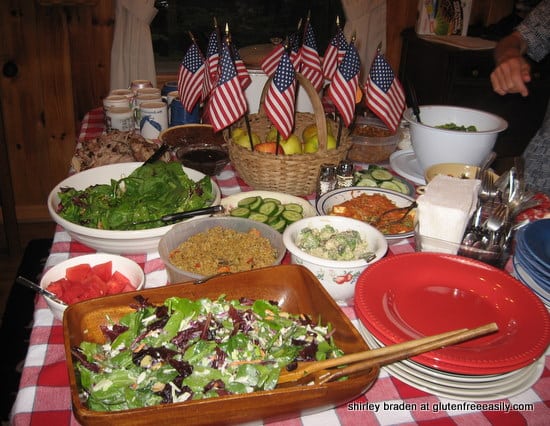 Great Salad, Sweet Potato Chili (Variation of Stephanie's recipe), and Pulled Pork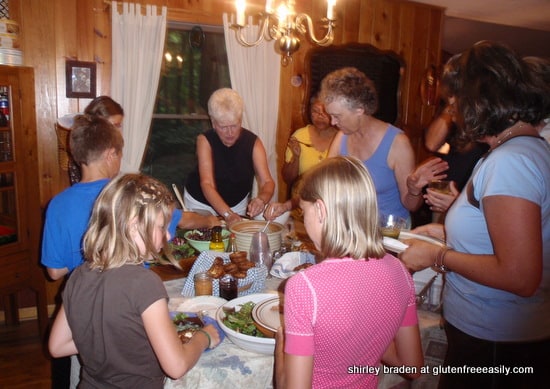 Look for a discussion post in the next few days and then next Monday, I'll be participating in Amy's new Slightly Indulgent Mondays blog carnival. Check out her latest post, too. She has some very exciting news—another celebration! Likewise, Carol of Simply … Gluten Free just shared the exciting news that she's celebrating. There cannot be enough celebrations!
Last, an apology … I had actually planned to participate this past Monday in Amy's Slightly Indulgent Mondays blog carnival, but there was a glitch on my part. As a result, some of you who subscribe to gfe received an email with a link to a post that didn't exist. I sincerely apologize for the error, but if you did received that erroneous email, at least you got a preview of the recipe I'll be sharing on Monday!
Shirley
Not just gf, but gfe!