For affiliate links and as an Amazon Associate I earn from qualifying purchases.
Today it's all about fantastically delicious Sweet Potato Bacon Chili but before we get to today's chili, I hope that all of you who celebrated Halloween had a good one!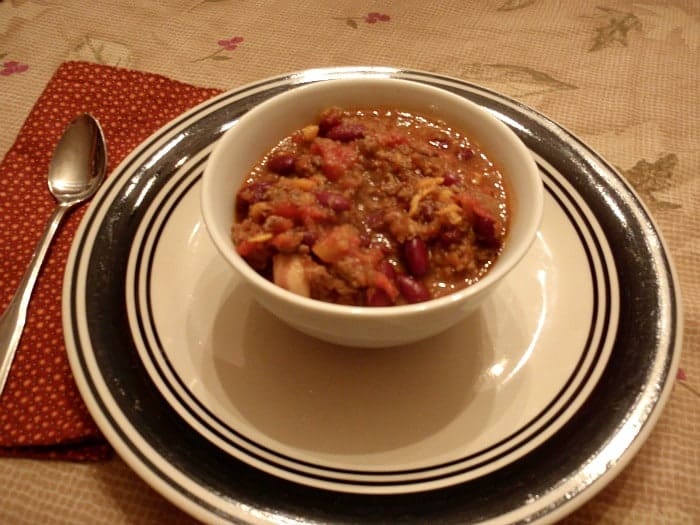 We went to our mountain property for the day and saw this humongous jack-o-lantern en route. Mr. GFE took the photo while I was driving, but we both gave the driver—presumably the farmer who grew this beauty—a thumbs up as we passed him. He beamed!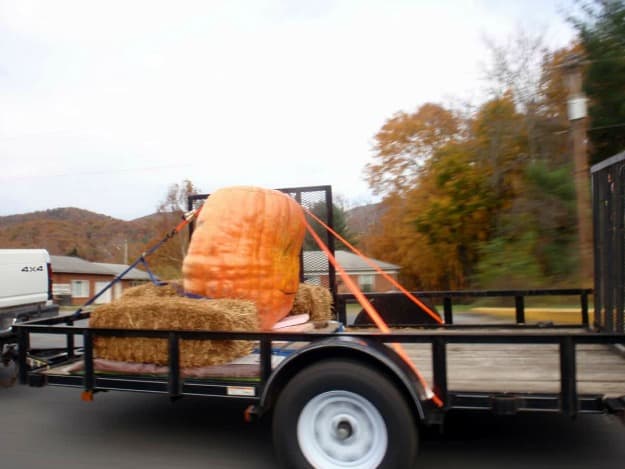 Shortly thereafter, we found a gem of a restaurant for lunch. It even offered homemade gluten-free bread for its sandwiches. (I'll share more on our lunch another time.) Afterward, we traveled a short distance to our property on the river enjoying its early fall appearance as always.
Some leaves are clearly still green, some are peak, and some are already gone, and the river is much higher than its summer level. We took a different route home than we normally do, a route filled with one beautiful fall scene after another. It was a really pleasant Halloween outing.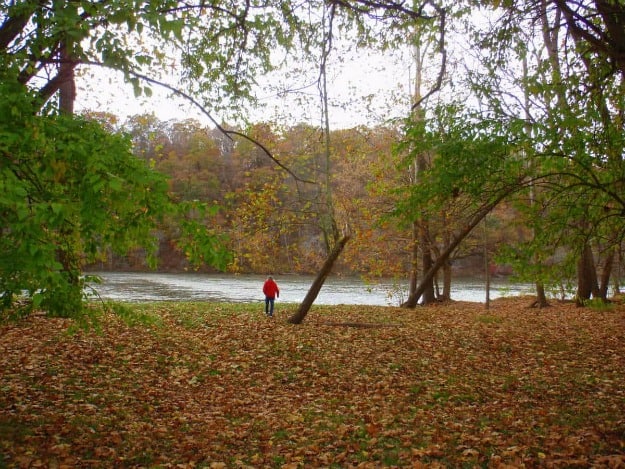 Our Halloween was made even more pleasant by coming home to this Sweet Potato Bacon Chili. I hope that sounds really good to you, because it is! This Sweet Potato Bacon Chili is classic chili made better by the yin and yang of some sweet and some heat, with bites of beloved smoky bacon throughout.
Plus, chili is comfort food and if there's anything that will make you want comfort food, it's the time change that gives you darkness shortly after 5 pm. While that seasonal change didn't occur until today, we had some leftover chili and it helped.
I never look forward to the time change. No, it doesn't help that it's light earlier in the morning, because I'm not up then! Even when I was up that early, that fact didn't help. I can take the coming cold far better than I can tolerate the fewer daylight hours. I'll get used to the early darkness, of course. I do each year, and comfort food always seems to ease the transition.
Admittedly, chili is one of those recipes that I almost never make exactly the same way twice. I love the joy of pulling bits and pieces of "this and that" and being able to create a delicious meal. To me, that really is the joy of cooking and anyone can cook if they relax and just take that approach. It's easy to follow this approach with chili. So if you think you can't cook, you might start with chili—and you might change your mind about your cooking skills!
I always start out making my "every day" chili by pulling out whatever meat I have in the freezer. Sometimes that's simply a package of ground meat. More often than not though, I pull from my "chili container" in the freezer. I either use a pint-sized Mason jar or an old Tupperware container of the same size to which I add small amounts of meat loaf, steak, spaghetti sauce, meatballs, and the like on an ongoing basis. When the container is full, it's the perfect amount to use as the base for a pot of chili.
I really recommend this approach for chili. Having a chili container can also help with menu planning because when the container is full, it's time to make chili! (By the way, I also use this approach for my Everything Soup.)
After I add the meat, I add the beans and other veggies. Sometimes I stick with kidney beans. (Yes, I do like beanless chili, but usually, I add beans to my chili.) Sometimes I throw in black beans. Sometimes I add corn for both color and sweetness. While this is a great way to make chili, it's a learned approach and an approach versus a recipe can frustrate those who want more specific guidance.
I do have one actual recipe for great vegetarian/vegan chili here on gfe—That Chili With the Mushrooms—and it's a great recipe … for everyone! But until today, I didn't have a meat-based chili recipe on gfe. The last two times I've made chili that included meat, it was this Sweet Potato Bacon Chili. It was a big hit with first Mr. GFE and me, and then with my mom and aunt as well. That made me happy!
And I captured the recipe, so I thought this would be a good chili recipe to share. Because I'm well, me, and like having flexibility with my ingredients, I do give you two options in this recipe. The first time I made this recipe I added some V-8 juice to my usual mix of chili ingredients and the second time, instead of V-8 juice, I added a jar of salsa. Those ingredients do not seem like ones you could swap out—and the results are slightly different for each for sure—but either yields a great pot of chili.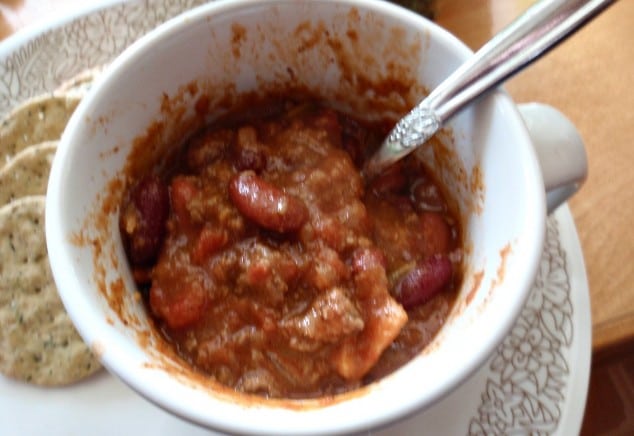 I always make my chili in the slow cooker. Stovetop chili doesn't compare to slow-cooked chili in my opinion. I also love that I can "fix and forget" my chili. If I want chili earlier in the day, I can get up earlier and turn on my slow cooker or I can turn on my slow cooker when I go to bed and the chili will be ready in the morning. Either way works fine.
If I'm going to slow cook my chili during the day, I often load my slow cooker up the night before and place it in the fridge, then plug in the slow cooker the next morning. I do that for my slow cooker with the removable crock AND the one that doesn't have a removable crock. In other words, I put the whole CrockPot in my fridge overnight. Note that this approach is not recommended by manufacturers, but I've been doing it for a very long time (don't make me say the "d" word) and it has always worked fine.
With my classic CrockPot, which does not have an automatic turnoff capability, this method ensures that the cooking starts a bit slower and one does not have overcooked chili after being away for the day. I don't always have the time to assemble ingredients in the morning so getting everything done the night before helps in that regard as well.
Sweet Potato Bacon Chili. Now doesn't that sound wonderful? You deserve a mug of this goodness! It might even help you make the transition to "slow time." That's what my mom still calls the time after Daylight Savings Time ends. And, yes, she calls Daylight Savings Time "fast time." I guess when you think of the new time that way, slowing down some is not a bad thing.
More Chili Recipes You're Sure To Love
~ Crockpot Pumpkin Chili from Kalyn's Kitchen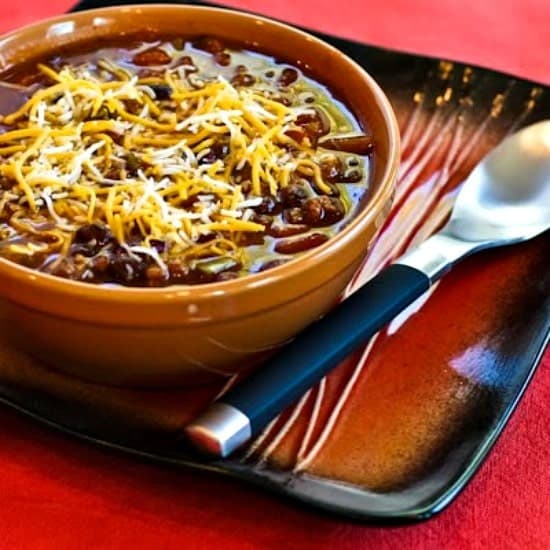 ~ Meat Lover's (No Bean) Chili from A Year of Slow Cooking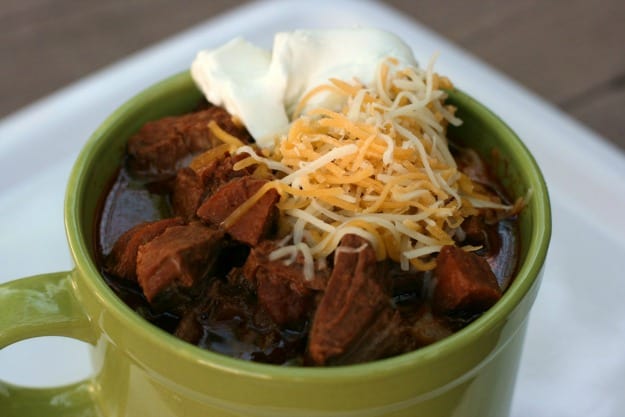 ~ Paleo Cowboy Chili from Predominantly Paleo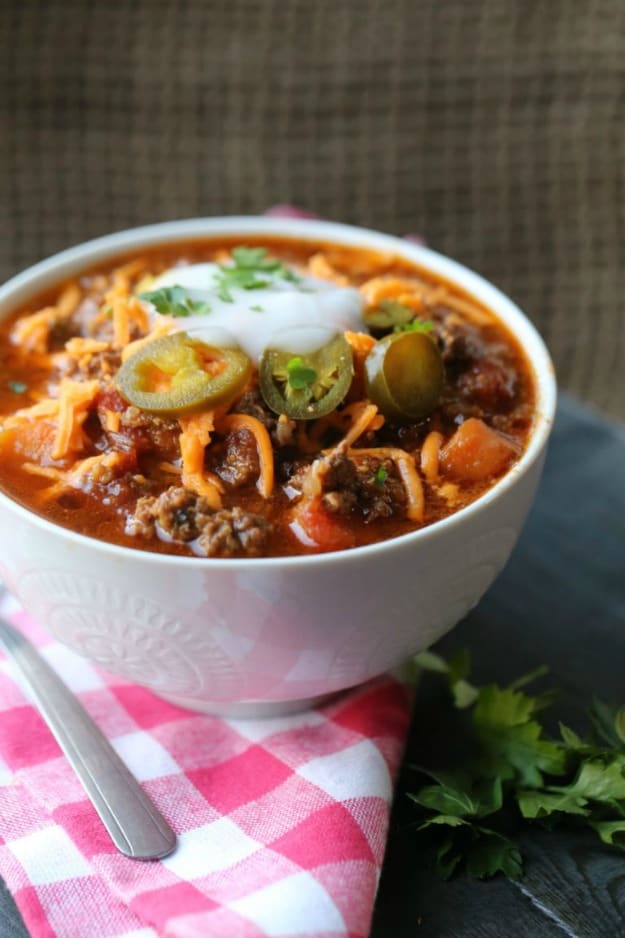 ~ That Chili with the Mushrooms from gfe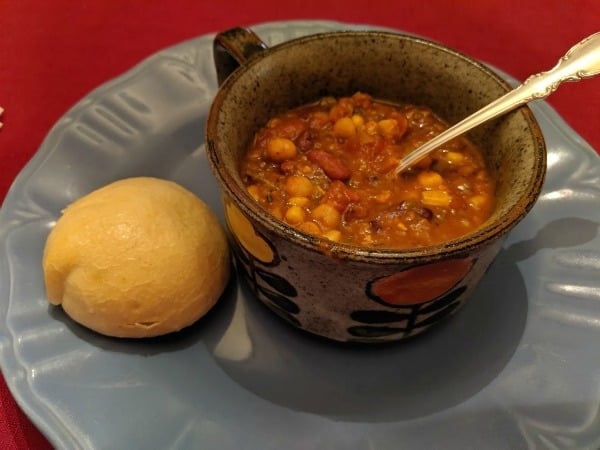 Sweet Potato Bacon Chili Recipe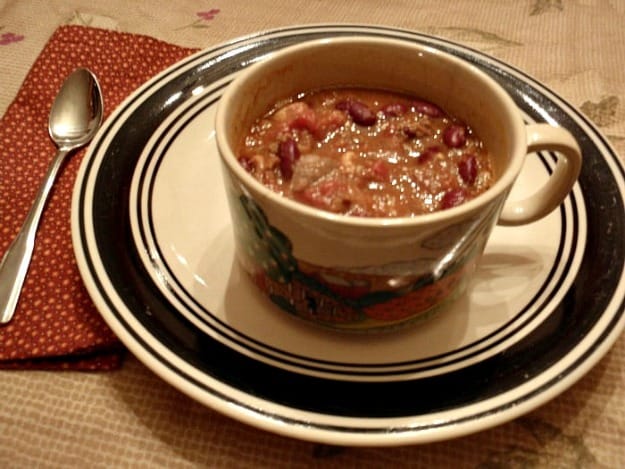 Yield:
Slow Cooker Sweet Potato Bacon Chili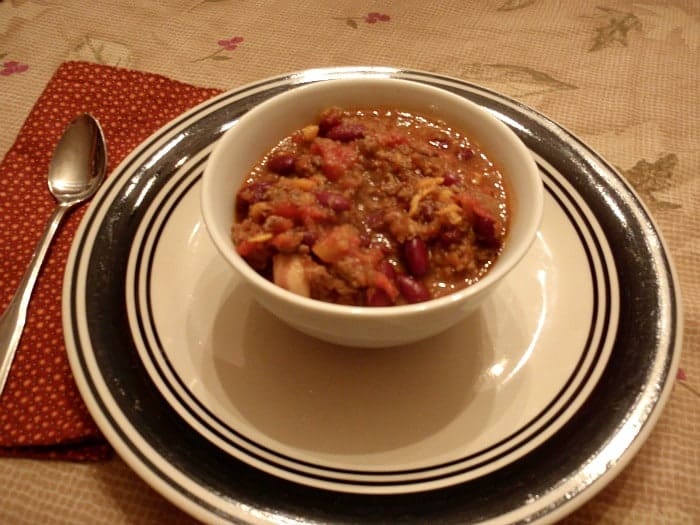 Ingredients
¾ to 1 lb ground meat, cooked and drained, if needed (I used ground venison)
2 can kidney beans, drained (I like a mix of light and dark kidney beans)
2 cans diced tomatoes
1 large onion, finely diced
1 sweet potato (any size), cooked and mashed
3 to 4 slices of bacon, cooked and chopped (reserve some of the bacon grease to add, as shown below; I use my kitchen shears to "chop" the slices after cooking)
1 tsp to 1 tbsp bacon grease (optional)
1 jar salsa (I used a 15.5-ounce jar) or ¾ cup tomato juice (or V-8)
2 tsp to 1 tbsp chili powder (or more to taste)
Instructions
Add all ingredients to your slow cooker, mixing well. (I used my 4-quart slow cooker.)
Slow cook on low for about 8 hours or high for about 3 to 4 hours.
Ladle into bowls or mugs.
Notes
The first time I made this recipe I added some V-8 juice to my usual mix of chili ingredients and the last two times, instead of V-8 juice, I added a jar of salsa. Those ingredients do not seem like ones you could swap out---and the results are slightly different for each for sure---but either yields a great pot of chili.
Originally published November 1, 2015; updated December 29, 2022.