For affiliate links and as an Amazon Associate I earn from qualifying purchases.
With this travel report on being gluten-free in Haddonfield New Jersey, I'm kicking off a new "occasional" series called Throwback Travel Thursdays where I go back into my personal travel archives and share one of my gluten-free travel adventures with you. I'm guilty of always having the best intentions of sharing after travel, but then I get home and quickly get caught up in my daily routine and the travel notes and photos get set aside. That leaves a lot of travel experiences that have not been shared with you, but they are experiences that really should be shared—late or not.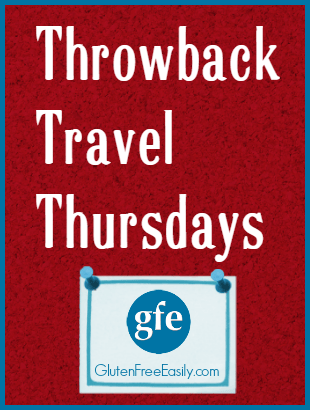 In fact, by the time I finish this post, it will actually be Friday. That is the reality of life. Life always trumps blogging, and that's the way it should be. I've been spending most of my days with my mom as she fell and broke her shoulder a week ago. She has seen a little progress already but has a long way to go in her recovery, so please send some good thoughts her way.
The silver lining is that mom and I are getting to spend so much time together right now. We are talking nonstop and sharing lots of memories. Plus, I am getting to feed mom for a change! So far we've had the World's Easiest and Most Delicious Pulled Pork, Great Salad, Fruit Tray Smoothie, and Sweet Potato Bacon Chili.
Some might wonder how pertinent old travel adventures can be—especially when it comes to meal reviews—but this series is more about sharing travel spots and inspiring a sense of adventure even when one is gluten free. However, I will always check to see if establishments are still in business and how recent online reviews align with my thoughts before sharing so I can report any major changes along those lines. Anyway, I hope you'll enjoy Throwback Travel Thursdays. Let's head to southern Jersey for a while!
Haddonfield Inn in Haddonfield, New Jersey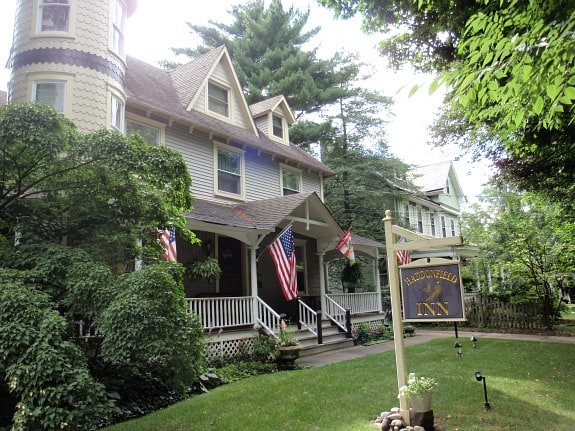 Mr. GFE and I first experienced the pleasure of staying at the Haddonfield Inn, a gluten-free friendly bed and breakfast, in Haddonfield, New Jersey when we attended a family 4th of July celebration a few years ago. (I wrote about that fun and enjoyable experience in this post.) The owners of the Haddonfield Inn were so grateful that I had shared my positive experience on gfe, especially my success at eating gluten free safely and well at their inn, that they gave us a complimentary one night's stay.
Their gift certificate was set to expire at the end of July the following year, so we decided to go as a kickoff for my month-long (at least a month) birthday celebration. What a great idea that was!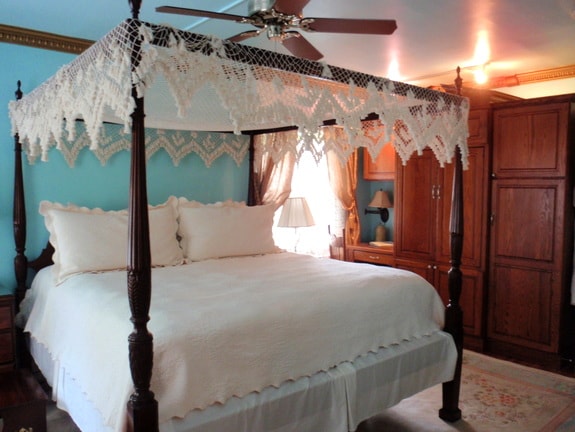 Our gift certificate was for any room in the inn and it was really fun choosing the room we'd stay in. We selected the Dublynn room and were surprised when we checked in and saw that it was no longer painted a rich shade of green as shown on the website but was instead a lovely blue color. We had no complaints though. It was a fabulous room—very attractive, comfortable, and spacious. I adored the alcove with the chaise lounge—my kind of reading spot. Mr. GFE preferred relaxing on our king-sized bed while reading.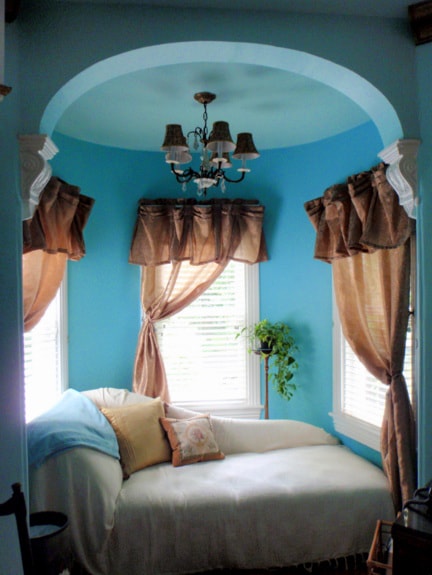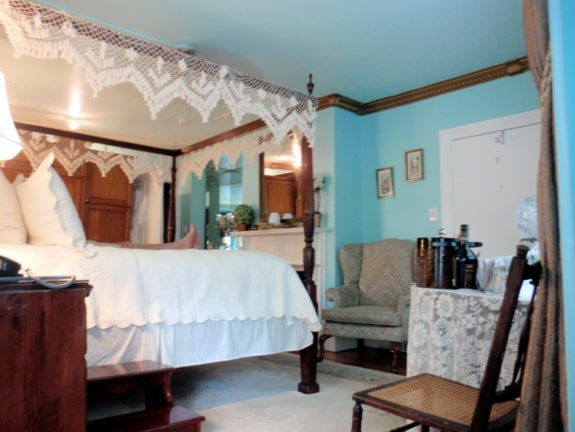 It was a quick one-night getaway, but as I've shared before, those are often the best kind of adventures. A 24-hour getaway can give you a needed break from the usual routine and in the end feel like a much longer period. That has been the case each time we have stayed at the Haddonfield Inn. It helps that the inn is located a few hours away from where we live and is a completely different world from our usual surroundings.
Pasta Pomodoro in Voorhees
Before we headed to the Haddonfield Inn, we visited Pasta Pomodoro (update: now permanently closed, unfortunately), which is located in Voorhees, for lunch. We had eaten at Pasta Pomodoro for dinner the previous year and had really enjoyed it. We decided that its menu would be ideal for satisfying our lunch cravings before checking into our room.
We started with the gluten-free garlic bread, which is more of a flatbread in appearance but is totally delicious. We got it last time and we'd happily order it on every single visit, even if we lived nearby and went to Pasta Pomodoro often.
I opted for one of their gluten-free pizzas—barbecued chicken pizza with a white sauce. It was good, but I found the white sauce to be a bit bland. I wanted to try something new, but truth be told I've never flipped for white pizza, white chili, or the like. From now on, I'll stick to the traditional red pizza sauce. Mr. GFE thoroughly enjoyed a meatball sub. Although his sandwich was not gluten-free, Pasta Pomodoro offers gluten-free focaccia for their sandwiches. I highly recommend Pasta Pomodoro for anyone who is gluten free.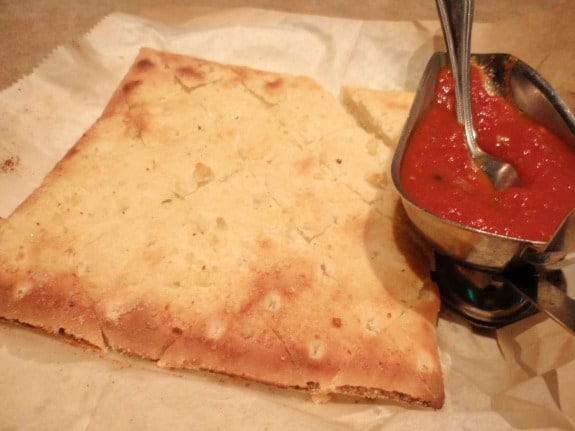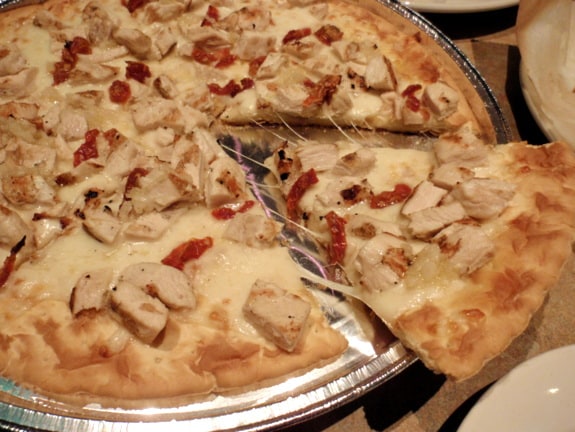 A few doors down from Pasta Pomodoro was a "liquid refreshment" store and we wisely bought some libations to enjoy in our room.
Haddonfield Is Visitor Friendly
Haddonfield, New Jersey was settled in 1682 and has a rich history. Now it's considered somewhat of a bedroom community of both Philadelphia and New York City. There are trains from Haddonfield into each and they're both a fairly normal car commute away. Yet Haddonfield itself is a charming town that is easily navigated by even folks "from the country" like us.
As soon as we arrive at Haddonfield Inn, which is a beautifully restored and well-kept Victorian establishment, our goal is always to park our car and walk everywhere possible. We love to do that anywhere we go, but especially when there's a lot to see and lots of dining establishments, as all are great incentives to get out and walk. Simply seeing all the historic homes is a treat.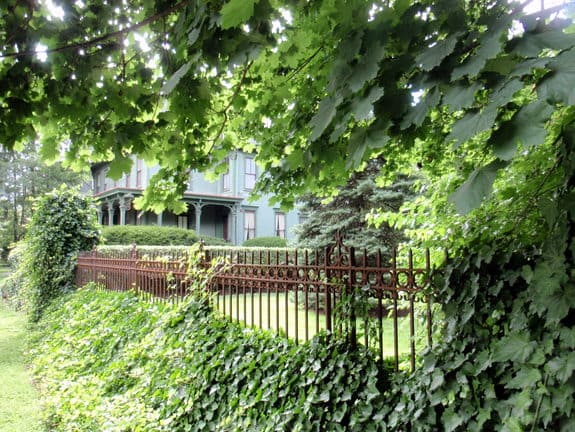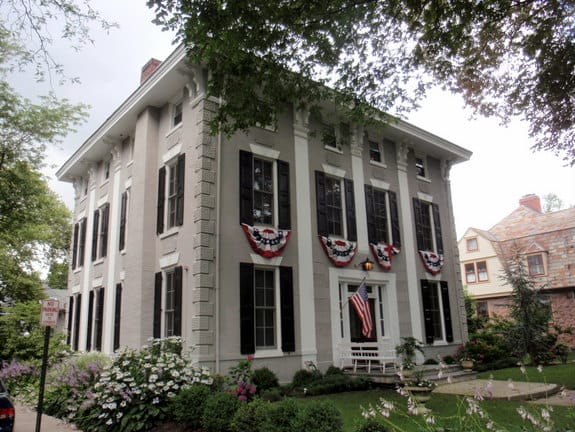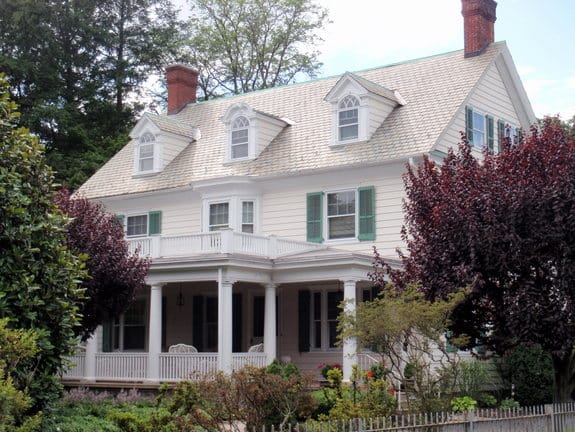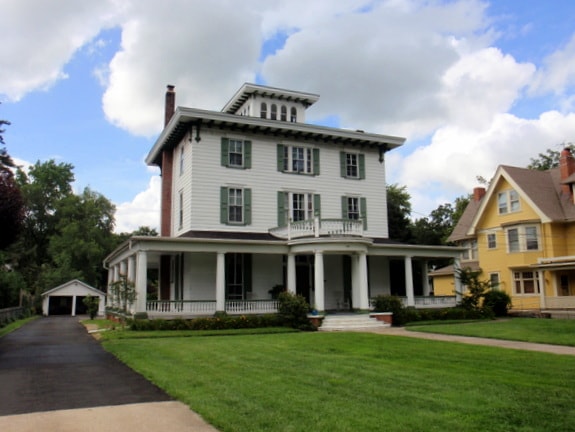 This time we ended up visiting during the weekend of the Haddonfield Annual Crafts and Fine Art Festival. That was a happy coincidence and we really enjoyed seeing all the artists and their wares. The festival is one of the best of its kind and attracts over 100,000 attendees each year. Thank goodness it didn't seem like that many people when we were there!
It was a sweltering hot weekend so we hadn't done too much looking at the festival before we decided we needed to chill in the air conditioning for a bit with some liquid refreshment. It wasn't obvious where to go so we sought out assistance.
Most of the folks we encountered were not local, but we finally found two smiling and helpful young locals manning a table promoting the Haddonfield's library. We said hello, checked out their books, and then made two inquiries. The first was on a good place for a cold drink. I'm sure we appeared like the typical ignorant tourists because they quickly broke the bad news that Haddonfield is a "dry" town, meaning that no alcohol is sold there. Somehow we'd missed that detail the previous year, most likely because we had dined in nearby Voorhees—which is not dry. Good thing we had picked up those libations!
Haddie, the Hadrosaurus
The second question we asked was: "Where can we find Haddie?" Haddie is the statue of the Hadrosaurus, the dinosaur whose skeleton was excavated in the town in 1858. Haddonfield's website says that: "Every dinosaur skeleton mounted in every museum in the world traces its roots to Haddonfield's Hadrosaurus foulkii. Along with being the first reasonably intact dinosaur skeleton ever found, the New Jersey fossil was also the first dinosaur skeleton ever put on public display."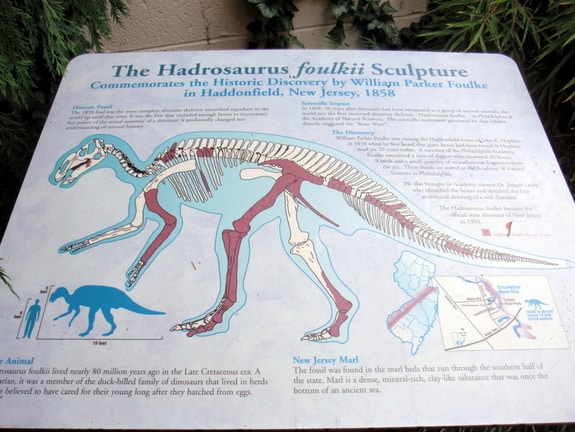 We have always been fascinated with dinosaurs so this part of Haddonfield's history is a delight to us! You can actually still visit the site where Haddie was found as it's a small public park. When children visit the park, some leave their own dinosaur figurines on the park bench. I think that's so sweet!
We still have Son's dinosaurs and I know many children who revere dinosaurs and have similar collections. We have not visited the park yet, but we look forward to doing so on our next visit to Haddonfield. For more information about the Hadrosaurus, visit www.hadrosaurus.com. (Note: This video is a great introduction to Haddie.)
With the library folks' guidance, we retraced our steps and finally found Haddie. We had actually walked right by "her" when looking at the items at the fair, but hadn't seen it because a particular booth had caught our attention and we'd crossed over to the other side of the street instead of continuing on the side where Haddie was located.
Isn't Haddie impressive? She's 19 feet in length and stands 8-feet tall. Granted she's not a T-Rex or anything, but she's still a beauty.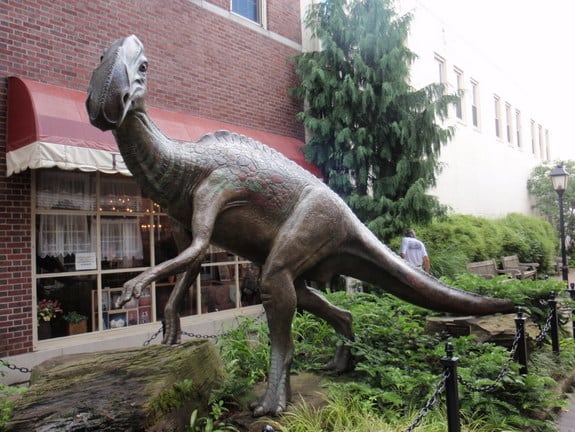 Da Soli Restaurant in Haddonfield
Another Italian restaurant, Da Soli (update: sadly, now closed), was recommended by one of the innkeepers, Sherri, upon our arrival so we made reservations when checking in and walked there shortly after our afternoon nap. I have to say that Da Soli is a fantastic restaurant and very accommodating for gluten-free diners. It's busy, lively, and a bit loud, but we loved the contemporary look and fun vibe. We were seated upstairs where there are far fewer tables and less activity (normally).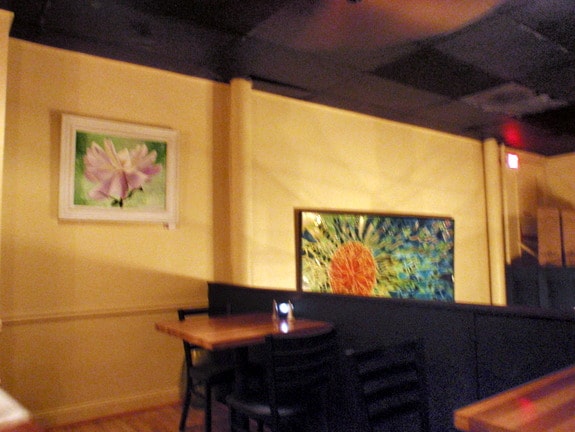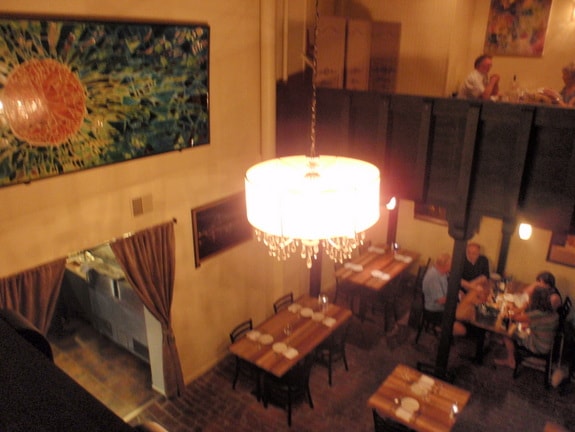 Diners are allowed to bring in their own alcohol at Da Soli. We didn't know about their BYOB policy, so we hadn't brought in alcohol. However, when we inquired on liquid refreshments, Sherrie, our server (not to be confused with Sherri the innkeeper), offered us some of their complimentary homemade wine and homemade "hooch" when she realized that we had not made our own provisions. She described the hooch as similar to lemon ouzo. Mr. GFE was game to try the hooch, but I went for the house wine (a reasonably good dry red wine).
I started with Caesar salad, "classic presentation with crispy pecorino Romano cheese" opting out of the garlic crostini factor. The salad came with a naturally gluten-free homemade Caesar dressing. A really good Caesar is a wonderful thing and this was a really good Caesar.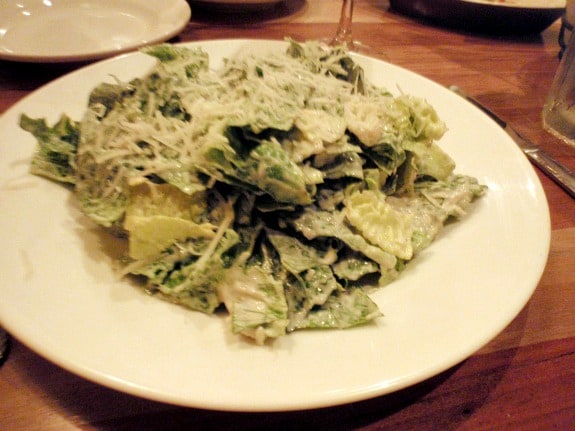 Getting a Truly Gluten-Free Salad … It's Not As Easy As You Would Think
A note on salads in general … when a customer orders a salad made without croutons, I've learned that many establishments will leave out the croutons, but then will toss the "gluten-free" salad in the same bowl as other salads—yes, the other salads made with croutons. So, obviously, one's gluten-free salad quickly becomes gluten full.
Since I learned this information I've started asking if the servers use the same bowl to mix all salads and if they say they do even if they offer to mix mine in a clean bowl, I simply order both the cheese and the dressing for my Caesar salad on the side. That way no tossing is required at all. I don't want to worry about instructions being lost between the server and whoever else might be preparing salads in the kitchen. If the salad is served with the cheese and dressing on the side, then I know it hasn't been tossed in a bowl that contained gluten.
Last note on salads … be sure to inquire about the gluten-free status of the dressing itself. While many—even most—salad dressings are gluten free, all are not. Those include Caesar salad dressings that contain gluten. For example, at one nice restaurant we've frequented, the chef's homemade Caesar dressing contains soy sauce and it is regular gluten-full soy sauce. Thankfully, I was made aware of that fact by my server and simply ordered another safe dressing.
My entrée at Da Soli was Pan-Seared Sea Bass. My sides were Roasted Corn, Tomatoes, and Grilled Asparagus. I'm always weak for sea bass (well, most seafood for that matter), and the topping of the vegetables made for a truly divine meal.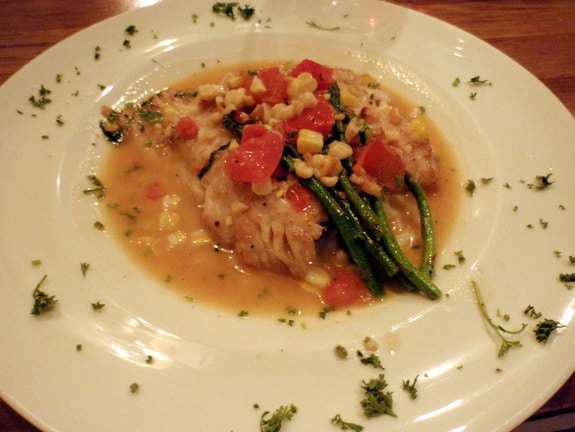 Mr. GFE ordered the homemade tagliatelle. He loved it, but it was not a gluten-free dish. Homemade pasta is one of Da Soli's specialties and none of it is gluten free, but as most of us are usually dining with gluten-full family members and/or friends, I thought it was still worth mentioning.
Risotto—made from Arborio rice and with a gluten-free assurance and rave from our server—was available, but I passed because I suspected I would be eating dessert.
And, oh, yes … I did enjoy dessert. I mean how could one resist Flourless Chocolate Cake with Homemade Whipped Cream and Raspberry Coulis on one's birthday? It was served with a birthday candle, too. That's always fun.
This dessert was a divine wedge of goodness and I shared it with Mr. GFE. Okay, he only took a small bite or two and that was just fine, because I decided I'd be fine not sharing that particular dessert. Plus, he'd been eating gluten in his meal and would have needed several forks to discard as he went to prevent adding any gluten to my birthday cake.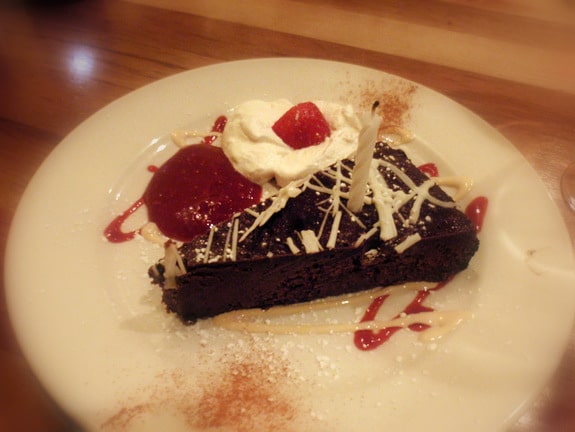 Needless to say, our meal at Da Soli was splendid! Incidentally, I just learned that Da Soli has been included in Zagat's Top 50 Restaurants for 2015.
I also want to add that Sherrie and the rest of the staff were incredibly friendly and accommodating. In how many restaurants do you actually have a real and pleasant conversation with the person who fills your water glass? We did. Our water fellow was a high school student and he was very interested in chatting with us on Virginia, especially its colleges. Da Soli is that kind of place.
Da Soli doesn't have street frontage, but is tucked back into a shopping/dining area between other storefronts, so you might have to look a bit (and ask folks) to find it, but it's well worth the looking and asking.
Breakfast at Haddonfield Inn
Back at Haddonfield Inn the next morning, we took the last breakfast seating time so that we could sleep in a bit. Our meal started with fresh fruit and juice of choice. The main dish, an individual egg and cheese bake, was naturally gluten free. It was served with sausage and roasted vegetables. It was a delicious breakfast and a great meal for fortification before hitting the road and heading back home.
There was one awkward minute … when the breakfast server offered me gluten-full toast. She seemed to be new and still in training regarding what gluten free entails. I asked here if the toast offered was gluten free and she said "No," so I reminded her, nicely, that I was gluten free. We always have to remember to be prepared for that kind of situation and ask before sampling.
Haddonfield and All
Haddonfield is really a charming place to visit and I highly recommend staying at the Haddonfield Inn and checking out both of these restaurants!
Full disclosure: I received a complimentary one-night stay at the Haddonfield Inn but the opinions expressed here are my own.
Originally published October 30, 2015; updated March 5, 2021.