For affiliate links and as an Amazon Associate I earn from qualifying purchases.
Have you ever turned leftovers from a fruit tray into a delightful smoothie? A Fruit Tray Smoothie. Hmmm, that name really doesn't have much emotional appeal, but it is descriptive. You can call this fruit smoothie whatever you like to get yourself or your whole crew excited. Six-Fruit Smoothie. Seven-Fruit Smoothie. (Whatever is appropriate.) Every-Fruit-Under-Our-Roof Smoothie. Recycled Party Platter Fruit Smoothie. Let someone else in your house name it, but you'll want to sample some, because it's, again, delightful.
A little back story. Whenever I host parties at our house (with our biennial Valentine's Day party being the most recent), there are always friends who contact me a day or two before the party (or even the day of the party), and ask what they can bring. I've learned that this occurrence will always happen. Now while some of these folks might be hoping I'll say, "Well, not a thing, dear. Just bring yourself!" … uh, I rarely do that. Most of these friends do want to actually contribute, but they don't want to make anything and I want the food served to be gluten free. Well, on the latter, I make an exception for Mr. GFE's need for a deli platter with gluten-full rolls. I'm not judging or being sexist here, but this need for sandwich fixin's largely seems to be a man thing. The men in attendance flock to that somewhat sequestered end of the table bypassing all kinds of other great food. The food is sequestered on purpose, of course (and I hate that I just used that word, but it's applicable here although it's not the same use as the other sequestering in the news). Hey, those sandwich fixin's fill them up and they're happy. Sometimes that's all a girl really wants when she's hosting. (Well, as long as the gluten stays away from the rest of the food, and it does.)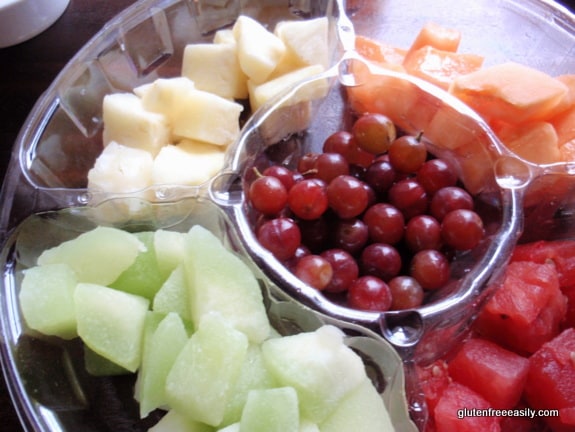 But back to the genuine "What Can I Bring?" question. Over the years, I've learned to have a few suggestions in my pocket … like fruit tray, veggie tray, wine, any specific liquor/liqueur that would make a nice addition to the bar, and so forth. Supplying a quick answer on a ready-made contribution works great. My friends get to help out and I feel comfortable with what they bring. Because as you probably already know, one really doesn't want to get into a long dissertation on gluten-free food items, where you can find them, preparing food safely in a gluten-full kitchen, etc. Those conversations can be pretty frustrating on both sides and one usually still doesn't feel safe eating such items brought. Fruit trays and veggie trays are pretty safe bets. (Note:  Of course, verify that any accompanying dips are gluten free as well.)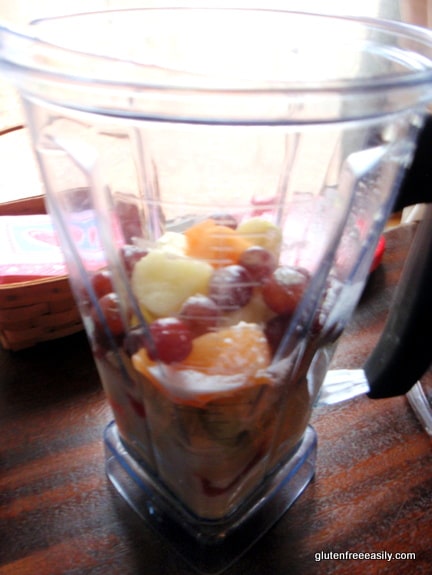 The consumption of fruit and veggie—or lack thereof—from these ready-made trays can be a bit surprising though. Sometimes their contents disappear very quickly and other years the fruit and veggies will remain largely uneaten. I suppose it all depends on the appeal of the other offerings, how many attendees are dieting at the time, how warm or cold the outside temps are, etc. This year there was quite a bit of the fruit platter left and we were in the middle of a few very cold days. So when the party ended, I placed the remains of the fruit platter and all the other leftovers in our "porch refrigerator." Two days after the party, I made this Fruit Tray Smoothie. It was a wonderful way to start my day and because it made a whole full Vitamix "pitcher's worth," I enjoyed the other half the next day. The next time you have a fruit tray left over, purchased or homemade, or just have a bounty of fruit on hand, use this recipe as inspiration to make your own version. Enjoy!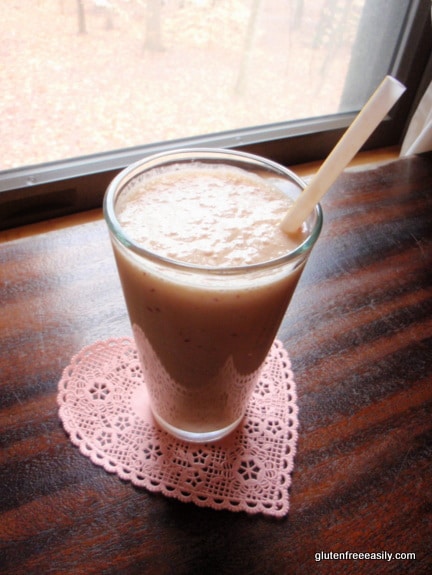 Yield:
Fruit Tray Smoothie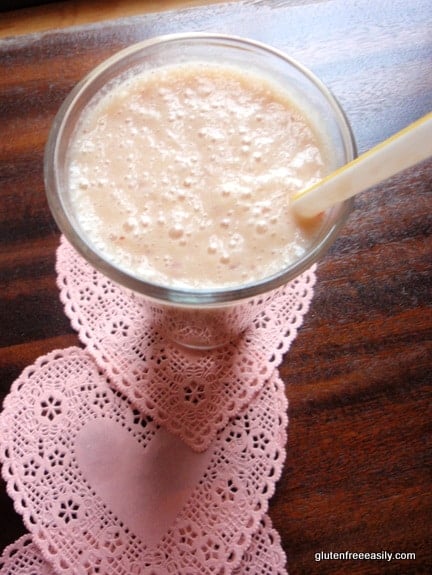 Ingredients
1 cup watermelon chunks
½ cup seedless grapes (ensure stems are removed)
1 cup honeydew melon chunks
½ cup cantaloupe chunks
1 cup pineapple chunks
1 cup coconut milk (use more if needed for proper consistency, I used full-fat canned coconut milk like this one)
2/3 cup orange juice
2 ripe bananas (I pulled my bananas out of the freezer)
Instructions
Blend all in Vitamix or other blender for a minute or so until desired consistency. Serve.
Notes
Add ice cubes if needed. All my ingredients were already very cold or frozen, so my smoothie was fine without ice cubes.