For affiliate links and as an Amazon Associate I earn from qualifying purchases.
Valentine's Day arrived bright and beautiful, and cold, for our biennial bash. However, that made me quite happy because it meant my porch–aka my spare refrigerator on cold days—would be at the ready for storing any leftovers of the gluten-free Volcano Pancake and much more, and our house would stay cool enough (dancing people generate a lot of heat!).
Mr. GFE volunteered to go pick up our centerpiece and I continued with party preps while waiting for our out-of-state friends to arrive. Right after the first couple arrived, he walked in with a flower arrangement that was NOT my centerpiece.
A standard-sized vase held purple roses and red carnations. He admitted he didn't think that it was my centerpiece, but, of course, he didn't inquire further or call me. Why not?? Gotta love him!
I called the florist. The staff member I spoke to knew immediately which arrangement was mine … "oh, right, yours was the silver bowl with the hearts on it … no problem, we'll bring it to you and swap them out." A few minutes later my centerpiece arrived and it was as spectacular as ever.
The florist, our friend Larry, makes floral arrangements that you're unlikely to find in an FTD catalog, but are ones you'll be thrilled to receive.
This one was an overflowing mix of calla lilies, huge yellow and pink roses, forsythia, dracaena, ivy, and birds of paradise. In the grayness of winter, having such a creation gracing your table will make you—and everyone else—smile every time you see it.
Our overnight guests, visiting from three different states, arrived hours before the party. We were delighted to see them all!
Five out of six had never been to our house before. They included two couples who we met on our travels many years ago (and have traveled with since) and the adorable new wife of my husband's college buddy.
They all insisted on pitching in with the last of the party preps and were incredibly helpful during and after the party. They ran errands, chopped ingredients for the recipes to be made that day (oh, how I love having my own sous chef!), polished silver (yes, can you believe it?), washed dishes (always worthy of note), wiped up spills, swept up broken glass (I was the one who dropped a platter putting it away!), etc.
It was like having a staff of six—wow! You guys know who you are and you are all fantastic! Of course, the best part was catching up, laughing, and celebrating being together while we worked.
Of course, I am a fanatic about having lots of great food—homemade and gluten free, of course—at our parties. I make the bulk of the food and let really good friends help out by bringing their favorite gluten-free dishes. The menu is finger foods as much as possible.
This time I had prepared old standbys like Two-Ingredient Chicken Wings, Spicy Meatballs, Crab Ball, Chicken Salad Puffs, and Spinach Artichoke Dip. Others brought appetizers such as bacon-wrapped scallops, and a variety of dips and spreads (like black bean dip and creamy Rotel sausage dip) served with veggies and/or gluten-free crackers.
Desserts were my flourless chocolate cake, Rolo turtles, flourless peanut butter cookies, brown sugar chocolate chip cookies, and one girlfriend's fabulous creme brulee. All the food I had prepared was in place at the start of the party except for the crab ball. I had actually made two (one was in reserve to pull out of the fridge later), but I had to wait until a very helpful friend showed up with gluten-free crackers.
I've stated before that I don't buy much processed gluten-free stuff, but I do need crackers on occasions like this one. Our grocery store doesn't carry gluten-free crackers of any kind, so my friend picked up some in town for me.
The gluten-free rice and nut-based crackers I use work out okay, but to be honest, I am still searching for some nice buttery gluten-free crackers with a taste like Keebler's Townhouse crackers. (That brand went so well with my crab ball before I went gluten free. Please share your recommendations in the comments below!)

Guests began arriving right at our start time of 8 pm with thoughtful hostess gifts in hand—like specially chosen bottles of wine and delightful flowers.
This year I received a lovely purple orchid in a copper vase from one friend. Mom and Dad had given us a classic bouquet of red carnations, white mums, daisies, red Gerbera daisies, and eucalyptus. My mother-in-law gave us red roses as did our next-door neighbors.
I also received a begonia—and not just any begonia. First, this one was beautifully packaged in pink tissue paper with hearts. As my friend handed it to me, she told me that it was a pink minx begonia.
It was the most beautiful begonia I'd ever seen … with tiny, delicate pink flowers and a silver dusting over pink leaves. It was only after the party that my friend told me that she'd grown it from a cutting. I was, and remain, very impressed. (She says that it's actually easy to take care of and propagate. You can see it in the photo collage above.)
Part of the party fun for me is seeing what everyone will wear. I always wear a dress and heels because I just have to dance in a dress and heels. (Always have and always will.)
My husband, on the other hand, always wears jeans and a t-shirt. Much deliberation goes into just the right t-shirt though. (No, I am not kidding.)
There were a few cocktail dresses and more heels (far spiffier than my basic black pumps), plus some super cool purses. Handmade blouses from Mexico. Button-down shirts and khakis. Hawaiian shirts, jeans, and sneakers. Animal print jackets. Cowboy boots. Sequined sweaters. Fleece.
The diversity in the clothes mirrors the diversity of the crowd. Lively, interesting, and engaging folks. We love them all and are, likewise, lucky to be counted as their friends.
A few minutes after 8 pm, the band began playing. We've almost always found our bands months before our parties.
Our first Valentine's Day party here, we didn't even plan for any music. But our dear friend and talented blues performer, Gaye Adegbalola, surprised us and graciously entertained us. What a treat that was!
Since then we've been fortunate to host some excellent bands over the years. Well, other than that one Valentine's Day party in the early years where we hired a band sight unseen and music unheard through a booking agent. Mistake.
We had to keep telling them to take a break and even when they were playing, we were pushing friends up to the mike to sing—they were THAT bad.
Ever since that debacle, we book our bands months in advance after giving them a fairly thorough checkout.
One of our party bands, Bill Kirchen and Too Much Fun, was even nominated for a Grammy right after we had booked them and before they played at our house. Sadly, they didn't win the Grammy, but they remain a phenomenal band. (Are you old enough to remember Commander Cody and The Lost Planet Airmen? Bill played lead guitar in that group and he still does "Hot Rod Lincoln" like nobody's business. If interested, you can read more here about Bill's history.)
At the end of December (only six weeks before the party—yikes!), several different circumstances had us without a band. Time to get serious.
I checked out our local newspaper's entertainment section for December and started checking out bands that had played at local venues and listening to their clips on their individual websites. I also had to check out other factors: band size, type of music, and cost.
We always want a smaller band that plays really good music we can dance to, but not a dance band, mind you. After several websites and listens, I found the String Kings.
Three people … check! I listened to several songs on their site … and I listened again and again. They sounded really good … check! Then I clicked over to their schedule and found out they were open on Valentine's Day … check!
And, as fate would have it, they were playing 8 miles from our house at a local venue for New Year's Eve. We contacted them and arranged to slip in to hear them play four songs. That was all we needed … they would definitely be our party band!
When they showed up at our party, their bass guitarist who also does most of the singing was very hoarse. So, all the singing fell to the lead guitarist.
He did a wonderful job as did the whole band. The crowd said they were one of our best bands ever and we agreed!
As you can see from the pictures, everyone danced the night away! Although the setting wasn't quite as psychedelic as this photo (taken of us and the band by our dear friend from Durham), the mood was fun and festive and all the valentines greatly enjoyed themselves.
Our son and two of his traveling buddies even showed up for their first Valentine's party experience (now that they are all past 21, that's allowed). I think they surprised themselves with the good time they had—even praising the band. Our son, who is also gluten free, loved having all the safe food choices.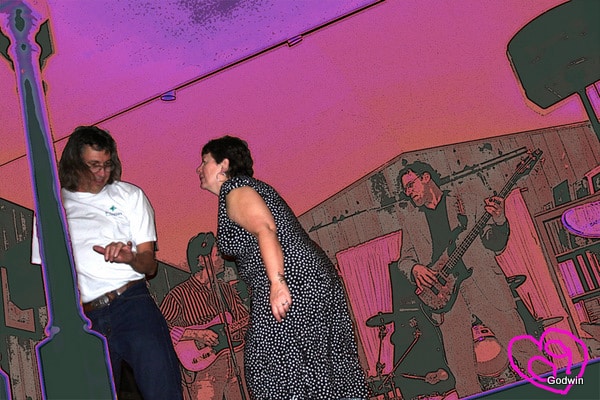 Right after midnight, String Kings played their last tune and we said our good-byes to our guests. Time had flown by … as it always does when the best events are taking place.
After some cleanup and getting everyone settled in comfortably, I got a fire going in the wood stove. Then, the very last thing I did before going to bed was to pull the Banana Maple-Nut Muffins out of the freezer.
The Morning After with Gluten-Free Volcano Pancake, Banana Maple-Nut Muffins, and More
The next morning I got up, whipped up my gluten-free Volcano Pancake and placed it in the oven beside a naturally gluten-free Hash Brown Casserole. So easy. And, off to the shower, I went.
By the time everyone had finished their showers and were greeting the day and each other, the Hash Brown Casserole, gluten-free Volcano Pancake, and gluten-free Banana Maple-Nut Muffins (warmed for just a few minutes in the oven) were waiting on the sideboard for them. (Some years I make my gluten-free Overnight French Toast Casserole instead of my Volcano Pancake. Both are delicious choices!)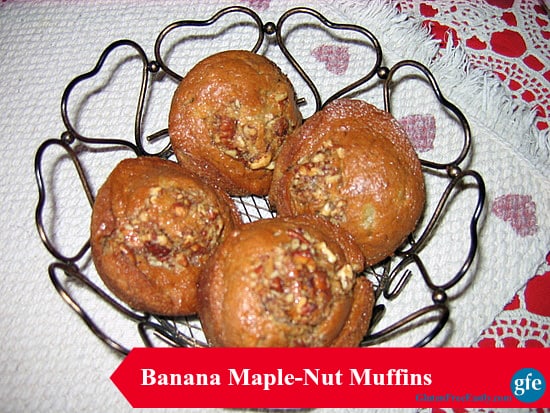 We set out the big jug of maple syrup that our friends had brought us from Vermont (plus some maple cotton candy–who knew there was such a thing?!). We also shared a mixture of our honey with butter as another choice for topping. Coffee and O.J. rounded out the meal.
There was oohing and aahing over the lovely, light volcano pancake and quieter but still sincere appreciation for the hearty Hash Brown Casserole. The gluten-free Banana Maple-Nut Muffins were loved as well.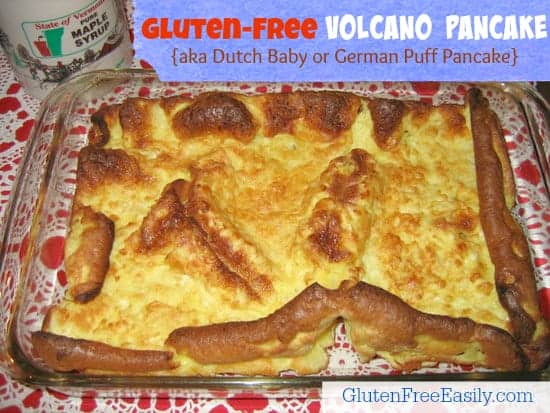 While we ate, we chatted about the highlights of the party, everything going on in the world, and future travels where we might meet again. Everyone kept returning to speculation on how many folks had been in attendance the night before.
I finally got out my guest list and did the official count—60. That's actually a small crowd for one of our parties. But, fewer people left more room for dancing comfortably. 🙂
Our friends were heading out right after breakfast. I divvied up the remaining muffins and sent each couple off with some.
Our friends from Vermont were going to Washington, D.C. for more sightseeing (they had done some on their way down on Saturday). The two other couples were headed back home to North Carolina and South Carolina, respectively, with Sunday evening events to attend.
After the last car pulled away at noon, my husband and I turned to each other and said "We did it!" Then we gave each other congratulatory hugs on another successful Valentine's Day party.
Ah, the relief of sweet success. And, then about a half-hour later, we took a nap. Next Valentine's Day party … February 19 of next year. 😉 Until then, enjoy this gluten-free Volcano Pancake whenever the mood strikes. Don't wait for a special occasion.
Updates: One time I accidentally baked the Volcano Pancake at 450 degrees. It only took 15 minutes to bake! The texture of the resulting pancake was slightly different but it was every bit as delicious. I've since made an Apple-Cinnamon Volcano Pancake. It's great!
Gluten-Free Volcano Pancake Recipe
Yield: 6 servings
Volcano Pancake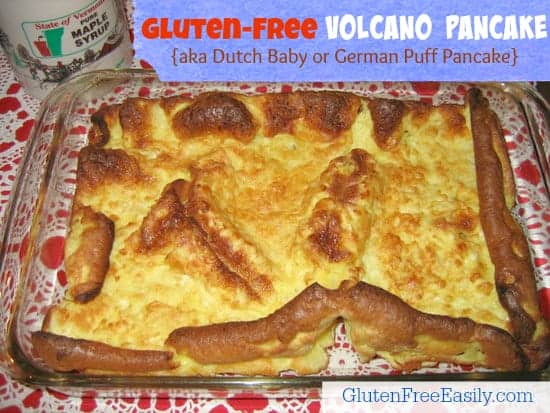 This recipe was adapted from a Taste of Home recipe. It's an oven pancake and sometimes called a puff pancake, a Dutch baby, or even Yorkshire pudding. I like to think of it as a popover in pancake form. Can it get any better than that?

Prep Time 10 minutes

Cook Time 30 minutes

Total Time 40 minutes
Instructions
In a large mixing bowl, beat eggs.
Add milk, flour, xanthan gum, and salt; stir until smooth.
Pour butter into a well-greased 13 x 9 x 2 glass baking pan. Add batter.
Bake at 400 degrees for 30-35 minutes or until a knife inserted near the center comes out clean.
Sprinkle with powdered sugar, if desired, and top with your favorite syrup. Or for a different taste as perhaps a side dish with dinner, sprinkle with shredded cheddar cheese.
Notes
Any gluten-free all-purpose flour mix should work. It's possible that certain flours by themselves might work, too, versus a mix---like rice flour or buckwheat. I used my Two-Ingredient Gluten-Free All-Purpose Flour Mix.

I accidentally baked this Volcano Pancake at 450 degrees once. It only took 15 minutes to cook. While it had a slightly different texture than when baked at a lower temperature, it was just as delicious!

If you love the combination of apples and cinnamon, check out my Apple-Cinnamon Volcano Pancake.

Originally published February 25, 2009; updated February 11, 2023.