For affiliate links and as an Amazon Associate I earn from qualifying purchases.
Do you like those ooey, gooey, delicious chocolate caramel treats called turtles? Today I'm going to show you how to make Homemade Gluten-Free Turtles, aka Rolo Turtles.
I think they are actually better than the boxed variety. This version takes 10 minutes
tops
from start to finish and you only need three ingredients!
This recipe not only has the requisite ooey, gooey factor, but it also has a little bit of saltiness. Don't you love that combo of sweet and salty? Here's how you can make some homemade gluten-free Rolo Turtles for the ones you love for Valentine's Day, Christmas, or any day you want to show your love with a fantastic chocolate caramel treat! 🙂
How to Make Gluten-Free Rolo Turtles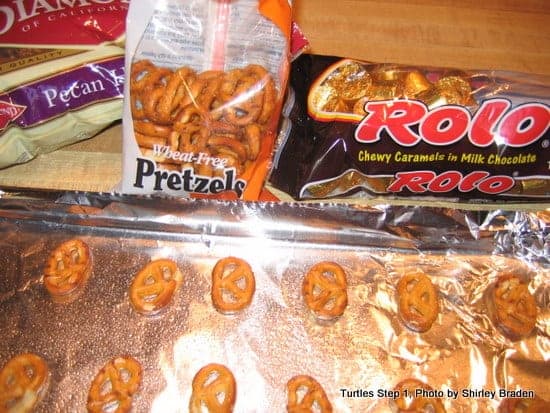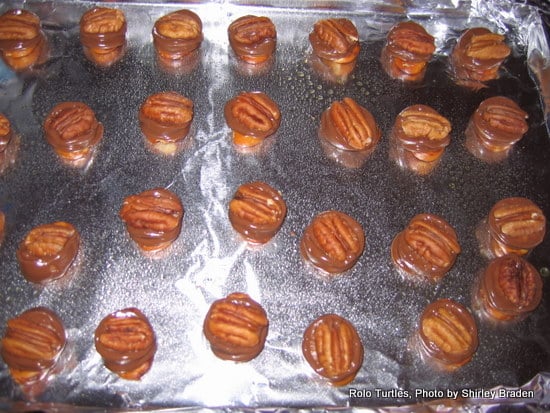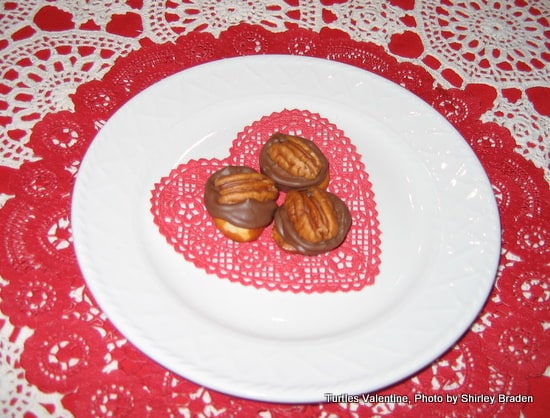 Note: I think this recipe has been circulating for a good while, but I don't know the origin. It was passed on to me by a gluten-free friend. However, as you can see it can be made by anyone—gf or not.
I didn't provide amounts for the ingredients because it's up to you how many Homemade Gluten-Free Turtles you will make. I used about half a bag of Rolos this evening, which made 28 treats.
I'm in the final throes of preparing for our big Valentine's Day bash tomorrow night and these Rolo Turtles will be one of several treats on our dessert tray.
To borrow (badly, I might add) from Robert Frost, "I have promises to keep and miles to go before I sleep." No snow here in our woods, but lots to do before I reach "home." Sitting down to write this post might not have been the best idea … getting up will be very tough! I'm not kidding …
Oh, one more treat for you … I have updated my initial "Waiting" post with the Banana Maple-Nut Muffins recipe to now include pictures! I just made them yesterday for our overnight guests and they are even better than I remember. All (except that "test" one) are in the freezer until Sunday morning. Perhaps a little breakfast treat for you is in order soon?
Happy Valentine's Day all! Whether you are staying in with the ones you love, heading out to a fancy dinner, or having a get-together with dear friends, I hope you will have as good a time as we will on the big night! xo
More Homemade Gluten-Free Candy That You Will Love
~ Homemade Goo Goo Clusters (Vegan) (so good and pretty easy to make, too)
~ Mandarin Orange Fudge Slices (if you love chocolate and orange together, these are for you!)
~ Maple Caramel Candy Chews (the healthiest candy I've ever made but still so delicious!)
~ Pralines (these are incredible and they work for more than just gluten-free diets!)
~ Two-Ingredient Freezer Fudge(practically instant goodness!)
~ White Chocolate Candy Cane Fudge (recipients flip over this fudge, and rightly so!)
Gluten-Free Homemade Turtles Recipe (Rolo Turtles)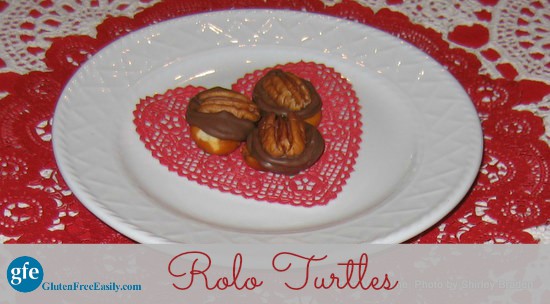 Yield:
Homemade Gluten-Free Turtles (Rolo Turtles)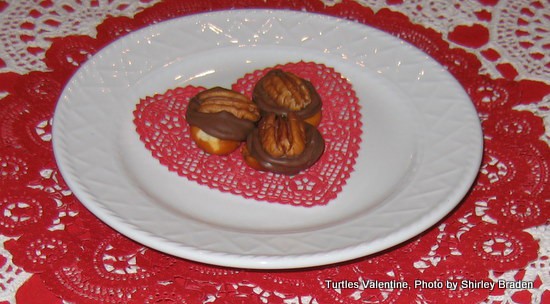 You are sure to be the most popular person at the party when you show up with these Homemade Gluten-Free Turtles or as we like to call them Rolo Turtles! Bonus: You can make them in 5 minutes!

Prep Time 10 minutes

Cook Time 2 minutes

Inactive Time 30 minutes

Total Time 42 minutes
Instructions
Preheat oven to 350F degrees and line a cookie sheet with aluminum foil. Grease lightly or spray the foil with non-stick spray.
Place pretzels on the cookie sheet about an inch or more apart.
Top each pretzel with an unwrapped Rolo.
Place in oven for no longer than 2 minutes.
Remove and immediately press a pecan half down firmly in the center of the Rolo.
Set cookie sheet aside for turtle treats to cool (about 30 minutes). Then serve them to anyone and everyone you love!
Originally published February 13, 2009; updated December 9, 2022.